From the delicate whispers of blooming flowers to the intriguing blend of rare ingredients, each fragrance unveiled its own unique story. This olfactory exploration promises to evoke memories, stir emotions, and ignite your curiosity. So, let's dive into the realm of fragrant wonder and discover the captivating stories behind each exquisite scent.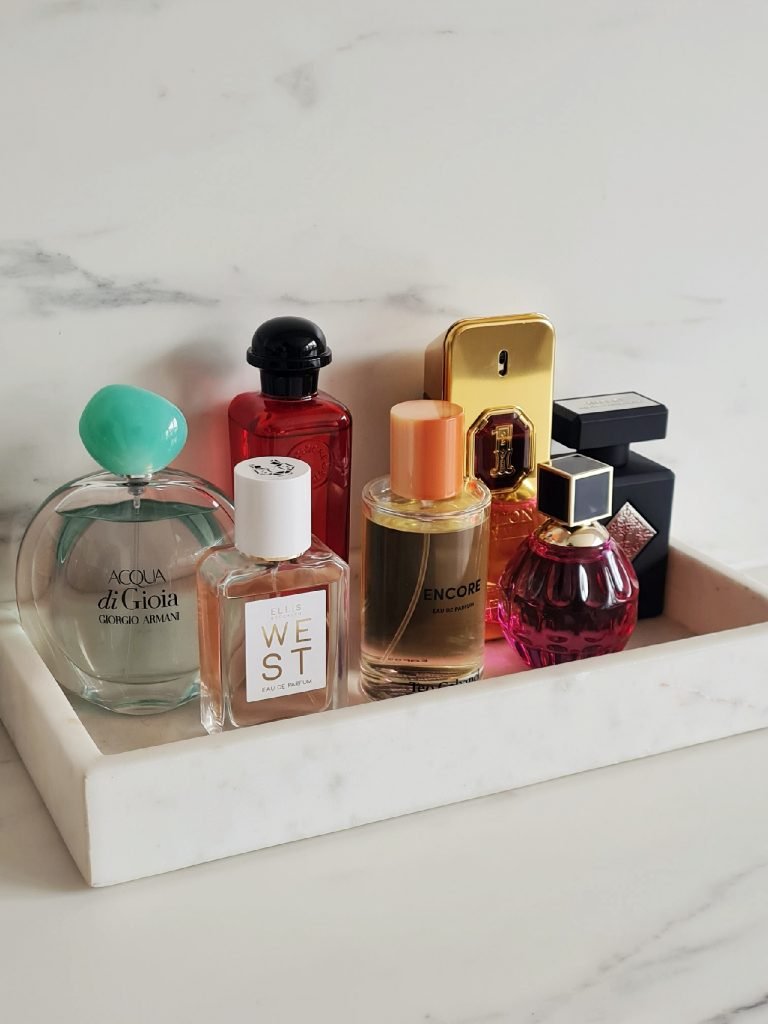 Teo Cabanel Encore – Encore means 'again' in French, and you'll be tempted to spritz this fragrance again and again! It's a one-of-a-kind and soothing blend inspired by a delectable gourmet mix of carrot cake and hot milk. Though the fragrance has carrot seed as one of the keynotes (not my favorite, tbh) but it blends with gentle lactonic notes, and iris to create the most perfect cocooning and pleasing smell. It just makes me spritz it again and again over my soft cashmere jumper or scarf for that comforting feel on a chilly spring or autumn day. Encore is a scent that will make you want to grab the perfect Chai Latte and a cozy blanket! It's an easy-going, comforting, and addictive scent!
Paco Rabanne 1 Million Royal – The iconic One Million scent from Paco Rabanne is reborn and is called 1 Million Royal. This exquisite fragrance captivates with its regal character. The fragrance opens up with a blast of citrus notes, creating an invigorating sensation and leading to warm and spicy notes adding depth to the composition. The unique blend of notes and distinguishing character make it a standout option for people who love an opulent scent. The decadent gold bottle with a ruby-like accent adds a royal character and justifies the name and the juice. I love 1 Million Royal on both men and women.
Initio Parfums Absolute Aphrodisiac – Initio Parfums is all about scent molecules triggering attractions and impulses. Being a vanilla fan, I love to explore different variations and compositions of vanilla, and this one's a seductive vanilla for me. This fragrance is a part of Initio's hedonistic and provocative fragrance collection, which aims to elicit emotions and desires. I do not know if there is a chocolate or cocoa note in Absolute Aphrodisiac but that's the first note my husband and I smelt when we had an initial whiff. It has a prominent vanilla accord, which contributes to its sweetness and sensuality. There is a leather note which I do not prefer in fragrances but this one is so smooth and blended to perfection that it doesn't bother me. There is musk in the composition that enhances the depth and allure. Overall, Absolute Aphrodisiac is rich, warm, and seductive. It is perfect for an evening date/dinner.
Ellis Brooklyn West: Ellis Brooklyn's West, inspired by the authors of '70s Los Angeles, is full of bright citrus notes in the spirit of a flash of creative inspiration. The smell, which is centered on ginger, pear flower, and waterlily, has a verdant quality with a base of amber and oakmoss. West is mainly an evocative citrus fragrance with an herbal undertone that is just so appropriate for spring and summer. The opening is alright for me but the dry-down is beautiful. It has a clean unisex vibe and can be worn for any occasion. I see this as an easy white shirt blue jeans kind of scent.
Jimmy Choo Rose Passion – Rose Passion is a gorgeously rich scent that evokes Jimmy Choo's glitz, confidence, and sense of playfulness. I initially thought that rose would be the main note of this fragrance but it wasn't even in the background! This is a fresh and exotic fragrance with notes of Coconut Water, Jasmine, and Sandalwood. The fragrance opens with a pleasant burst of coconut water that blends with exotic frangipani flowers for rich freshness. Sweet orchid powers the heart, while seductive jasmine exudes desire and fire. Sandalwood creates a long-lasting smell trail, complimenting opulent vanilla for a sensuous, mesmerizing concoction.
Giorgio Armani Acqua de Gioia – This fragrance is all about fresh breezes and oceanic bliss. It is a refreshing and invigorating scent, inspired by the lush beauty of nature. It opens with a blast of citrus notes, most notably uplifting and zesty lemon followed by the crisp aroma of crushed mint leaves, offering a refreshing and revitalizing touch. A delicate and aquatic fragrance is revealed in the heart. Aquatic notes combine with jasmine essence to create a delicate yet enticing floral undertone.
Cedarwood offers a warm and woody base for the composition, adding depth and solidity. Brown sugar adds a touch of sweetness to the whole experience. Overall, this is a harmonious blend of citrus, mint, florals, and woody notes, creating a fresh and invigorating fragrance that represents the spirit of a tranquil and exciting aquatic adventure.
Hermès Eau de Rhubarbe écarlate – As the name suggests, this is a rhubarb fragrance and I'd be honest, I'd like my whole home to smell like juicy, crisp rhubarb every spring and summer. This addictive and luminous fragrance from Hermès is just next level, thanks to the musky base. It gives the sharp, acidic freshness of rhubarb blended velvet-smooth with white musk. It is unprecedented and powerful, more vegetal than citrus. It smells very elegant and refined. I feel like spraying it on my pillows, my towels and bathing myself in this scent. The performance is not very good but if you layer it with another fruity or musky scent, the rhubarb notes amp up. You may also try layering it with a molecular scent like MFK Baccarat Rouge 540 for an absolutely incredible performance.
Until next time, Ashh xo
*This article features both purchased and press samples. All opinions are my own and unbiased.