Fragrances have an amazing effect on our emotions. Smell ring bells and triggers memories and emotions. Do you know that the part of the brain that registers scent is the same part that processes romantic emotions/feelings? This is why a whiff of a fragrance takes us back to some of the sweetest memories or ignite a new flame. All in all, fragrances are very powerful to create beautiful experiences.
Clive Christian Perfume is a leading brand when we look at Niche and Luxury Fragrances. It is an independent British perfume house with a vision to create the world's finest perfumes. The brand's predecessor, the Crown Perfumery Company established in 1872, is the only house ever to have been granted permission to use Queen Victoria's crown on its bottles. An image that defines every bottle of Clive Christian perfume to this day.
Crowned in 1872, Reimagined in 1999, Celebrated in 2019 | This year Luxury British Fragrance House – Clive Christian Perfume created limited-edition iconic scents, as well as an elixir to celebrate 20 years of the perfume house but to also pay tribute to its origins from the Crown Perfumery Company, established in 1872. Two new perfumes and a stunning new elixir mark the occasion; crafted to embody all of the pride, passion and creativity that is poured into every Clive Christian Perfume.
I was very kindly sent a bottle of 20 Iconic Feminine Fragrance from the Anniversary Collection.
Packaging
These modern classics Iconic Masculine and Iconic Feminine are adorned with a platinum coloured cage and crowned with a platinum coloured cap, the precious metal of a 20th anniversary. The cage is a unique abstract design, a modern interpretation of the decorative cages found on the Crown Perfumery Company perfumes in 1872.

Notes of 20 Iconic Feminine
Top Note – Saffron (King of Spices – also known as red gold and is one of the most expensive ingredients in the world.
Heart Note – Damask Rose (Harvested from the "Valley of Roses" in Bulgaria, picked only in the months of May and June at dawn. It takes over 150 rose heads to make a single drop of rose oil).
Base Note – Honey (The honeycombs are sourced directly from south of France, honey gives a rich, sweet and warm tone and helps amplify floral notes).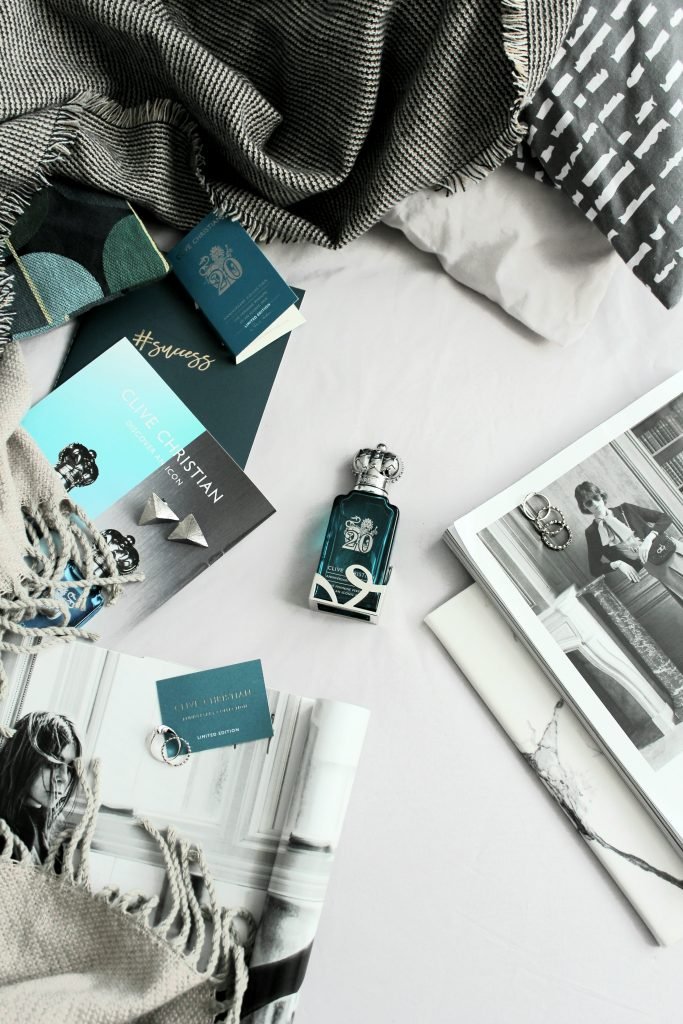 An explosion of Damask Rose, the queen of flowers, meets with rich saffron and a honeyed kiss of plum and violet. Crystal clear florals and ambers sparkle to create the feminine perfume of an iconic pair. Perfectly crafted this Amber Floral is fresh and poised for longevity, settling from bright plum accented floral to soft musky amber.
The fragrance has an alluring character with delicate Damask rose notes which are beautifully laced with dense honey and rich saffron to add depth to the composition.
Honey also adds sweetness and smooth texture to the fragrance. Plum gives a tempting fruity touch while violet gives it a weightless sophisticated powdery feel.
Projection and Longevity
The projection of 20 Iconic Feminine is pretty impressive and turns heads. The fragrance has a concentration of pure perfume which gives longevity of about 8-12 hours on the skin and more on the clothes.
Overall thoughts
This is an irresistibly sumptuous fragrance perfect for special occasions like red carpet events, fancy dinner dates or as a wedding fragrance. I would not wear this fragrance casually rather this is a regally 'dressed-up occasion' kind of fragrance where you want to stand out from the crowd – a head-turner and a true compliment-getter!
I must mention that this is my favourite fragrance out of all fragrances I've smelt from the brand so far. I appreciate this composition so much and feel this will be mass appealing.
Available in 50 ml size for £295 at Clive Christian Perfume.
Until next time, Ashh xo
*This fragrance was very kindly gifted to me. Opinions are my own and unbiased. #DiscoveranIcon #Ad #CliveChristianPerfume