Elie Saab is a Lebanese fashion designer. His main workshop is in Lebanon, with additional workshops in Milan and Paris. He started his business in the early 1980s and specialized in bridal couture.
Currently Elie Saab's fragrances come in four variations out of which Rose Couture is the newest. As it's a holiday season, it made sense to pick up a holiday gift set to get more value for money and try more from the brand. I had few gift sets in mind but when I saw Elie Saab's Le Parfum Rose Couture Set at Notino, I knew I had to have it! The set comes with 3 products  – Eau De Toilette (50 ml), Floral Body Milk (75 ml) & a Cosmetic Bag or a clutch bag.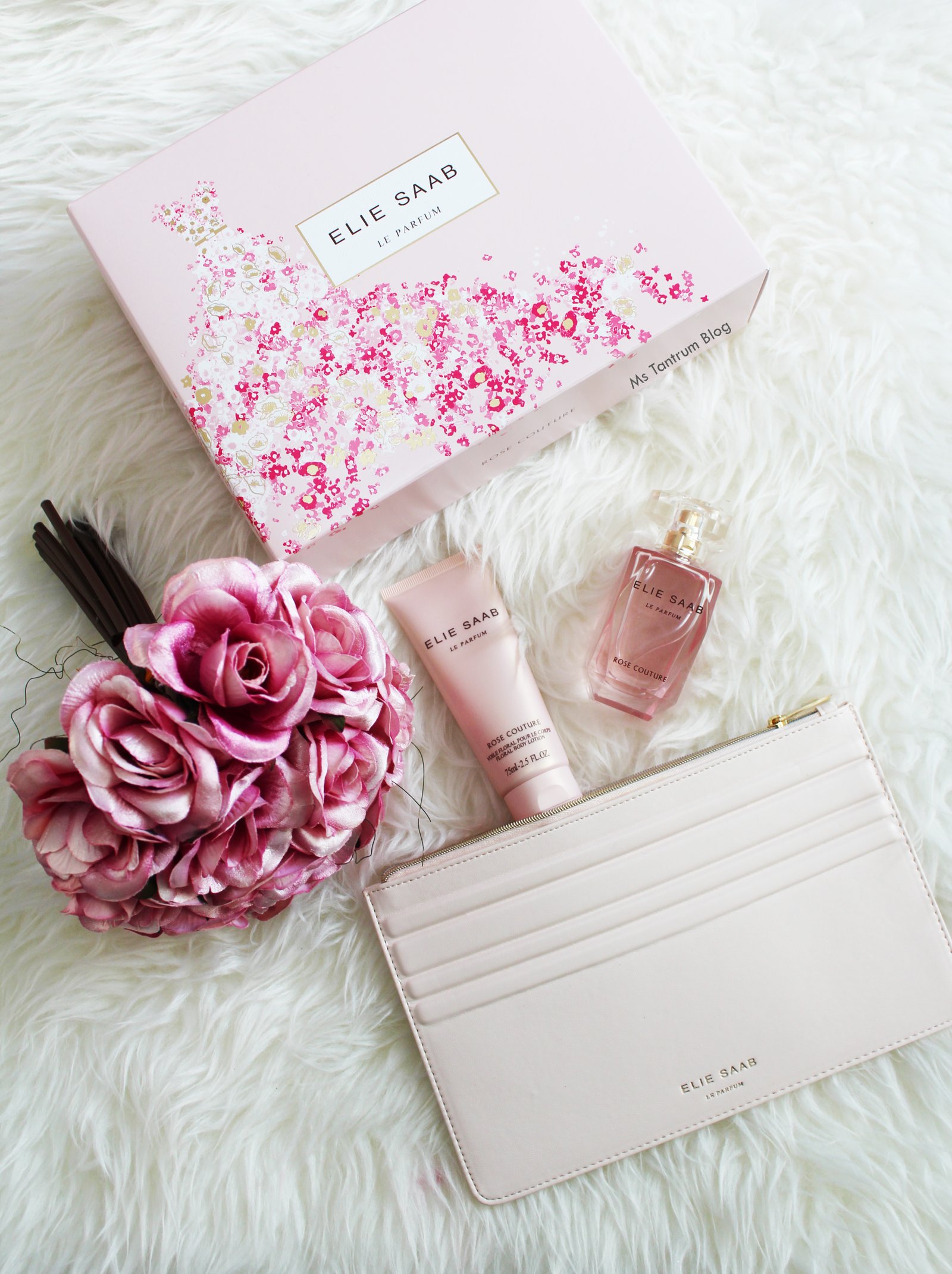 Rose Couture is a dazzling expression of Elie Saab's aesthetics – A theme that is dear to his heart: flowers. Virtuoso creations of the Couturier's art, they blossom each season in his collections. Today, the Couturier exalts his signature bouquet of white flowers with a whirlwind of rose petals through a new Eau de Toilette tinted with a delicate shade of pastel pink. To express the double meaning of rose, Rose Couture borrows the bloom's fragrance and boldly translates the colour of its petals into scent.
Rose Couture is a new Chypre Floral and Addictive Eau de Toilette which is modern as well as spontaneous. From Couture to Perfume, Rose Couture, with a new floral poetry, opens with a Peony-Rose accord. At the heart, the luminous Orange Blossom mingles with transparent Jasmine and delicious Rose Nectar. This new floral echo to the ELIE SAAB Le Parfum's signature is bolstered by a base of voluptuous Sandal and elegant Patchouli. The iconic facetted bottle reveals a crystalline pink fragrance, its pastel pink box is decorated with delicate flowers gown.
Top Notes – Peony, Rose
Heart Notes – Orange blossom, Jasmine, Rose Nectar
Base Notes – Sandal & Patchouli
About the Body Lotion, I honestly don't have much to say about the body milk except Its very light weight, fluid texture that moisturizes, softens and deliciously perfumes the skin. The body lotion goes very well in harmony with the fragrance and increases longevity of fragrance by layering both products.
The set also comes with an elegant off-white leatherette makeup zip pouch with gold hardware and stitched detail. It goes really well with my Zara Large Tote Bag and I know I will get so much use out of this and it will always look classy!
This set can be purchased via Notino for £52.89 . There are some other options available as well in case you fancy.
Until next time
Ash xo
Instagram | Bloglovin' | Facebook | Twitter