Who doesn't love a good bargain? When it comes to beauty, Glossybox's limited edition boxes are such a great value! Worth over £105 and featuring 10 beauty treats, the Glossybox Black Friday limited edition beauty box is a perfect gift for the beauty lover friend this holiday season or just a little cheeky treat for yourself!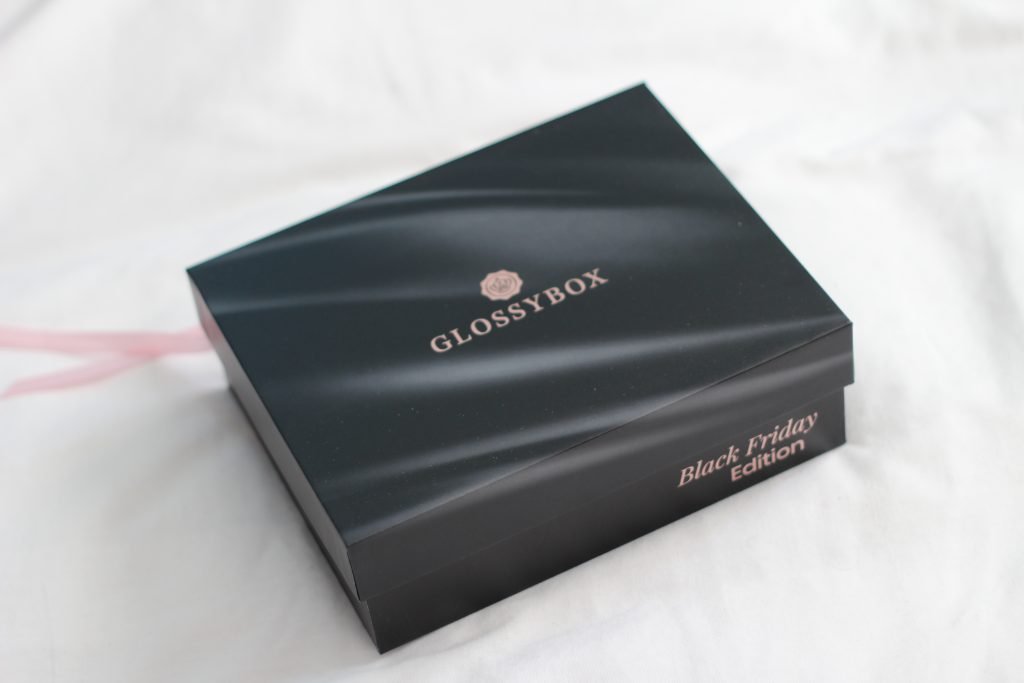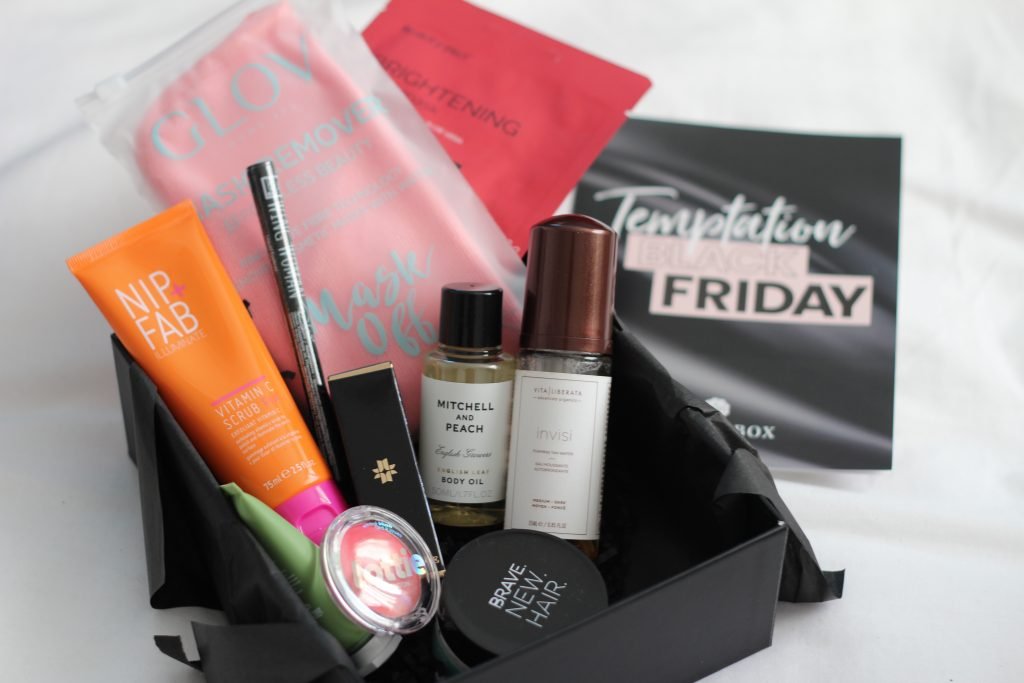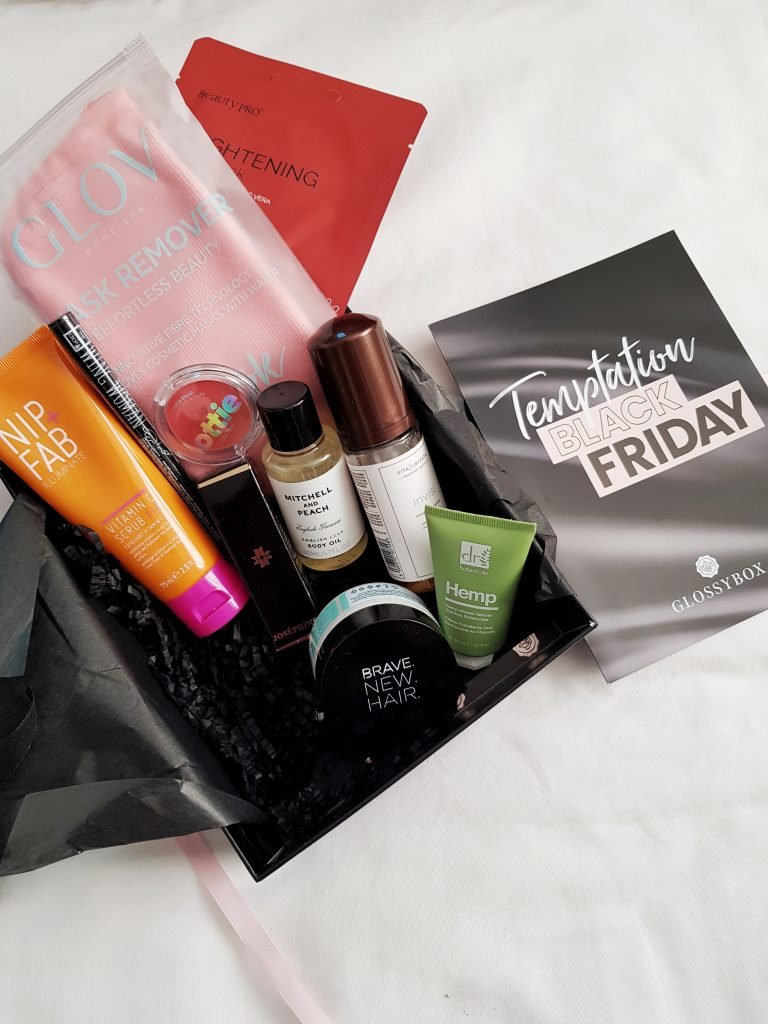 What's inside this box?
This limited edition box features seven full-size and three deluxe minis from the world of makeup, skin and body care.
Brave New Hair, Keratin Mask Concentrate | Deluxe mini 50ml worth £5. Full-size 250ml RRP £13*
This magnificently moisturizing treatment restores essential hydration almost instantly. Perfect for those with dry, damaged hair, this deeply conditioning formula strengthens and smooths strands, whilst boosting elasticity and shine too!
Joséphine Cosmetics DEW/YOU – The Flawless Liquid Highlighter | RRP £26.20*
Illuminate your best features with just a single swipe of this luxe liquid highlighter. This natural complexion enhancer is infused with skin-nourishing green tea extract, evening primrose, and luminous radiance pearls that will capture and reflect light for a healthy, dimensional, sun-kissed dewy finish.
Mitchell & Peach English Leaf Body Oil | RRP £23*
Containing almond oil and vitamin E, this nourishing body oil leaves the skin feeling soft and scented. Reminiscent of freshly cut meadow grass, this oil is fragranced with 'English leaf', a blend of soft citruses, coriander leaves, basil, mint, and floral oils from the Mitchell estate.
The Beauty Crop Wing Woman Liquid Eyeliner | RRP £7*
For the perfect flirty feline flick or a dramatic winged liner, look no further. Because this liquid eyeliner is for you. This deep black formula will help you define your eyes the way you want without any fuss – we mean no smudging! – and is sure to last you from day to night!
Lottie London Ombre Blush – Haze | Deluxe mini 2.9g worth £3.95. Full size 4g RRP £5.95*
Whether you're after a natural flush or want to make a serious statement, this ombre blush can help you totally tailor your look! In shade 'Haze', this beautiful blusher is perfect for creating the ultimate rosy flush in an instant.
Glov Mask Remover | RRP £8.90*
Simplify mud and clay mask removal with this innovative cleansing mitt, designed to quickly and effectively remove face masks from your skin. Made from special polyester fibers, this tool expertly 'catches' the remains of your face mask – use with water to reveal a clarified complexion.
Dr Botanicals Hemp Infused Natural Moisturiser | RRP £15.99*
Protecting, nourishing and hydrating skin for a smooth-looking complexion, this moisturizer is a dream! Infused with hemp seed oil, which contains all 21 amino acids and is rich in Omega-3 and Omega-6 essential fatty acids, and cocoa butter, which helps to lock in moisture and reduce water loss, you're sure to boast a glowing, hydrated complexion in no time.
Vita Liberata Invisi Foaming Tan Water | Deluxe mini 25ml worth £3.50. Full-size 200ml RRP £25*
Achieve naturally glowing skin with this clear tanning solution. Not only will it lend your skin a beautiful glow, but it'll also hydrate at the same time too. Clear like water to eliminate unwanted transfer, this foaming self-tan applies effortlessly to the skin, drying quickly so you can get on with your day!
Beauty Pro Brightening Sheet Mask | RRP £4.95*
With key ingredients collagen, vitamin C, and aloe vera, this wonder-working mask rebalances uneven skin tone and brightens your complexion – all in just 15 minutes! Also great at improving skin elasticity, this sheet mask is ideal as an anti-aging treatment too. After one use, it'll reveal a youthful and radiant glow whilst also tackling fine lines, wrinkles, and pigmentation.
Nip + Fab Vitamin C Scrub Fix | RRP £12.95*
Energising and illuminating, this exfoliating scrub is infused with vitamin C, coffee seed extract, and coconut oil to effectively cleanse, nourish and renew your skin! These key ingredients also aid in reducing the appearance of fine lines and wrinkles and softening your complexion. 
The GLOSSYBOX Black Friday 2021 Limited Edition will go on sale at midnight on Friday 26th November for both subscribers and non-subscribers. It costs £12.50 for subscribers (that's even less than last year!) and £20 for non-subscribers.
To purchase this Limited Edition for only £12.50, you need to be a Glossy… So, subscribe today! You will get your first box for just £10 if you subscribe using my code MSTANTRUM. As a subscriber, you'll also receive five fab beauty products delivered straight to your door every month, as well as a whole host of other benefits in the Glossy Lounge. You'll also get priority access and exclusive discounts on all future Limited Edition boxes, and the GLOSSYBOX Skincare range!
Until next time, Ashh xo
*RRP relates to the full-size product available for purchase. Prices may vary due to exchange rates.
**This post features PR samples and affiliated links.