Atelier Cologne launched a new fragrance called Love Osmanthus in 2019. This is a floral fragrance and is for both men and women. The fragrances from Atelier Cologne are not very complicated and are easily liked by the masses. The transition from top to base notes is always very smooth and the compositions are beautiful. I love that the brand makes shared fragrances which is actually very cost-effective for a couple! Love Osmanthus is a Cologne Absolue (pure perfume) that is designed to offer outstanding, lasting power and character to Cologne lovers.
Inspired by a city romance, Love Osmanthus is a romantic scent that combines elegant Osmanthus trees from China with citrusy green notes of lemons from Italy. The citrus gives way to an earthy depth, blending effortlessly with the sweet top notes of Osmanthus. A romantic, fresh scent. The formula is made from high-quality ingredients, harvested around the world, using 94% natural ingredients. – Atelier Cologne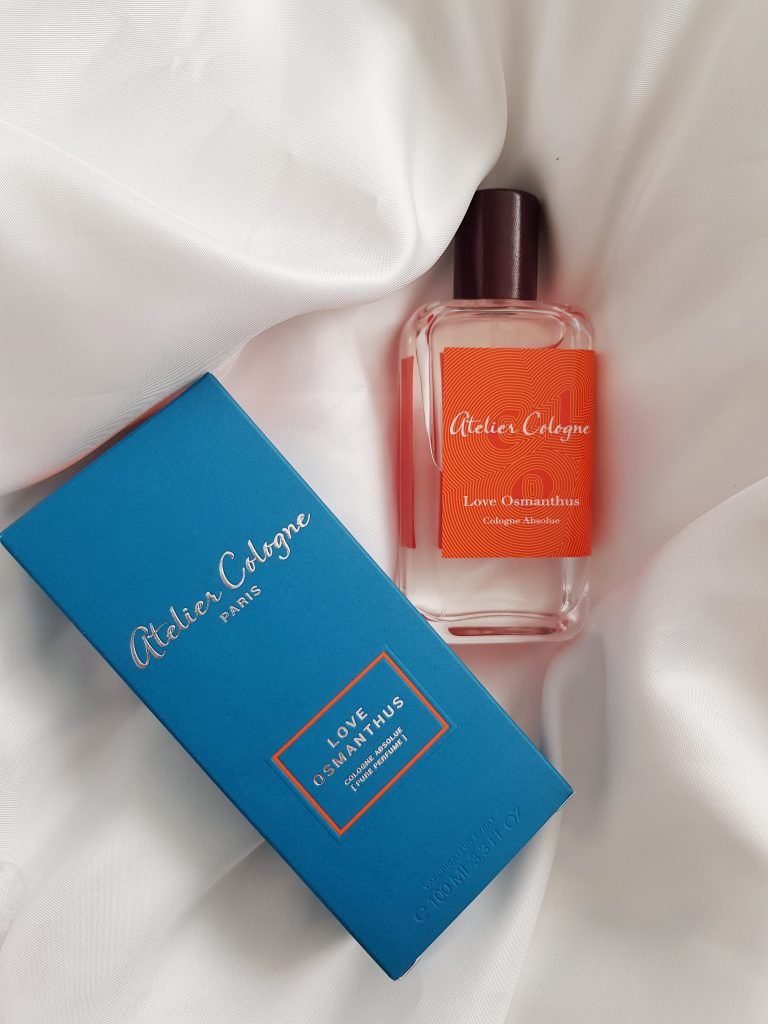 Olfactive Notes
Lemon from Italy
Osmanthus from China
Cedarwood from America
Sourced in China, this nocturnal flower blooms at night, adding a fruity essence to an exotic garden under the moonlight. Love Osmanthus captures the aura of this special flower in the same way a secret garden provides a haven to forbidden lovers.
Performance
This is a lovely cologne with moderate sillage and moderate longevity. I would do a couple of extra sprays just to increase its longevity. Layering with a body lotion helps it to stick better to the skin and amps up the performance.
Final Thoughts: Atelier Cologne knows how to do the best Citrus fragrances and this is no exception! This is a Sweet, Fruity, Floral fragrance with a very zesty, bright opening from Lemon. The osmanthus flower from China brings peach-like creaminess to the composition. These two are grounded by cedarwood from America. Overall, the Love Osmanthus Cologne Absolue is cheerful and is perfect for spring, summer day time especially brunch or an outing to a garden with your loved one.
Until next time, Ashh xo
*This fragrance was gifted to me for review consideration. Opinions are my own and unbiased.