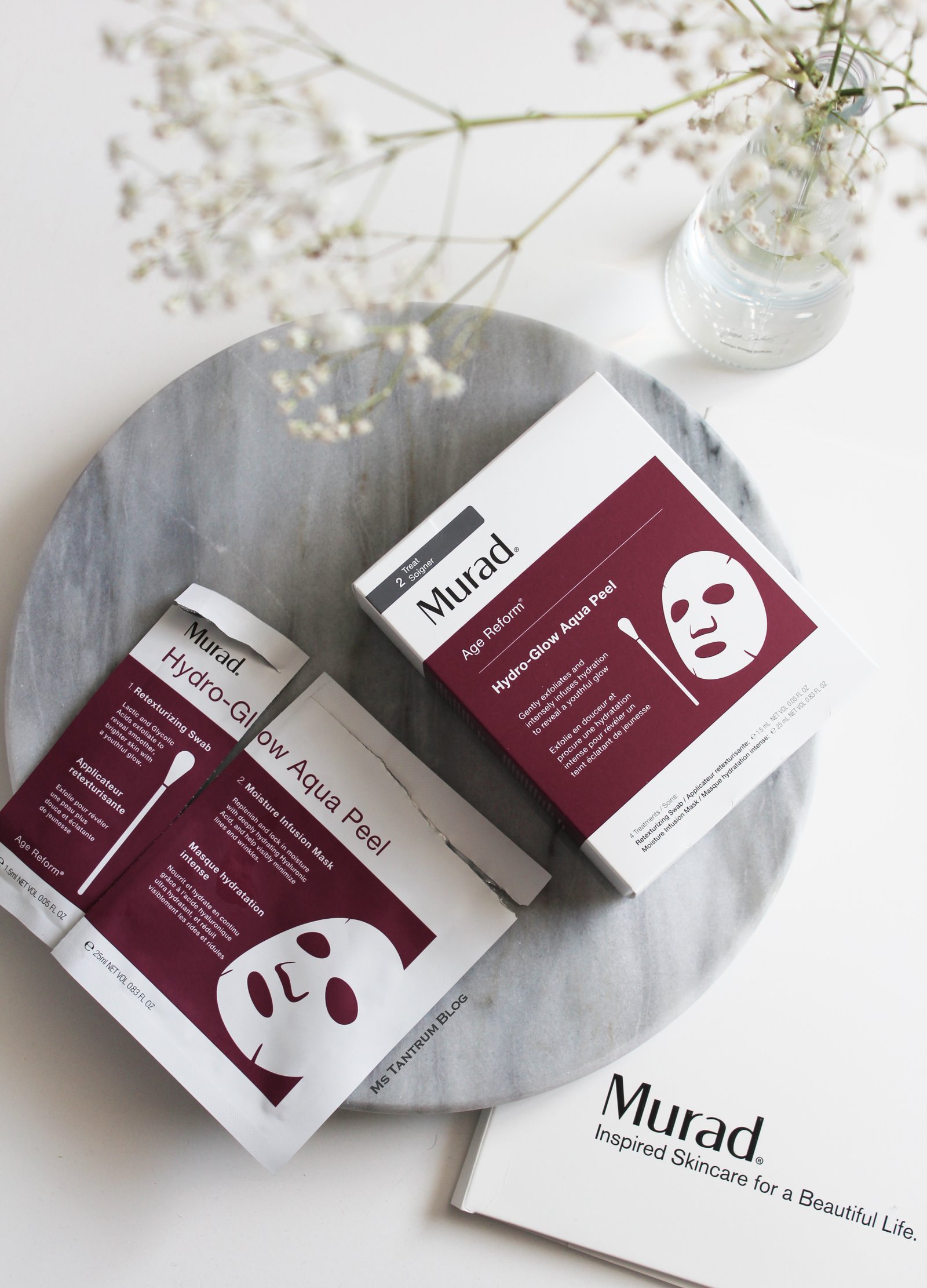 Today Murad Skincare officially launched Hydro Glow Range in the UK which consists of two products – Dual Phase Peel Mask & Dietary Supplements. Dr Murad's external and internal skincare approach goes beyond the surface to boost cellular hydration and unlock skin's youthful potential.
This unique dual-phase system gives skin a gentle peel with anti-ageing benefits by intensely infusing hydration to visibly minimise fine lines and wrinkles, re-texturise and brighten skin revealing a youthful glow.
This peel mask is a great solution for:-
Dryness
Fine lines and wrinkles
Dullness and uneven texture
A fresh take on exfoliation: this dual-phase system gives skin a gentle peel and infuses essential hydration into skin. It revitalizes dull, dehydrated skin and reveals a smoother, brighter complexion with optimal radiance. The over-sized retexturizing swab is pre-soaked with a blend of lactic and glycolic acids and botanical extracts to gently exfoliate and smooth skin. The Moisture Infusion Mask is enriched with hyaluronic acid to replenish skin, help visibly minimize lines and wrinkles, and seal in moisture, as well as aloe extract and vitamin B3 to soothe and nourish.
It is formulated without:
x Parabens
x Sulfates
x Phthalates
Hydro-Glow Aqua Peel is dermatologist developed, gluten-free, and formulated without animal-derived ingredients.
Hydration is the key to unlocking the ultimate secret to anti-aging and Dr. Murad has developed a holistic approach to optimize hydration. In addition to hydrating skin with topical products, managing stress, and engaging in physical activity, Dr. Murad recommends using Hydro-Glow Dietary Supplements (sold separately) daily to hydrate your skin from within, helping you achieve healthier-looking skin with a youthful glow.
Ingredients:
RETEXTURIZING SWAB:
Water/Aqua/Eau, Alcohol, Lactic Acid, Tromethamine, Dipropylene Glycol , Glycerin, Glycolic Acid, Citric Acid, Sodium Citrate, Sodium Hyaluronate, Pyrus Malus (Apple) Fruit Extract, Citrus Paradisi (Grapefruit) Fruit Extract, Citrus Aurantifolia (Lime) Fruit Extract, Citrus Limon(Lemon) Fruit Extract, Vaccinium Angustifolium (Blueberry) Fruit Extract, Glycyrrhiza Glabra (Licorice) Root Extract, Rubus Idaeus (Raspberry) Fruit Extract, Solanum Lycopersicum (Tomato) Fruit Extract, Morus Alba Bark Extract, Camellia Sinensis Leaf Extract, Portulaca Oleracea Extract, Hamamelis Virginiana (Witch Hazel) Extract, Erythritol, Allantoin, Butylene Glycol, Ethyl Hexanediol, 1,2-Hexanediol, Trehalose, Hydroxyethyl Urea, Methylpropanediol, Glycereth-26 , PEG-60 Hydrogenated Castor Oil, Disodium EDTA, Ethylhexylglycerin, Phenoxyethanol, Fragrance (Parfum)
MOISTURE INFUSION MASK:
Water/Aqua/Eau, Glycerin, Niacinamide, Alcohol, Sodium Hyaluronate, Aloe Barbadensis Leaf Extract, Malva Sylvestris (Mallow) Extract, Mentha Piperita (Peppermint) Leaf Extract, Primula Veris Extract, Alchemilla Vulgaris Extract, Veronica Officinalis Extract, Melissa Officinalis Leaf Extract, Achillea Millefolium Extract, Butylene Glycol, Ethyl Hexanediol, Trehalose, Allantoin, Xanthan Gum, Carbomer, Triethanolamine, PEG-60 Hydrogenated Castor Oil, Disodium EDTA, Ethylhexylglycerin, Phenoxyethanol, Fragrance (Parfum)
Key Ingredients:
Lactic and Glycolic Acids:These two Alpha-Hydroxy Acids have been (AHA's) used by Dr. Murad to treat patients for over 30 years. These acids exfoliate by loosening the bonds that bind dulling dead cells to skin's surface. Dr. Murad discovered that AHA's are uniquely well suited to skincare because it gently and evenly exfoliates to smooth skin while stimulating natural renewal of the surface.
Hyaluronic Acid: With the ability to hold 1000 times its weight in water, this acid provides the intense and lasting hydration required to effectively fight the age-related dryness that makes lines and wrinkles appear deeper. This skin-plumping ingredient can penetrate deep into the skin's surface to visibly minimize lines and wrinkles, create a smoother appearance and restore a youthful glow.
It really is a home facial kind of product which helps me with exfoliation as well as hydration at the same time. This is a two phase and comes in separate sachets so you can use these as per your convenience. My combination skin with Oily and clogged T-zone is benefited each time I use this duo. When I used this first, my forehead soaked up all the moisture quickly (yes, oily skin can be dehydrated too). That was also a sign that I need to use these often and take supplements without fail. My skin felt smoother, hydrated, plump and radiant with each use. Usage depends on your skin's requirements. I use these once every 10 days. I will be purchasing this for special occasions or for times when my skin needs quick pick me up radiance.
Hydro-Glow Food Supplements are designed to help boost cellular hydration levels for youthful-looking skin with a healthy glow. Glucosamine creates a reservoir of moisture in cells and helps boost natural Hyaluronic Acid and Collagen. Osmolytes help maintain optimal cellular hydration.
Ingredients:
N-Acetyl D-Glucosamine, Taurine, Thimeththylglycine, microcrystalline cellulose, dicalcium phosphate, anhydrous betaine, stearic acid, hydroxypropylcellulose, magnesium stearate, silicon dioxide and coating (ethylcellulose, carnauba wax, vanillin). Contains Crustacean shellfish (crab/shrimp).
Key Ingredient:
N-Acetyl D-Glucosamine – Glucosamine is naturally found in our body and has a key role in keeping a youthful and healthy-looking skin. This ingredient acts as a "building block" for structural molecules such as Hyaluronic Acid and Collagen, helping improve skin firmness and creating a reservoir of moisture within cells to boost hydration and support healthy cellular functions.
Hydro-Glow Food Supplements help you achieve a healthy glow by boosting cellular hydration, promoting more supple, youthful skin and visibly minimising lines and wrinkles.
I started taking these supplements in last week of June and took these throughout the month of July. I noticed improvement in my skin in terms of glow, radiance and overall health of my skin. However, I can't really comment on lines & wrinkles aspect as I'm in my early 30s and don't have any such issues yet. I also increased my water intake and also tried to eat water by having more juicy fruits like Melon, Watermelon etc. I rotate my skincare products but I noticed Hydro Dynamic range (particularly Quenching Essence & Ultimate Moisturiser) works wonders every time I use them. This is to boost hydration to another level.
The Hydro Glow range is now available to buy in the UK via Murad Skincare or other official retailers & e-tailers like John Lewis, FeelUnique, Fabled, Very etc.
Until next time..
Ash xo
Instagram | Bloglovin' | Facebook | Twitter
*These products were gifted to me in a PR event for testing purposes. Opinions are my own, genuine & unbiased.