Oh, it brings me so much joy when I wear my Fragrance du Bois fragrances. The brand is coveted for its rich essences of nature, crafted by fifth generation perfumers from the 17th Century French tradition of Grasse. All of the Oud fragrances from FDB contain 100% real organic Vintage Oud oil from sustainable sources certified by CITES. The oil is aged and matured for several years before it is added to the perfumes.
I have talked about FDB a lot on my blog and social and I often get asked which one to choose first. Tbh, fragrances are a personal choice! Person A might like woody fragrances while person B might enjoy fresh variants more. It's all down to preferences. However, all I can say is whichever fragrance category you're into, you would adore Fragrance du Bois's fine fragrances.
Perfumers Discovery Collection contains the luxurious range of Fragrance Du Bois masterpieces with an elegant presentation box containing 10 of the brand's iconic scents for men and women.
The box contains 2ml spray vials and is perfect for sampling the perfumes or would make a gorgeous gift.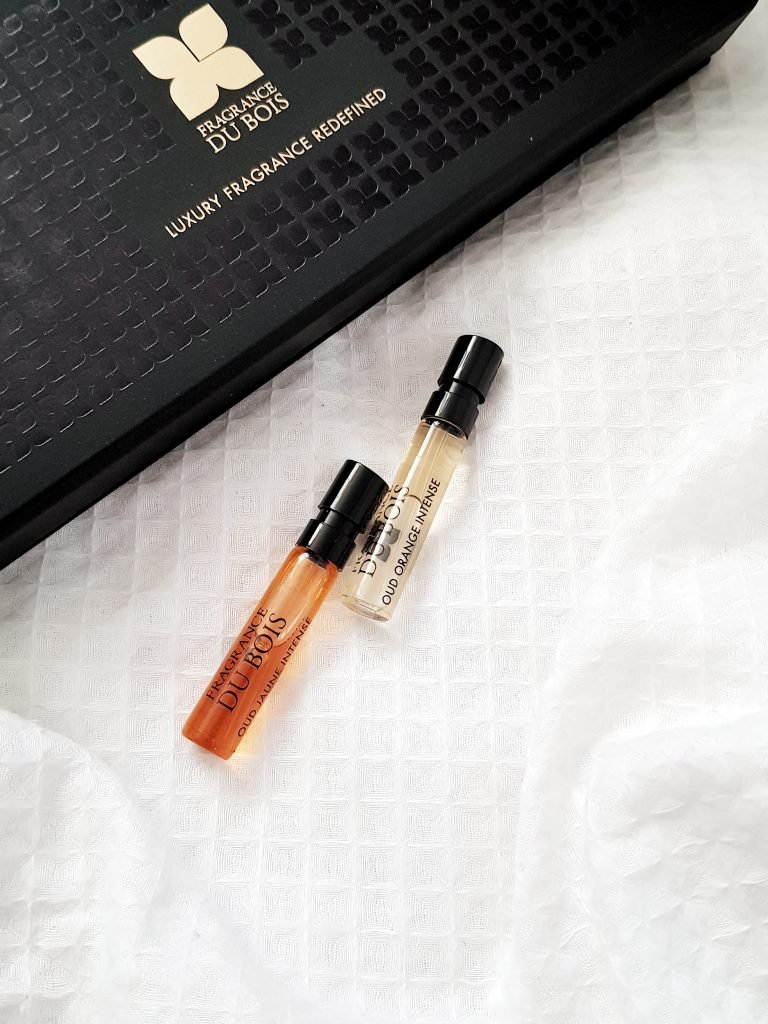 Oud Rose Intense – This is the most gorgeous seductive oud fragrance laced with rose and supporting notes of geranium, amber, sandalwood, and citrus. This is great as a wedding scent or for cozy date nights.
Oud Jaune Intense – This is an oriental floral fragrance with key notes of Tahitian tiare flower, fruity notes, white florals, vanilla, agarwood (Oud), and musk. This is a gorgeous tropical white floral fragrance with a twist of oud. Perfect for all year round and for settings like romantic dinners, clubbing, holidays, special occasions.
Oud Orange Intense – This is a tropical oud fragrance with fruity notes, vanilla, coconut, oud and musk. It is exotic, delicious and sophisticated. Oud is not a main player here but fruity and vanilla notes play a major role. Great for holidays and romantic dates.
Sahraa – This is an oriental fragrance with key notes of grapefruit, rose, patchouli, saffron, agarwood (oud), amber, and sandalwood. Sahraa Oud captures the untamed wildness of the Arabian Desert and will transport you to the desert of the middle east.
Brume Du Matin – This is a very clean, morning-like scent like someone captured the scent of florals from early spring in a bottle. This fragrance doesn't have any oud in it and is great for those who do not like heavy fragrances. This is fab for brunch, coffee dates or a delicate setting with a loved one.
Santal Complet – One of my faves – this is a gorgeous creamy coconut and sandalwood fragrance. This is great for intimate settings and date with your loved one.
Cannabis Blue – This is an oriental woody fragrance with key notes of cardamom, pink pepper, orange, cannabis, nutmeg, saffron, oud, woody notes and musk. This is a lovely casual scent for cold weather.
New York 5th Avenue – This is a part of Fashion Capital's collection and is a Spicy, Woody Oriental fragrance. This fragrance is dedicated to the magic of winter and the holidays in New York City. The key notes are bright bergamot, delicate rose, caramel, violet, sweet vanilla and sensual woody notes. The fragrance is a fab pick for night outs.
New York Intense – This is a warm spicy scent with gorgeous amber notes. The key notes are blackberry, cinnamon, orange, rose, herbal notes, cloves, honey, vanilla, orchid, myrrh, oud, musk, patchouli, vetiver and cedar. This is sweet, seductive, aromatic and powerful at the same time.
Milano – Milano is also a part of Fashion City's collection and is a gorgeous leather fragrance. The key notes are citrus, leather, white florals, amber, vanilla, musk and woody notes. It is fab for going out situations specially when wearing a leather jacket!
The delivery cost on this set is complimentary by the brand. The fragrance set is currently out of stock. However pre-order option is available on the website and the orders will be shipped after 15th February.
Have you tried any fragrance from this niche house? If not, which one would you like to try?
Until next time, Ashh xo
Disclaimer: This post features press samples. Opinions are my own and unbiased.