It's all about hydration on my blog lately and also at Caudalie as the recent mail from the brand consisted of their 2 best selling products from the Vinosource range and an Instagram-able eco-friendly summer water bottle.
Vinosource means natural source of hydration which I get as Hydration from the vines.
After using Radiance Serum for a long time and being so impressed with it, I had to try the S.O.S Thirst Quenching Serum which is a god-send for thirsty, dehydrated skin (like mine!). This serum is rich in organic Grape Water and hyaluronic acid which together make a dream team for hydrating and plumping the skin. This non-comedogenic serum has ultra-light texture and is great for  all skin types, from very dry to oily. Caudalie believes that all day hydration is increased by 40% which is very impressive.
This serum is a burst of moisture for dehydrated skin and even if you do not have thirsty skin, this serum will only do good.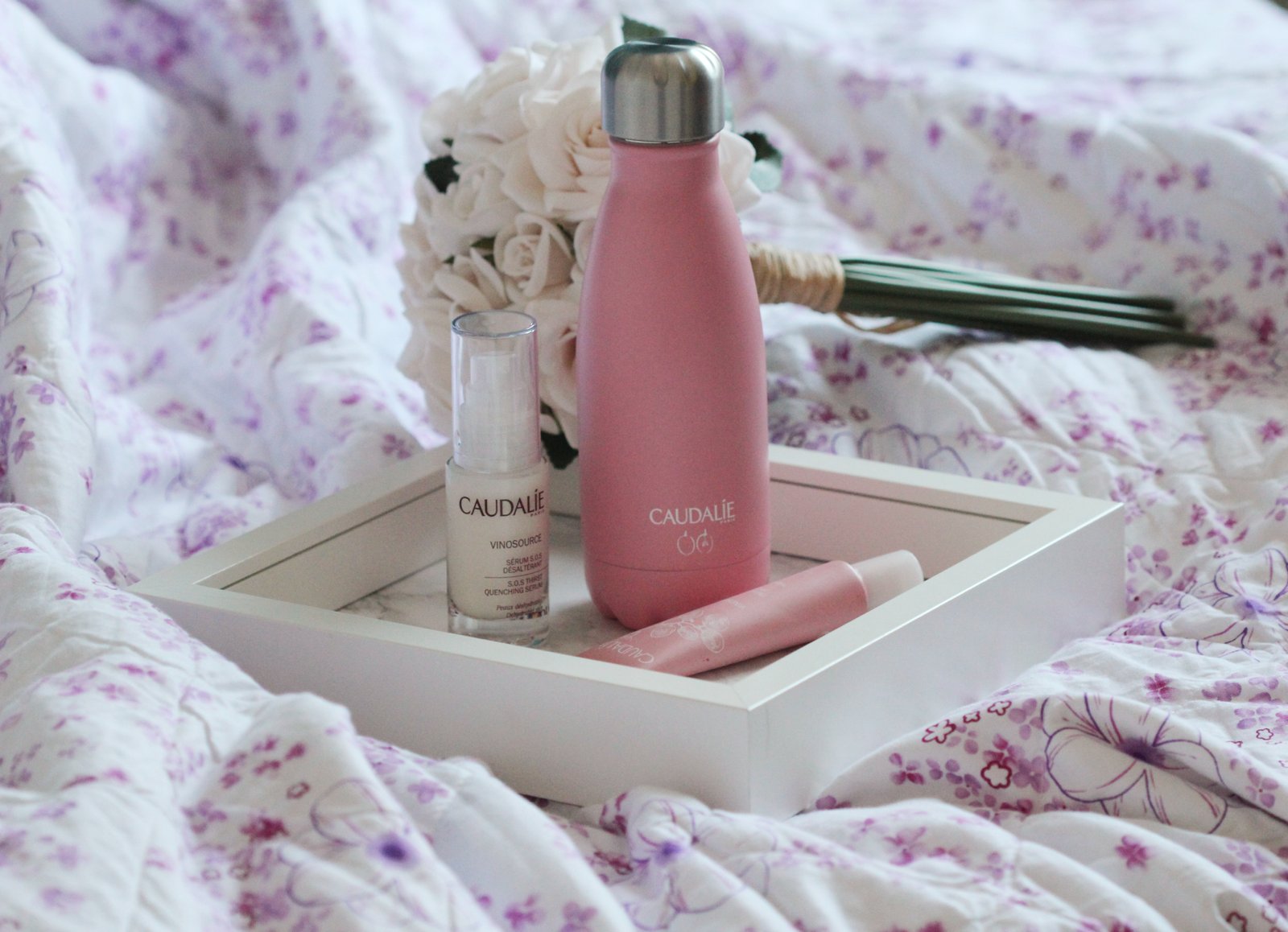 If you have dry and sensitive skin, you need something really soothing and calming. Moisturising Sorbet is an oil-free, ultra-lightweight soothing and hydrating gel-cream. The cream-to-gel formula goes onto the skin as a cream & finishes as a gel on contact, creating a layer of moisture to reduce redness and help soothe, hydrate and strengthen the skin.It absorbs instantly without leaving a residue and is suitable for all skin types – Normal, Oily, Dry, Combination and Sensitive. This can be used as moisturiser am or pm and can also be used as overnight mask for intense hydration.
The moisturiser is perfect for:
Dryness
Dullness and uneven texture
Fine lines and wrinkles
Redness
The moisturising sorbet also came handy recently when I was on a holiday and got my hand burnt from hot tea. Our family and my sister-in-law's family went to Blackpool and we gather in one room for tea or dinner. My son gets over-excited when his cousins come to England and was running around and accidentally spilled tea on my hand. I had just made it and it was essentially boiled water on me…I applied Caudalie's moisturising sorbet and it took away redness and calmed my skin in minutes. I thought of sharing this episode with you as I was so pleased with the results.
Caudalie products are free from any nasties like Parabens, Phenoxyethanol, Mineral oils (vaseline, paraffin etc.), Sodium laureth sulfate, Phthalates, Raw materials of animal origin.
You need to take care of your skin by staying hydrated from within. There is currently a promotion on Caudalie.com where you get a FREE insulated stainless steel bottle (260ml) with the purchase of any two Vinosource products with code BOTTLE2018 . The offer is valid until 31.08.2018 or until stocks last so make sure you don't miss out.
Until next time
Ashh xo
Instagram | Bloglovin' | Twitter
*This post features PR samples. Opinions are my own & unbiased.