LookFantastic's Christmas Edition box is about all things festive. As the air every morning has become colder and crispier and we have put our trees up, have started decorating our houses and are ready to welcome Christmas this month. From skincare, makeup to hair – LookFantastic Beauty Box has got us covered to help us stay fresh during the busiest time of the year.
What's #LFBeautyBox?
LF Beauty Box is a beauty subscription box where not only do you get 6 premium products from incredible brands each month, but with new subscription options, you can pay MONTHLY across all subscription plans!
What's included in this month's box?
This is the 4th special edition this year and it includes 6 show-stopping makeup and skincare essentials to prepare you as we head into festive season. This month's box has a total value of over £75, and as always, you will receive the latest copy of ELLE magazine alongside the fabulous lookfantastic Beauty Box magazine, exclusive to subscribers, filled with tips, tricks and the latest in beauty trends that you'll need throughout the season.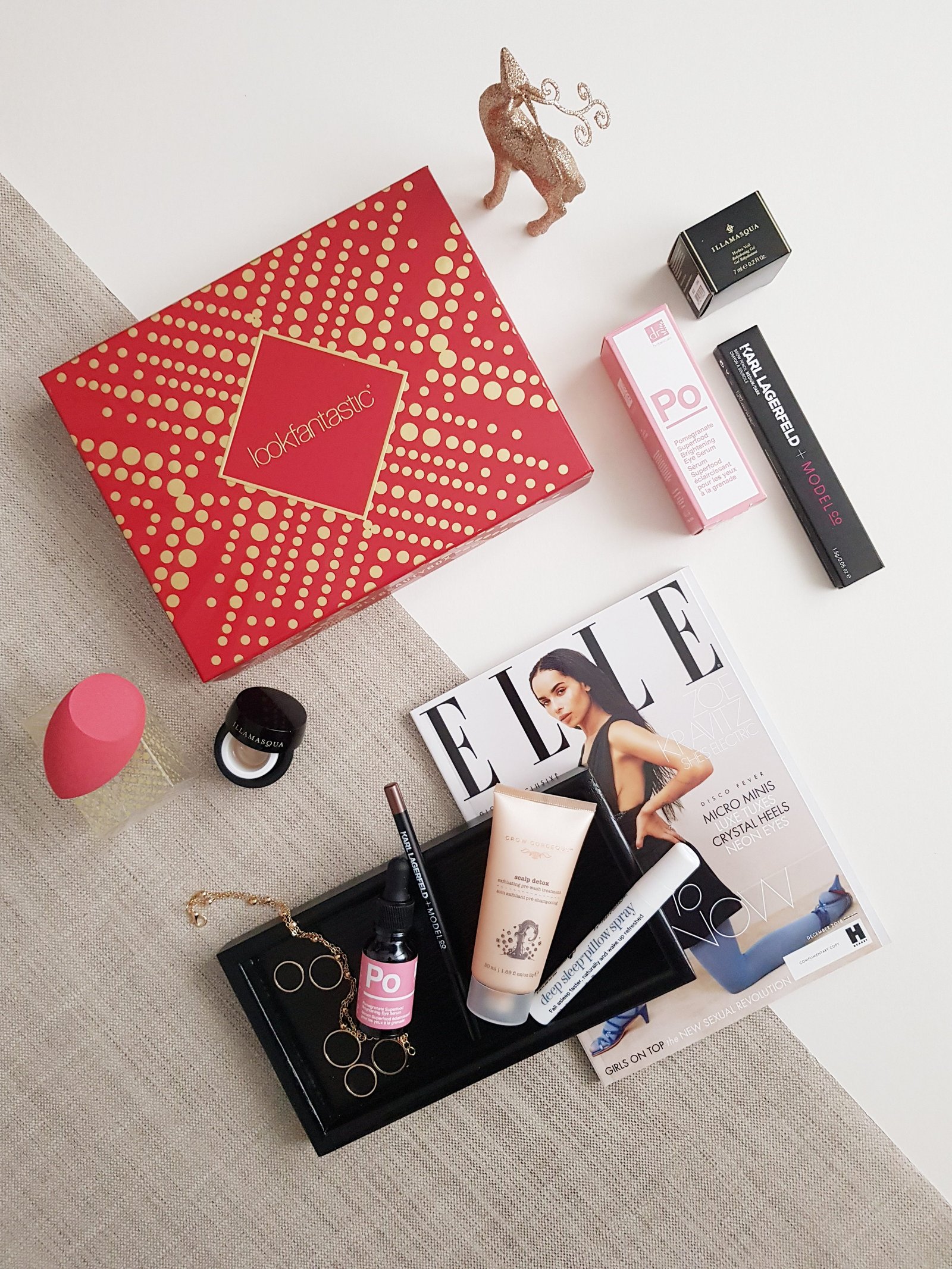 This Works Deep Sleep Pillow Spray (travel size)
A cult beauty favourite, this lavender, chamomile and vetiver infused pillow spray encourages deep relaxation prior to sleep. The award winning fragrance releases relaxing vibes and a calming scent to help wind down before bed. Lightly spritz on your pillow and let the scent take you into a deep sleep.
 Dr Botanicals Pomegranate Superfood Brightening Eye Serum (full size)
This nourishing eye serum will help to smooth and refine the under eyes, reducing the appearance of fine lines and wrinkles. The antioxidant properties of the Pomegranate extract brighten skin, leaving your under eyes bright and hydrated.
Illamaqua Hydra Veil – Mini
Designed to not only hydrate skin, but to provide long-lasting wear for makeup application, this primer is an essential. Its unique gel formula nourishes and calms the skin, creating a perfect base for makeup! It's no surprise that this is a makeup artist favourite. I have a full size one which I use regularly but this one would be perfect for travel.
Grow Gorgeous Scalp Detox (Deluxe Travel)
One of my faves from Grow Gorgeous is the Scalp Detox Mask which is essential for anyone who use styling products or like a regular detox of scalp to stimulate hair growth.
Exfoliate and detox your scalp with this intensive scalp detox. Ideal for keeping your scalp healthy, use this regularly to avoid product build-up and keep hair fresh and bouncy. The cooling formula also contains castor oil beads to help improve hair growth and refresh the scalp.
Karl Lagerfeld + ModelCO Brow Pencil (Full size)
Create fuller looking brows with this high pigmented brow pencil. Use this to fill in any sparse areas to enhance brows to perfection.
Exclusive lookfantastic Beauty Sponge
Apply and set your makeup to perfection with this exclusive lookfantastic Beauty Sponge. This multipurpose sponge is ideal for application of all manner of makeup – from foundation to powder, this is a makeup bag essential.
You can subscribe to Look Fantastic Beauty Box to secure your next Beauty Box.
Until next time
Ashh xo