When it comes to all things beauty, there have been some old faves and some new standout products that I couldn't stop using last year. I have tried and tested so many products last year and have narrowed down to some of my faves in both skincare and haircare.
Makeup Removers
When it comes to makeup removers, I have two holy grails – Bioderma Micellar Water as well as Jane Scrivner's Nourishing Cleanser Balm. I have been through numerous bottles of Bioderma Micellar Water this year and this works great for sensitive skin as well. Whenever I have breakouts or when my skin has a weird reaction from something, I switch to basics and Bioderma Micellar Water is one such product that helps every single time. The nourishing cleanser Balm by JS is just the BEST balm not just for removing makeup but also as a deep cleanser for dull, congested skin. It also removes all dead skin and blackheads/whiteheads without much effort. This is a firm fave for both me and my husband.
I also enjoyed using Omorovicza's Peach makeup remover Pads this year. These were perfect for when I'm on-the-go. The makeup remover towelettes are soaked in micellar water and gently removes makeup and impurities from the skin.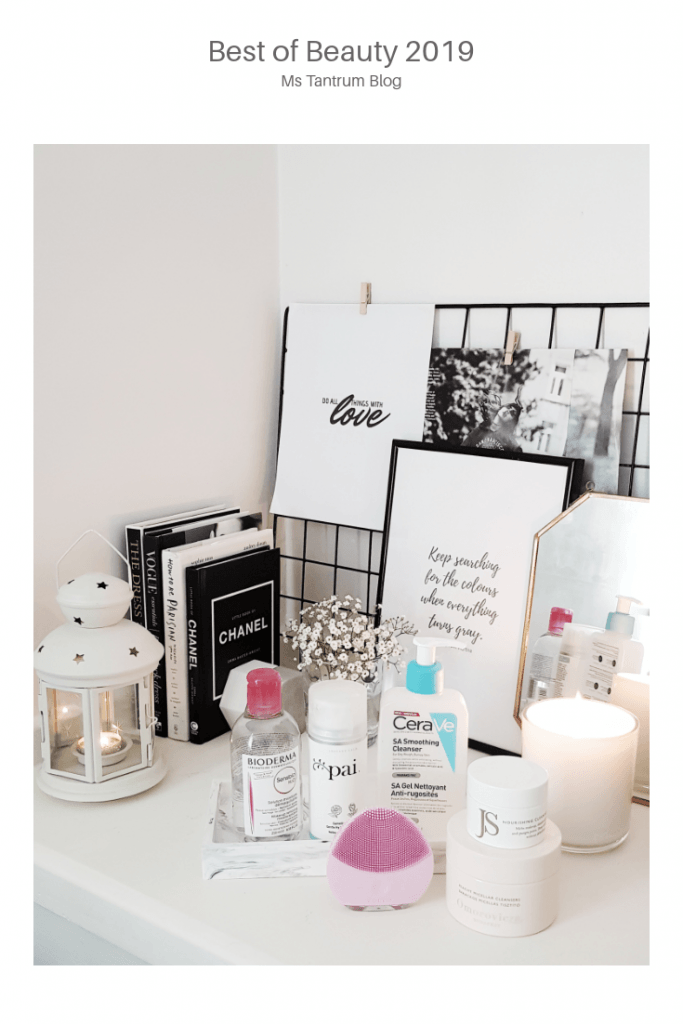 Cleansers
For Cleansers, I have gone back and forth with Cleansers I have loved for years but Pai Camellia & Rose Gentle Hydrating Cleanser stands out to me as it is the most gentle cleanser in my stash and feels like a treat whenever I use it. I also switch back to this cleanser when my skin starts acting up. This is fabulous for sensitive skin.
Towards the second half of 2019, I have also been using CeraVe's Smoothing Cleanser which not only works great for dry and congested skin on the face but also works wonders for Keratosis Pilaris or dry bumpy skin on the body. This is the only cleanser I took with me to my 5-day trip to North this year.
As we are on cleansers category, I would also like to mention my favourite cleansing tool of the year. It is none other than Foreo LUNA Mini 2 Facial Cleansing Brush which is a sonic pulsations silicone brush and holds up charging for quite a lot of uses. If you are not very good with cleaning your face brushes often, then this brush is such a time-saver for you. It deep cleanses skin and the silicone bristles mean there won't be any bacterial buildup. I also like to use Foreo LUNA Play for my travel which allows up to 100 uses.
Toners & Essences
Pixi Beauty's Glow Tonic has been my favourite for many years now. Glycolic Acid is great for clearing up the dead skin and revealing glow. For a glow toner, I have stuck to this favourite as it is gentle but effective.
I have also been using Caudalie's Vinoperfect Concentrated Brightening Essence quite a lot this year. This essence balances the complexion and adds radiance to the skin. I have been loving this essence for over 2 years now and will continue using this in 2020.
A new multi-tasking toner was added to my routine in 2019 and that is Chantecaille's Pure Rosewater Mist. Rosewater takes me back to my teens when I used to add rosewater to all my homemade face masks. This has many skincare benefits and the uplifting aroma of rosewater is a treat to the senses. Boasting a rare extract, the luxurious water delivers rejuvenates the complexion, leaving it youthful and awakened. This can also be used as makeup setting spray for a dewy finish.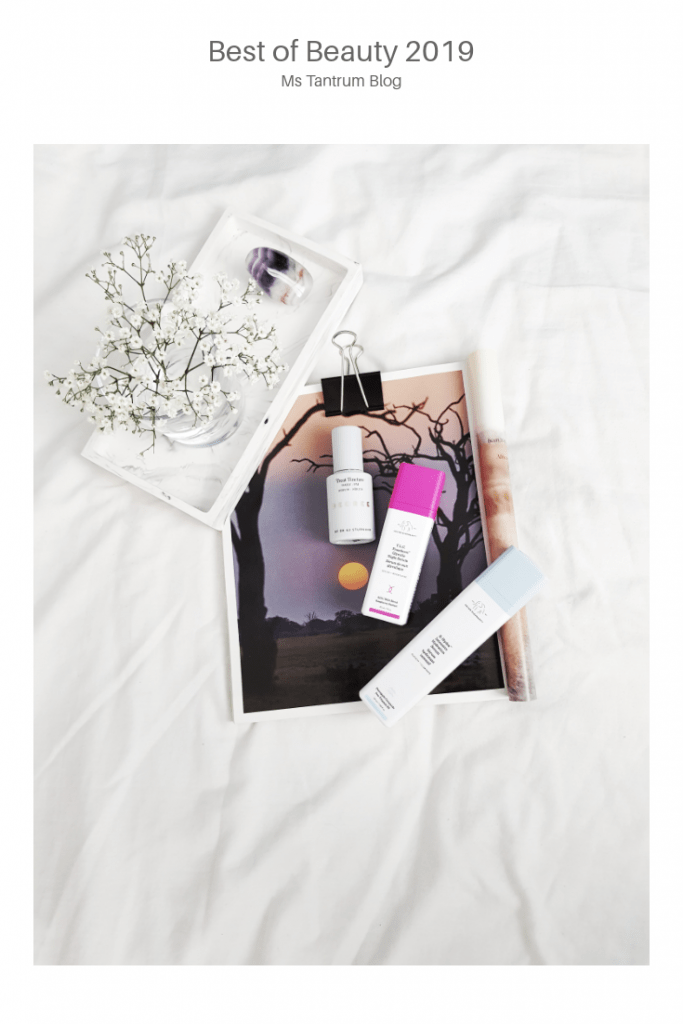 Serums
Drunk Elephant Skincare was added to my routine last year. The TLC Serum was a gamechanger when it comes to the texture of my skin. The B-Hydra serum is a lovely hydrating serum and can be used in conjunction with any serums.
Towards the end of 2019, I got to try Decree Skincare and the Treat Tincture PM Serum is so good that I would mention it in faves after use of about 2 months now. This is a gold standard serum that treats, lifts and brightens the skin.
Moisturisers
REN EverCalm Overnight Recovery Balm is one of the gorgeous oil-based moisturisers which repairs skin's barrier overnight. This balm feeds the skin with lipids from Olive, Almond, Borage and Linseed oils and nourishes the skin intensely. When I want an intensely nourishing treatment for my skin, I reach out for this balm and this generally happens on cold evenings.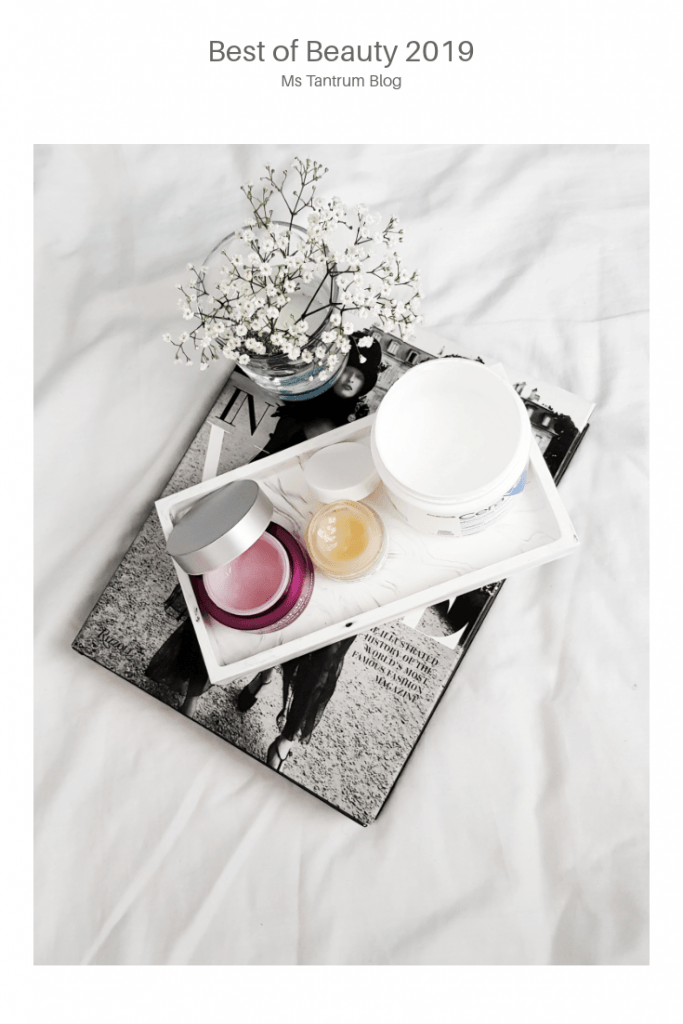 CeraVe Moisturizing Cream for Face & Body is a Family Favourite and I have been through 2 or 3 tubs of these already! This is great for kids as well and is fabulous for dry skin. I use it on my son's face and body as well and absolutely love it! The fact that this has ceramides makes it perfect for sensitive skin. It repairs skin's barrier and really helps my skin when I have a little rash or itchiness going on my cheeks.
Murad Nutrient-charged Water Gel has been my go-to moisturiser last summer. It is such a light-weight gel moisturiser that cools down the skin as soon as you apply it. Though it is a light moisturiser, it is very hydrating and delivers much-needed moisture to the parched skin. The oil-free formula makes it suitable for all skin types. You may use my code ASHH10 for 10% off your purchase on Murad Products.
Oils
Due to dry and dehydrated skin, I consider Oils as my Best friend. Drunk Elephant Virgin Marula Oil is clinically proven to reverse signs of ageing. It also offers antioxidant benefits, hydrates the skin and helps restore a radiant tone.
Jurlique Skin Balancing Face Oil is a non-greasy, wonderfully light moisturising face oil that will soften, protect and nurture your skin. When I have dry patches or have sensitized skin, I use this oil in my routine. I also use it over any harsh chemical treatment in order to balance my skin and restore its moisture.
Chantecaille's Rose de Mai Face Oil is a powerful elixir infused with rosehip, evening primrose, Rosa Damascena and geranium roses, to revitalise and rejuvenate the skin. I discovered this oil last year when I had my facial with Chantecaille and I am so glad I got my hands on this. This is best for all skin types but if you have dry skin, I highly recommend checking this out.
Exfoliants & Masks
Enzymes work so well in exfoliating dead skin and Radical Skincare's Enzyme Peel is a complexion transforming peel which lifts away dead cells to reveal smoother, softer, brighter skin. This peel has a fruity blend of Papaya, Mango and Lemon mixed with Vitamins and Antioxidants to produce the ultimate nourishing treatment.
Murad Hydro-glow Aqua Peel was my favourite in 2018 as well. It has been amazing for exfoliation and hydration in one and is a very travel-friendly peel. I also use it on long flights.
Madara SOS Moisture + Radiance Mask has been my go-to this year when my skin needs extra hydration in the form of quick treatment mask.
Murad Rapid Resurfacing Peel is another gorgeous peel that comes in individual sachets making it perfect for travel. This has been my favourite for over 2 years now. It completely takes off all dry skin revealing a bright glow-y complexion.
Caudalie Instant Detox Mask is another fave which gets featured on my blog every year as the best detox mask! Whenever my skin is congested or when it breaks out, I like to use Instant Detox Clay Mask from Caudalie. I must say this is my favourite clay mask ever!
Bodycare
Ameliorate Body Exfoliant & Transforming Body Lotion for my Keratosis Pilaris Condition. These products are truly skin transforming and smooth the body's skin texture for a much softer feel and look. Thanks to the Lactic Acid and Alpha Hydroxy Acids Combination that together works to take care of bumpy, rough skin and also helps if you have problems of ingrown hair.
Soaper Duper Products when I want to recharge my body with a burst of freshness and beautiful aroma. The best part is their products are cruelty-free and 97% naturally derived so the fragrance in the products is all-natural.
SVR Xerial 10 Lait Corps has been a firm favourite for taking care of dry feet and body. This cream has 10% Urea in it and provides intense comfort to dry skin. This cream transforms dry flaky skin to baby-soft skin.
Body Oils
When it comes to moisturising and massaging treatments, I highly recommend checking out Lola's Apothecary body massaging oils. I have been using Divine Grace Oil for skin regeneration properties and Sweet Lullaby Oil for relaxing. Both Oils are super nourishing for the skin and have a beautiful aroma. These are like indulgent home-spa products that I recommend if you have a busy lifestyle. These will help relax your senses and provide a comforting spa-like experience.
If Dry Oil is your thing then Nuxe does the best multi-purpose dry oil for body and hair. I like to use it on my body when I go out especially in summer. These make my arms and legs look healthy without looking sticky. I also enjoy shimmering dry oil from the brand.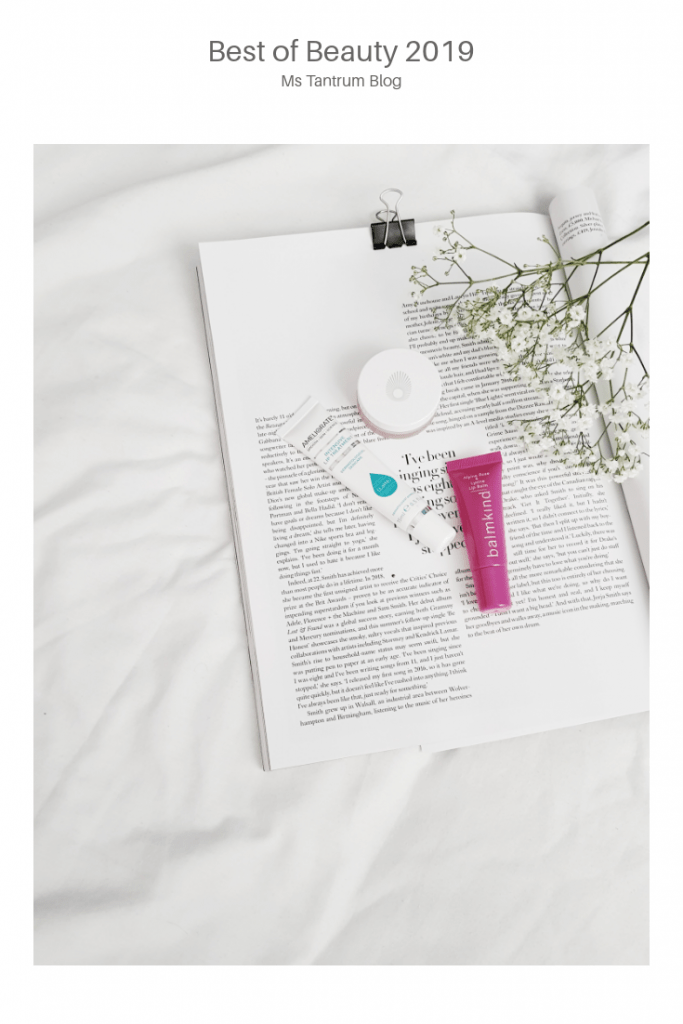 Lip Products
Ameliorate Intensive Lip Treatment is a fabulous Overnight treatment for lips. It does make them look creamy white but that's okay as it is an overnight treatment. The hydrating formula provides instant relief and comfort to dry, chapped lips. The treatment contains optimum levels of active ingredients, which together with a blend of Ceramide-like Amino Acids, Oat Lipids and the brand's unique LaH6 Skin Hydration Complex, replenishes moisture, enhances the protective skin barrier and improves elasticity. Lips are left feeling softer, smoother and healthier-looking.
Balmkind Alpine Rose & Lysine Lip Balm is an all-rounder and can be used day or night. The nourishing formula blends antioxidant-rich fruit and flower oils and extracts with an essential amino acid, hydrating oat lipids and soothing licorice root to help keep your lips looking and feeling their best.
Omorovicza Perfecting Lip Balm nourishes, softens and smooths the lips, whilst enhancing them with a fuller and plumper appearance. I love it during the day.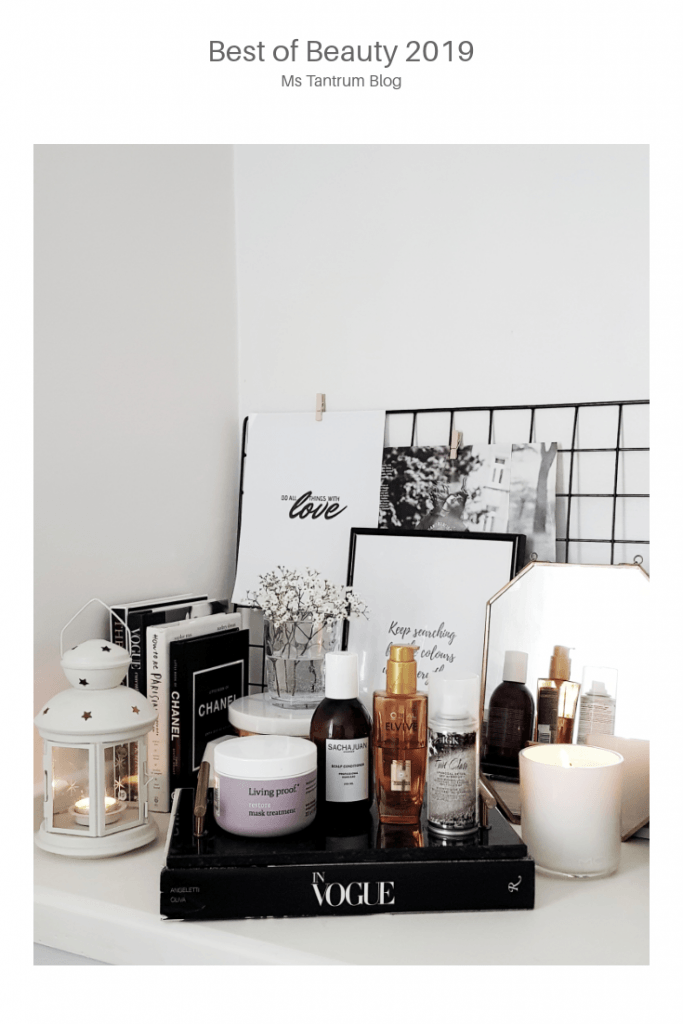 Hair Products
Onto the hair products, I have a few fave brands but Scalp Range from Sachajuan is one of my faves for quite a few years now. I recently ran out of the Scalp Shampoo and I do not find any other shampoo being close to this one.
Livingproof Inc. 's Restore Hair range is really good if you have dry and damaged hair. I really like the Restore Mask from this brand.
For Dry Shampoo, IGK Hair's Charcoal Detox Spray is really good! It lifts dirt and build-up while absorbing oil and sweat. This dry shampoo cleanses even the oiliest hair and scalp with oil-erasing, odour-eliminating charcoal powder.
Loreal Elvive's Extraordinary Hair Oil is fab for managing flyaways, protecting before heat treatment and overall shine for hair. Love this!
Honourable Mention
Body Souffle – I had no idea if I should put this to Body Creams or Oils as this blend is the best of both worlds really! I got to try Tranquil Isle Velvety Whipped Body Souffle from Lola's Apothecary last year and oh my goodness, it is just the most incredible product I tried the last autumn-winter. This velvety whipped air-light feathery cream transforms into oil when rubbed and is super nourishing for the skin. This blend is available in different fragrances. If you can, definitely get your hands on one of these.
No faves in Hand Cream section this year, I have been using various creams from Caudalie, Neom Organics, Atelier Cologne, Crabtree & Evelyn and more.
If you managed to read till the end, you're a star! Wishing a very happy new year to you and your loved ones.
Until next time, Ashh xo
*Some products were gifted to me but my opinions are always 100% honest and unbiased.