Though dates are currently limited to our homes these days but times will change my friend! Whether it is a date night at home or outside or just a brunch with your partner, these fragrances are great for those romantic moments. These are all very classy fragrances and are also some of the best perfumes for women.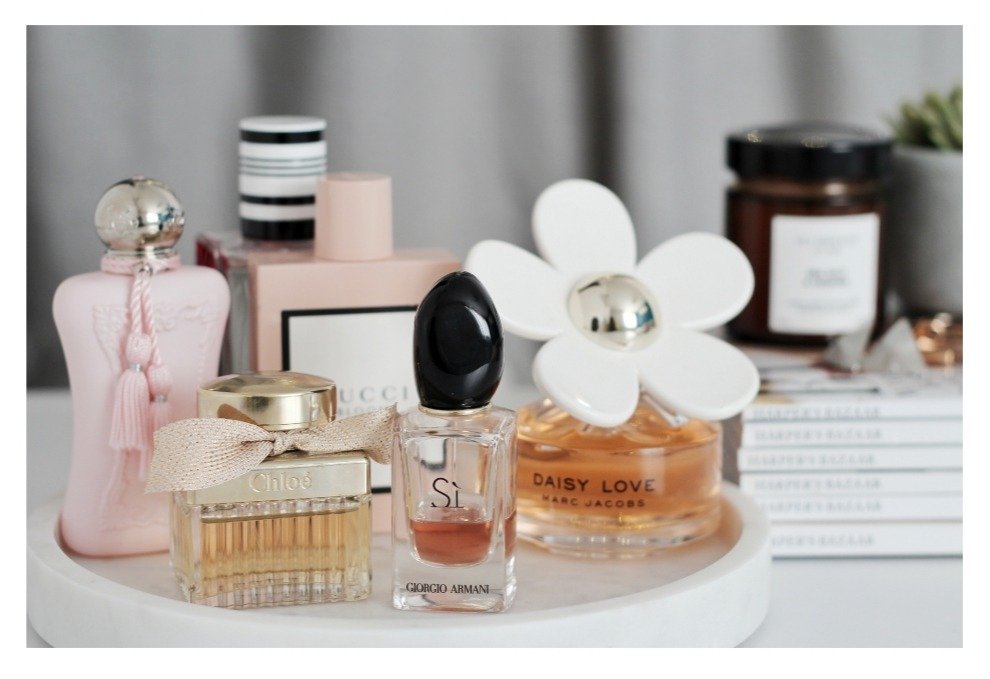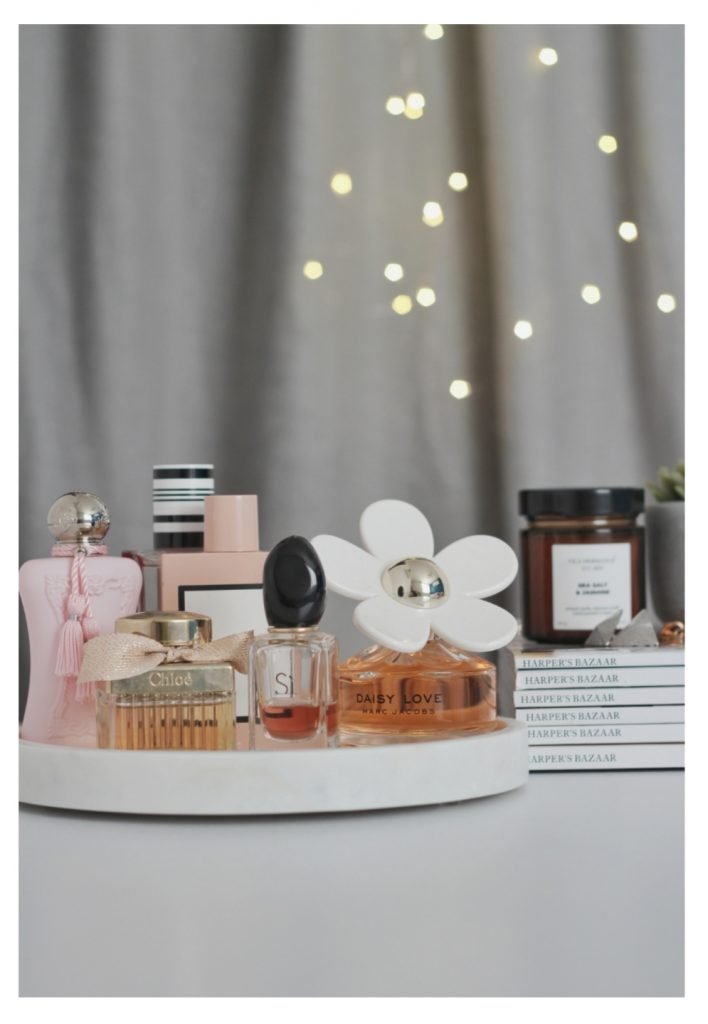 Gucci Bloom Eau de Parfum – This fragrance is like white flowers in a bottle. The fragrance is very feminine and sophisticated.
Top Notes: Orange, Green Notes
Middle Notes: Tuberose, Jasmine Sambac, Honeysuckle
Base Notes: Orris Root, Sandalwood, Vanilla
Longevity and sillage are moderate for me. It is a beautiful daytime Spring and Summer Fragrance that smells blooms and screams very expensive. This inoffensive fragrance clearly is a happy choice for warm weather. I picture a classy woman wearing this fragrance.
Chloé Absolu Eau de Parfum by Chloé is an oriental floral fragrance for women. It is an irresistible essence that intensifies the signature Chloé fragrance.
Top Notes: Damask Rose
Middle Notes: Grasse Rose & Patchouli
Base Notes: Vanilla
It is a fresh, airy, oriental floral romantic fragrance that has impressive longevity. The contemporary glass bottle reflects the elegance, style, and heritage of Chloé, and delivers a complete experience. So whether worn during the day or evening, you'll be certain to delight in the breezy scent. Chloé eau de parfum is the perfect addition to your perfume collection or would be warmly received as a gift.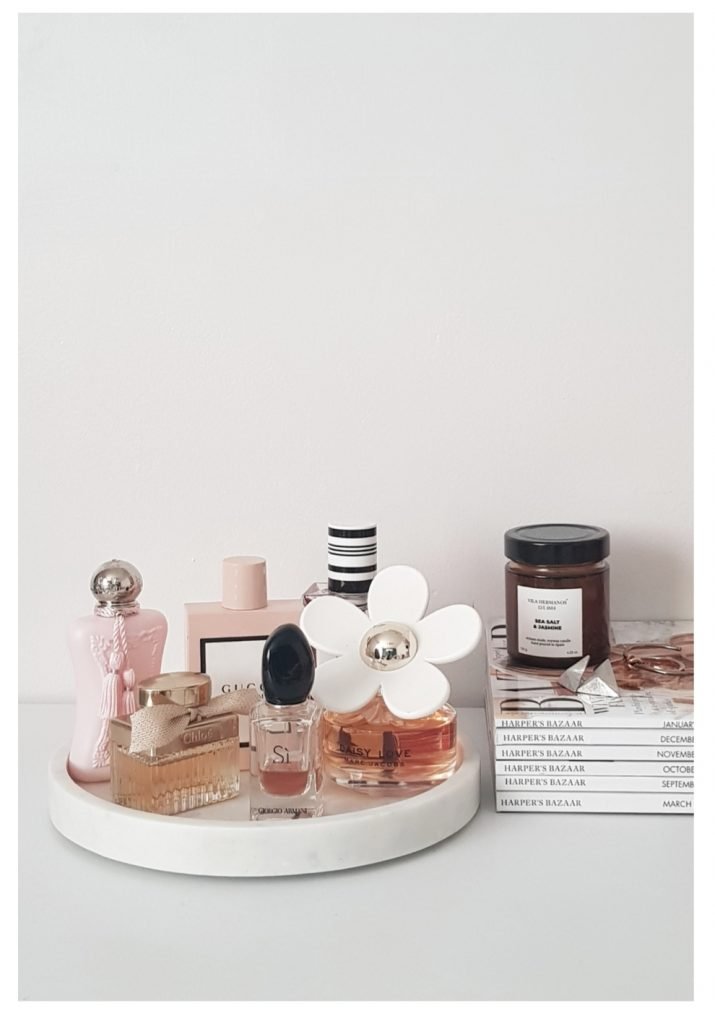 Parfums De Marley's Delina Eau de Parfum Royal Essence EDP is a tribute to luminous and sensual femininity.
Top notes: Bergamot, Pear, Lychee, Rhuharb
Middle notes: Turkish rose, Peony, Musk, Petalia
Base notes: Woody, Amber, Vanilla, Cashmeran, Cedar, Incense
Though rose fragrances may not be everyone's cup of tea I feel this fragrance is easily loved. The fragrance has a young, modern, and fresh fruity-floral composition and makes a great choice for date night or special occasions. It is a fabulous signature fragrance for a modern, self-confident woman. As it is a bit sweet and woody along with floral, I would easily take it from summer to winter and enjoy it throughout the year!
Armani Sì Eau de Parfum – This is a modern chypre fragrance for stylish and charismatic women. It is elegant, sensual & feminine. It lingers on the skin and enchants the senses.
Top notes: Cassis, Bergamot, Mandarin
Heart notes: Freesia, Rose de Mai, Neroli, Jasmine
Base notes: Patchouli, Woody scents, Amber, Vanilla, Ambroxan
The combination of floral notes of blackcurrant and freesia will play on your heartstrings. Say "sì" to freedom, dreams, love, and yourself.
Marc Jacobs Daisy Love Eau de Toilette – This fragrance will transport you to a field full of daisies – a world where you're free and there is no problem!
Top Notes: Crystalised Cloudberries
Heart Notes: Daisy Tree Petals
Base Notes: Cashmere Musks, Driftwood
Subtle sweet with musk and a dose of woodsy notes made it more chic and classy. The bottle design gets full marks and the fragrance is absolutely stunning! It has an impressive performance. It is a beautiful late-Summer/ early-Fall fragrance.
Balenciaga Florabotanica Eau de Parfum – Modern, attractive and unusual – These are the words that describe Balenciaga Florabotanica the best! This is an aromatic floral fragrance for modern women who want to stand out from the crowd. This is not your typical floral at all – The mint is cooling while roses and carnation add a floral aspect to the green notes. Cannabis is there but not overpowering in any way. It smells like a dewy garden with a lot of greens and watery juicy roses.
Top notes: Mint
Middle notes: Cannabis, Carnation, Rose
Base notes: Amber, Vetiver
This fragrance is perfect for spring and summer but can also be pulled off easily during fall weather. It projects so well off my skin and does last a long time too. You can wear this fragrance every single day and will not get tired of it. This is a compliment-getter for sure and can easily be a blind-buy!
These were some of my top picks in the romantic category. Have you tried any of these?
Until next time, Ashh xo