When it comes to aesthetics, Swedish brands have got it right and most pleasing! Byredo's best selling scents have a cult following and for good reasons. Luxurious, chic & sophisticated are the words that come to my mind when I see and smell Mojave Ghost by Byredo. This fragrance is a tantalising scent of the ghost flower from the Mojave Desert.
Story behind this fragrance
The Mojave Desert is a desert located across southeastern California, southern Nevada and northwestern Arizona in the United States and is known to be one of the most arid desert in the world, mainly for its Death Valley. The term Mojave, originally used by the Native American Tribe, means the land 'beside the water'. In this extremely difficult conditions exist a flower also called "the ghost flower" that can develop with almost no water and that cannot pollinate. It is a miracle flower, extremely rare and beautiful, a Mojave Ghost. This fragrance was launched in 2014 and is a great release from the house of Byredo.
Packaging
Like other Byredo fragrances, this scent comes in a classic signature Byredo glass bottle with black satisfying magnetic closure lid. This bottle is housed in a white cardboard box with a card sleeve.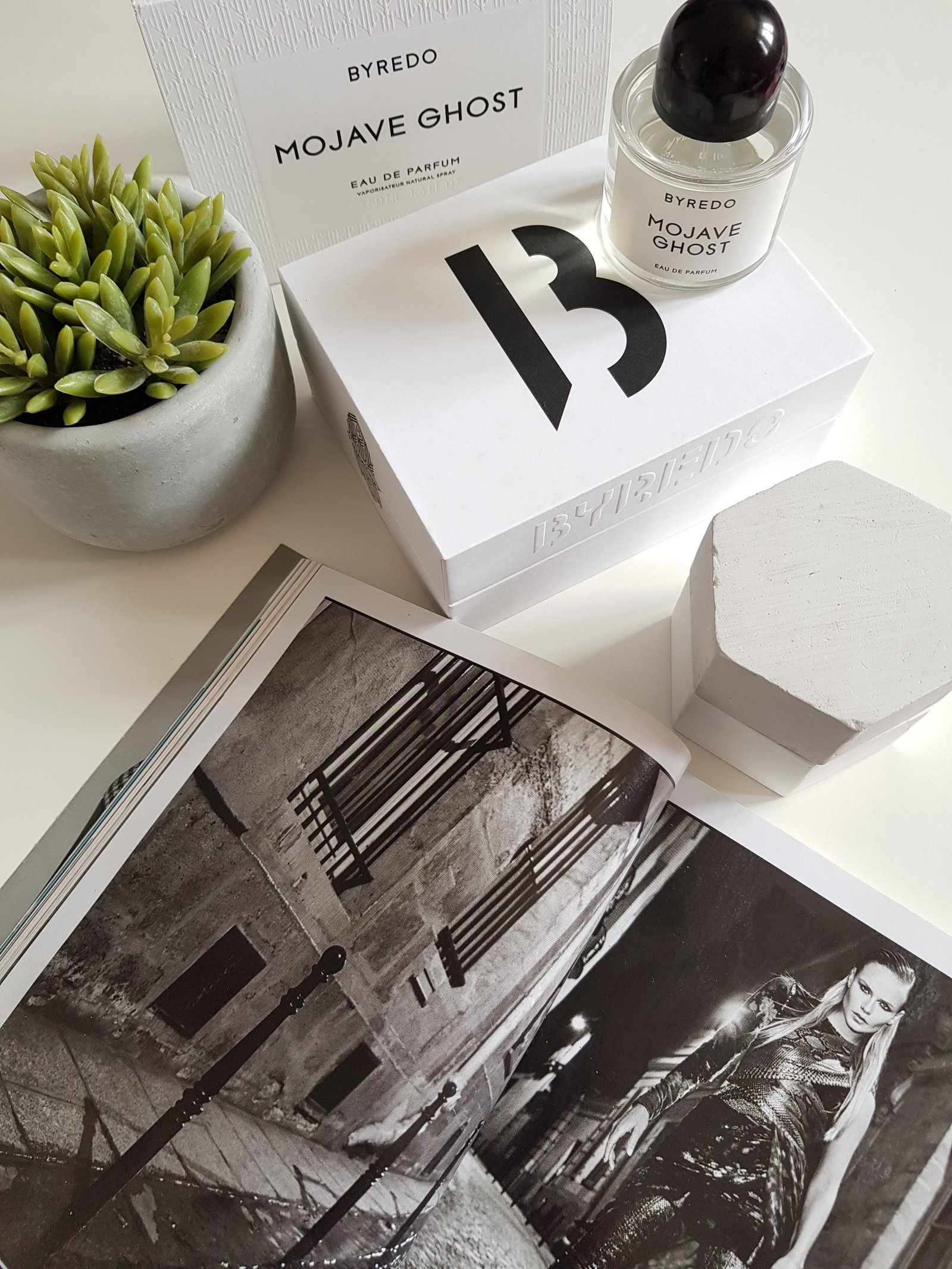 Notes
This woody fragrance has a light and graceful character, with hazy, musky top notes of ambrette and Jamaican nesberry. A contradictory heart is powdery and white with refreshing violet, sandalwood and magnolia, while a base of chantilly musk, amber and cedar wood leaves a slowly unfurling, spirited richness on the skin.
Top Notes
Ambrette
Heart Notes
Magnolia, Sandalwood, Violet
Base Notes
Cedarwood, Chantilly Musk, Crisp Amber
Longevity
The projection is moderate and the fragrance lasts on me for upto 6 hours.
Availability
The fragrance is available from £87.50 at Notino UK.
Overall thoughts
This unisex fragrance has a woody composition with a light and graceful character that slowly discloses its true intensity. It smells fresh, sophisticated, expensive and is an inoffensive scent for office setting or day time wear even in summers. The lasting power is pretty impressive considering its a light fragrance. If you like intense fragrances, you may prefer Gypsy Water which is an earthy & delicious fragrance from the brand like rain drops on earth.
There is a Pre-wedding preparation content for both Brides and Grooms which is pretty amazing. The new website is much easier to browse products according to various needs. The wedding page gives access to hand picked fragrances for the big day, pampering products like skincare, haircare and bodycare for the pre-wedding care. They have also given an amazing selection of some perfect Bride-to-be Gifts.
On other note, I cannot wait for Black Friday (Summer Black Friday starting July 9) Sale at Notino. There will be 20% off top brands with code SUMMER20GB but the 20% discount doesn't apply to products on sale or in clearance. Its a great way to buy a lot of expensive products at discounted prices.
Until next time
Ash xo
Instagram | Bloglovin' | Twitter