Lookfantastic's January Box is packed with all things – Clean Beauty as its the right time to refresh, detox and rejuvenate. Its not just about detoxifying your skin but incorporating the same to mind as well. This month's beauty edit includes 6 amazing makeup and skincare essentials to refresh and revitalize the skin for the New Year.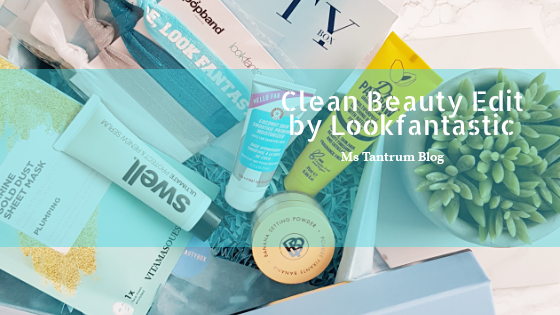 What's LookFantastic Beauty Box?
Six luxury beauty products from new and old favourite brands worth over £50 delivered to your door every month. You may choose a subscription package to suit you from 1, 3, 6 or 12-month subscriptions. This month's box has a total value of over £60 and can be purchased from £13.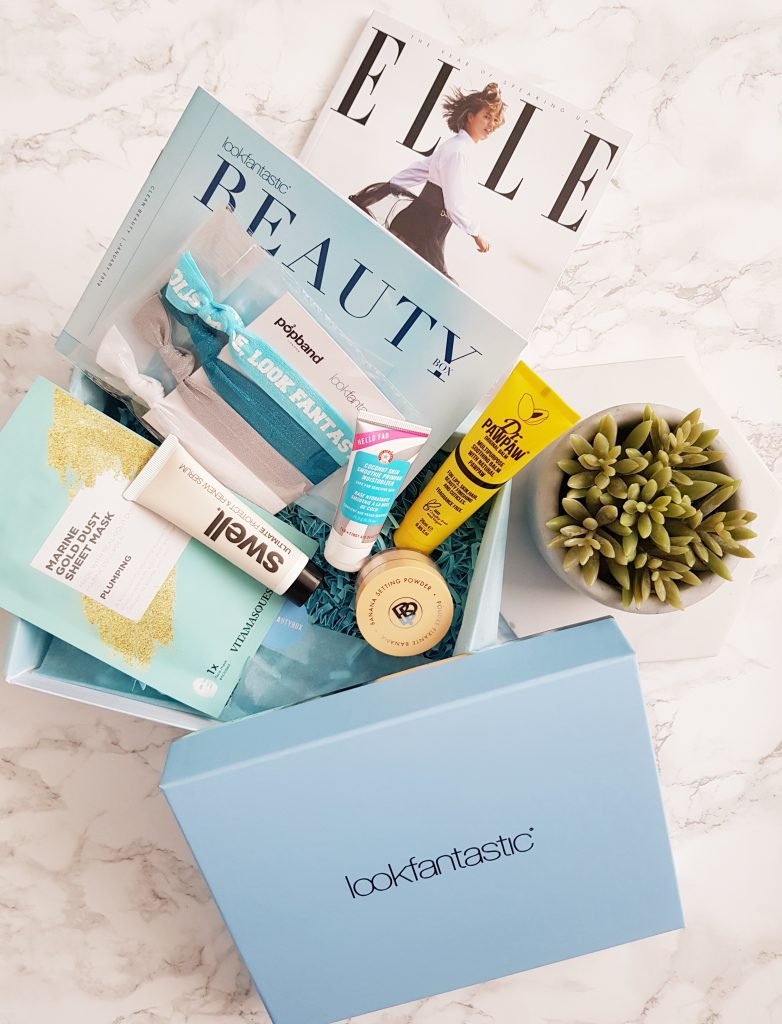 What's in the Clean Beauty Box?
Dr. Paw Paw Original Clear Balm – Dr. PAWPAW Original Balm is made in Britain with a variety of natural ingredients and is a multi-purpose weapon against all kinds of skin problems. The main ingredient, fermented PawPaw, boasts natural healing qualities and is said to be one of nature's finest remedies. This fragrance-free balm has a plethora of uses; it's perfect as a skin protector, moisturiser, nappy cream, lip finisher, for cuticles, for sun burn, skin irritations, as a hair conditioner and for any other skin related purpose you can think of.
PopBand Active hair ties – Holding hair up without kinks, the Popband London Hair Ties are kind to your locks, and look super cute on the wrist when not in use. The stretchy, 'no dent' bobbles secure your up-do in place without damaging hair. Fun and functional, the multi-pack ties are ideal for any style or occasion.
Swell Ultimate protect and renew serum – You can achieve salon-worthy results with this vegan Swell Ultimate Protect and Renew Serum – a weightless, non-greasy formula that complements the brand's award-winning 3-step system. The multi-tasking serum helps to control frizz and conceal split ends, whilst delivering luminous shine for a sleek, glossy finish. Defends against the damaging effects of heat styling to leave hair smooth and healthy-looking from root to tip. Imparts a luxurious aroma derived from pure essential oils.
Vitamasques Gold Dust Sheet Mask – Inspired by Korean skincare techniques, the Vitamasques Marine Gold Dust Sheet Mask fits seamlessly on the face for maximum absorption. Hydrating + Collagen Boosting, The benefits of marine collagen to revive and help rebuild your skin to a more youthful state, healing the dermis layers with potent nutrients from the sea.
Bellapierre Banana Setting Powder – This is a lightweight, yellow-toned powder to cover up discolouration and instantly reduce the appearance of visible redness. Gliding on effortlessly, its yellow tinge becomes invisible when applied to skin for long-wearing coverage and a smooth, soft finish.
First Aid Beauty Coconut Skin Smoothie Priming Moisturiser – This is a 2-in-1 skin hydrator that intensely moisturises skin whilst perfecting the look of pores and blemishes. Combining the benefits of makeup and skincare, the oil-free moisturiser intensely nourishes whilst brightening and smoothing skin. Skin is quenched, radiant and perfected. Can be worn alone or beneath makeup.
Each #LFBeautyBox comes with latest edition of Elle Magazine too which is a bonus! You may subscribe to get your Clean Beauty Box.
Until next time, Ashh xo
Instagram | Bloglovin' | Pinterest
*This box was kindly sent to me as part of PR. Opinions are my own – honest and unbiased!