Even though I'm a huge makeup lover, I choose nude and subtle lipstick shades for my day-to-day looks. My red lipsticks usually sit at the end of the drawer waiting for the party season! This is the time to plan those glittery and glimmery eye looks with a pop of red on your pout. Whether you're planning to attend Christmas parties at work or will be enjoying a nice Christmas lunch with your loved ones, you need a good red lip for the occasion. When I say good lipstick, no brand does it best than the good old MAC. Even though I have a huge makeup collection that includes many luxe brands, I have a strong love for my classic MAC lipsticks.
Whether you buy gift sets (like MAC Exclusive Kiss of Magic Lip Kit) or just a single shade, you need to have a red which is THE ONE for you! Here are three of the shades that came in the lipstick gift set but are also available separately.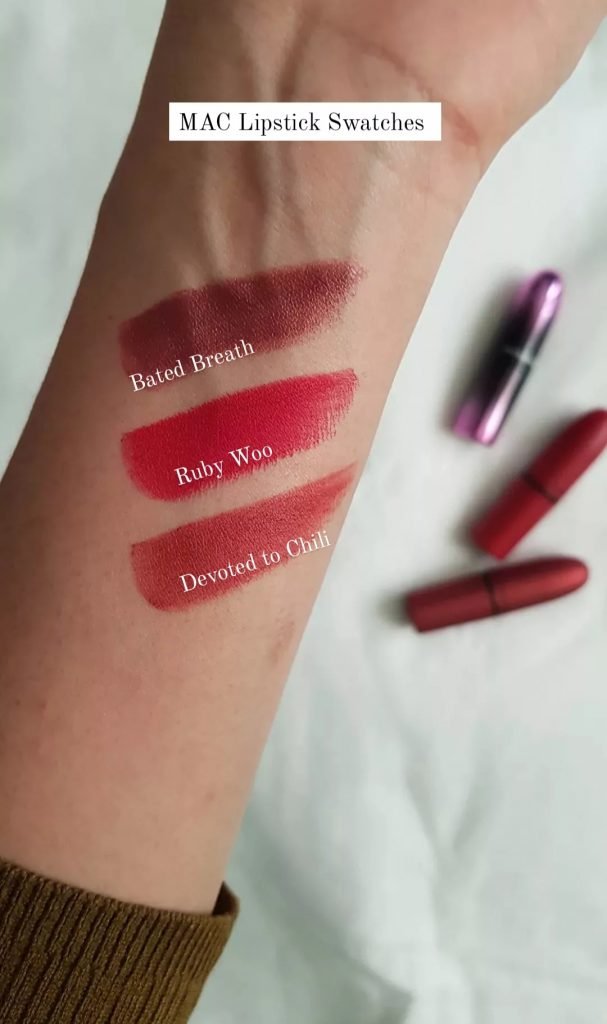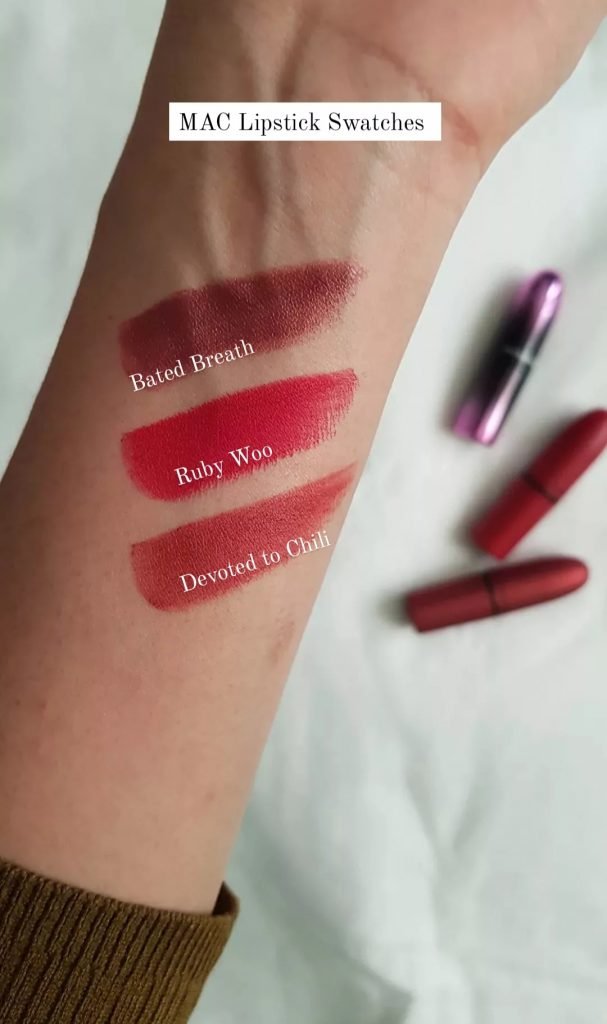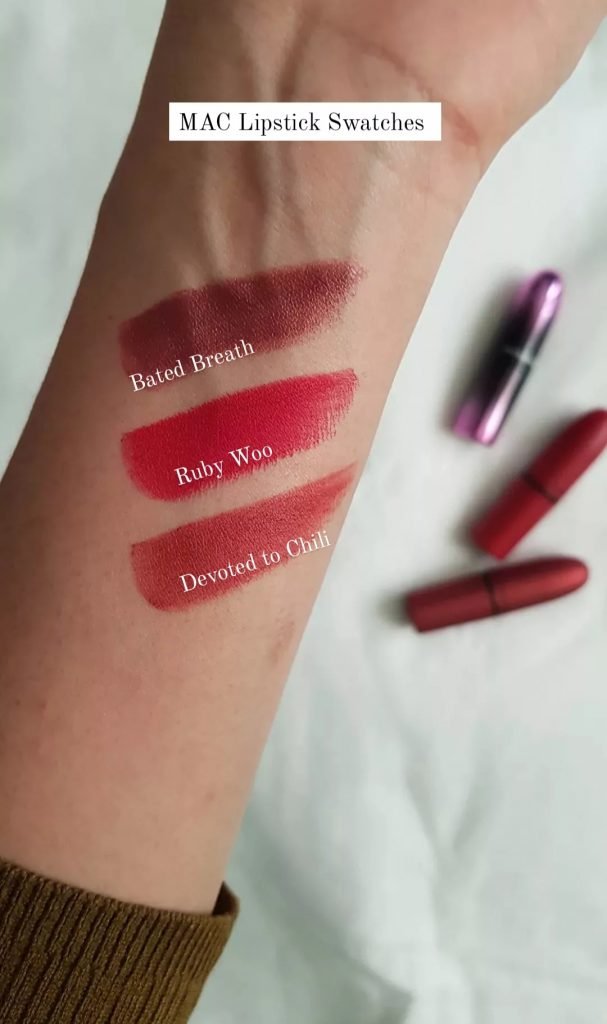 Love Me Lipstick Bated Breath Satin Lipstick – Love Me Lipstick formula from MAC is a weightless argan oil-infused lipstick that delivers an instant hit of powerful color and all-day moisture in a luxurious satin-soft finish. Bated Breath is a medium-dark plum lipstick with warm undertones and a creamy satin finish. Mac describes Bated Breath as a pinky brown shade that is paired best with a lip pencil in Burgundy. The pigmentation is incredible and is nearly opaque. It feels very lightweight on my lips. It doesn't emphasize texture on my lips. Though satin finish, it adheres to the lips nicely and has a superb lasting power. It lasts for about five hours on my lips. My lips feel moisturized while wearing Bated Breath Lipstick.
Retro Matte Lipstick Ruby Woo Lipstick with Matte Effect – Retro Matte is a long-wearing Lipstick formula with an intense color payoff and a completely matte finish. MAC describes Ruby Woo as a very matte vivid blue tone red shade. This is a very cool-toned, medium-dark red with a matte finish. It has strong blue undertones and a very flat matte finish. It is best applied when your lips are well exfoliated and moisturized. Ruby Woo suits most skin tones and is a compliments-magnet!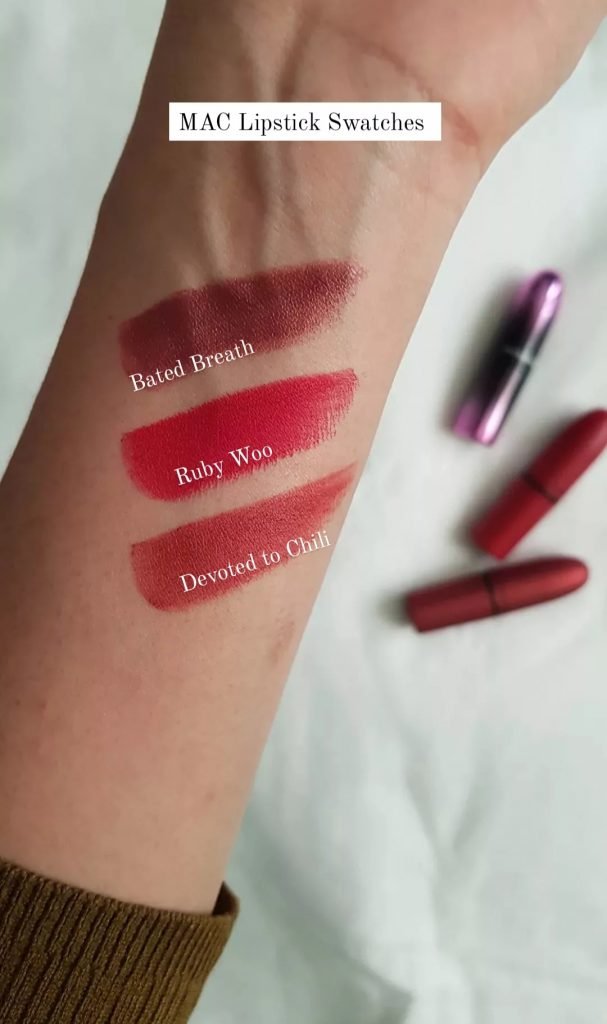 Powder Kiss Lipstick Devoted To Chili Matte Lipstick – Powder Kiss is a relatively newer lipstick formula from MAC. It is a weightless moisture-matte lipstick that delivers a blur of soft-focus colour. Devoted to Chili is a warm brick red that is paired best with Brick lip liner. Devoted to Chili is a dream come true for those who loved Chilli lipstick from the Retro Matte Line. The problem with Chilli lipstick is that it can be a little drying but Devoted to Chili has got that shade close to Chilli but in the best formula ever!! I see myself wearing this shade on repeat throughout this winter.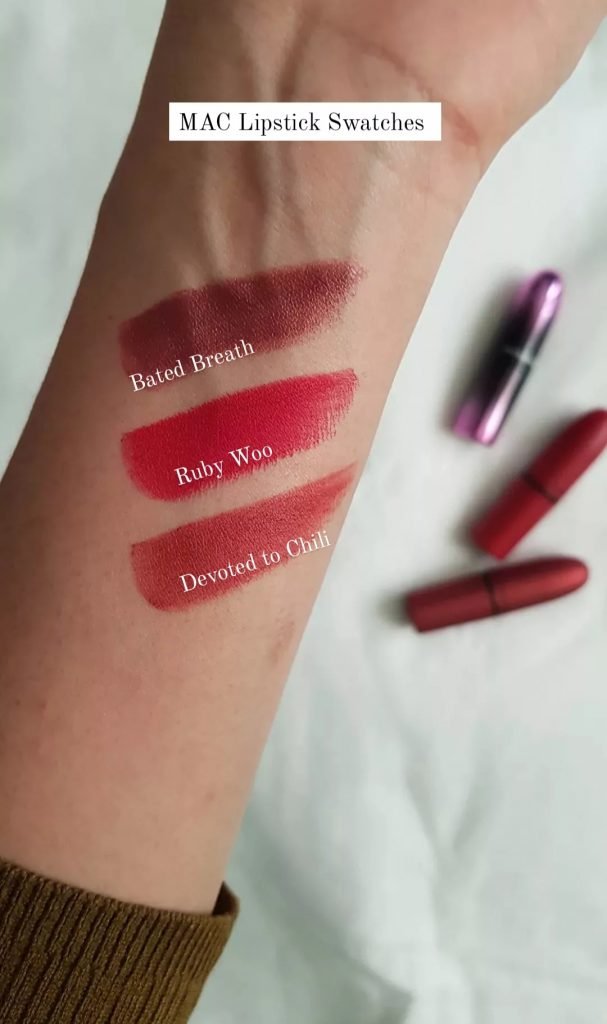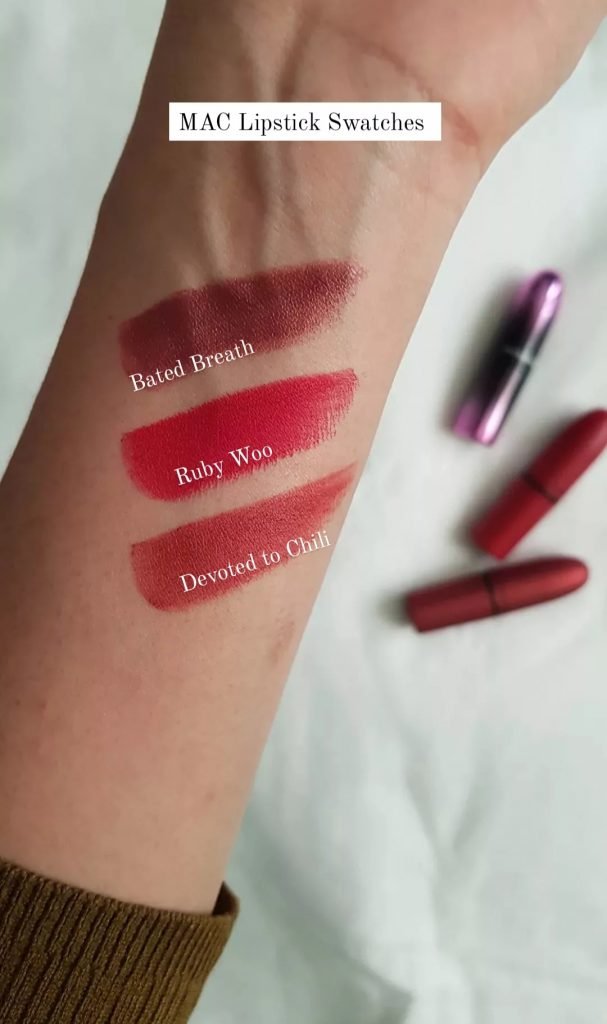 These lipsticks also make a great stocking stuffer for any makeup lover. Have you got a favorite red lipstick? Let me know in the comments below.
Until next time, Ashh xo
*This is a sponsored post. Opinions are my own and unbiased.