Goldfield & Banks is an Australian luxury niche fragrance house. The brand was founded in Sydney in 2016 by Belgian – French, Dimitri Weber. This house uses Australian Native Botanicals in all their perfumes. With essences drawn from some of the most unique plants, flowers, and extracts of Australia, Goldfield & Banks fragrances will transport you to the other side of the planet in just one spritz. I am so happy to share that Goldfield and Banks Fragrances are now available in the UK. Sunset Hour is the newest launch from the brand and one of the most delightful too.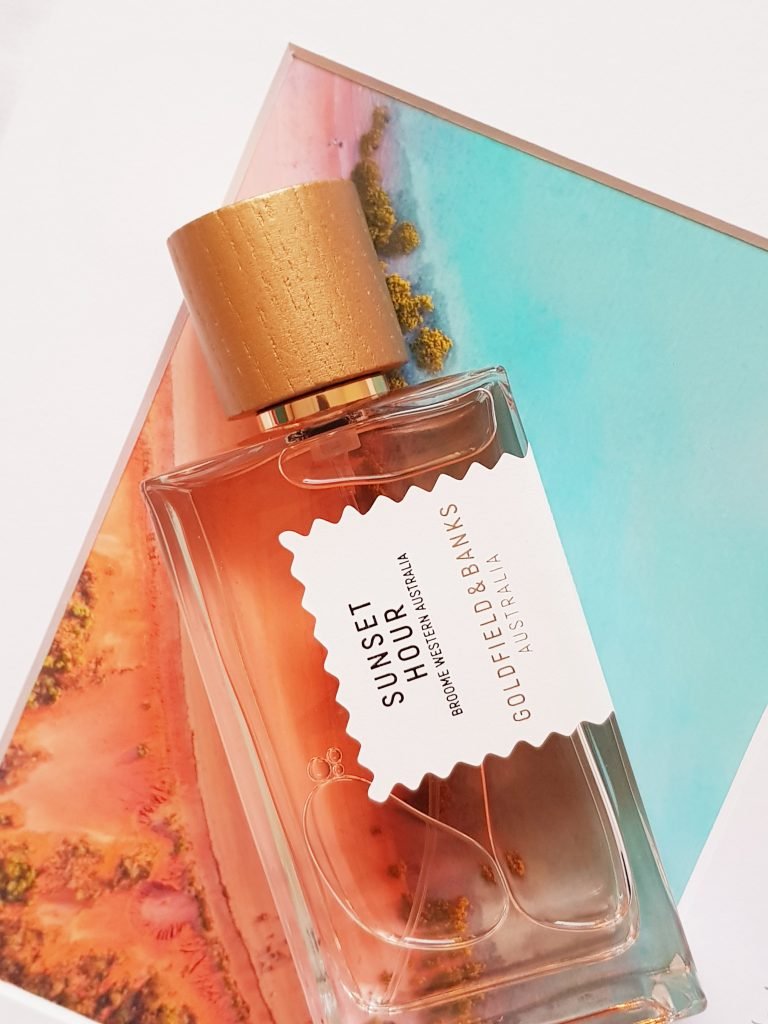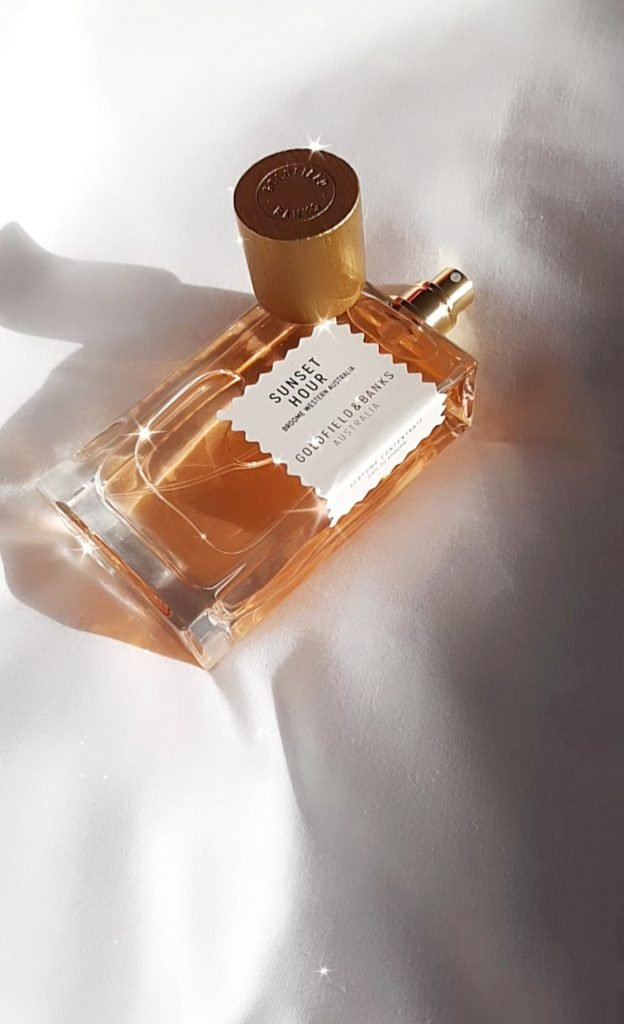 As a blazing sun dips into the Indian Ocean, the scent of fragrant native fruit pervades the languorous evening breeze. A heavenly cocktail of citrus and spicy delights awaits, giving way to a delicious gourmand and sensuous floral heart. Best served at sunset hour!
Packaging: Love the minimal bottles with a bit of edginess. It has got a great atomizer too. The peach-pink hue of sunset hour is inspired both by the color of sunsets over the ocean and of the Australian desert peach and is reminiscent of a cold peach cocktail sipped as the evening light fades into fiery pinks.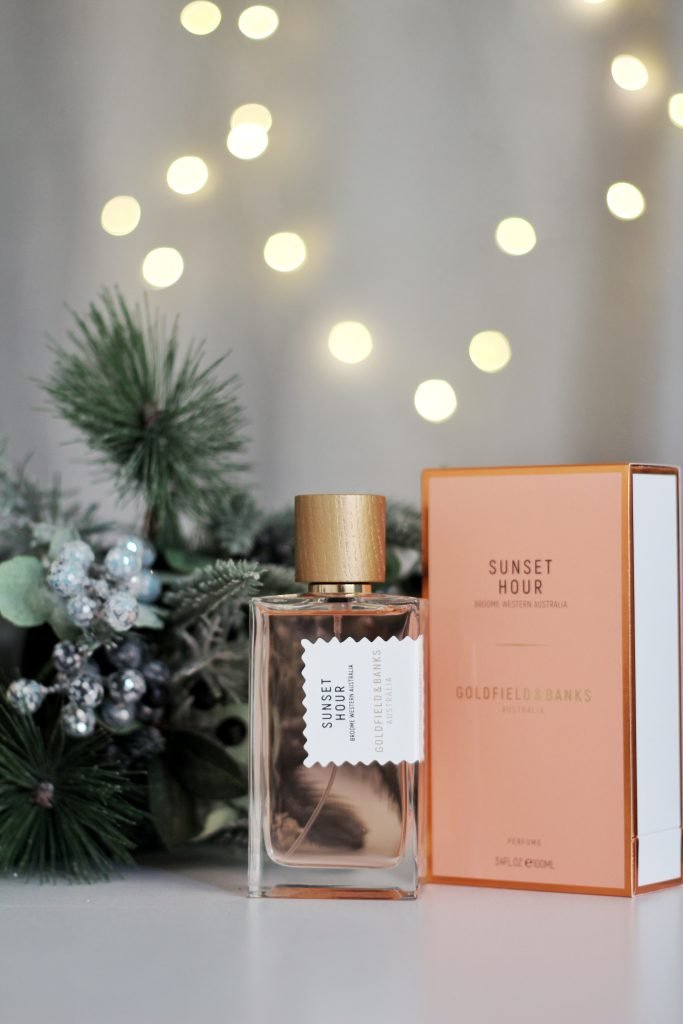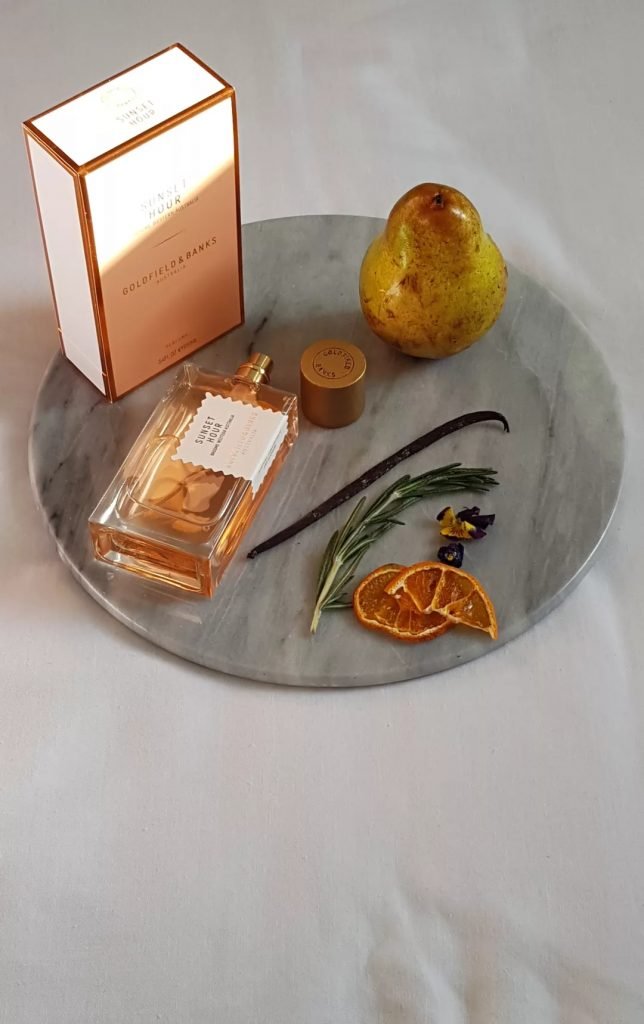 Botanicals:
Mandarin Italy
Desert Peach Australia (Quandong)
Raspberry
Jasmin Sambac Absolute
Ginger Nigeria
Pink Pepper Madagascar
Sandalwood Australia
Cashmere Wood
Benzoin Laos
About Sunset Hour: Fun and frivolous from the onset, Sunset Hour opens with crisp pear, mandarin, and desert peach accord – a tart peach- and rhubarb-nuanced fruity note with a distinctive salt-crusted, sun-kissed skin feel. Carrying through the heart, jasmine's rich white floral with green mango, ginger, and coconut cream enhance the tropical exoticism of the desert peach as pink pepper lends sharpness to this central ingredient's tartness. All the while, Australian sandalwood, itself a close relative of the Quandong, provides a spiced-green-woodsy springboard for the fruity decadence of the coconut and desert peach, which carry through to the plush musk-vanilla base.
Olfactory description: Juicy, delicious, spicy, and joyful
Performance: Sunset Hour has a moderate sillage and longevity. it lasts on my skin for about 6 hours or so but I do not mind re-spritzing because it is such a joyful, happy scent.
Sunset Hour is cruelty-free, vegan, and is created following the stringent health guidelines set by the International Fragrance Association (IFRA 49th Amendment).
Final thoughts: Sunset Hour is a very beautiful and mass-appealing fruity gourmand scent. It is a sumptuous cocktail of fruits, spices, and florals. It brings joy to the senses and transports me to my happy place aka sipping a fruity peachy cocktail on a beach. It is a very luscious, juicy scent that attracts compliments. It can be worn during the day or night and is great for brunch, lunch with friends, coffee date, or even a candle-lit dinner! It is a very sexy, sensual scent for both men and women.
Sunset Hour from Goldfield and Banks is exclusive to Selfridges in the UK.
Until next time, Ashh xo