One of my absolute favorite Premium Niche Fragrance Houses – Fragrance du Bois launched the new 'For Lovers' Collection this Holiday season. The collection has two new fragrances – CAVORT & Secret Tryst made for lovers and are meant for sharing. These fragrances are designed for intimate moments with your partner or lover. Fragrance du Bois uses only 100% pure, sustainable, and the highest quality natural perfume oils and extracts from sustainable sources around the world.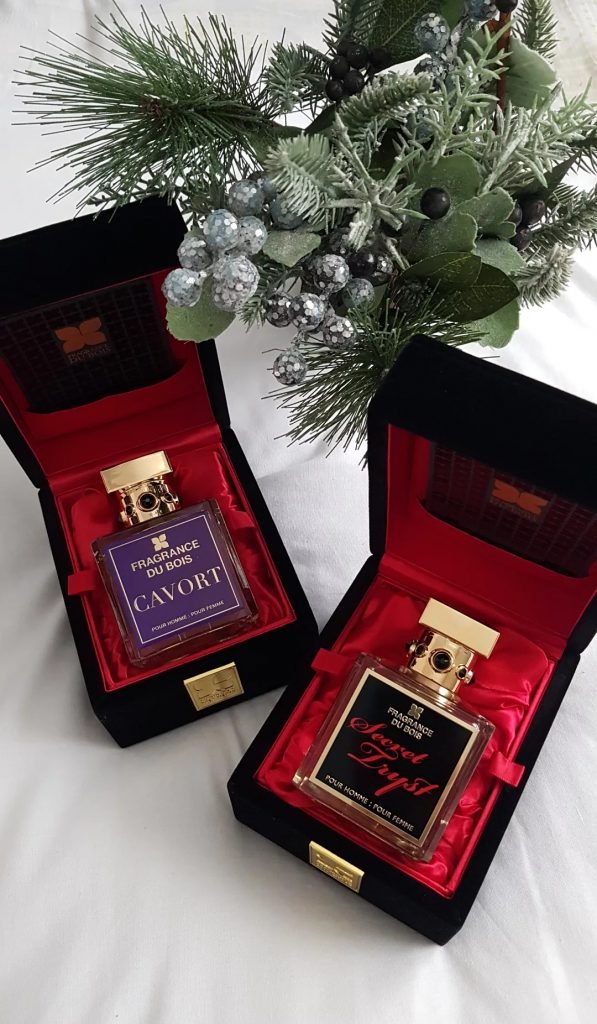 Packaging: These latest scents from Fragrance du Bois are housed in the brand's new bespoke crystal glass bottle, which features an embossed logo on the rear, plus a 3D logo effect behind the label. All fragrance du Bois bottles have Swarovski embellished caps like some kind of a crown and the bottles are housed in a beautiful velvet box with satin lining. These bottles are a piece of art and you get what you pay for. Cavort has a purple label with a gold accent and Secret tryst has a black with red and gold accent label. Both fragrance boxes have a sleeve matching the bottles.
CAVORT is alluring, seductive, and addictive for me. It evokes the feeling of excitement of the first encounter.
Top Notes – Saffron, Davana, Geranium, Cinnamon
Middle Notes – Rose Absolute, Orange Flower, Ylang, Jasmin
Base Notes – Indonesian Patchouli, Labdanum, Sandalwood, Indian Incense
Stimulate your senses with a complex blend of spicy cinnamon and soft but potent geranium, as an exotic, very sexy white floral mid-notes breeze in, like the soft touch of a hand brushing skin. A dash of davana lends a chameleon-like quality, resulting in an evocative perfume full of intensity and individuality.
Florals and incense shine in CAVORT. It projects a lot from my skin and attracts compliments. It sure stimulates the senses and makes me feel so attractive. It has that magnetic pull of attraction. Cavort is a great sexy, sensual fragrance for him or her.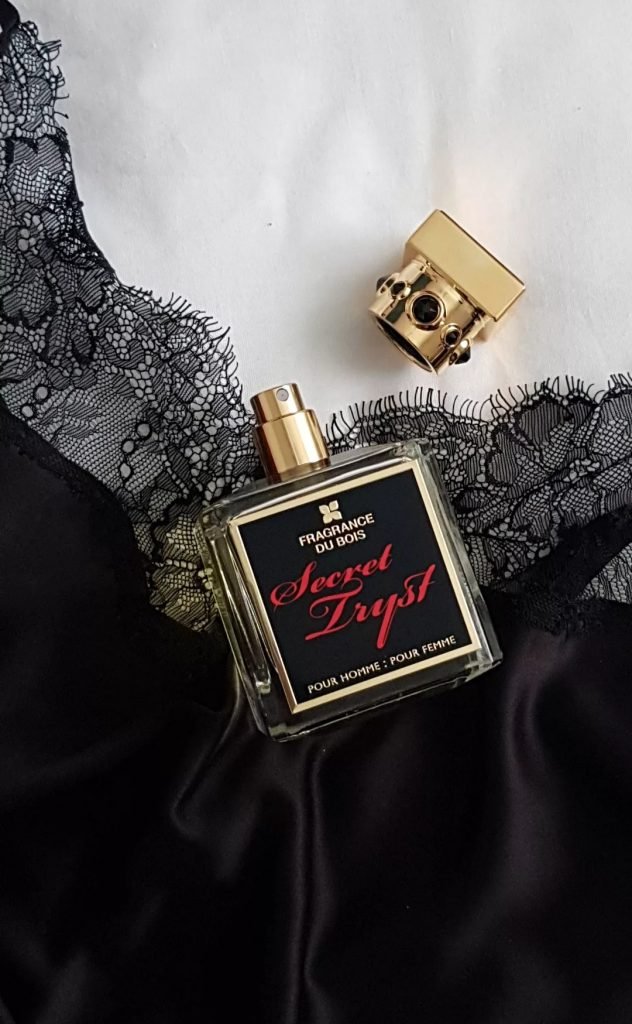 SECRET TRYST stays close to the skin but is very addictive. It is a mysterious fragrance for passionate and adventurous lovers.
Top Notes – Bergamot, Saffron, Indian Cardamon
Middle Notes – Rose, Jasmin, Cedar Wood, Vetiver
Base Notes – Patchouli, Frankincense, Cistus, Vanilla
Wake up your senses to the invigorating notes of bergamot and citrus and submit to sensual cedarwood. Cast your spell with bewitching middle notes of jasmine and the raw, earthy musk of vetiver and frankincense. Beguiling rose adds a touch of racy romance to your dalliances, luring those who wish to succumb with its captivating scent. Arresting, provocative, and hopelessly addictive.
Secret Tryst is quite a vetiver grass-like and cedar kind of fragrance and gives a mysterious forest vibe with a dash of spices. The florals are there in the background but the green and the woody elements do the most talking. The spices stand out and so does the frankincense but the florals and the sweetness from vanilla balance the composition. The dry down is subtle but so irresistible and addictive. Secret Tryst doesn't project much and stays close to the skin which is perfect for a couple.
Both CAVORT and Secret Tryst are meant for sharing and are perfectly unisex but I love CAVORT more on me and Secret Tryst on my husband. These new fragrances from Fragrance du Bois would make an incredible gift this Holiday season. Whether splurging for yourself or spoiling your loved one, these fragrances make the perfect gift, to be treasured forever.
Until next time, Ashh xo
*This post features press samples. Opinions are my own and unbiased.