Although some people like to have a signature scent, I am one of those who like to experiment and change their fragrances with mood, season, and occasion. There are countless fragrances out there, and it may not be easy to try to keep up with them all. This article features a few fragrances that you may not have considered before.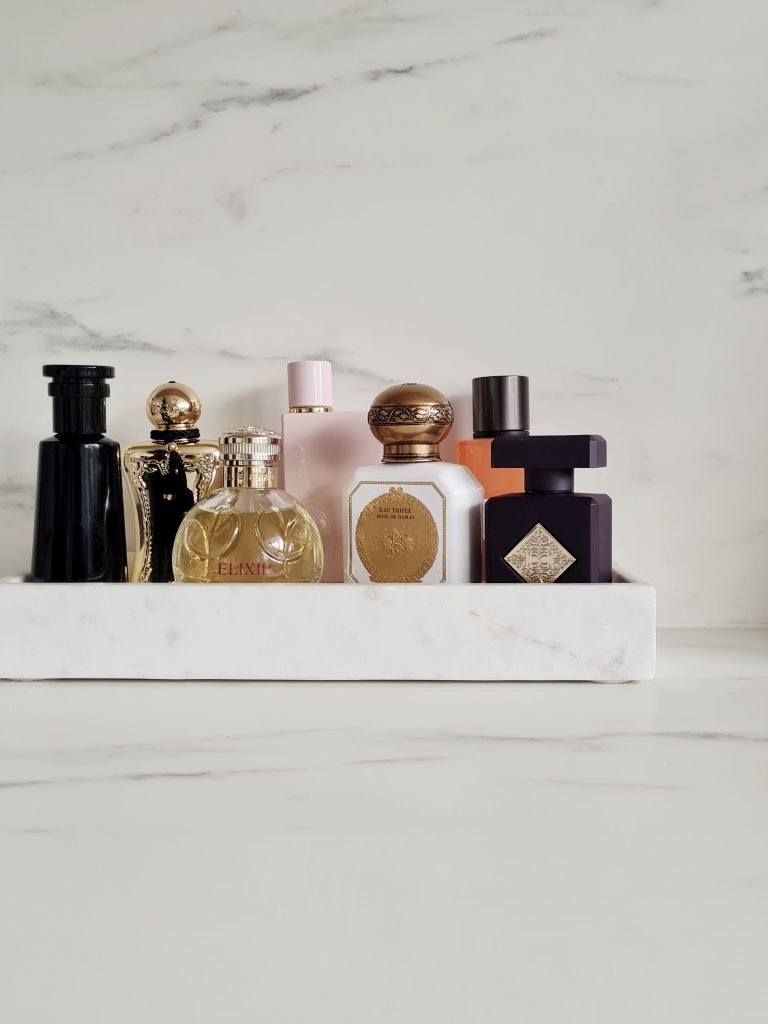 Initio Parfums Prives Side Effect – Side Effect is a warm woody fragrance with a balanced amount of sweetness. It has notes that just by looking at it, I might not have dared to even try it but thankfully I did and to me, it is one of the most addictive fragrances in my collection. If you're drawn to warm, cozy scents, Side Effect from Initio may be just what you need. This mysterious, impulse-awakening tobacco-rich smell is crafted with spicy rum that's balanced by sweet vanilla and rounded off with provocative cinnamon. It is seductive to the senses and is perfect for a sultry date night ;).
ARgENTUM Apothecary SAGE – SAGE from ARgENTUM Apothecary is all about the soft, romantic, and powdery nuances of violet flowers. These flowers smell very royal and elegant just like Iris and create a very delicate, feminine smell. There is a slight aquatic green touch from the violet leaves but I smell mainly the powdery aspect of Violet here. Ylang ylang which is rumored to be one of the most powerful aphrodisiacs creates its magic while Heliotrope adds a smooth, creamy, almond-like fragrant touch. Softly sweet vanilla and velvety sandalwood add depth to the composition. The bittersweet, almond-like veil of heliotrope is lightened with the powder-green freshness of Egyptian violet leaf resting on a pillow of exotic ylang-ylang, soft vanilla, and velvety sandalwood. This is an airy, powdery floral composition that smells so modern and sophisticated. I'm super impressed and obsessed with how this fragrance smells. Sage would make a beautiful pick as a Date and Wedding Fragrance.
Elie Saab Elixir – The House of ELIE SAAB introduced an enchanting chapter with the launch of a new women's line – the most sensual facet of absolute femininity sparkling with sensuality. The duo of talented perfumers – Aurélien Guichard and Jérôme Di Marino (two of my absolute favorites) sign a particularly sensual love potion. This new sumptuous ambrée floral has Iris at the heart of the note and is intensified thanks to the captivating "love accord," an accord created exclusively for ELIXIR making this composition deliciously addictive!
Parfums de Marly Darcy – While Delina is the most popular fragrance from Parfums de Marly, Darcy is as beautiful. It features a blend of sweet, fruity, and floral notes that create a romantic and feminine scent. This sweet-citrus fragrance is housed in a luxurious gold bottle that adds a touch of sophistication and pays homage to the elegance of France in the 18th century. This intoxicating scent blends sparkling citrus accents with sweet floral notes, white musk, and patchouli to deliver sensuality and suaveness. The base notes of vanilla, benzoin and white musk give the fragrance a warm and sensual finish. The combination of fruity and floral notes makes it perfect for spring and summer, but it can also be worn year-round.
Burberry Her Elixir – Burberry Her Elixir offers signature fruity gourmand notes alongside a daring burst of dark red berries with jasmine, rounded with sensual and addictive vanilla and amber. The creamy berry smell is just so delicious and comforting to the senses. I love the OG Burberry Her and it is amazing but the Elixir is creamy, a bit more rounded, and soft. I find the Elixir perfect for spring and autumn when you have lighter jumpers on. If OG Burberry Her is the girl-next-door kind of fragrance, the Burberry Her Elixir is her elder sister who is a bit bold yet mysterious and sensual. Oh man, she is addictive!
Officine Universelle Buly 1803's Eau Triple Rose De Damas – This floral fragrance features the classic and timeless scent of rose. Eau Triple Rose De Damas is a rich and complex fragrance that features three different types of roses: Bulgarian rose, Turkish rose, and Damask rose. The fragrance also has notes of geranium, bergamot, and violet, which add depth and complexity to the scent. The base of the fragrance features musk, which gives it a warm and sensual finish. This water-based, alcohol-free perfume is gentle enough to be applied to bare skin and hair, but powerful enough to leave a long-lasting scent. It is pleasant to the senses and is not heavy or overpowering by any means. This timeless fragrance can be worn year-round, but it's especially lovely in the spring and summer. If you're a rose lover, Eau Triple Rose De Damas would be a great addition to your fragrance wardrobe!
Banana Republic Tuberose Overdose – Centered around heady tuberose, Banana Republic's Tuberose Overdose opens up bright and fresh with the notes of bergamot, neroli, and mandarin. The heart of the fragrance features a blend of tuberose, jasmine, and orange blossom, which creates a rich and luxurious floral scent. The notes of vanilla, benzoin, and musk in the base give the fragrance a warm and sensual finish. This bold and opulent fragrance is perfect for those who love the scent of tuberose and is a great choice for evenings or for special occasions when you want to make a statement.
Remember a fragrance sits differently on everyone! It is always a good idea to sample and test it on your own skin before committing to a full-size bottle.
Until next time, Ashh xo
*AD/Press Samples included without any obligation.