Fragrances possess a unique power to transport us to another time and place, trigger memories, and even alter our moods. Humans have been captivated by the attraction of scent for ages, utilizing perfumes in a variety of forms to improve their health and appearance. Fragrances have the power to fascinate and engage our senses, whether they are delicate and fresh or strong and seductive. We'll explore the world of luxurious, alluring scents in this post that will create a lasting effect on you and others around you.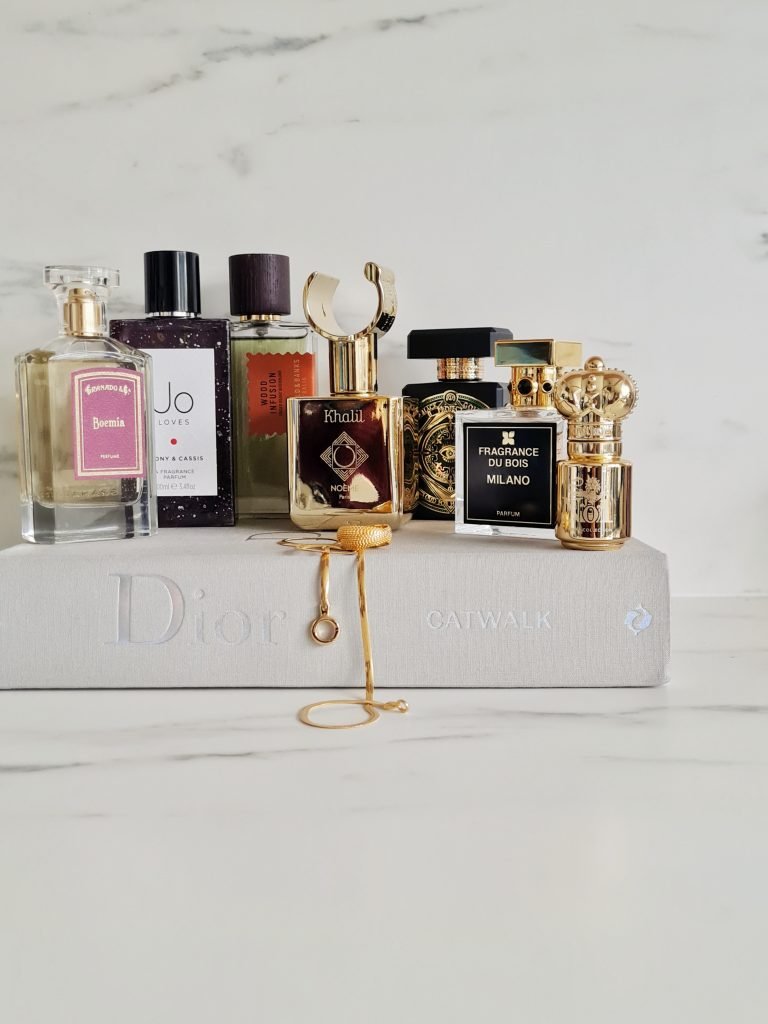 Jo Loves Ebony & Cassis – I love Jo Malone's fragrances and her brand Jo Loves has got so many beautiful blends but the newest Ebony & Cassis stole my heart right from the first sniff. The bottle is absolutely gorgeous and is a standout from her regular fragrances. This fragrance is inspired by Jo's travels to the Middle East. The crisp sweetness of perfectly ripened blackberries and Cassis is combined with the warmth and depth of rich Nutmeg, Myrrh, and Dates. The distilled pure of Blackcurrant Buds has a delicious lightness to it that is surrounded by comforting Patchouli and Cedarwood. I love that this fragrance has depth and intensity compared to the other fragrances that are more transparent and airy from the house.
Noeme Paris Khalil – So the funny thing that happened last week was I was testing one of the new fragrances I received recently by spraying on my wrist and I noticed Khalil on the next shelf. I immediately sprayed it on my clothes and oh my world, I literally couldn't stop smelling myself. This woody, warm spicy fragrance has that addictive element that is so hard to resist. It has notes of woods, patchouli, musks, and orris with a delicate sweetness of caramel as if the woods are covered in a very thin layer of caramel that makes this fragrance super-addictive! To my nose, Khalil is just majestic!
Fragrance du Bois Milano – Milano by Fragrance Du Bois is packed with scents that capture the rich history, art, and culture of this fashion center of the world. Sicilian bergamot, orange, saffron, and thyme serve as the scent's spicy top notes as it develops into a heart of olibanum and jasmine and a base of leather, musk, amber, and vanilla. Known for its dedication to sustainability and ethical practices, Fragrance Du Bois uses a unique, chemical-free extraction technique to manufacture its perfumes and receives its raw materials from environmentally friendly suppliers.
Clive Christian No 1 Feminine – This is a complex amber floral blend of top, middle, and base notes, including apricot, peach, plum, cardamom, ylang-ylang, iris, sandalwood, vanilla, musk, and more, creating a rich and opulent scent profile that is both sophisticated and sensual. The fragrance is known for its luxurious quality and attention to detail, which is characteristic of the Clive Christian Perfume House. No.1 is a powdery powerhouse and I thought of it as a vintage perfume when I first tried it but later I started appreciating it. I feel that you should be in a certain mood to wear this fragrance.
Initio Oud for Happiness – Inspired by the notion that scent molecules may trigger desires and impulses, the perfume house Initio pays homage to this mystical but scientific dimension of fragrance by infusing each of its compositions with a very unique power. Oud for Happiness transports us to a fictitious paradise where there are smile-inducing scents that are designed to relax and boost self-confidence. You may anticipate the scents of bergamot, ginger, licorice, vanilla, cedar, Indian oud, and musk. There is something so intoxicating and addictive about Oud for Happiness that despite it being a heavy scent, it is very pleasing to the senses.
Goldfield & Banks Wood Infusion – Goldfield & Banks Australia creates scent by extracting essences from the country's flowers, bark, moss, and seeds, and is inspired by the endless red desert plains and enormous azure beaches. The Wood Infusion fragrance is designed to evoke the natural beauty of the Australian landscape and is a favorite among fragrance enthusiasts. The fragrance is inspired by the lush vegetation of Fraser Island in the Pacific Ocean and mixes Australian woods with seductive sandalwood album, iris, and velvety agarwood. Spritz and envision yourself on the sandy beaches of the island.
Granado Boemia – The Boemia scent, crafted by Brazilian apothecary, Granado, represents sensuality and boldness, evoking the bohemian spirit of Brazil's Rio de Janeiro's Lapa neighborhood in the twentieth century. This refined smell, a fresh, light, and spicy fragrance with contrasts of warm and relaxing notes, is prepared with extra neutral alcohol and goes through the maceration process, resulting in a richer and more harmonious fragrance. This is a great power scent for a woman but when a man wears this, oh my world! This has a magnetic aura that makes a woman want you!
Until next time, Ashh xo
*Disclaimer: This article features some press samples. All opinions are my own and unbiased.