A great scent can transform a space and uplift your mood. This Christmas, give your loved ones an aromatic gift of candles and home fragrance treats. This article will help you find that perfect scent if you're shopping for Home fragrances this Christmas.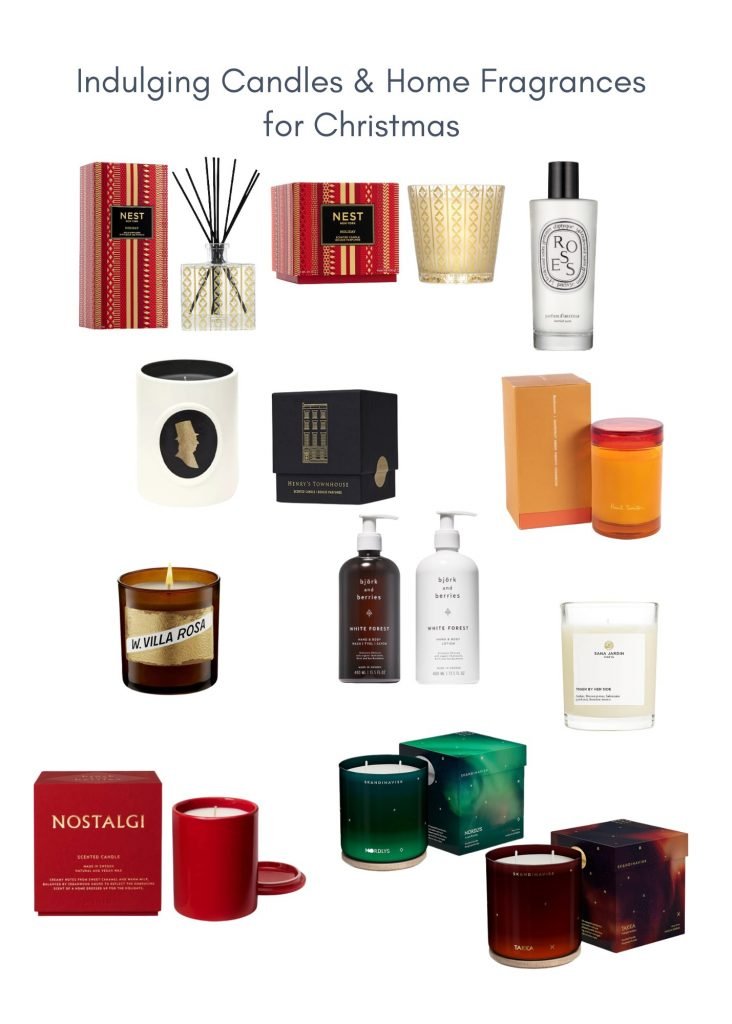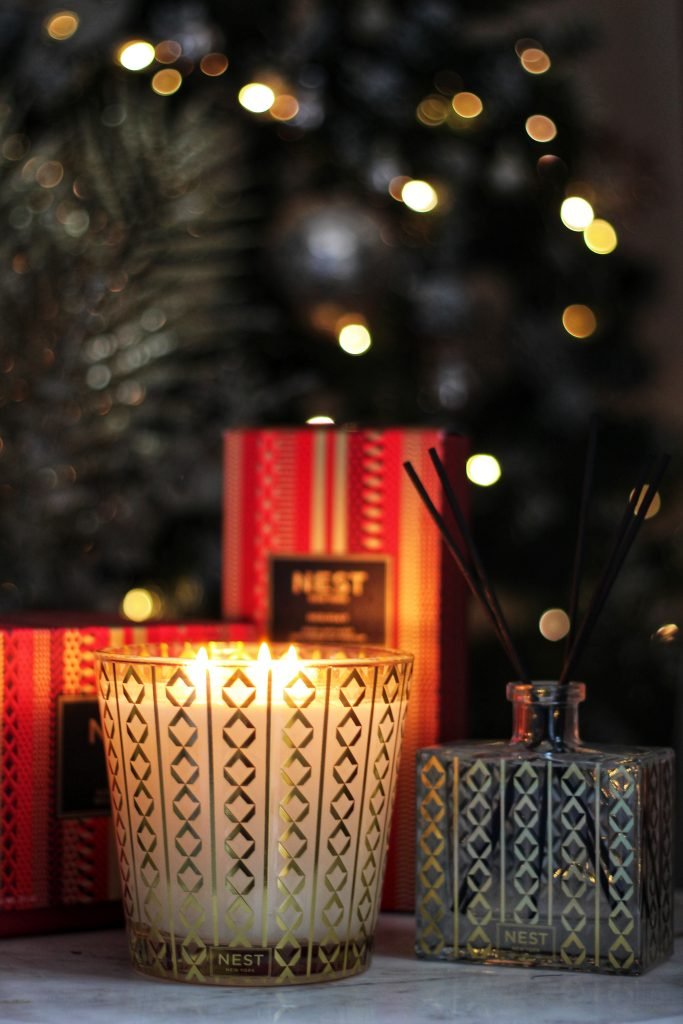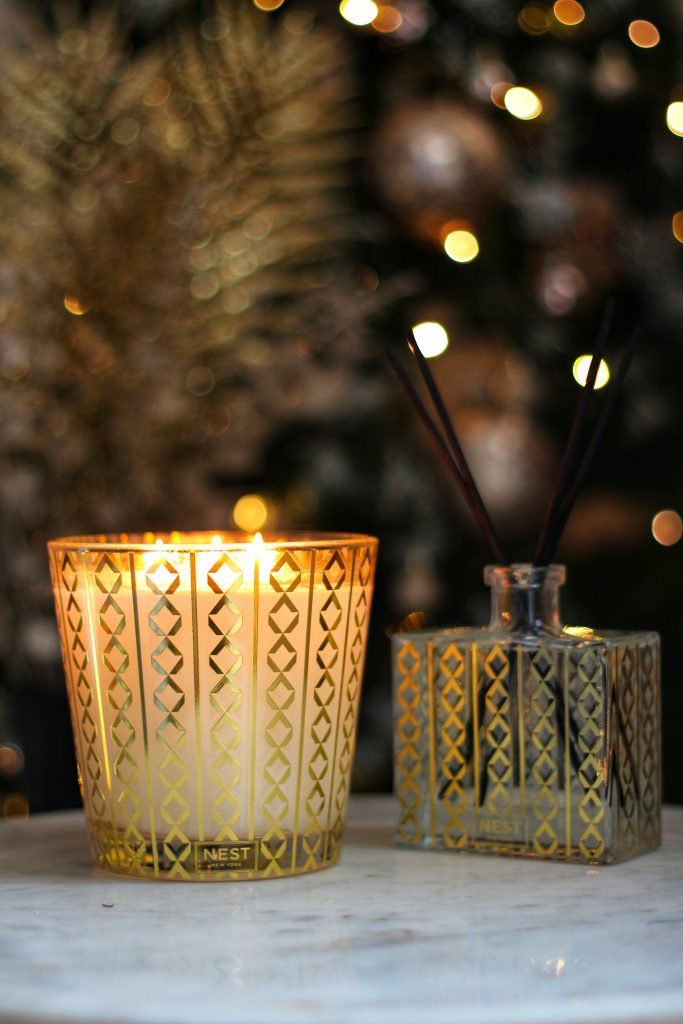 NEST New York Holiday Reed Diffuser – When it comes to home fragrances, NEST New York definitely is well loved amongst luxury lovers delivering the best gift of all with its Holiday reed diffuser. Taking the classic for a holiday spin, the Holiday Reed Diffuser adds a festive touch to your mantelpiece or bathroom with hints of spice evoking this warm, spirited season in the gentlest of ways. With chic, black, rattan reeds and a glass jar etched with frosted stripes, the Holiday Reed Diffuser creates an air of warm, festive spirit in your home with a subtly that shrouds visitors, allowing them to bask in its spicy notes. For this one time of the year, turn to the Holiday Reed Diffuser for a quintessential, nostalgia-filled experience, thanks to notes of pomegranate, mandarin orange, pine, cloves, and cinnamon with a hint of vanilla and amber, a blend that encapsulates this cozy season.
NEST New York 3-wick Holiday Candle – If you think of the Christmas period, warming scents of spices, pine, cinnamon & cloves come to our mind. With tinted wax (cleverly formulated for an even, long-lasting burn) housed in a matching glass jar, the Holiday 3-Wick Candle is the finishing touch to creating that warm, festive spirit in your home, welcoming every visitor who crosses the threshold. For this one time of the year, turn to the Holiday 3-Wick Candle for a quintessential, nostalgia-filled experience, thanks to notes of pomegranate, mandarin orange, pine, cloves, and cinnamon with a hint of vanilla and amber. Whether as a gift to your loved ones or bringing joy to your own home, this candle is sure to bring a Christmas-sy aroma!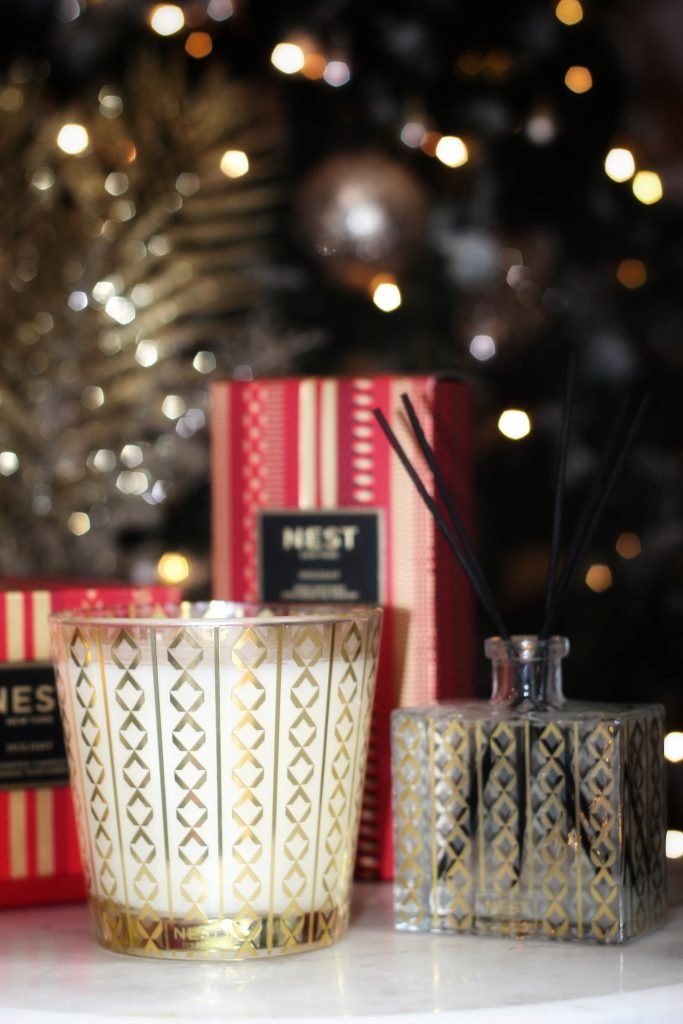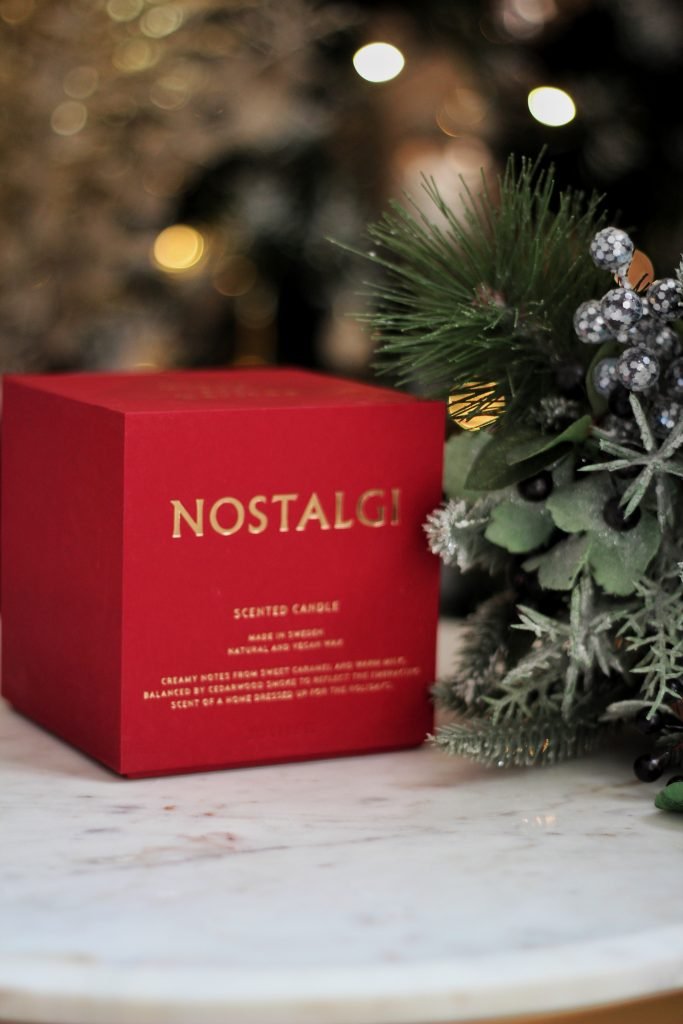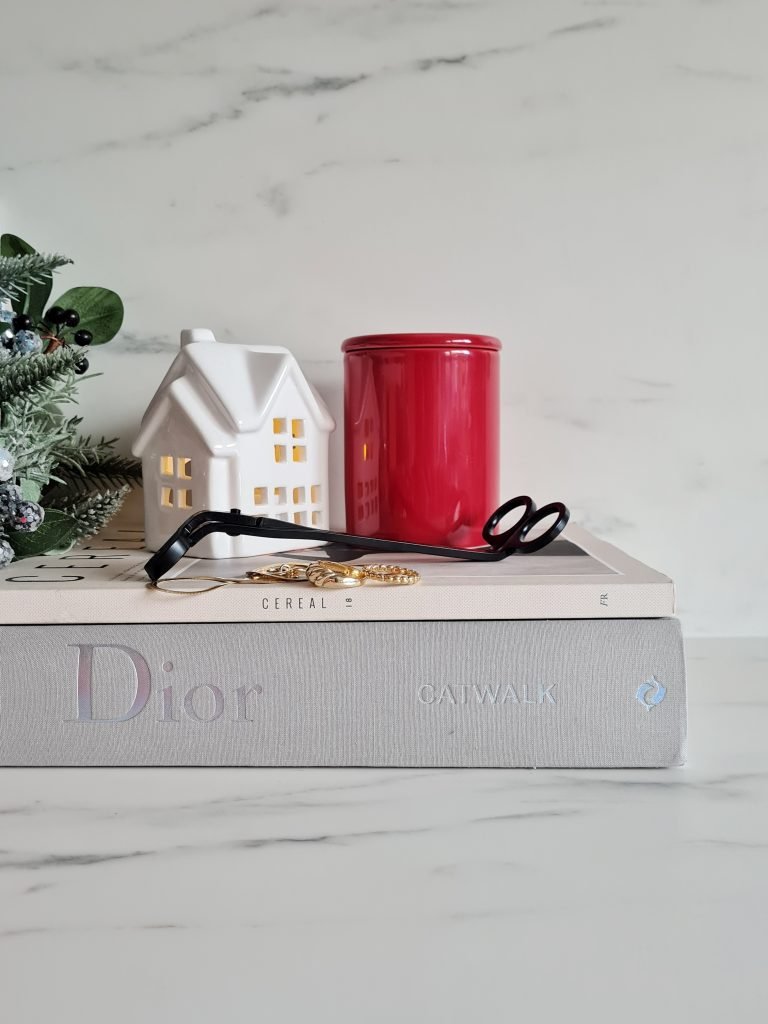 Björk & Berries Nostalgi Candle – In celebration of the holiday season, Björk and Berries launches a limited edition scented candle NOSTALGI, filled with nostalgia and joyful excitement to begin new traditions and create memories. This scent is a heartwarming composition where edible and creamy notes from sweet caramel candy and warm milk blend together with pistachio nuts and finally melt into soft strokes of vanilla bean. The sweet delights in contrast to cedar wood smoke evolve into an embracing scent of a home dressed up for the holidays.
Björk & Berries White Forest Hand & Body Wash + Lotion – White Forest is an homage to the ever-present inspiration – the deep Swedish woods. Aromatic and woody, this fragrance translates both the serene presence and the mysterious aura that epitomizes the heart of Nordic nature. Its reviving yet indefinable character awakens your senses and brings you straight to a long-lost forest of white birch and green pine. The composition is like a breath of fresh forest air. It captures the best of what nature has to offer, starting with the fruity and bittersweet nuances of black currant and lemon, carefully combined with the wondrous violet and lily of the valley. Together with earthy vetiver and the intoxicating powdery-sweetness of Tonka beans, this fragrance carries the soul of the Swedish woods. The natural hand & body wash is very rich and hydrating while the body lotion is silky and softening. They both have the magical scent of the winter forest and are enriched with the brand's organic complex with nourishing organic sea buckthorn, invigorating organic birch, and soothing organic chamomile.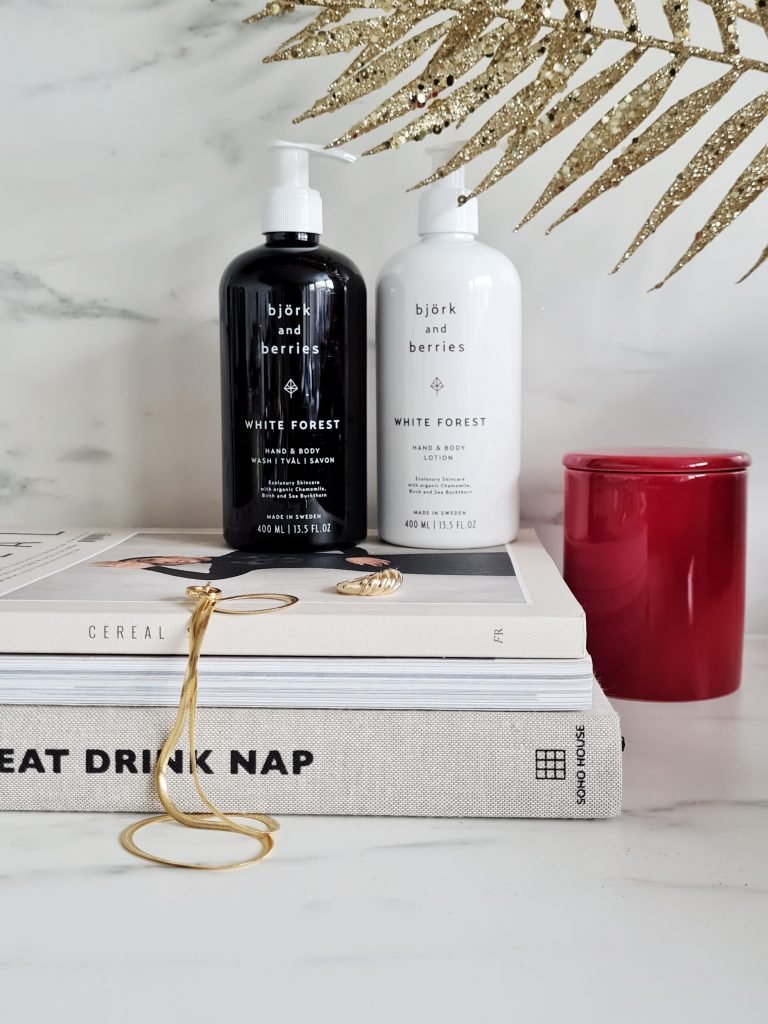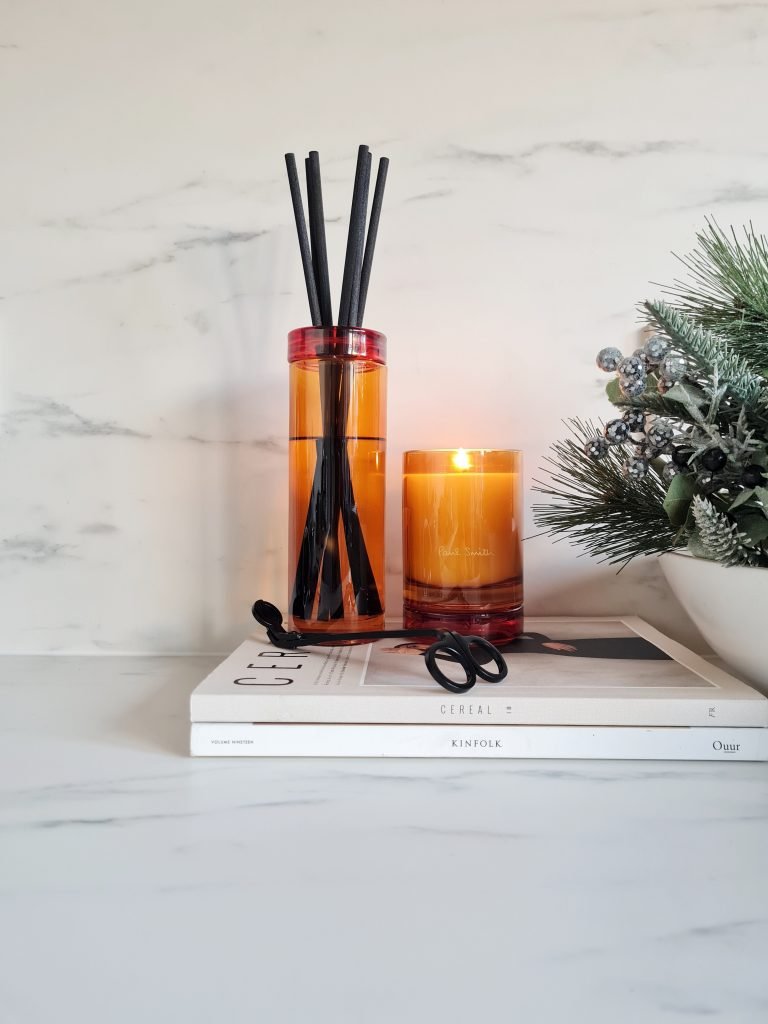 Paul Smith Bookworm Scented Candle – The iconic British designer has released his inaugural home fragrance collection, with each redolent aroma evoking a time and place close to his heart. Hand-poured and blended with premium ingredients, this candle is formulated to ensure exceptional scent diffusion. The wax is housed in a tinted glass vessel complete with a contrasting lid that doubles as a coaster, an expression of Paul's fondness for color and its endless combinations. One scent from the nostalgic line-up is the Bookworm candle: an evocative blend of Jamaican pimento berry, cedarwood, and grapefruit. This candle will transport you to your own personal library, surrounded by a crackling fire in a wood-paneled room sat on a comfy leather sofa. It's the perfect accompaniment to an evening of relaxed reading. The diffuser from the same line will compliment the candle so well. I love the chunky thick reeds that come with the diffuser. The diffuser oil comes separately in an aluminum bottle and the glass vessel for the diffuser can be reused in many ways. I see myself using it as a slim vase when I run out of diffuser oil.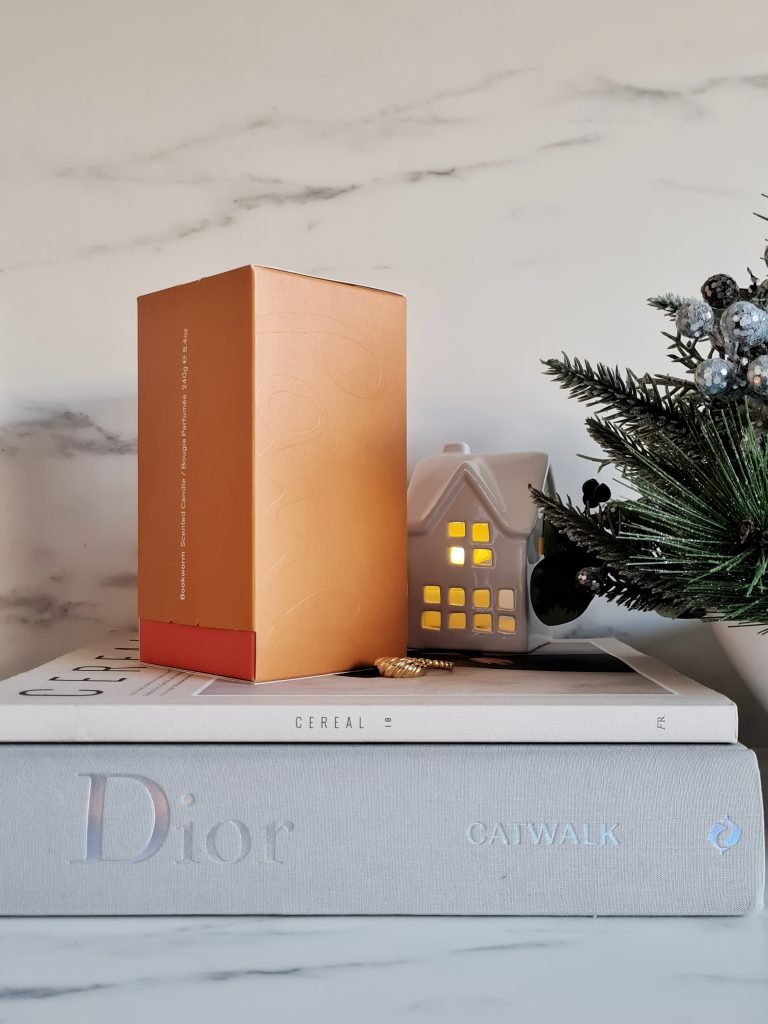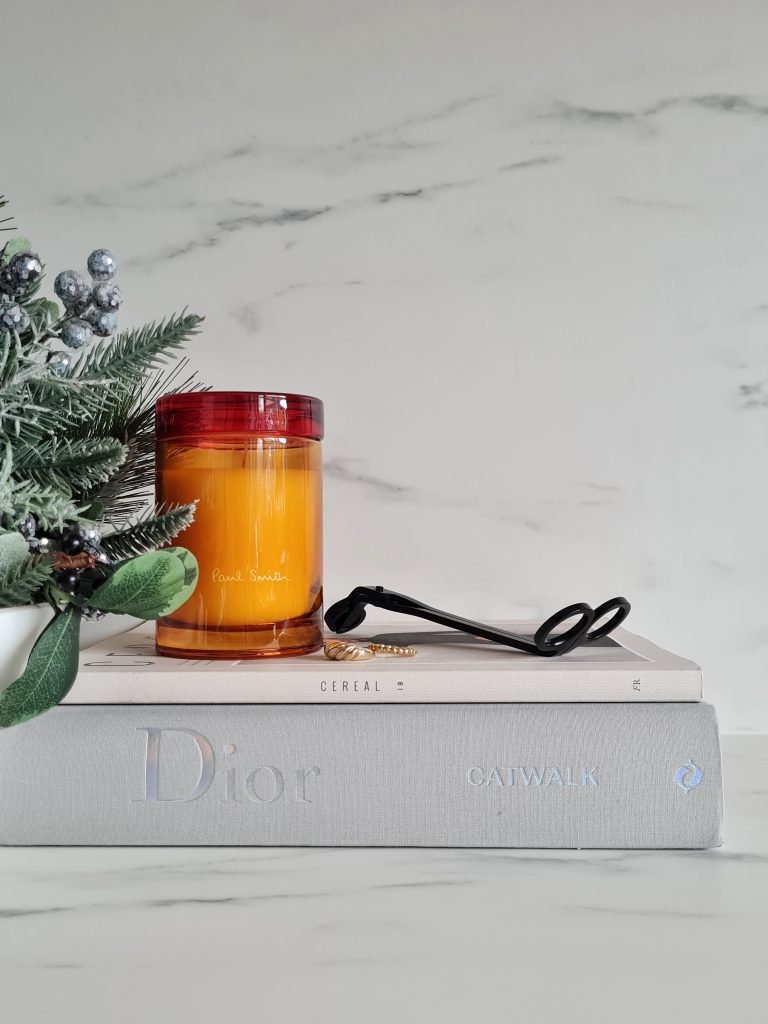 Diptyque Room Spray – Who doesn't love to receive a good room spray? After all, we want our home to smell beautiful at all times. Diptyque's Roses room spray is a bestseller, and for a good reason. Like a tender, freshly picked bouquet, it pays ravishing homage to the queen of flowers. The Roses room spray from Diptyque is reminiscent of an armful of tender roses, perfect for adding warmth to your bedroom or lounge.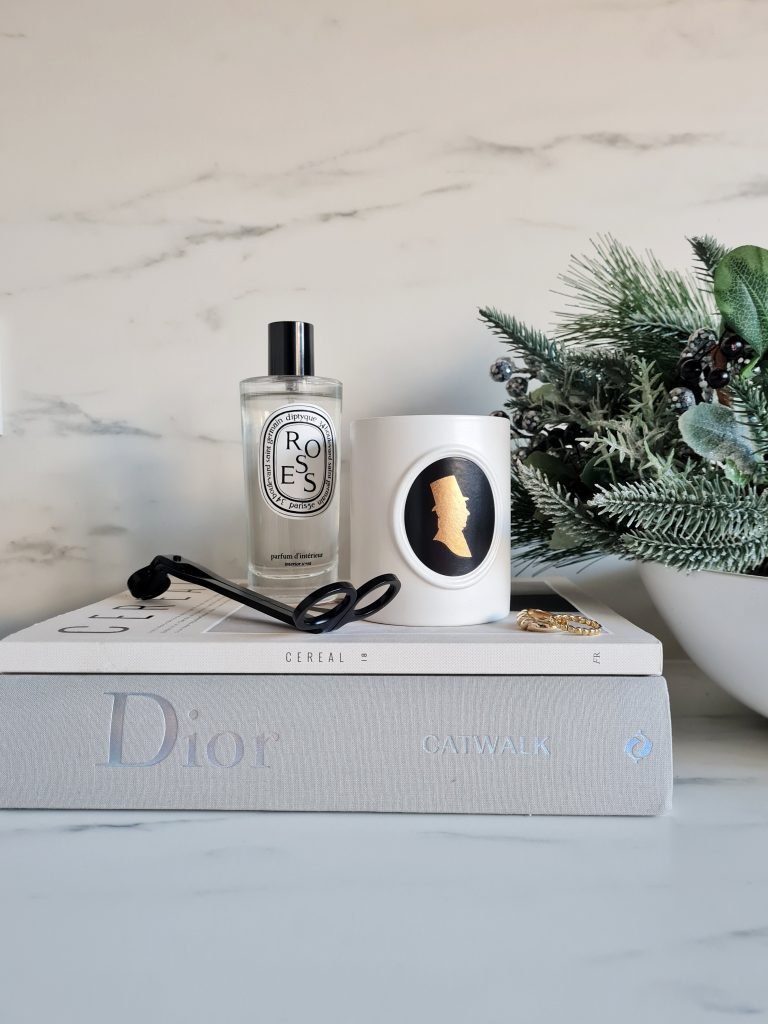 Henry's Townhouse Candle – The signature Henry's Townhouse candle takes its inspiration from the amber-scented Colognes of 18th Century society, its iris and sandalwood notes softened smoochily by a touch of vanilla. These incredibly elegant, posh, and long-burning candles are packaged in beautiful white ceramic vessels adorned with different silhouettes, lined with shiny black ceramic that seamlessly blends with the black wax. The candles have a very Royal vibe going on and will be loved by gift recipients.
Sana Jardin Tiger By Her Side Candle – The beauty world's first socially conscious luxury fragrance house, Sana Jardin is blazing a revolutionary trail – and leaving utterly sublime scent in its wake. Empowering female harvesters through fair commerce, while exuding nature's most exotic aromas, this is a powerful perfume brand in every sense. The name of this exquisite scent is inspired by myths of Ancient Egypt's High Priestesses, whose perfume-adorned powers enabled them to walk with tigers by their side, connecting to their true power and unleashing their innate wildness. The seductive, exotic, 'floriental' scent that bears this title marries a warm, sensual heart of amber with the velvety depths of vanilla, Moroccan rose and the aromatic intensity of Indonesian patchouli and Somalian incense. An incarnation of the brand's best-selling Tiger By Her Side Perfume, this candle will fill your or the gift recipient's home with warm, inviting notes of amber, an essential oil accord associated with emotional clarity and inner strength.
Skandinavisk Takka Candle – Fill your home with the warming notes of Skandinavisk's TAKKA Scented Candle – the perfect accompaniment to cozy winter evenings at home. This luxury-scented candle delivers a warm, smoky fragrance with notes of pinewood and tobacco. TAKKA smells warm and cozy – just what you need for the colder evenings. Housed in a sleek, colored glass votive that is perfect for adorning tables or mantles this festive season.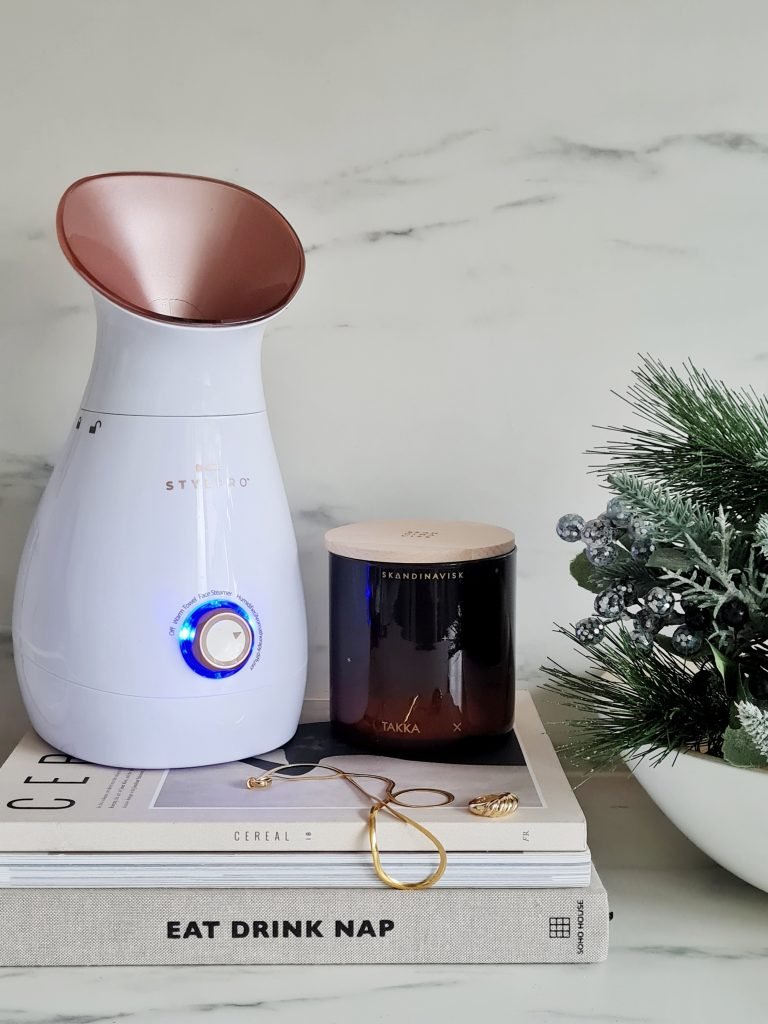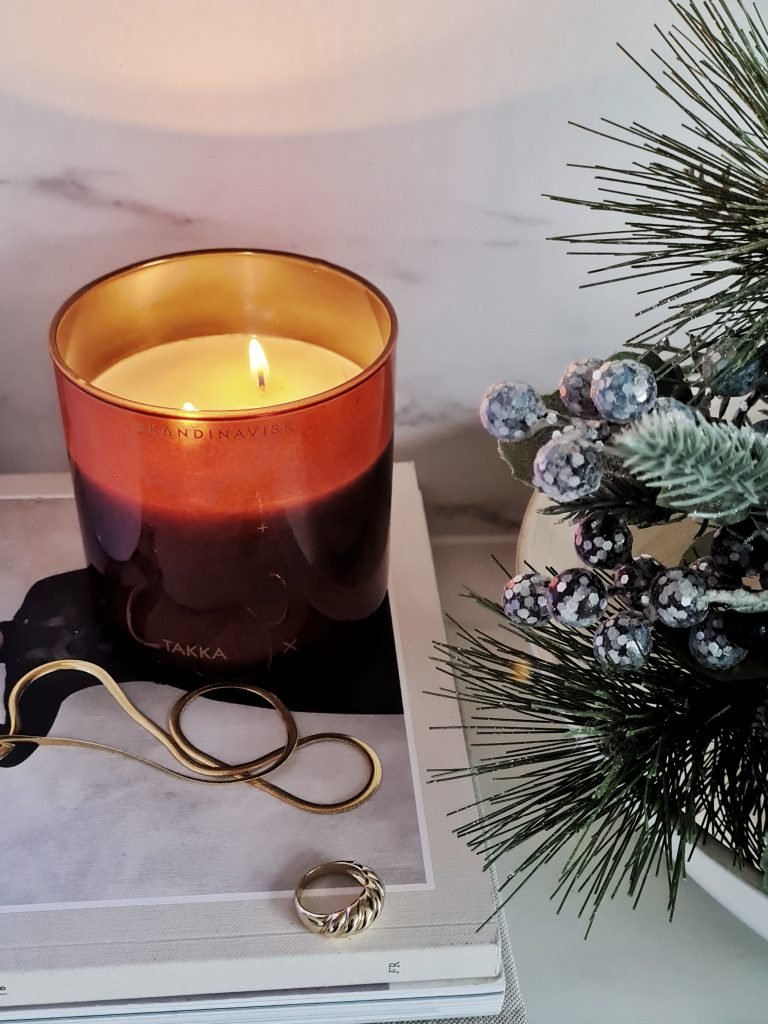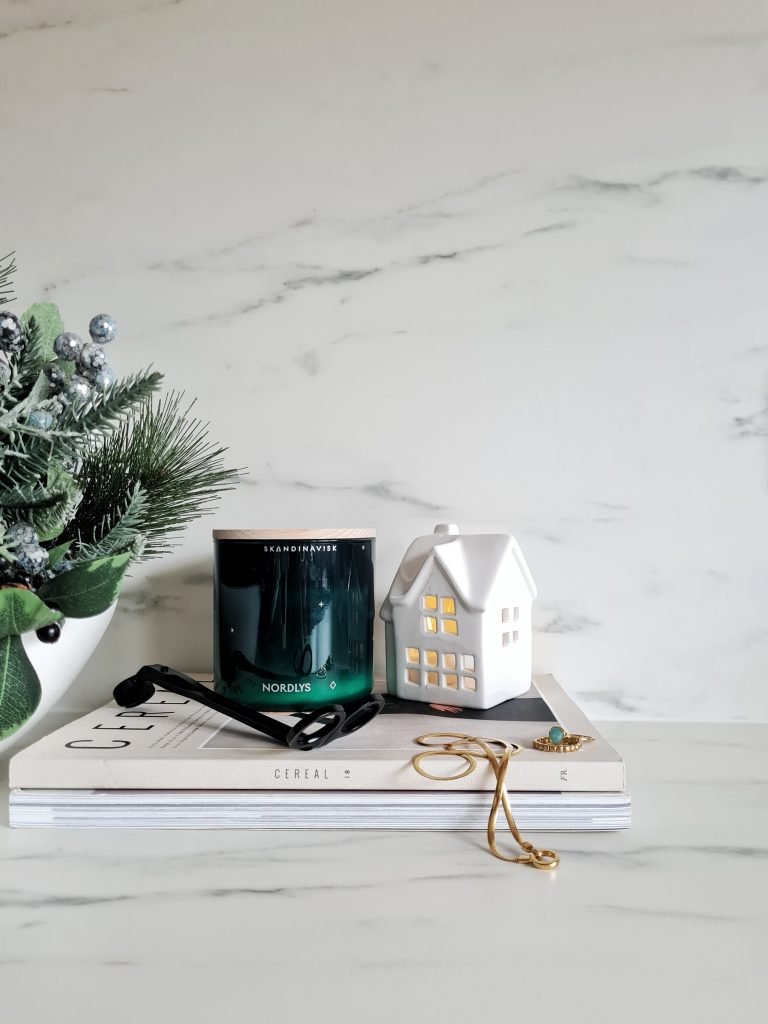 Scandinavisk NORDLYS Scented Candle – Inspired by the otherworldly beauty of the Northern Lights, Skandinavisk's NORDLYS Scented Candle delivers an innovative, unfamiliar fragrance that evokes Arctic intensity and hypnotizing celestial colors. Creating a magical olfactive atmosphere to fill your space with, this luxury scented candle is housed in a sleek, colored glass votive that is perfect for adorning tables or mantles this festive season.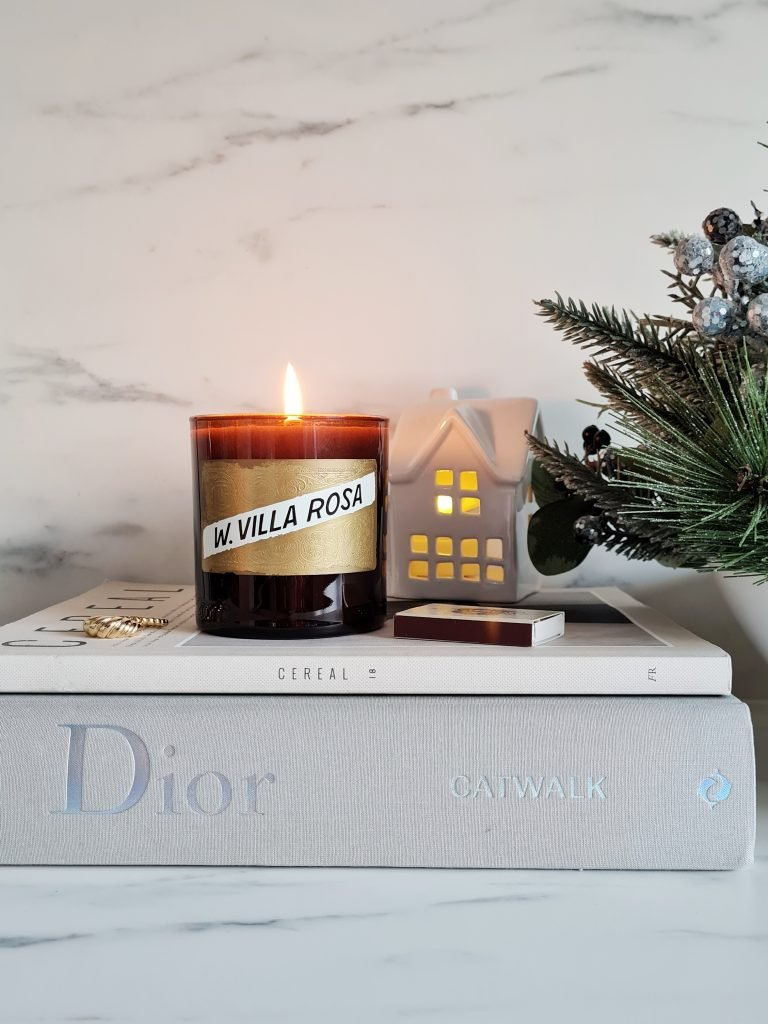 C.O. Bigelow West Village Rose Scented Candle – Create a rich and playful ambiance in your home with the West Village Rose scented candle by C.O. Bigelow, inspired by the charming streets of New York City's West Village. Infused with expertly blended fragrance oils, this elegant candle evokes the bustling West Village neighborhood with vibrant flower markets and fresh fruit carts on a sunny day. Emitting a luxurious scent with juicy mandarin, lemony thyme, and anjou pear delicately laced with notes of violet and rose petals, the candle is crafted from domestically grown, sustainable soybeans and hand-poured into a sleek glass vessel.
Until next time, Ashh xo
*This article features some press samples. All opinions are my own and unbiased.