We know how certain scents have a unique ability to uplift our mood and evoke cherished memories. Unlike any of our other senses, the scent is connected directly to the emotional part of the brain. Scent discoveries let us relive some of our most beautiful and loved moments.
During the past year, we have seen customers taking more time to educate, experiment, and discover new beauty and fragrance brands. In particular, they've enjoyed sampling new scents to find their next beauty favorite and expand their perfume wardrobe.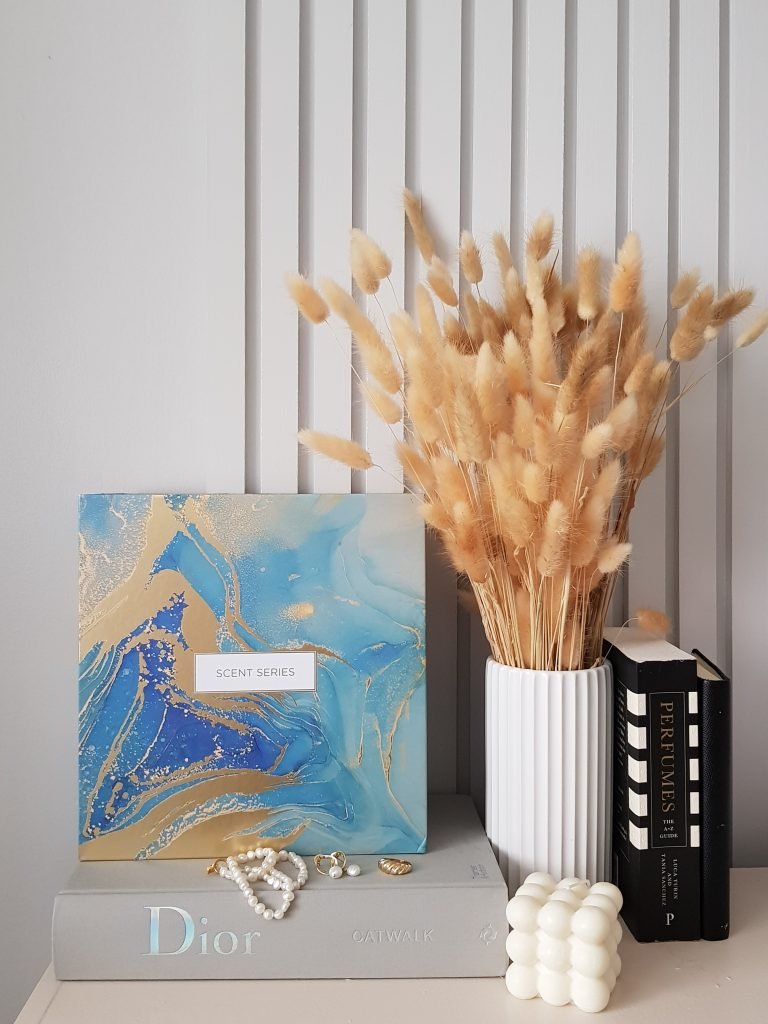 This John Lewis Scent Series Discovery Box lets you shop for fragrance in an entirely new way. It is a good idea to trial a fragrance before investing or committing to the full size. This luxury scent series discovery box allows you to tour a range of fragrance families at your own pace – you may find a new signature perfume or start a scent wardrobe – unveiling a variety of fragrances that represent each facet of your persona. Within this unique collection, you will discover exquisitely curated fragrances from Creed, Maison Francis Kurkdjian, Juilette has a Gun, Maison Crivelli, and Parle Moi de Parfum.
What to expect?
There are different categories/fragrance families in the Discovery Box and each category has a certain quote/one-liner to make it a little interesting!
'I start each day like it's the first page in a new notebook.' – Fresh & Invigorating
CREED – Viking Cologne : Inspired by the wild beauty of the Norwegian fjords, this masterful alchemy of zingy citrus fruits with aromatic heart notes is fused together by a woody base, featuring dry sandalwood and earthy vetiver.
MAISON FRANCIS KURKDJIAN – Aqua Cologne Forte Collection : Inspired by the evolution of the sun, throughout the day. Aqua Universalis Cologne Forte is the bright morning sun – full of vibrant energy from bergamot with a soft musk accord echoing the fresh morning air. Then Aqua Vitae Cologne Forte embodies the sun at its zenith. Discover a sun-kissed blend of citrus bergamot, sunny floral notes, and sensual musk. Finally, Aqua Celestia Cologne Forte represents the promise of a long summer evening, radiant and vibrant with notes of bergamot, juicy blackcurrant, jasmine, and mimosa.
'I didn't choose you my heart did ' – Warm & Sensual
MAISON FRANCIS KURKDJIAN – Baccarat Rouge 540 : This scent is almost as iconic as the Baccarat crystal glass it celebrates, a unique, luminous, and intense Eau de parfum with amber and woody floral tones suitable for both men and women, especially those who like to turn heads wherever they go.
JULIETTE HAS A GUN – Vanilla Vibes : A truly effortless fragrance that combines heart notes of natural vanilla and orchid with the aromas of California: sea salt, sandalwood, and tonka beans.
PARLE MOI DE PARFUM – Woody Perfecto / 107 : Uber sensual, this is a scent to deeply inhale and always remember on the one you love, fuelled with dark coffee aromas, earthy vetiver root, and an infusion of leather.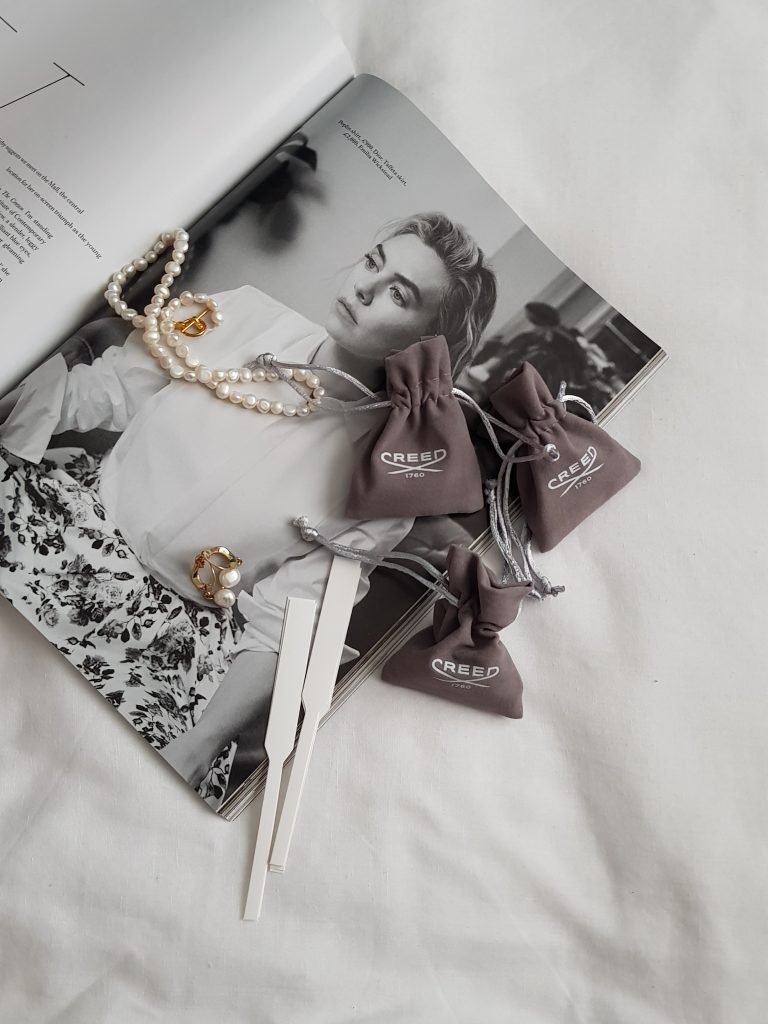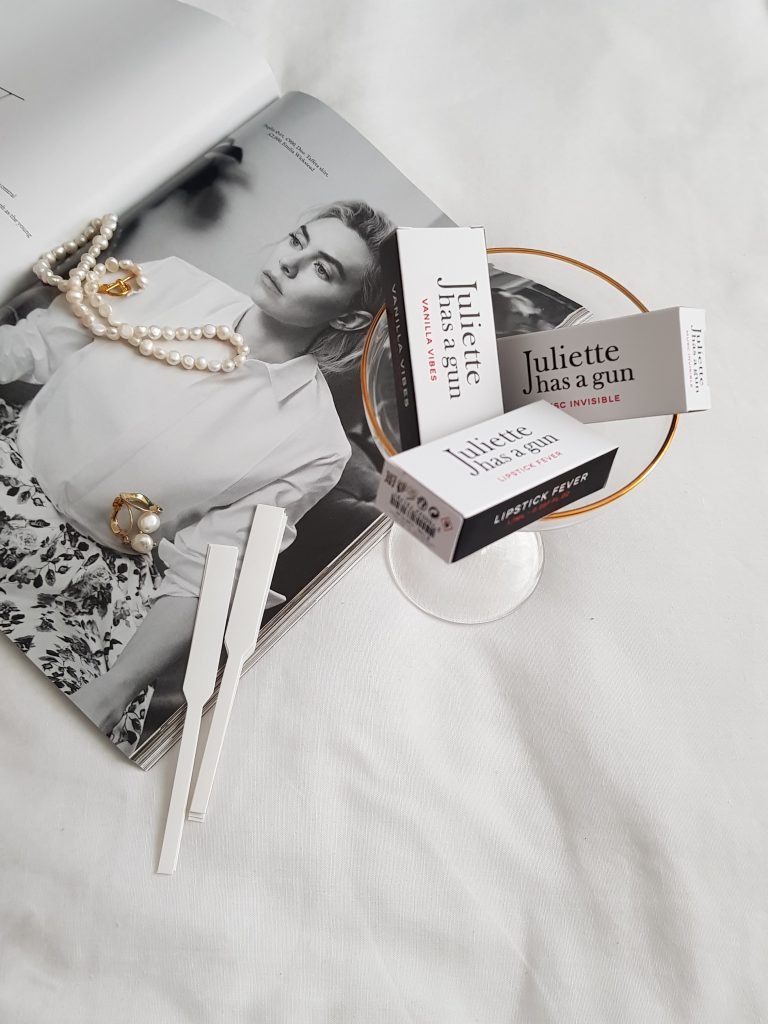 'Mood: Unapologetically ambitious' – Powerful & Rich
CREED – Aventus : Celebrating strength, power and success, this unique fragrance blends the exotic notes of bergamot, birch, peppery rose, jasmine and patchouli on a rich base of oakmoss.
MAISON CRIVELLI Santal Volcaniqe: A woody, spicy and musky fragrance unlike any other, evoking the founder of house Thibaud Crivelli' discovery of burnt sandalwood on the slopes of an erupting volcano.
PARLE MOI DE PARFUM – Chypre Mojo / 45 : Sensual and supernatural, the chypre accord is one that dates back a century – and Chypre Mojo certainly aims to highlight its seductive side.
'Note to self: Relax.' – Soft & Cocooning
MAISON CRIVELLI – Iris Malikhan : A woody, gourmand, powdery scent that evokes the beauty and strength of iris flowers. Unlike any other scent, this addictive creation combines a verdant and dry iris with warm notes of vanilla and leather.
JULIETTE HAS A GUN – Musc Invisible : A scent as comfortable and unfussy as your favourite old pair of jeans… This is a soft, warm and cosy composition of jasmine absolute, cotton flowers nestled on silky base of creamy white musk.
PARLE MOI DE PARFUM – Haute Provence / 89 : Calming Lavender is the star here but coupled with notes of melon and watermelon it becomes almost seductive, a hint of Narcissus, adds a bewitching luminous touch. It is delicate, elegant and ultra-sophisticated.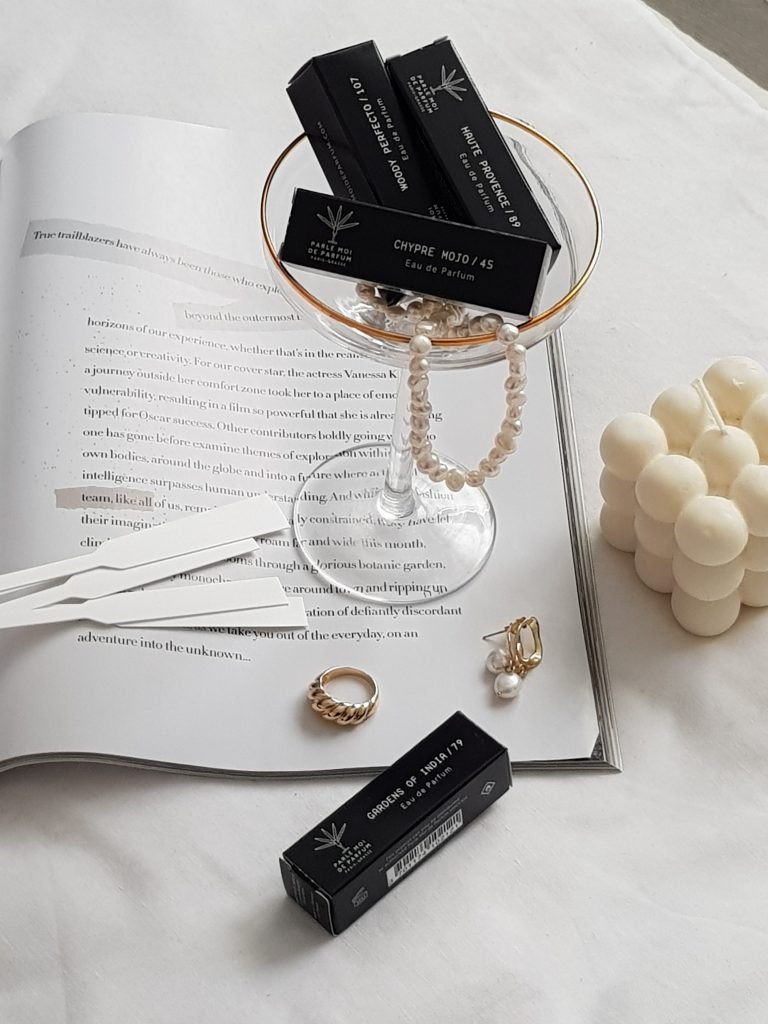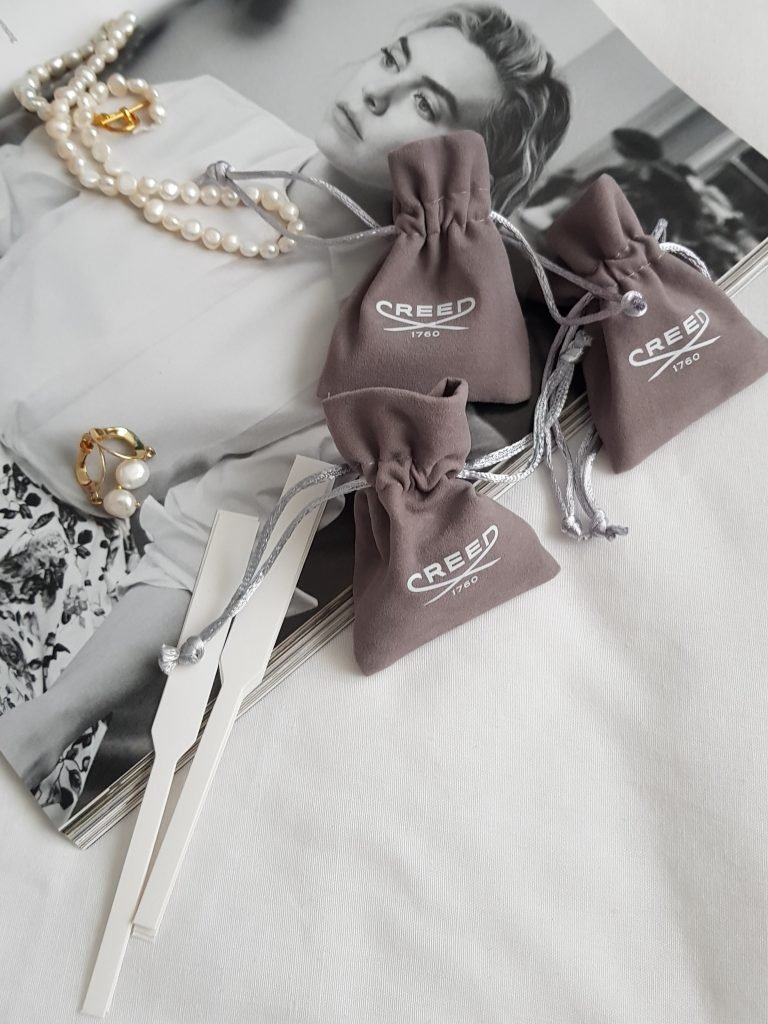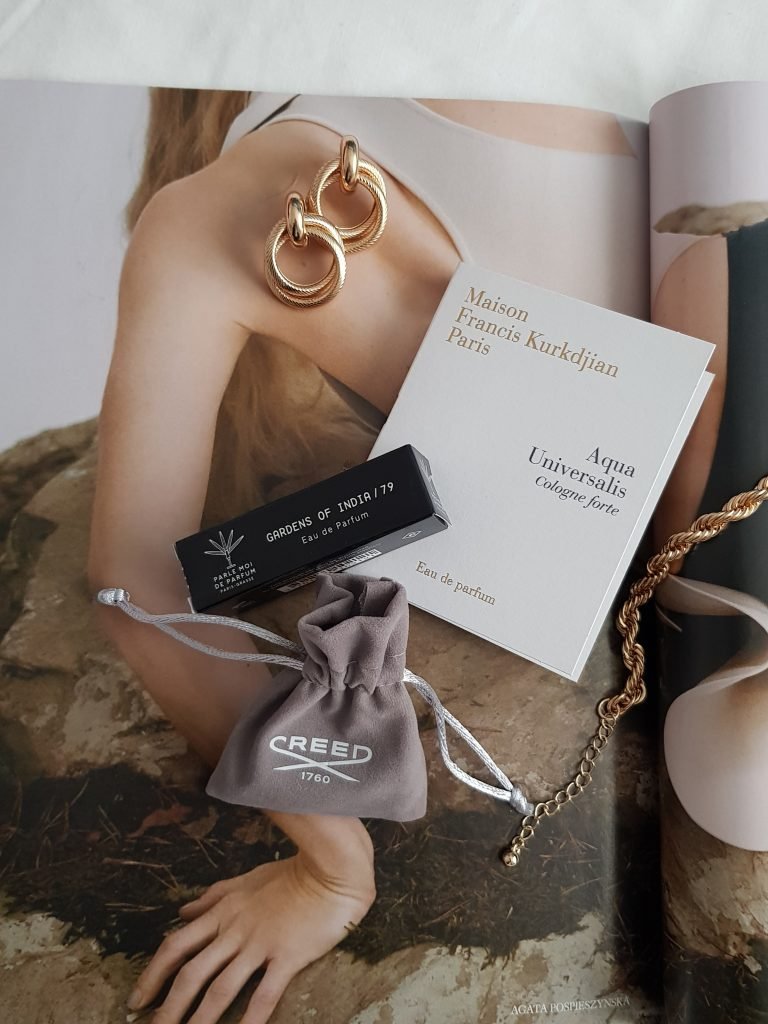 'Lipstick, heels & perfume…I'm ready to play' – Playful & Vibrant
CREED – Aventus for Her : Inspired by powerful women, this fruity floral scent opens with green apple, pink pepper and bergamot and blossoms into a floral heart of rose, sandalwood, amber and ylang ylang.
JULIETTE HAS A GUN – Lipstick Fever : Voluptuous, sensual, provocative, inspired by a streak of lipstick. It echoes the historic notes used in lipsticks: iris, violet absolute and raspberry but it is enhanced with woody notes (patchouli & cedarwood) to give it a playful edge.
PARLE MOI DE PARFUM – Gardens of India / 79 : Dewy, fragrant jasmine buds billow over tempting tuberose, all honeyed and seductive. The sandalwood sits softly on the skin, creating a creamy base. This scent is as vibrant as the gardens of India that inspired it.
The Scent Series Discovery Box Fragrance Gift Set is exclusive to John Lewis £50.00 available only from John Lewis App from 17th September 2021 and on johnlewis.com starting 20th Sept 2021. This would make a lovely gift for fragrance enthusiasts. The box is a great way of trying some new scents before investing in full-size bottles. Who knows you might find your new favorite scent!
Until next time, Ashh xo
*This post features a PR sample. Opinions are my own and unbiased.