Look Fantastic has been doing some really amazing limited edition beauty boxes along with their monthly regular subscription. If you love to invest in luxury beauty specially high-end skincare, you should check out Look Fantastic x Eve Lom Box which is such a great saver box!
This limited edition box contains 6 best selling hero products including a full-size cult favourite, the Eve Lom Cleanser (100ml) from the cult favourite brand Eve Lom and has a total value of over £174. The box retails for £70 via Look Fantastic and you may even use a discount code at the end of this post to save further £15 if you're not a subscriber yet.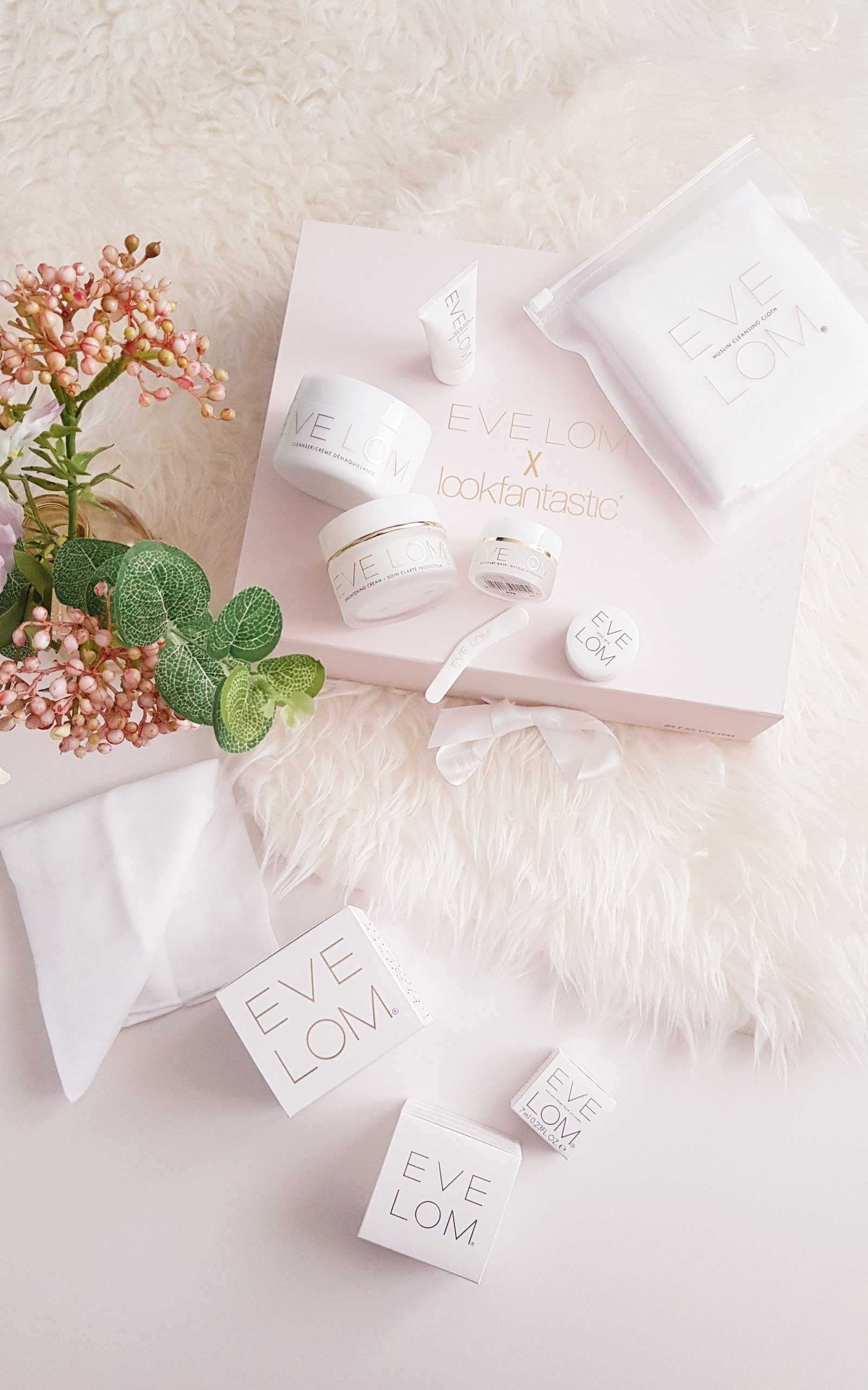 This limited edition box contains six effective skincare and beauty heroes that will help you achieve a beautiful radiance whatever your age, skin type or skin concern.
Eve Lom Cleanser (full size) | RRP £55
The multi-award-winning balm cleanser decongests, softens and leaves a highly receptive base on your skin for beauty products to work with. It also works as a great makeup remover whilst improving circulation, resulting in super smooth and radiant skin. The EVE LOM Cleanser deeply cleanses, effectively removes stubborn waterproof makeup and gently exfoliates, leaving your skin noticeably softer! The cleanser is great for all skin types including sensitive ones. This is one of my absolute favourite cleansers and I keep several deluxe samples too for travel purposes.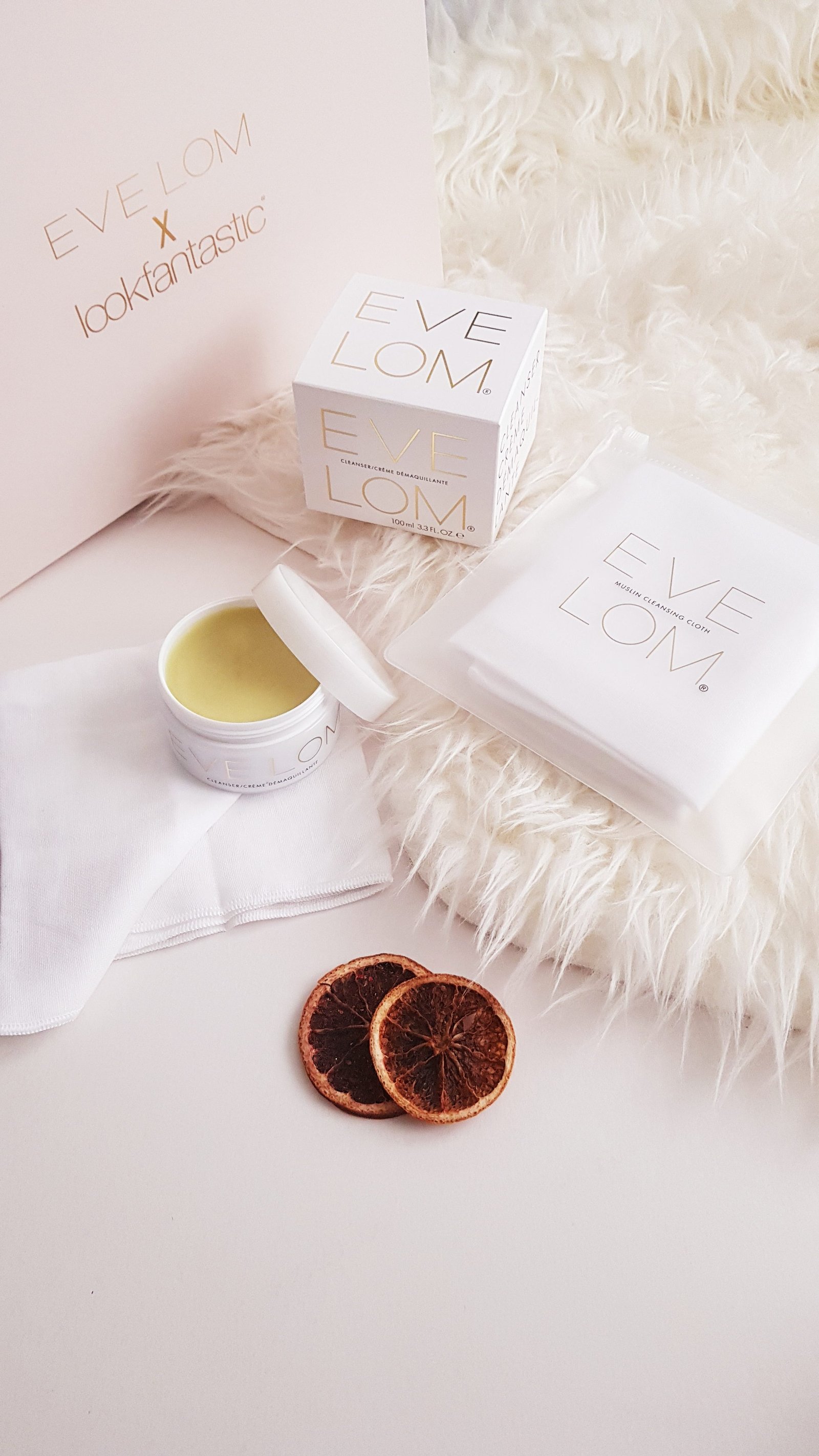 Eve Lom Kiss Mix Lip Treatment (full size) | RRP £16
Eve Lom Kiss Mix is an award-winning product that combines the protective properties of zinc oxide with the cooling power of menthol to restore and protect damaged lips. This hydrating lip treatment is formulated to protect lips from dryness and chapping thanks to its luxurious blend of active extracts. the lip balm is great for soft, smooth and comfortable lips all year round.
I have been using tinted version of this lip balm for past few months and absolutely love the formula. My husband has eye on this one lol.
Eve Lom Brightening Cream (full size) | RRP £75
Sooth your tired skin with this deeply hydrating and conditioning formula that increases skins suppleness and helps to reduce redness and fine lines. Your skin will feel comfortable and calmed to reveal a radiant and even toned complexion. Ideal for dry, sensitive and mature skin, the luxurious and lightweight cream soothes and nourishes tired-looking skin.
3 x Eve Lom Cleansing Muslin Cloths | RRP £14
These specially woven cloths are designed to gently exfoliate, detox and stimulate skin, removing all traces of your facial cleanser. Plus, the cloths are made of 100% cotton so they're really kind to your complexion! These clothes work to help to improve blood circulation, gently remove dead skin cells, and deeply cleanse and tone, making your skin a vital receptive base for beauty products to work at their best.
Moisture Mask – Deluxe Sample | RRP £65 for full size
Give your skin a boost whenever it's feeling dry or dehydrated with this intense skin-illuminating mask. Using an advanced complex of skin moisturisers to restore moisture and defend skin against aggressors you'll notice the disappearance of fine lines and wrinkles with every use!
This intensive mask also increases cellular renewal and protects your skin against future dehydration and environmental damage.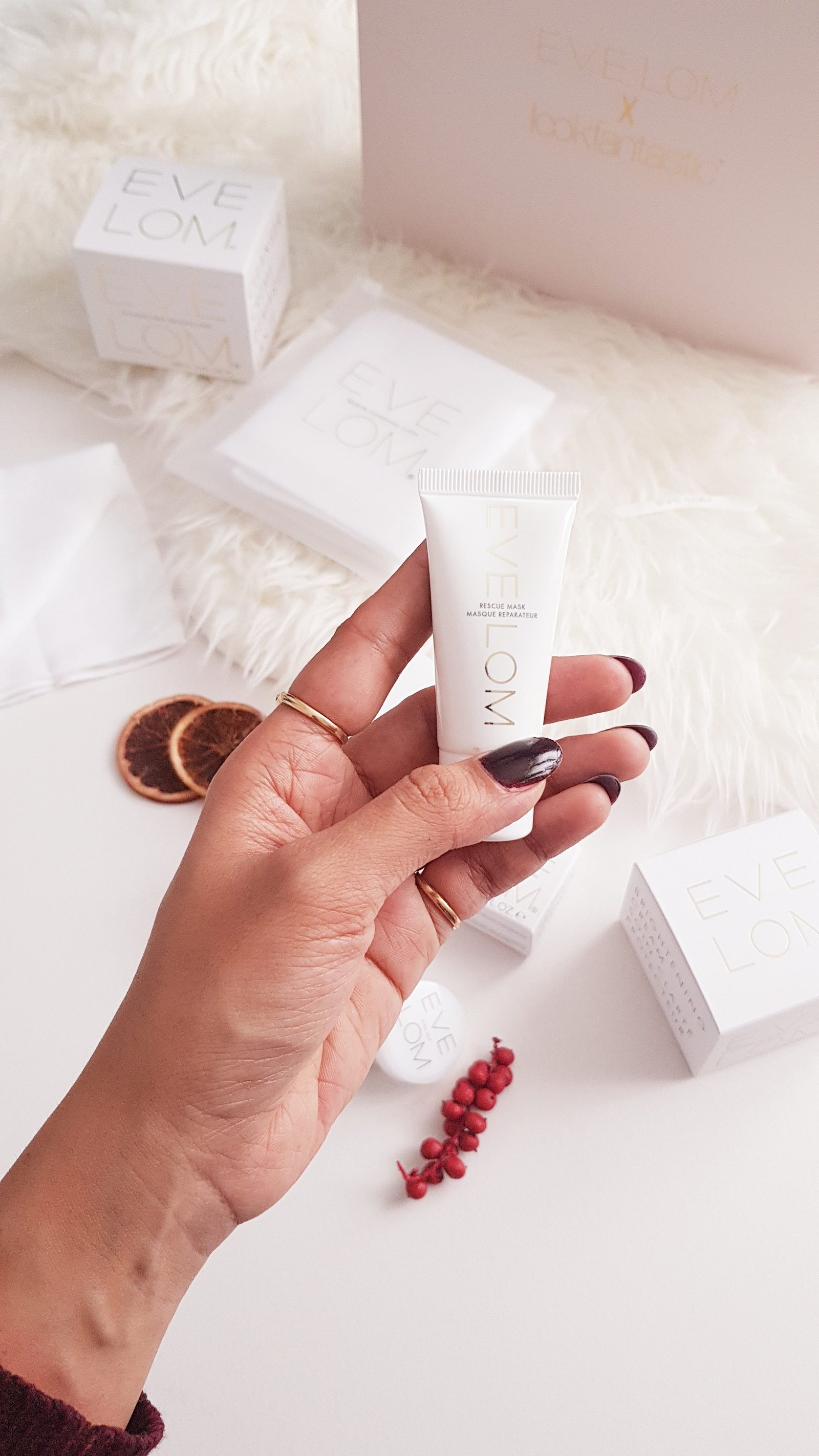 Rescue Mask – Deluxe Sample | RRP £55 for full size
Restore natural radiance with the multi-award-winning formula that works to revitalise tired, stressed skin. With a cocktail of beneficial ingredients, this luxurious treatment delivers a deep cleanse to decongest pores whilst promoting a smoother, refined appearance.
Ideal for addressing blotchy skin and irritable breakouts, or as a reviving pick-me-up to minimise puffiness and signs of fatigue after a night out. The versatile mask works in under 20 minutes to unveil a soft, supple complexion with improved texture and tone.
The box is an absolute must-have for all skincare and beauty box lovers. You can get your lookfantastic x Eve Lom box now for just £70 and lookfantastic Beauty Box subscribers can get an extra £15 discount sent to you via email. Not a subscriber? Subscribe today and you'll receive this month's lookfantastic Beauty Box and this limited edition for £15 less when enter EVELOMBB at checkout.
Until next time
Ashh xo
Instagram | Bloglovin' | Pinterest
*This post features PR Samples. Opinions are my own – honest and unbiased!