Molton Brown has been on a fragrance discovery since they started their journey over 40 years ago. Their travels have taken them all over the world to source the finest scents and rarest ingredients; blending each one into something incredibly special. They perfect each scent to create the most intoxicating fragrances and delicate aromas; bringing you unique perfumes, bodycare and bath products.
LookFantastic has collaborated with Molton Brown this month for a limited edition LFxMoltonBrown box with an iconic London style. You can now experience a world of Molton Brown fragrance with this brand new Limited Edition box.
What to expect in #LFxMoltonBrown Box?
The first thing to appreciate is the Bold, playful and modern packaging. The box itself is unconventional for snug fit of products. This essential Limited Edition box has a total worth value of over £70 and contains 10 different travel size (100ml each) fragrances of Molton Brown's hero Bath & Shower Gels! These 10 expertly blended fragranced Bath & Shower Gels blend exotic ingredients with a dash of London eccentricity to create bold scents, perfect for men and women. These handpicked luxury bath and shower gels will refine your bathing and beauty rituals. These will leave skin subtly scented and cleansed and can be used for a soothing bath or for rejuvenating your senses in a refreshing shower.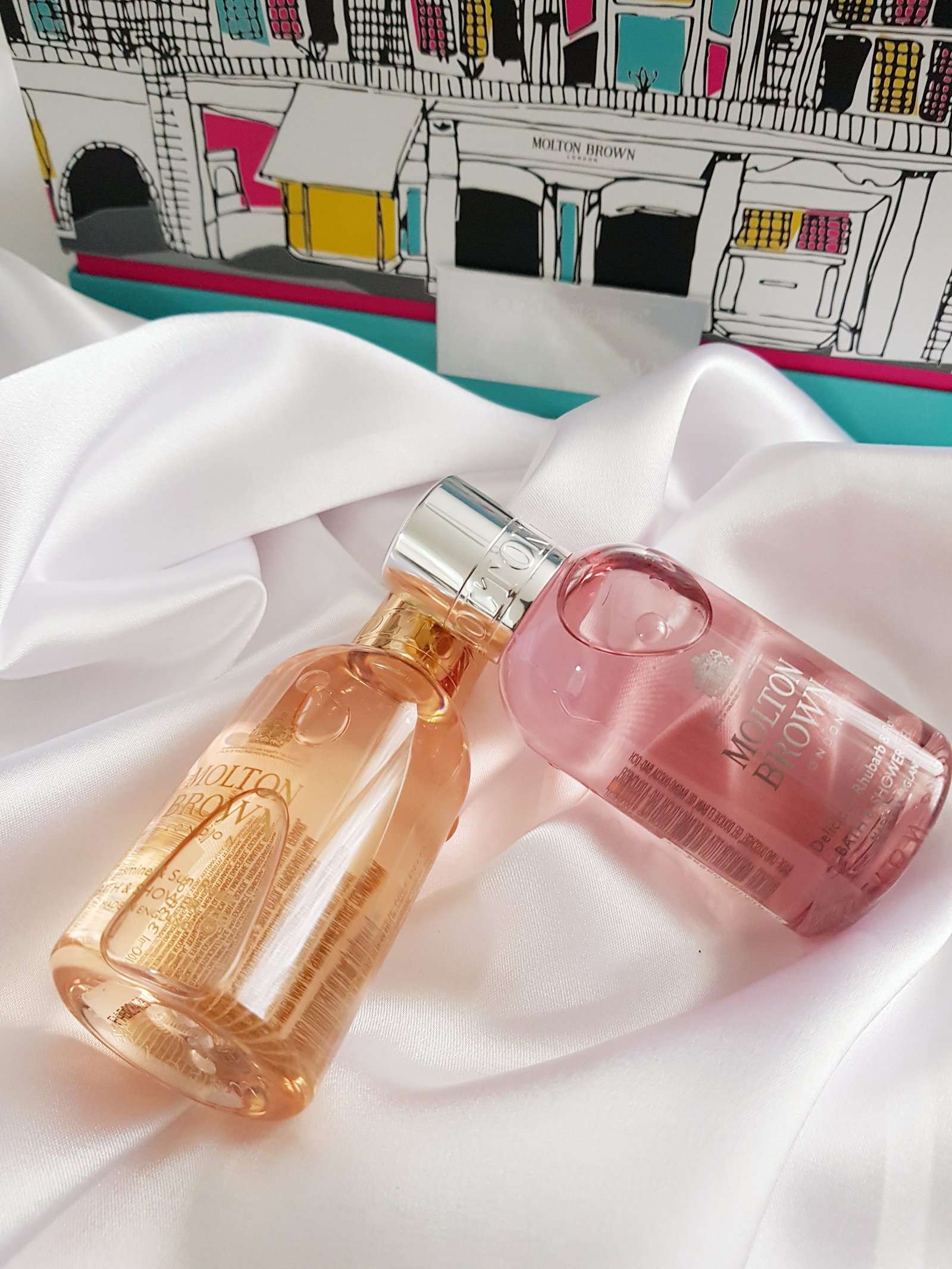 The Box Contains:
Molton Brown Blissful Templetree Bath & Shower Gel (100ml) – This is a sacred fusion of peaceful notes of orange, jasmine and rich patchouli. Top notes are orange, fruity rose and gardenia while the heart notes are jasmine, lilac and honey. Patchouli, Sandalwood and vanilla sit at base notes.
Molton Brown Coastal Cypress & Sea Fennel Bath & Shower Gel (100ml) – Awash your senses with sea-soaked adventure in this refreshing, marine fragrance with top notes being Fig leaves, Cardamom and Bergamot. Marine notes, jasmine and violet leaf make the heart and salted cypress, cedarwood and musks can be smelt at base notes.
Molton Brown Delicious Rhubarb & Rose Bath & Shower Gel (100ml) – Treat yourself to an irresistibly  sweet recipe of rhuharb, creamy vanilla and delicate rose. This gel has top notes of grapefruit, yuzu and lemongrass. Rhuharb leaves, rose and spearmint can be smelt at heart while vanilla, musk and spun sugar make base notes.
Molton Brown Fiery Pink Pepper Bath & Shower Gel (100ml) – Warming ginger with pink pepper and floral jasmine entice your senses in this sweetly-spiced fragrance. Pink Pepper, tangerine and elemi make top notes while nutmeg, ginger and jasmine sit at heart; and patchouli, cedarwood and oakmoss can be smelt at base.
Molton Brown Heavenly Gingerlily Bath & Shower Gel (100ml) – Escape to exotic beaches with fragrant lily, warming ginger and musk in this alluring fragrance. On a fragrance pyramid, cardamom, ginger and clove sit at the top while tuberose, lily and tagetes make heart. Cedarwood, Sandalwood and musk can be smelt at base.
Molton Brown Jasmine and Sun Rose Bath & Shower Gel (100ml) – Give in to the allure of this deltaic masterpiece, a feminine chypre fragrance with facets of jasmine, rose and raspberry. Top notes are composed of Raspberry, bergamot and peach while Jasmine, osmanthus and rose make the heart. Base notes of this gel are sun rose, patchouli and musk.
Molton Brown Orange & Bergamot Bath & Shower Gel (100ml) – Awaken your spirits with a Molton Brown icon; burstling with Sevillian orange and neroli flower. Here top notes are Orange, bergamot and mandarin while Neroli, cardamom and galbanum make the heart. Base notes are musk, ylang-ylang and cedarwood.
Molton Brown Re-Charge Black Pepper Bath & Shower Gel (100ml)- Embark on a journey with a MB bestseller, spiced with invigorating black pepper, coriander and vetiver. Top notes are composed of black pepper, lemon and ginger while coriander, basil and violet leaf can be smelt at heart. Base notes are composed of Vetiver, oakmoss and ambergris.
Molton Brown Relaxing Ylang-Ylang Bath & Shower Gel (100ml) – Unwind with a truly relaxing fragrance enriched with a harmony of floral ylang-ylang, zesty tangerine and vanilla. Top notes include tangerine, cardamom and ginger while ylang-ylang, jasmine and orris make the heart. Base notes are composed of vanilla, cedarwood and musk.
Molton Brown Tobacco Absolute Bath & Shower Gel (100ml) – You can experience seasoned depth with woody tobacco absolute uplifted with vibrant grapefruit and Peruvian balsam. Top notes are composed of Elemi, bergmot and grapefruit while cedarwood, nutmeg and rosewood make a beautiful heart. Tobacco, leather and Peruvian balsam can be smelt at base.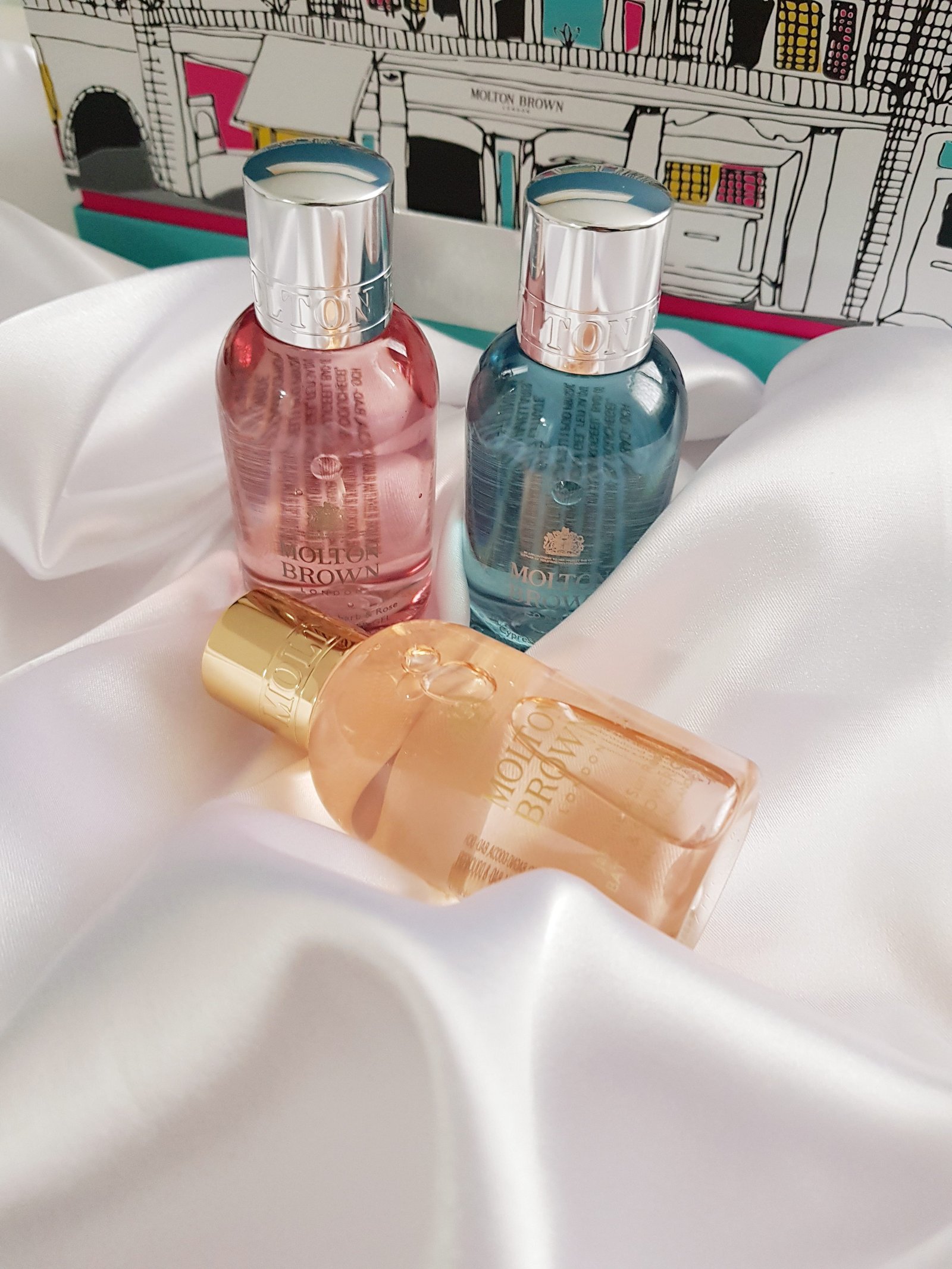 Molton Brown Limited Edition Beauty Box is available for £35 or you will receive an amazing £5 discount* if you are a lookfantastic Beauty Box subscriber! If you're not a subscriber yet, you can subscribe to the lookfantastic Beauty Box today for November Edition, plus add the Limited Edition Molton Brown Box to your basket and save £5 when you enter MOLTONBROWNBB at the checkout.
This limited edition box will also make a lovely Christmas present.
Until next time
Ashh xo
Instagram | Bloglovin' | Facebook | Twitter
This beauty box was very kindly gifted to me as part of PR sample. Opinions are my own – honest & unbiased!
You may also want to read: