Few days back, I shared on my social media how much I loved Tom Ford Noir Femme sample and wanted to get a bigger bottle. So glad I finally got one. TOM FORD Noir Pour Femme captures the fascinating paradox of the Tom Ford woman in a daring floral oriental fragrance that is both extravagant and sensual. The fragrance came out in 2015 while the men's version Tom Ford Noir edp came out in 2012.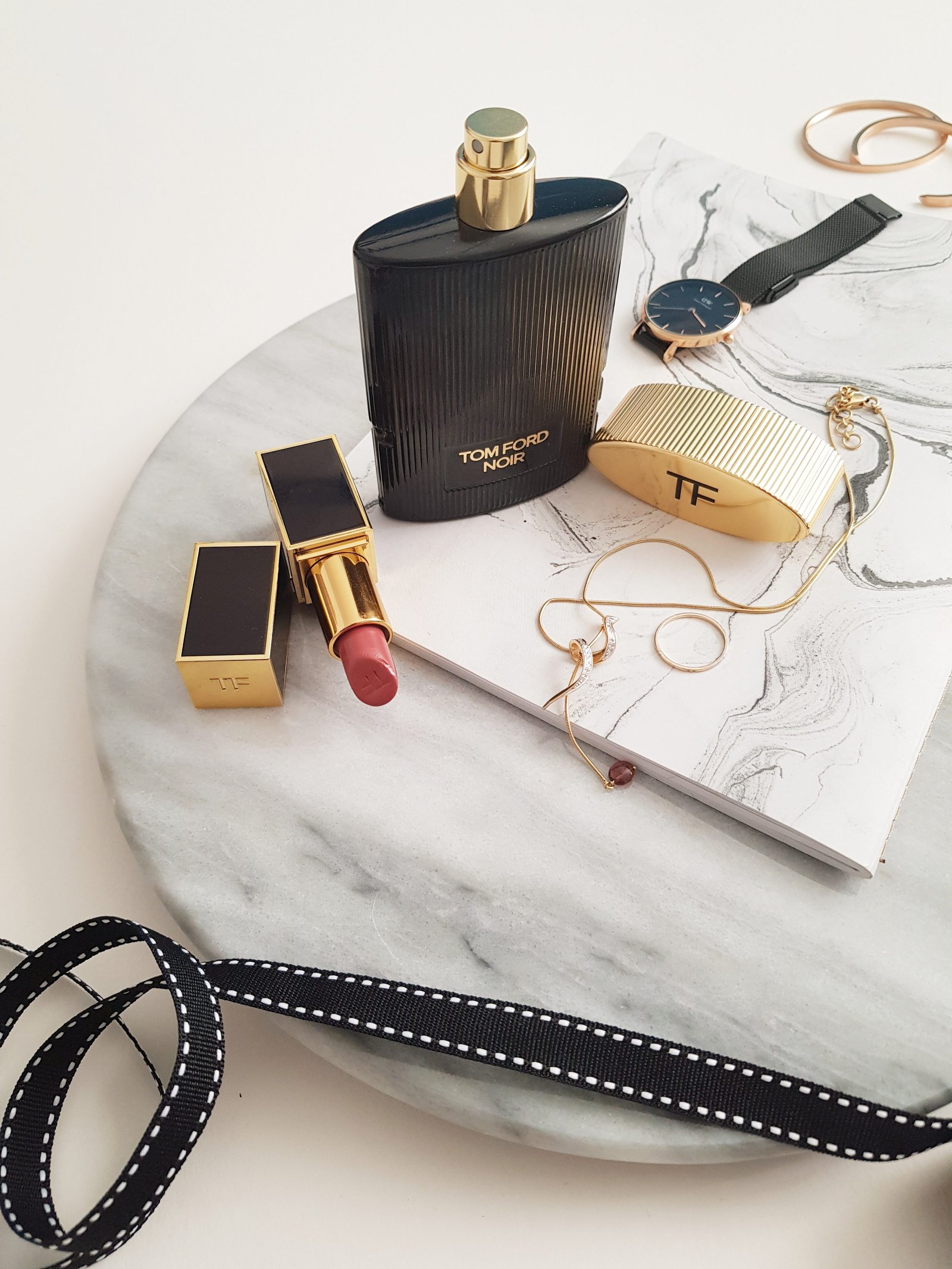 Packaging – I love the bottle – its very classy and sexy. Black and Gold speak luxury and the bottle has ribbed texture and magnetic soft closure cap. It has T & F embossed on sides and also on the lid.
Notes – The main accords in Noir Pour Femme fragrance are Vanilla, Balsamic and Amber. The fragrance also has woody and powdery notes. This is a floral oriental fragrance and has moderate intensity as well as moderate longevity.
Amber, Sandalwood, Vanilla
Jasmine, Indian Kulfi, Orange Tree Blossom, Rose
Bergamot, Bitter Orange, Ginger, Tangerine
This fragrance gives me Vanilla amber cheesecake kind of vibes – very luxurious, very dense and very rich. You might smell spices from the amber which makes it a rich fragrance and perfect for both genders.
Availability – Tom Ford Noir Pour Femme available in 30ml, 50ml and 100ml and can be purchased from Notino.
Although Tom Ford named it Noir but it is not as intense as we would expect from Noir fragrances. Tom Ford Noir Pour Femme in my opinion is more wearable than most TF fragrances including Black Orchid Eau de Parfum. The fragrance is great for first date and special occasions where you want to smell expensive and stand out but at the same time sexy as well.
Tom Ford Black Orchid Eau de Parfum is another elegant fragrance is made with rare, sumptuous, and costly ingredients. The fragrance imparts a distinctive, yet mysterious, scent that provokes the senses and heightens desire. It's no surprise, the woman who wears this fragrance is drawn to all things luxurious, sophisticated and sensual. The fragrance has top notes of Jasmine, Gardenia, Blackcurrant, Lemon, Bergamot, Mandarin, Tuber. You will get Orchid, spice, fruity and lotus notes in the heart while Vetiver, Patchouli, Sandalwood, Incense, Amber, Chocolate and Vanille in the base. This is for bold, mysterious, sophisticated woman who is sensual and a #bossbabe.
Black Orchid has strong spicy notes that stand out. Longevity and Intensity wise Black Orchid is stronger and lasts longer too.
If you do not like Black Orchid Eau de Parfum, you might like Tom Ford Noir Pour Femme but if you like Black Orchid, you will LOVE this one.
Final thoughts: Tom Ford Noir Pour Femme is quite a popular TF Fragrances for good reasons. If you are not very used to intense, opulent , extravalent and dense fragrances, this one will please your nose. This is a mass appealing fragrance and in my opinion this can be worn by either gender. Noir Pour Femme smells very close to Noir edp with the only difference that Noir has some cardamom, saffron and nutmeg to possibly to add more spiciness to the fragrance. If I compare Noir Pour Femme to Black Orchid, they smell so different while Black Orchid is definitely more intense, dark and spicy. Both Tom Ford Noir Pour Femme and Black Orchid can be signature fragrances depending upon your preference.
Until next time
Ashh xo