Mintd Box is a monthly Luxury beauty subscription that deliver beautifully curated box of 4/5 full sized or deluxe size luxury products at your doorstep.
How it works
Subscribe and choose your monthly or bi-monthly plan.
Create your personalized beauty profile so your box is personalized according to your lifestyle.
Your box is delivered with your luxury beauty treats specially handpicked for you!
What to expect this month?
We often forget to pause and unwind ourselves in a continuous journey of achieving next happiness whether it be buying a new house, working towards a promotion or travelling across the globe. We remember things that can bring happiness to our face but we forget our mind, we forget to relax and enjoy the current moment. Mintd Box has themed this month's box keeping our continuous race to meet the demands of life in mind.
This months box came with a selection of goodies handpicked for you to help you float into Nirvana. The box has some of the most expensive yet most luxurious products which will bring joy to you.
Omorovicza Rose Quartz Roller | £55
This roller tool is hand-carved from rose quartz (a crystal famed for healing properties), and is a must-try and essential product in your skincare routine.
Boosts blood circulation.
It diminishes the appearance of fine lines and wrinkles.
Helps your regular skincare products penetrate deeper into the epidermis.
Brightens tone by increasing lymphatic drainage (like a fingertip massage) as it reduces the blood vessels and appearance of pores. The face roller gets rid of puffiness and acts on the lymphatic system as a real life "pump". If your lymphatic system is functional, then the cells, epidermis and dermis are nourished and your complexion healthy.
It eliminates toxins by accelerating the skin cell renewal process.
Reduces headache and sinus pain.
Minimizes spots around the chin and jawline caused by toxins.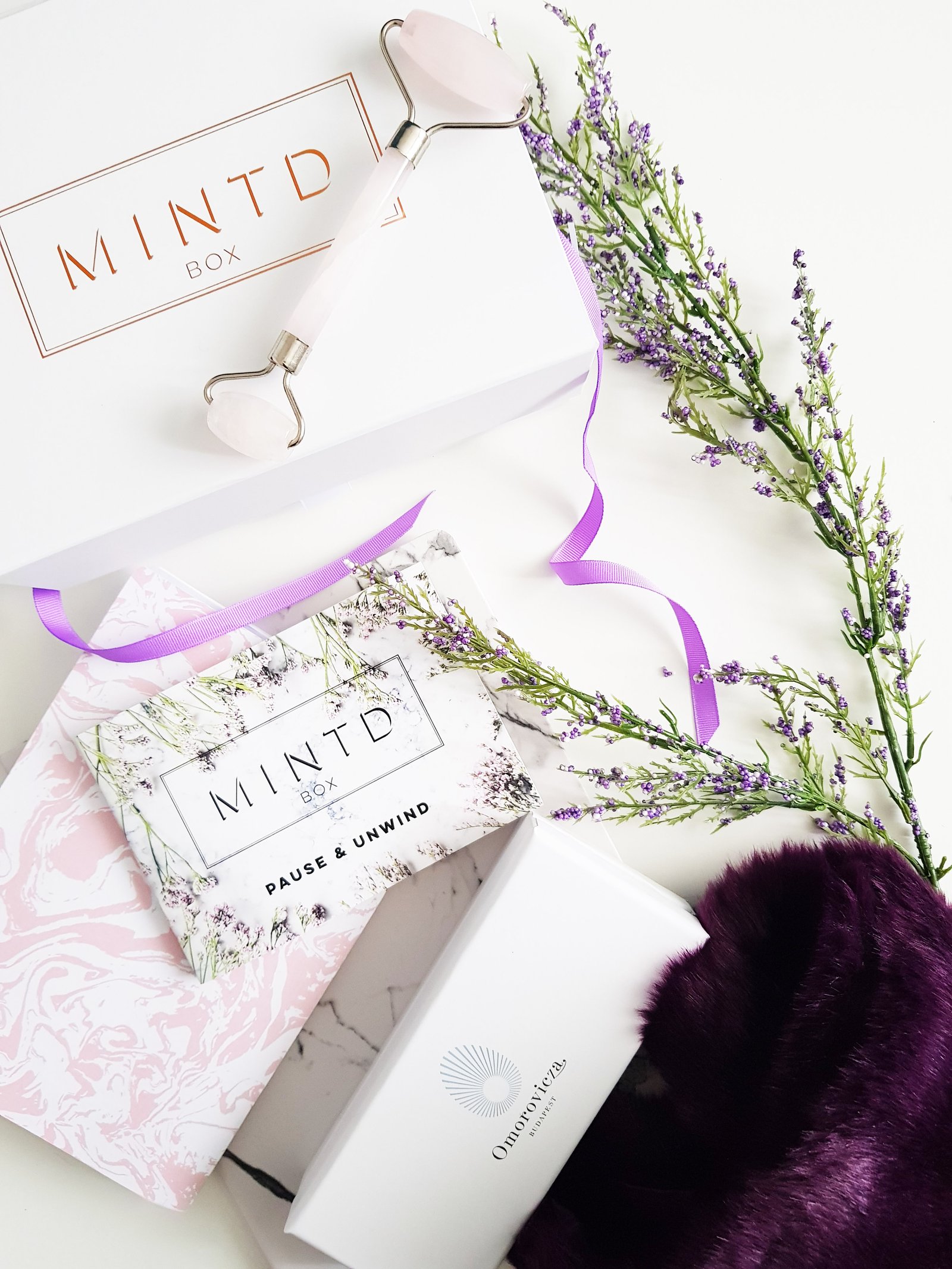 This is a perfect way to unwind while telling tales of work, Uni or boyfriend.
This roller is suitable for all skin types – Normal, Combination, Oily, Dry or Sensitive.
The Rose quartz facial roller is hand-crafted from natural materials so there may be slight variations to colour and size.
Siskyn Frankincense & Jasmine Night Oil | £46
I have heard amazing things about this 100% organic Frankincense & Jasmine Night facial Oil and so glad I got chance to try this via Mintd Box. This intensive overnight skin boosting treatment oil is a rich blend of 17 certified organic luxurious, highly active, botanical oils. The oil is blended with the amazing, vitamin rich Organic Rosehip for its antioxidant properties to help combat free radical damage and to increase collagen production plus soothing and calming Organic Calendula and collagen boosting organic Baobab to aid skin maintenance. The oil is not suitable for pregnant women.
Aromatherapy Associates Perfect Partners | £21
I'm an old fan of Aromatherapy Associates. Their products soothe and calm my senses. This luxurious duo offers two of the brand's multi-award winning Bath & Shower Oils – Revive Morning & Deep Relax.
Deep Relax – Treat yourself to the deeply relaxing powers of Vetivert, Camomile and Sandalwood with this multi-award winning oil. Deep Relax bath and shower oil is formulated with a unique blend of aromatic essential oils that soothe the body and mind. It can work wonders after a stressful day. I even use this to rub on my wrist to calm my senses for a restful sleep.
Revive Morning – Revive Morning has a goodness of Neroli, Grapefruit, Juniper berry & Rosemary and gives a perfect start to the day. The unique blend of these essential oils just awakens and revives the body and is perfect if you're feeling a bit dull or lazy.
African Botanics Buchu Botanical Enzyme Polish | £60
This is a gentle facial polish that deeply cleanses, exfoliates, lifts off dead skin cells and purifies the epidermis to leave skin immaculately clean, soft and radiant without causing irritation. A unique combination of sun dried aromatic Buchu plant and crushed Baobab fruit sourced from the southern tip of Africa are merged with healing Micro-Algae and fine granules of ancient volcanic minerals to visibly refine texture and soften the look of fine lines and dark spots by buffing away dull skin. Micro-Algae – extremely high in micro-elements, proteins, vitamins, mineral salts and amino acids to gently cleanse the skin, allowing greater permeability without depleting the protective lipid barrier.
It's perfect for those exposed to pollution and harsh climates, working to eliminate dull surface cells and reveal a healthy, radiant glow.
Overall Thoughts: Again, very happy with this month's luxury picks by MintdBox. Everything is carefully chosen keeping their lovely customers in mind. I love when subscription boxes are actually good value for money and not just any other subscription. I discovered some really amazing brands via this subscription and got my hands on some of the most luxurious products that I would not have purchased at full price otherwise. My experience with Mintd Box is Superb so far and I can't recommend them enough!
You can enjoy 10% off the gift store if you share ur MintdBox experience by uploading a picture with hashtag #MintdBox and tag a friend on Instagram (in case you want to save some cash ;)).
Subscribe to 6 or 12 month plan & receive a gift worth £90 from Omorovicza. The subscription is worth £70 (monthly or bi-monthly) and all orders are dispatched within 1 working day. Mintd Box currently ships to the UK, W. Europe, North America & Australia. Delivery within UK is free 
Until next time.
Ash xo
Instagram | Bloglovin' | Twitter
*This post features PR samples. Opinions are my own and unbiased.