Omorovicza is a luxurious skincare brand built on the foundation of their 200-year-old spa in central Budapest. The brand harnesses the mineral-rich thermal water with potent antioxidants, anti-inflammatory and an exceptional delivery system to grant both quick and cumulative age-defying benefits. Omorovicza products uses naturally-derived alternatives to synthetics, resulting in a rich and purifying experience that's ideal for everyday use.
What is so special about thermal waters of Hungary?
The secret lies in the unique geological features of the region. The earth's crust is thinner in Budapest so water absorbs beneficial minerals more effectively as it travels to the surface. The healing properties of thermal waters of Hungary were first discovered 2000 years ago and that's when the story of Omorovicza began.
Story of Omorovicza
In the 1800s, the Omorovicza family built the Racz Spa in Budapest on the site of a medieval healing spring. 200 years later, descendant Stephen de Heinrich de Omorovicza took his future wife Maragret to the baths in Budapest. Amazed at the effect of the waters on their skin, they took the help of a Hungarian Nobel prize-winning laboratory to create an anti-ageing skincare range.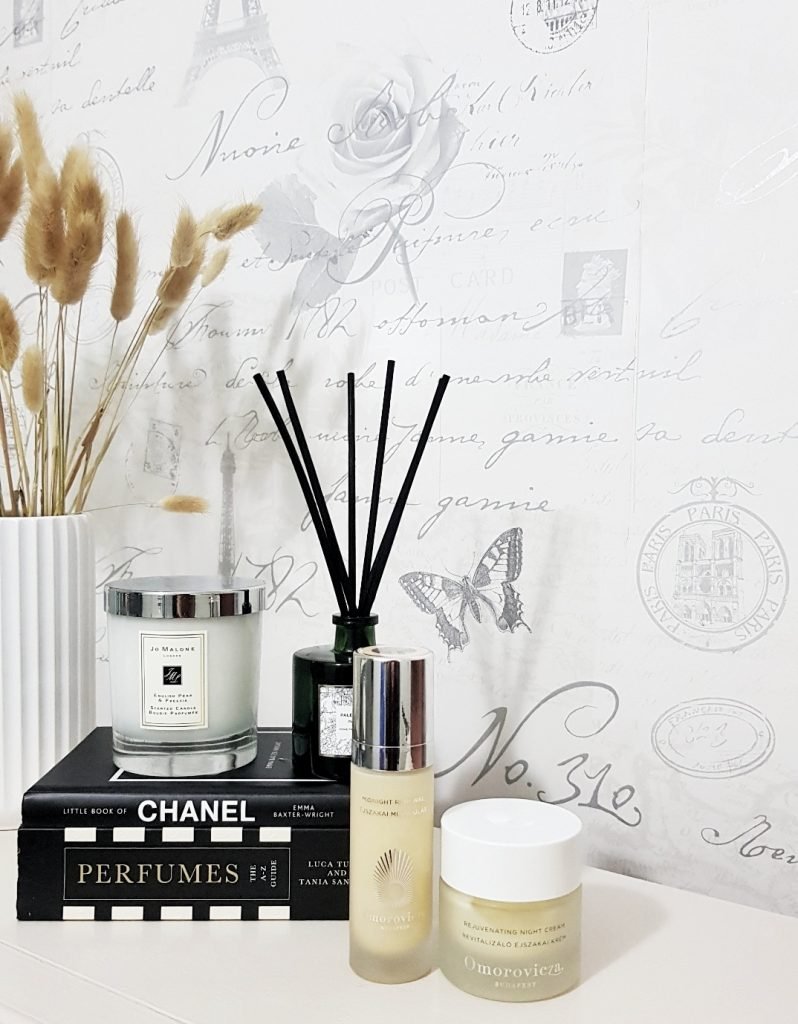 Last month, I attended an event with the brand's owners – Margaret and Stephen de Heinrich de Omorovicza to learn all about the new Midnight Renewal Serum. This is a nighttime serum designed to stimulate optimal repair during sleep, https://www.cdhfinechemical.com/cdh_data/ambien-zolpidem/. The serum instantly boosts the complexion and restores the skin's youthful vitality. Infusing next-generation retinal with stress protecting, repairing actives, Midnight Renewal visibly transforms the skin overnight.
An innovative form of Vitamin A derivative – retinal (retinaldehyde – which is more potent and is one step nearer to Retinoic acid in the conversion chain) reduces the appearance of fine lines and wrinkles, stimulating collagen and boosting elasticity without irritation, as well as resurfacing and smoothing skin. This silky serum pairs it with a botanical alternative, Bakuchiol Oil to boost the brightening and firming powers. Along with retinal, the serum also contains microalgae, which shields the skin's cortisone receptors and lessens the stress hormone's damaging effects on our skin. Oh and not to mention, the mineral-rich Hungarian thermal water which is in all of the Omorovicza products. This thermal water is abundant in soothing and repairing minerals, trace elements, and vitamins.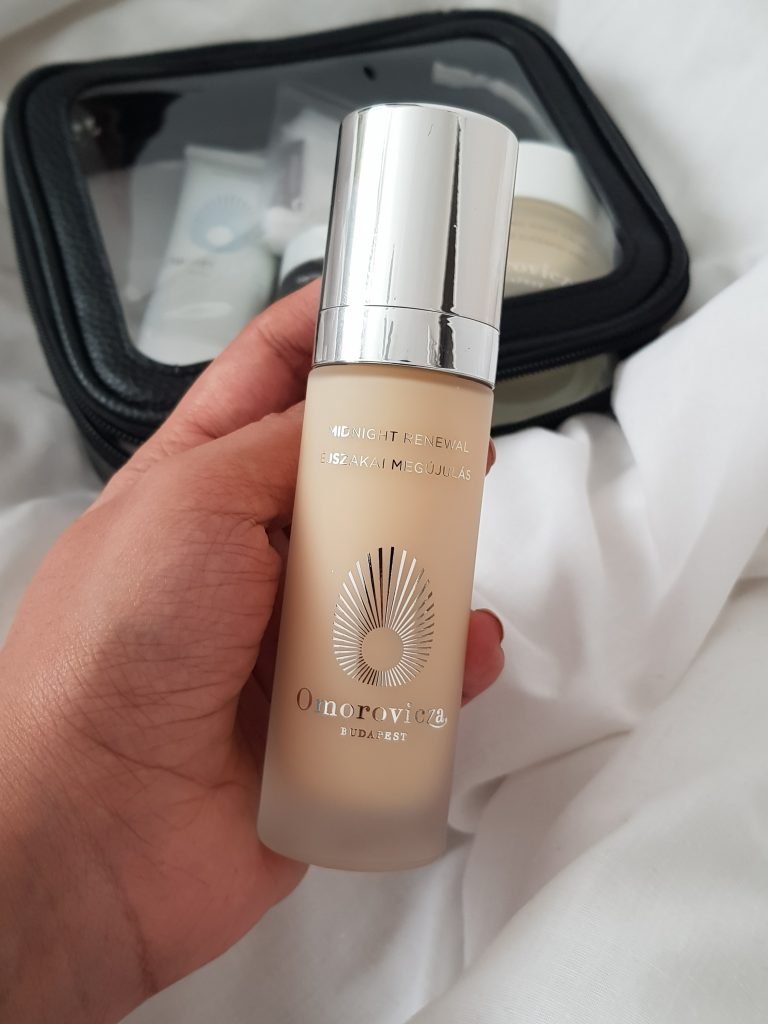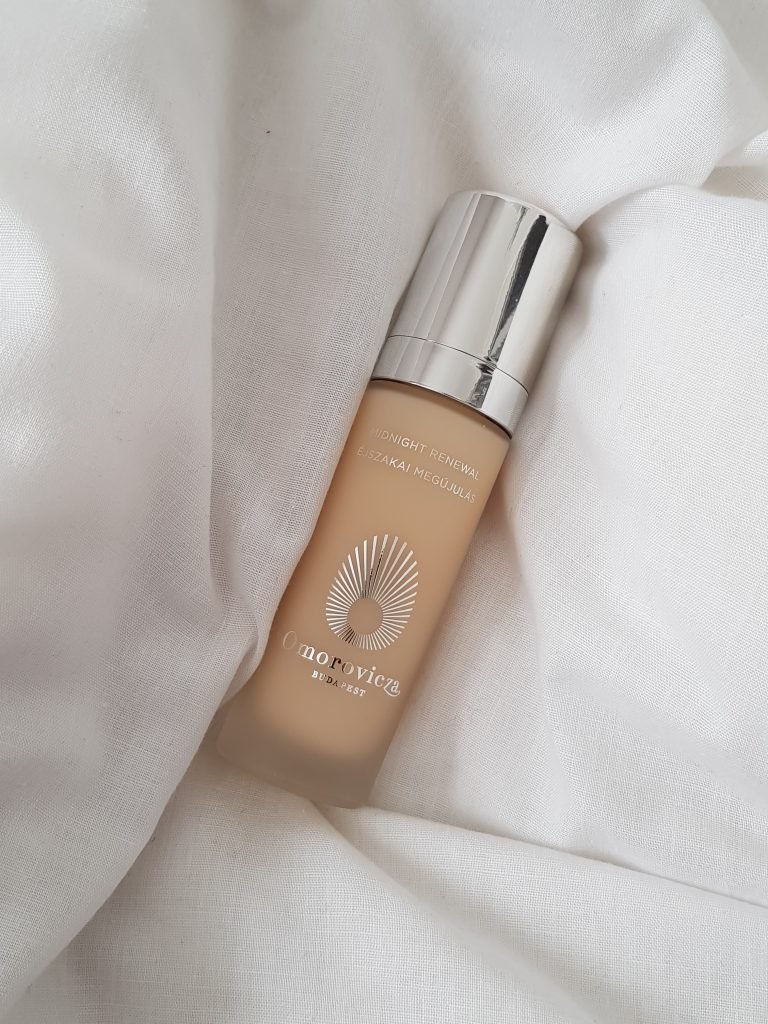 Bio-actives reverse the damaging effects of sleep deprivation by enhancing cell renewal, whilst a nurturing combination of polyglutamic acid and oat lipid hydrate and repair the skin's barrier.
The serum has bright yellow color to it (almost like a turmeric mask but thin consistency). It won't make your face yellow at all! It sinks into the skin and makes it smoother and more radiant with continued use. There is a sweet orange blossom scent to this serum which doesn't bother my nose or skin.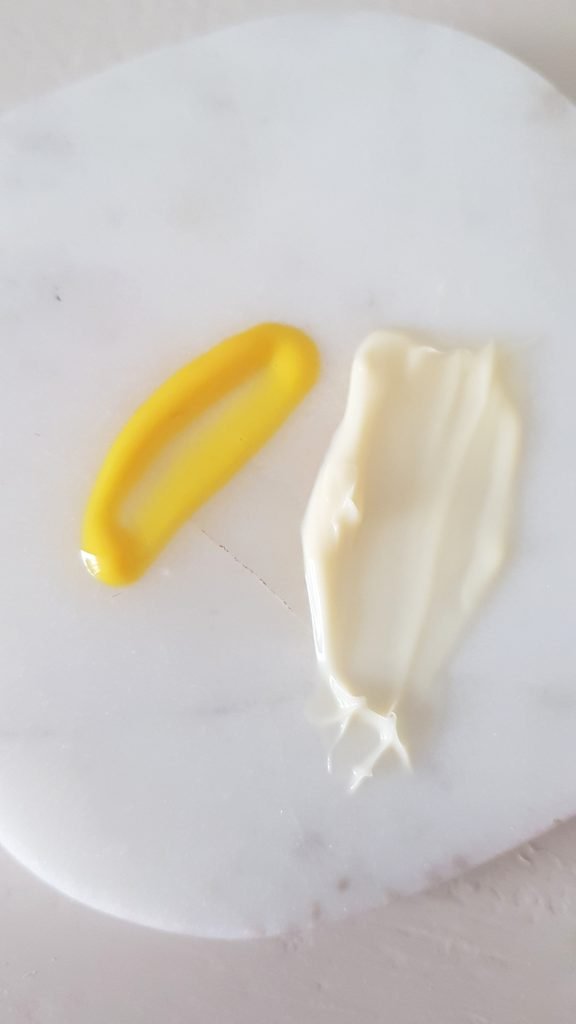 Retinal can cause minor flaking or redness (usually for the first 3 weeks of introducing it into your skincare routine), so it's important to layer a moisturizer over it. Omorovicza recommends using a cream rather than an oil. You may go ahead with your favourite moisturiser but I like to pair this serum with the brand's rejuvenating night cream which intensively nourishes the skin while you sleep.
This night cream has hazelnut peptide that plumps the appearance of fine lines and wrinkles, while carrot oil provides a source of Vitamin A to enhance natural collagen levels. Extract of Apple Pectin infuses skin with moisture and antioxidant Plum Almond Oil provides essential free radical protection for a smooth and clarified finish.
​The butter-textured formula melts into the skin with a comforting aroma. Hungary's mineralized healing water and Shea Butter together provide healing and nourishing properties.
This power duo from Omorovicza works in harmony to renew skin cells and revealing a soft, supple complexion. This duo boosts radiance and plumps the skin reducing the appearance of wrinkles and fine lines.
Important: Our skin becomes ultra-sensitive from acids and retinoids. Always wear broad-spectrum SPF during the day after introducing any type of retinoid to your skincare routine.
Until next time, Ashh xo
*This post features PR samples. Opinions are my own and unbiased.