SUQQU foundations are celebrated for their beautiful glow. I've been a fan of SUQQU extra rich glow cream foundation since it's launch last year and it's amongst my most used foundations so far. A few days back, SUQQU added new shades to their bestselling foundation and I went at the launch event to find #MySuqquShade and also to meet fabulous Suqqu Team.
About SUQQU | Luxury Japanese beauty brand SUQQU focuses on enhancing your radiant beauty. Founded in Japan, it is based on the principles of inner composure, wellbeing and serenity. Boasting some of the world's most desirable beauty products and incorporating the award-winning GANKIN facial massage – originally developed to immediately enhance the radiance of actresses before long film shoots.
Combining science with a traditional holistic Japanese approach, SUQQU's brand ethos is to enhance the skin's natural beauty with their pioneering skincare products, powerful facial ritual, and their base and colour makeup collections. The comprehensive makeup range includes everything from luxurious brushes to luminous foundations.

I also tried SUQQU Treatment Serum Primer | £42, which was launched in September 2019. We all know our base doesn't look very well if we have dry skin, too much sebum production or even extra moisture. This treatment primer is a 'living glow' primer that enriches skin with a perfectly balanced film of moisture.
To enhance the glow from the foundation, the primer covers the skin with a film of moisture, giving mature skin the hydration it needs, but preventing an excess that would cause the foundation to separate. This primer creates smooth, plump skin, keeping the foundation looking beautiful for longer.
Key Ingredients
Sunflower Oil
Apricot Kernel Oil
Evening Primrose Oil
Camellia Seed Oil
Featuring a three-phased approach to hydration, the SUQQU Treatment Serum Primer creates a perfectly balanced base for foundation.
Moisture is delivered into the epidermis to create resilience and glow
Luxurious plant-based oils sit in the outer layer of the epidermis to prevent the evaporation of this moisture and the production of excess sebum
A moisture film sits on top of the skin, creating a smooth plump canvas ready for foundation application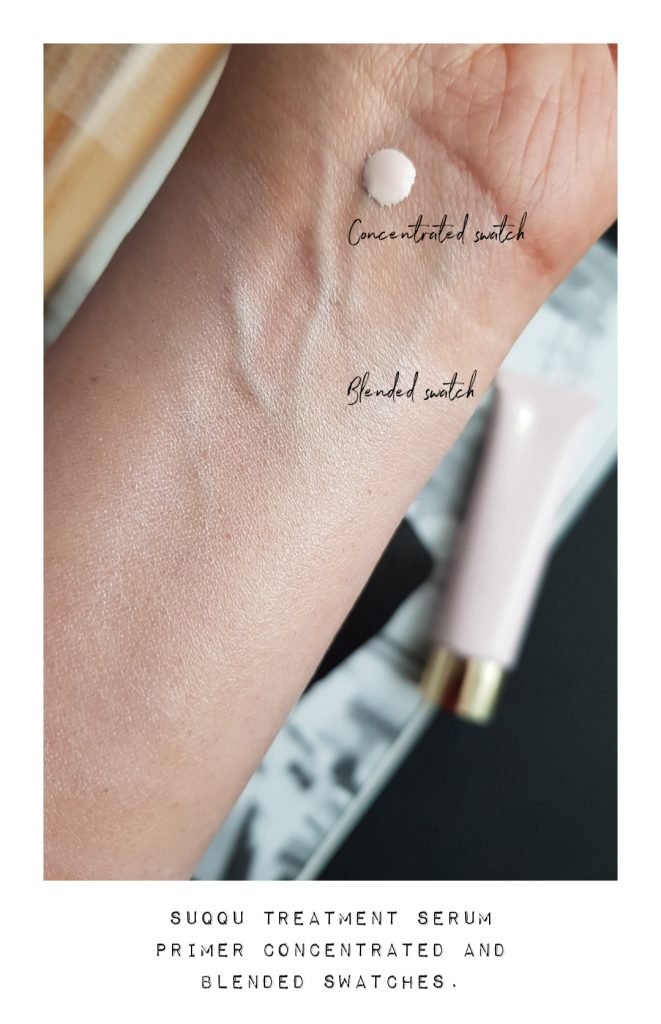 With a peony pink formula, SUQQU Treatment Serum Primer brightens skin with a natural rosy hue which is particularly complimentary for mature skin. The formula doesn't contain shimmer particles, so it brings out the glow in the foundation without distracting from the overall finish.
This primer is infused with plant-based oils including camellia and apricot kernel, it forms a film of moisture over the skin to leave the complexion with a natural-looking glow. SPF 15 helps protect against the sun's harmful rays.
SUQQU Extra Rich Glow Cream Foundation | £68 has a hydrating and radiant formula that makes the skin look dewy and luminous all day long. SUQQU believes that makeup shouldn't become tired-looking and patchy over time. Instead, time can actually enhance and deepen your skin's beauty.
A cream foundation with a blend of 12 Japanese beautifying extracts to moisturize the skin, offering buildable coverage. With a new addition of water-soluble collagen & hyaluronic acid, this new formula creates a luxurious glow and gives the skin a rich treatment.
Key ingredients
Cork tree extract
Olive leaf extract
Sakura extract
Coix seed extract (Job's Tears
seed extract)
Camellia seed extract
Angelica root extract
Phyto hyaluronic acid (Okra extract)
Yuzu extract
Apple extract
Japanese kelp extract
Alpinia speciosa leaf extract
Angelica keiskei extract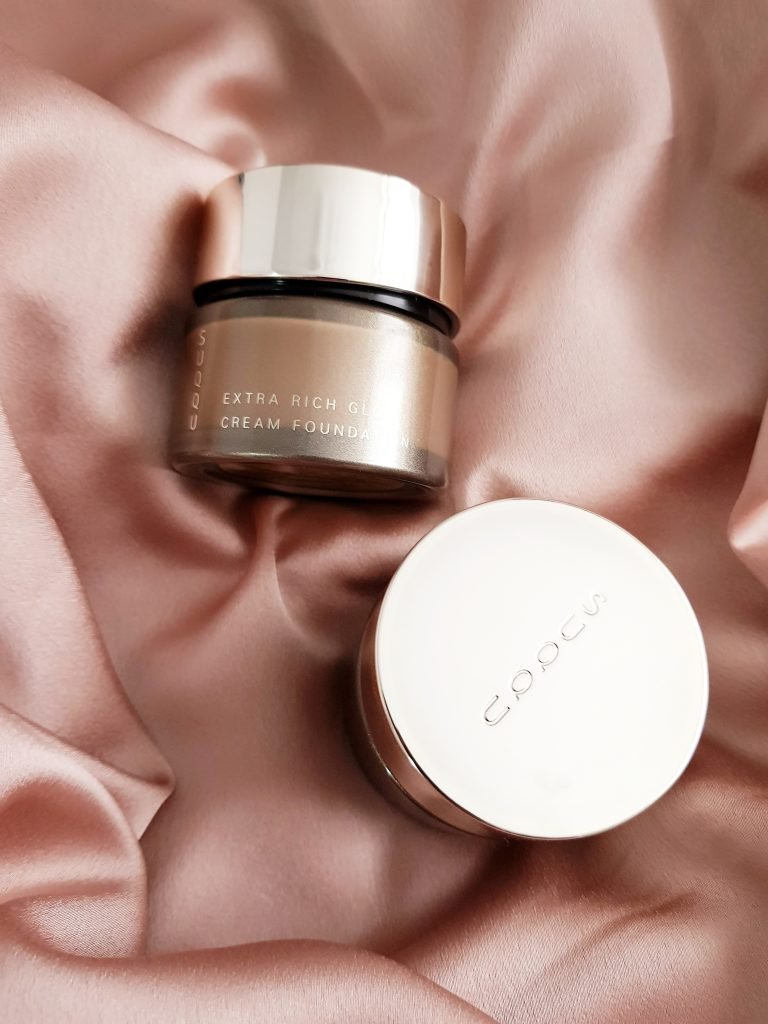 Shade description
The foundation is now available in 9 shades with SPF15 (except for 004 which offers SPF13 protection). I got to know that the brand will be adding a lot more shades to their bestselling foundation next year.
002 Natural Beige Ochre – Light-medium skin with yellow undertone
003 Deep Beige Ochre – Medium skin with yellow undertone
004 Dark Beige Ochre – Deep skin with yellow undertone
101 Light Ochre – Light skin
102 Natural Ochre – Medium skin
202 Natural Pink Ochre – Medium skin with pink undertone
203 Deep Pink Ochre – Dark skin with pink undertone
035 (new launch) Golden Honey – medium honey skin tone
140 (new launch) Warm Almond – neutral/red undertone, perfect for medium tan/toffee skins
About New Shades | The shade 035 was developed for medium honey skin tone, working especially great with an olive undertone, as it cancels out the yellowness by neutralising it and providing a perfect evened out tone. This is a very versatile shade, as it adapts well to both cool to neutral shades. I think I will be able to use the shade 035 easily.
The shade 140, has a neutral/red undertone, perfect for medium tan/toffee skins. It contains a soft red undertone that lifts the dullness from the ashy tones of the skin, providing a healthy radiant look.
I was colour-matched to shade 004 by Jorge Balzaretti himself who is the Global Makeup Artist and Creative Consultant for SUQQU. He works with top models and I was the happiest woman when Jorge gave me a makeover using the latest Colour Collection.
A small amount of this foundation gives an instantly enlivening lustre. It sits beautifully on the skin and has a weightless feel to it. The best part is, this foundation not only looks gorgeous in real life but photographs beautifully as well. The primer makes the foundation look even more beautiful and enhances performance.
SUQQU is available in the UK at Harrods, Harrods.com, Selfridges (London, Birmingham and Manchester Exchange), Selfridges.com and Fenwick of Bond Street.
Until next time, Ashh xo
*This post features PR samples. Opinions are my own & unbiased.