Inspired by winter roses that bloom in freezing cold, SUQQU's Holiday Collection lights up with vivid colors bringing a beautiful warmth to the cold winter. Rare and less lavish winter roses add a touch of warmth to the cold of winter, creating a sense of quiet solitude and even nobility. This seductive yet graceful collection is centered around gentle shades of petals and leaves as well as the sparkling colors that are left behind by the cold morning frost.
The winter rose, which opens its petals in a different scene than in warm spring and summer, embodies the words 'glorious' and 'graceful' at all times.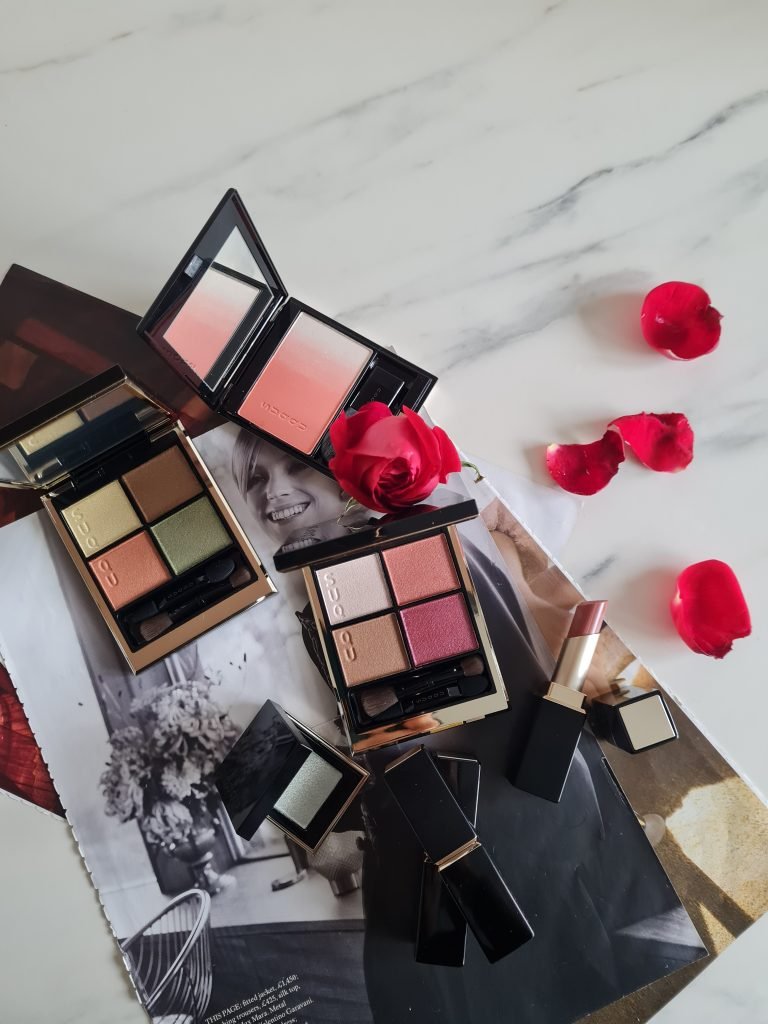 SIGNATURE COLOR EYES – Two delightful, limited-edition Signature Color Eyes Palettes are joining SUQQU range with a new, fresh appearance.
SIGNATURE COLOR EYES 120 (Rosy Pink & Soft Brown) – a classic rosy pink with a soft brown alongside a slightly bluish Bordeaux.
SIGNATURE COLOR EYES 121 (Freeze Brown & Dull Orange) – inspired by the ephemeral nature of winter roses. A combination of pearly brown and soft orange. I absolutely adore the color story with a combo of light lemon glitter, soft orange matte shade, metallic medium brown, and shiny fresh green.
Though SUQQU eyeshadow formulas have always been good, this time I noticed they're even smoother and buttery – all thanks to their magical skincare ingredients in them. The pigment is incredible so you need just a tiny bit on your brush and you're good to blend! These eyeshadows feel weightless and blend like a dream. The color story as you can see in these palettes is absolutely stunning and the shades in each quad complement each other so beautifully.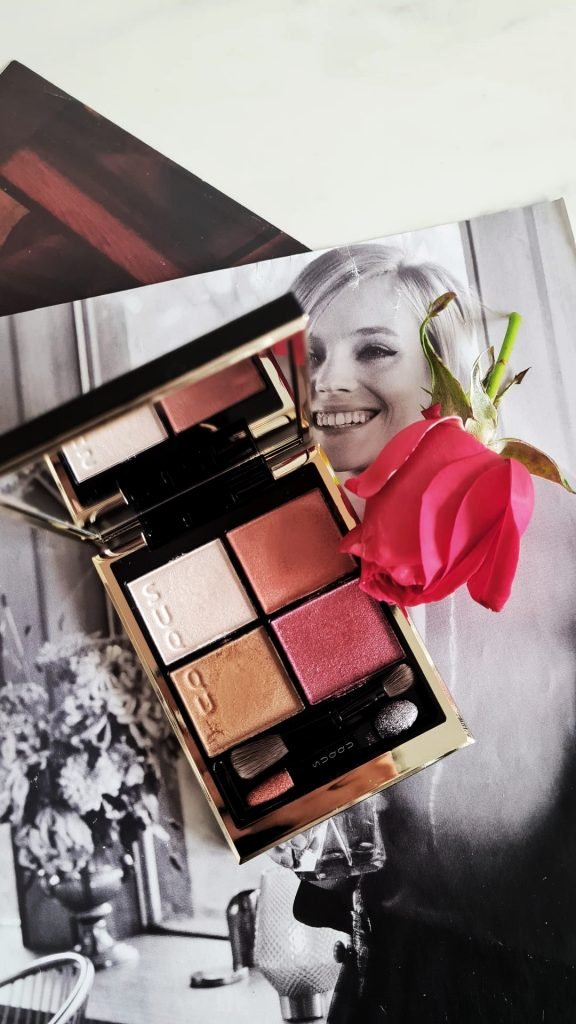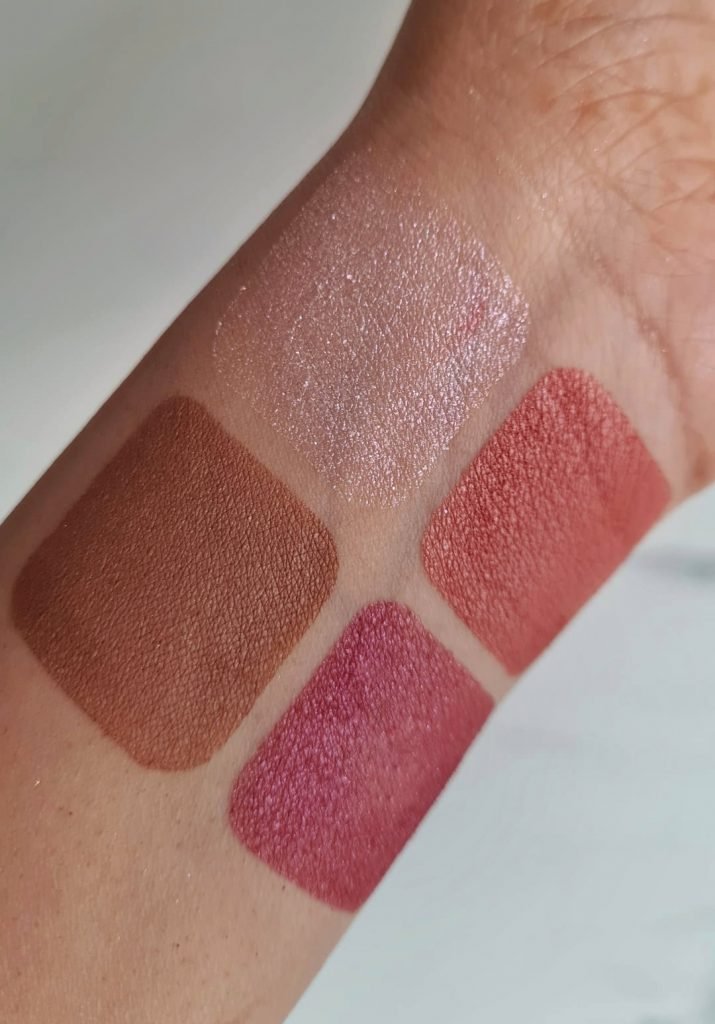 TONE TOUCH EYES adhere colors with a transparent thin film. Two limited-edition colors from the 'stellar' formula are characterized by sheer brilliance. Large pearls evoke the sparkling beauty and fragility of snow falling on petals. With a captivating Stellar finish, these high-intensity sparkling shades can be layered on top of Signature Color Eyes or used on their own for a sparkling sheen.
TONE TOUCH EYES 110 – A warm, pearlescent rose pink that blends naturally into the skin to add depth and shine to the eyes.
TONE TOUCH EYES 111 – A crystal silver with multicolored pearls symbolic of snowflakes falling on withering winter roses. This super shiny silver shade adds a glistening touch to the eyes.
This stellar finish tone touch eyes single eyeshadows have a beautiful buttery smooth metallic foil formula. I received the shade 111 Crystal silver which is like a glistening pearl shade. It is slightly sheer with a silver foil pigment and looks absolutely stunning. It can be worn on its own or used as a topper on any other eyeshadow to transform it into a night time party look.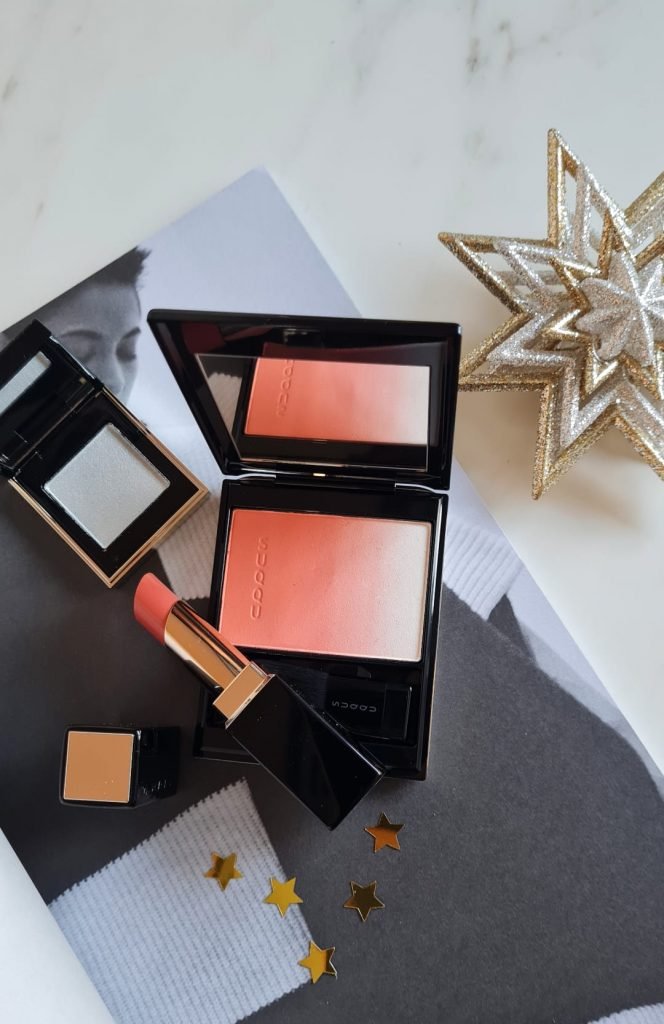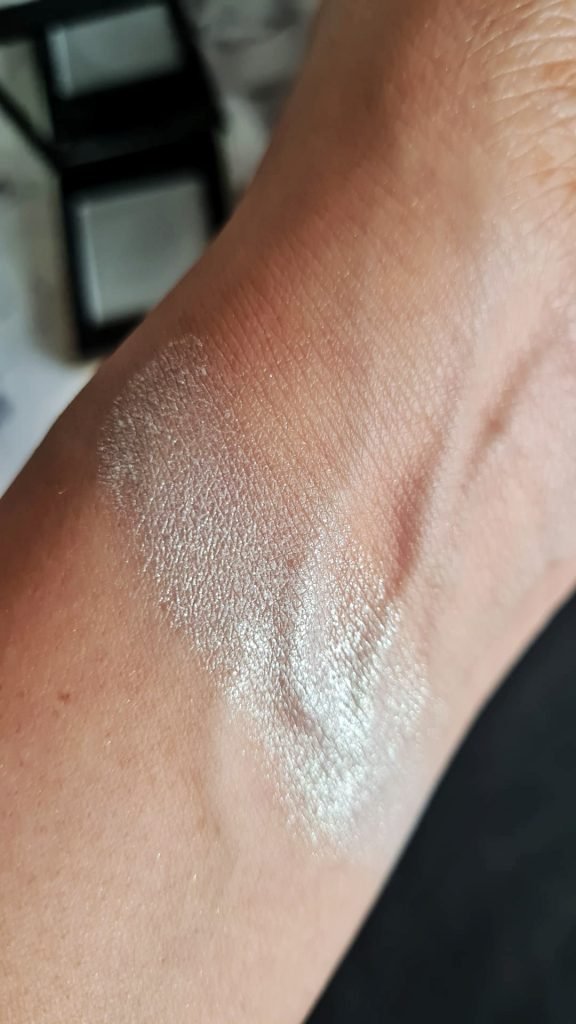 PURE COLOR BLUSH – Two limited edition pure color blushes in rosy tones add warmth and freshness, enhanced by glittering pearls. The new shades bring a brilliant bloom of warmth and vitality to the skin and are formulated with more glittering pearls than ever before for a lit-from-within glow this holiday season.
PURE COLOR BLUSH 136 – A rosy pink that accentuates your complexion with white-gold glittering pearls. For an elegant impression, like a winter rose to shine against a snowy landscape.
PURE COLOR BLUSH 137- A reddish chic brown is combined with natural beige tones to add warmth in the colder months. This rosy-brown chic color adds warmth to the face during cold winter.
Again, I want to mention the formulation here. Pure Color Blush is so soft and pigmented that it goes on smoothly on the skin leaving a beautiful flush on the cheeks. Shade 136 is absolutely stunning with rosy peach tones and a white-gold pearly highlight shade. It is a stunner in my honest opinion!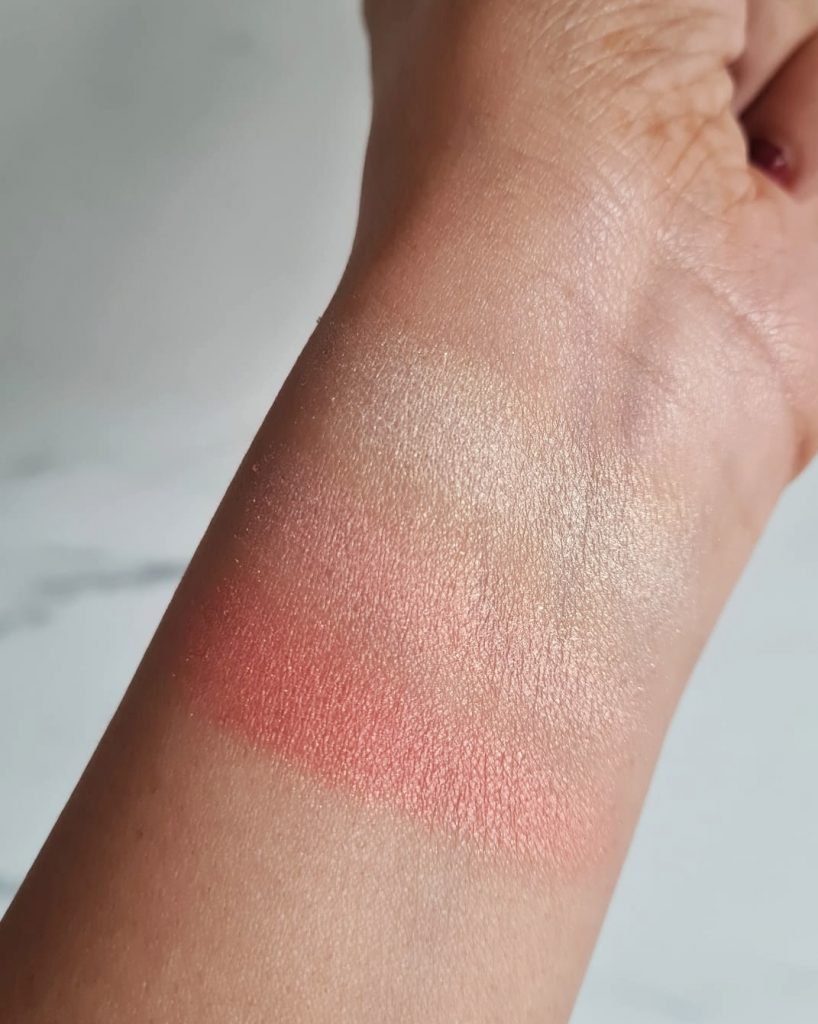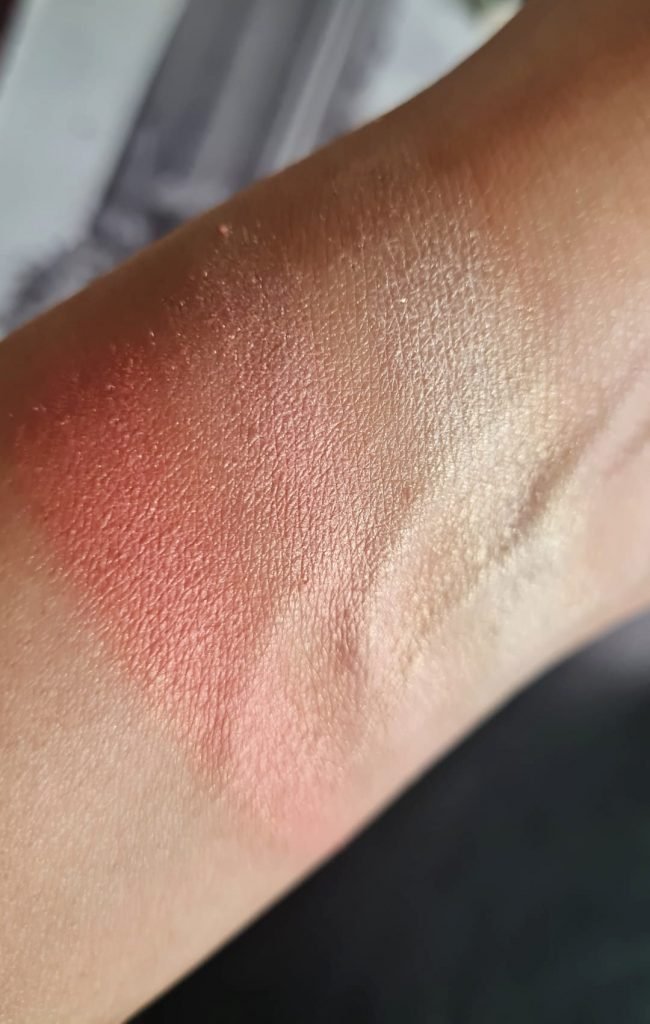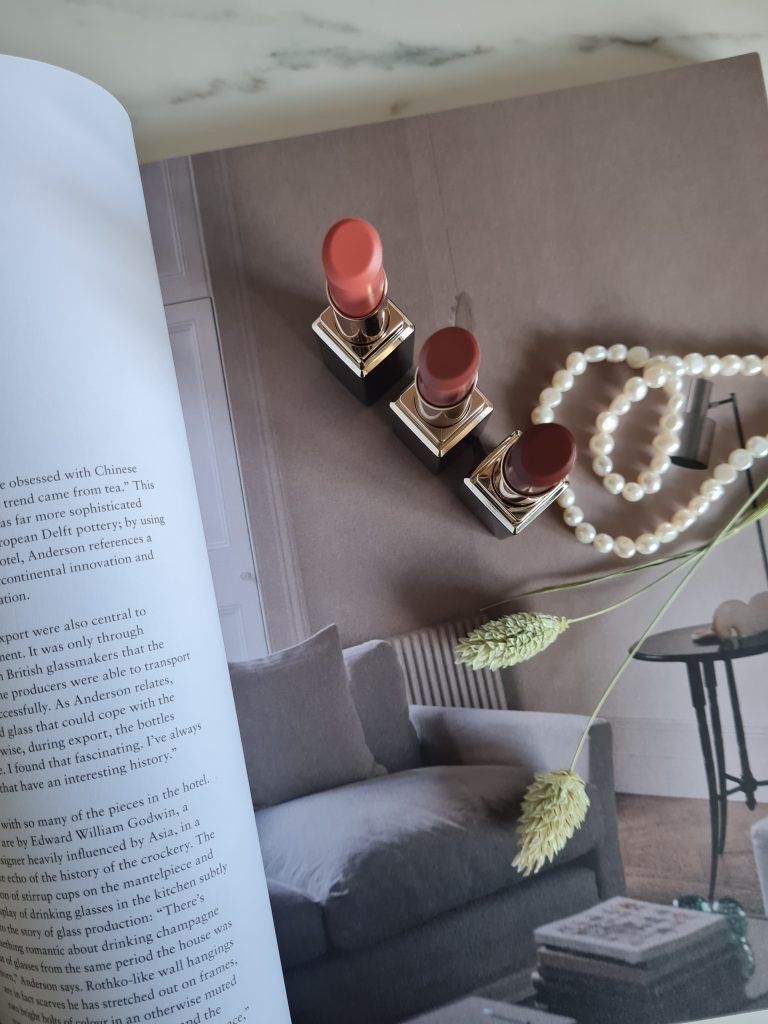 MOISTURE RICH LIPSTICK – Envelop your lips with a smooth moisture-locking film and balm-like texture with the most trendy shades of the season. Inspired by the winter rose, its pure color and hydrating clarity illuminate the lips with creaminess. Two rose-like variants of beloved Moisture Rich Lipstick are joining the range in HOLIDAY 2022 collection.
MOISTURE RICH LIPSTICK 124 – Natural looking pink-beige blooms like petals, complementing the skin.
MOISTURE RICH LIPSTICK 125 – A rosy brown with hints of darker red, adding an expression of the ephemeral nature of winter roses to the lips.
Both the shades are so beautiful and the formula is super nourishing and hydrating on the lips. These lipsticks are comfortable on the lips and do not dry out or emphasize lines on ageing lips.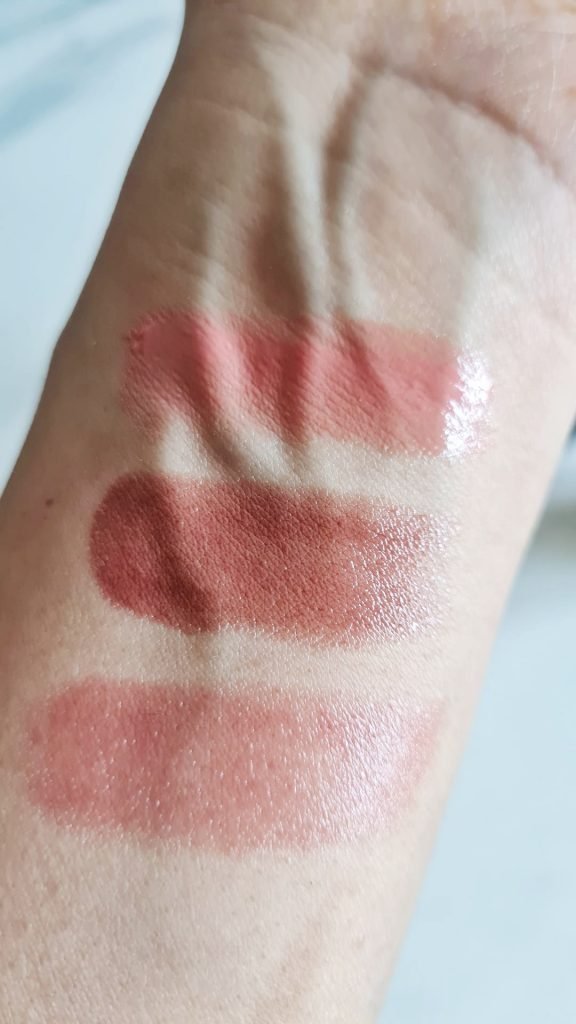 SUQQU MATTE COLOR LIP BALM – A new lip balm with a matte finish that brings out the natural color of your lips for a quick and easy touch of rose. Suitable as a nourishing base or a standalone lip tint, this balm contains hyaluronic acid, squalene, and jojoba oil to protect lips from the cold winter air and leave them with a beautiful finish.
Matte Color Lip Balm 101 KASUMIBARA – A soft, natural-looking rose tone that adds an understated beauty to the lips, like the petals of winter rose.
Though the balm is called a matte color, it is super hydrating and has a soft sheen. I absolutely adore the shade too. I love it for everyday wear and my lips stay soft and nourished with this color balm.
OIL RICH GLOW LOOSE POWDER – There is also a limited edition Loose Powder in this collection. This loose powder adds glow, bringing out translucence and brightness with a single application.
OIL RICH GLOW LOOSE POWDER 101 (limited edition) – Red, green and blue pearls sparkle against a light purple base, for a beautifully elegant look. The nobility of winter roses blooming in the cold air is expressed through cool purple hues.
Each piece from this collection is a thing of beauty! I absolutely adore reddish and warm tones and therefore see myself using these a lot. They're perfect for any party season and holiday makeup in general. The Holiday Colour Collection 2022 is available from the 4th of November 2022 at Selfridges, Harrods, Liberty & Cult Beauty.
Until next time, Ashh xo
*Disclaimer – AD – This article contains press samples without any obligation to post.