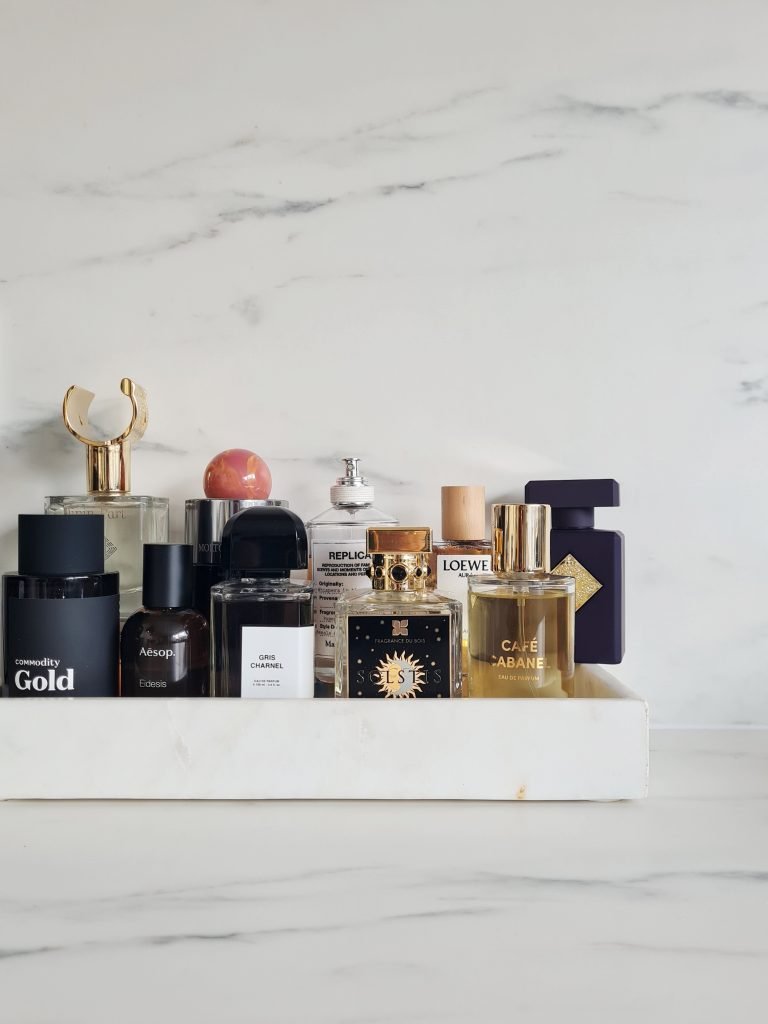 Autumn has been in full swing with temperatures flipping from hot to cold and vice versa but as we move into November, we think of those gorgeous intense fragrances that cut through the cold weather. However, you need to transition towards those warm scents smoothly and this article has got some gorgeous transition scents that are not just great for autumn but are perfect for a swift and smooth transition.
Fragrance du Bois Solstis* – Solstis is the story of the intimate relationship between the two annual solstices of the sun. It is a very elegant woody spicy fragrance with notes of crisp apple, bright bergamot, and mandarin with a hint of spicy pink pepper followed by cardamom, zesty neroli, and pepper in the heart on a base of vetiver, sensual sandalwood, and a dash of vanilla. It is a versatile fragrance that can be worn for any situation and season but I enjoy it during transition weather more. It is super easy to like and wear. Solstis is a hidden gem from Fragrance du Bois.
Replica Whispers in the Library – Whispers in the Library will take you to a library with old books and wooden shelves. Imagine waxed woods and turning the pages of old books. This fragrance has got woody notes, cedar, black pepper, and vanilla. This fragrance also has fresh notes of orange flower petals that add an uplifting character while maintaining the comforting side of this beauty! This is a very cozy scent and has an incredible dry-down. It smells delicate, slightly powdery, and sweet.
Teo Cabanel Cafe Cabanel* – Cafe Cabanel is like a comforting scent for me. It is like sitting in a French Cafe having a Cinnamon Latte with a buttery croissant. That melange of different smells that you get in a bakery/coffee shop is what I get from this fragrance. It is a beautiful gourmand with a great balance. It is milky, creamy, slightly nutty from tonka beans, sweet from vanilla and caramel, and delicious from coffee notes..there are some floral notes in the background too. It is irresistible and slightly addictive without going into the cloying category. It is just PERFECT for sweater weather! I love that Teo Cabanel now offers two variants of their fragrances – one that comes in the original, royal packaging and the other is the latest clean version that comes in clear recyclable packaging and contains traced and natural ingredients – perfect for conscious shoppers!
Aesop Eidesis* – Eidesis from Aēsop is nothing but beautiful just like a walk in the woods on an autumnal evening. Imagine yourself wearing a sweater and crunching through dried leaves on a crisp cold evening. There are herbal, woody notes along with hypnotic spices making it a very magnetic blend. This mesmerizing blend has notes of black pepper, frankincense, and sandalwood giving it a very rich, deep, and warm dry down on the skin. It is a comforting yet provocative and seductive fragrance.
Initio Parfums Psychedelic Love* – This is a creamy white floral fragrance with milky nuttiness-like almond notes. This fragrance contains a synthetic molecule – Hedione which triggers the pleasure centers of the brain. It has notes of myrrh, heliotrope, hedione, rose, and patchouli that together create a magical blend. It has a resinous touch from myrrh. There is a lot of hedione used in this fragrance. It is very hypnotic and addictive. The weighty purple bottles from the Carnal Collection look opulent. A gorgeous unisex blend from the House of Initio!
BDK Gris Charnel – This is an alluring, seductive scent from BDK that is popular for a reason. The addictive warm, spicy scent of green cardamom is the star of the composition and it is hard to find fragrances that recreate that exact aroma of cardamom. The opening of this fragrance reminds me of Elaichi Chai (Cardamom Milk Tea – a popular drink from India). The dry-down is surprisingly very clean and fig-like. It is like a combination of pencil shavings, iris, and sandalwood – soo smooth and comforting. It is woody, a bit musky, and ever so slightly sweet but I tell you, it is the coziest fragrance without being heavy. Gris Charnel can be worn in any season but is perfect for sweater weather.
Commodity Gold Expressive* – Gold from Commodity is an Amber Woody fragrance that is a bit powdery and gourmand-ish but not overly sweet. It is cozy and a grown-up woman/man gourmand scent – perfect for cold weather. This creamy vanilla fragrance has a smoky, woody character and smells very rich and sophisticated. Vanilla and Sandalwood are some of my top fave notes and this one is just perfect! It creates an almost almond-like scent which is just so beautiful. You need to have this scent in your autumn-winter fragrance wardrobe!
Noème Divin Part* – First things first, let's talk about the packaging. The gold-tone lid of this luxurious bottle is inspired by the symbol for 'ouroboros' – a serpent eating its own tail – in keeping with the brand's penchant for nature and philosophical meanings. Noème describes this fragrance as a unique sensation, celestial and powerful, the most precious memory..just like Love 💛- so powerful and beyond our control. Translating to mean 'divine', Divin Part is an exquisite blend of smells that enlivens the senses. Notes of Madagascan ylang-ylang begin the trail, with Italian iris and white musk taking the lead thenceforth. When I first smelt Divin Part, it reminded me of the smell of a very luxurious, crisp silk saree particularly that rich, gold-threaded Kanjeevaram fabric worn during colder months. It is just so luxurious and divine. There isn't anything quite like Divin Part in my collection.
Molton Brown Rose Dunes* – This hypnotic blend is a sumptuous ode to the mysterious beauty of the Arabian Desert, with its floral-ambery bloom of spicy saffron, velvety rose, and rich Oudh accord. Dark patchouli–rich scent adds sophisticated depth and this star ingredient – patchouli has been sustainably sourced from Sulawesi, Indonesia, for its strength and extraordinary quality. Rose Dunes is an opulent bloom of warm and spicy saffron with fresh velvety rose and deep Oudh. This is one of the best roses from Molton Brown.
Loewe Pink Magnolia – This brushed gold bottle is not just pretty from the outside but its juice is an absolute delight to wear too. The light, powdery-sweet notes of magnolia is the star of the composition. This fruity, floral, and woody combination has notes of sandalwood, musk, and red berries that together make a very delicate, feminine scent that is slightly sweet but mysterious. That aura envelops a woman. It is just perfect for the season.
Until next time, Ashh xo
*This article features some press samples and affiliate links. All opinions are my own and unbiased.