Early this year, I got a chance to try a few of the products from Rhug Wild Beauty and I must admit that they completely changed how I looked at my skincare so far! I loved them so much that I decided to try more to have a proper sensitive skincare routine in place. Having dry and sensitive skin means you need to be extra careful when it comes to choosing your skincare products or you'll end up with irritated, inflamed skin. Wild Beauty products from Rhug Estate are not only gentle and organic but are really effective too making them ideal for any skin type including sensitive and reactive skin.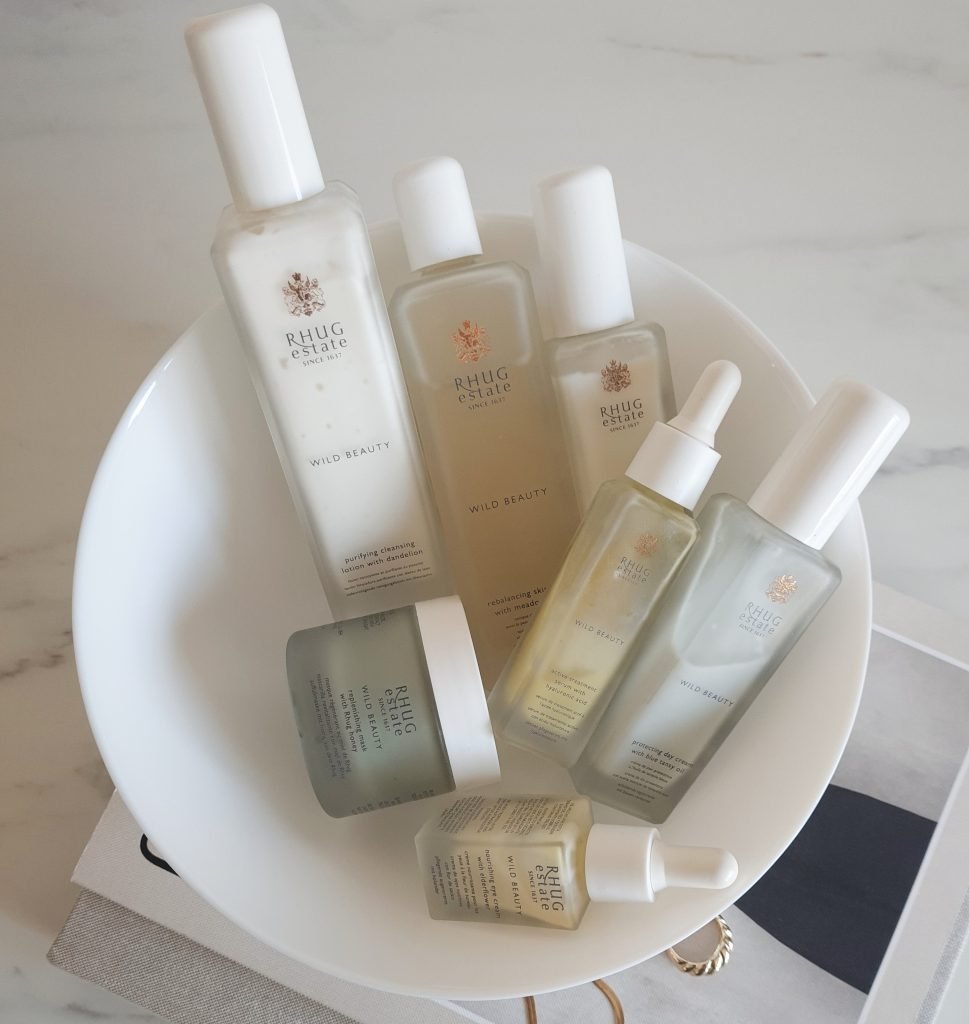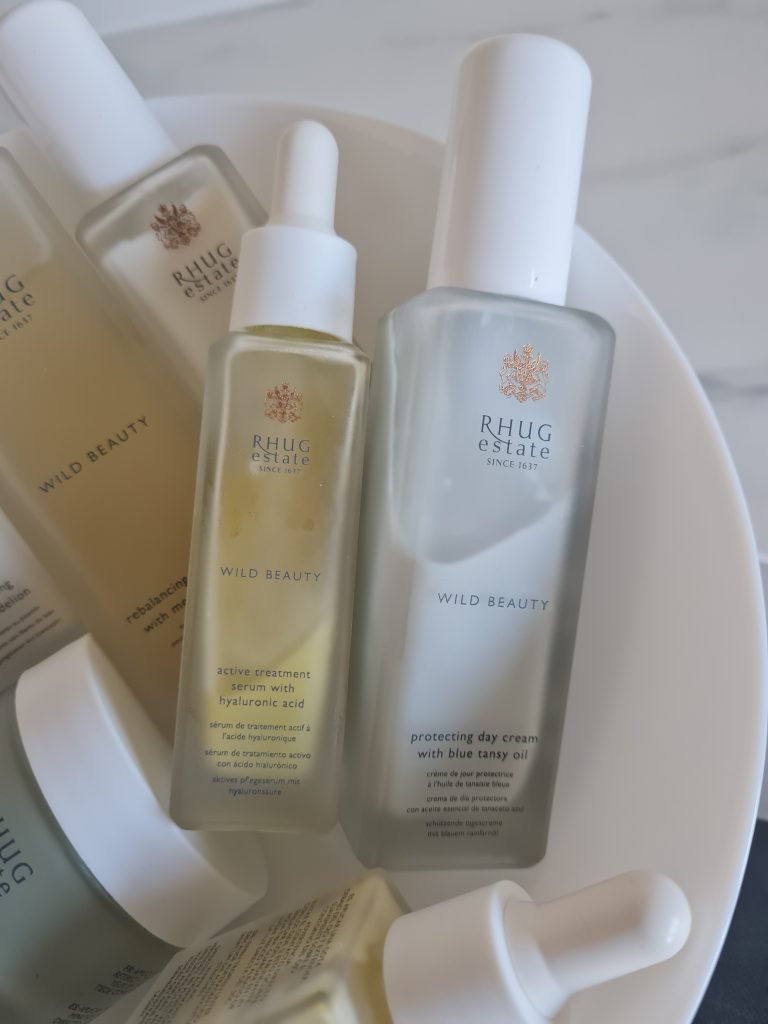 Story of Wild beauty
Wild Beauty is a truly exquisite, luxurious skincare collection using the finest organic and wild foraged ingredients from the Rhug Estate. It is the brainchild of Rhug Estate owner Lord Newborough – An organic farming pioneer and sustainability advocate, he has championed the highest standards of organic and sustainable farming for many years, protecting and enhancing the environment for future generations. The family has resided in North Wales since the 11th century and the present Lord Newborough is the 8th baron. With an abundance of natural and organic plants growing all around Rhug and a recognition that organic and natural ingredients can deliver very positive benefits for the skin, the idea of creating a truly luxurious skincare collection using the finest organic and wild foraged ingredients from the estate was born and we got Rhug Beauty!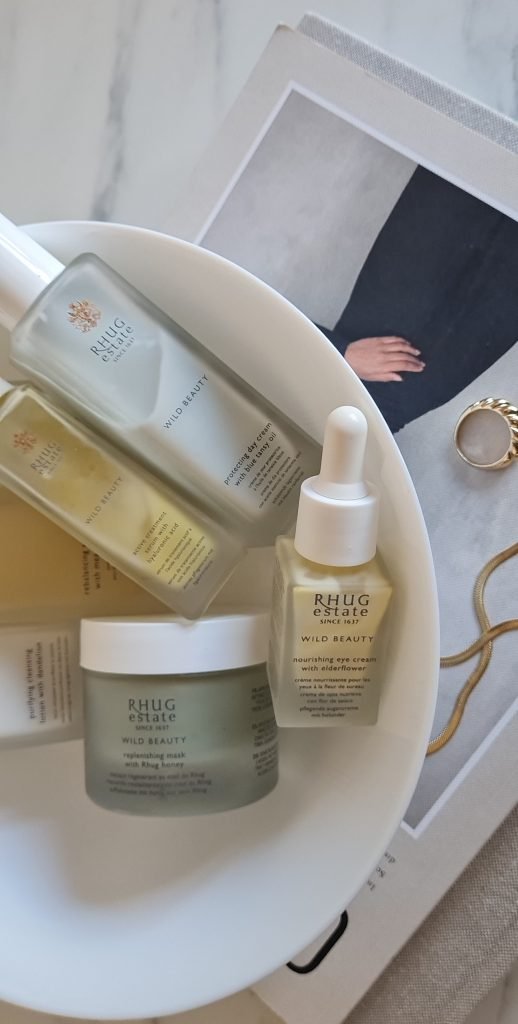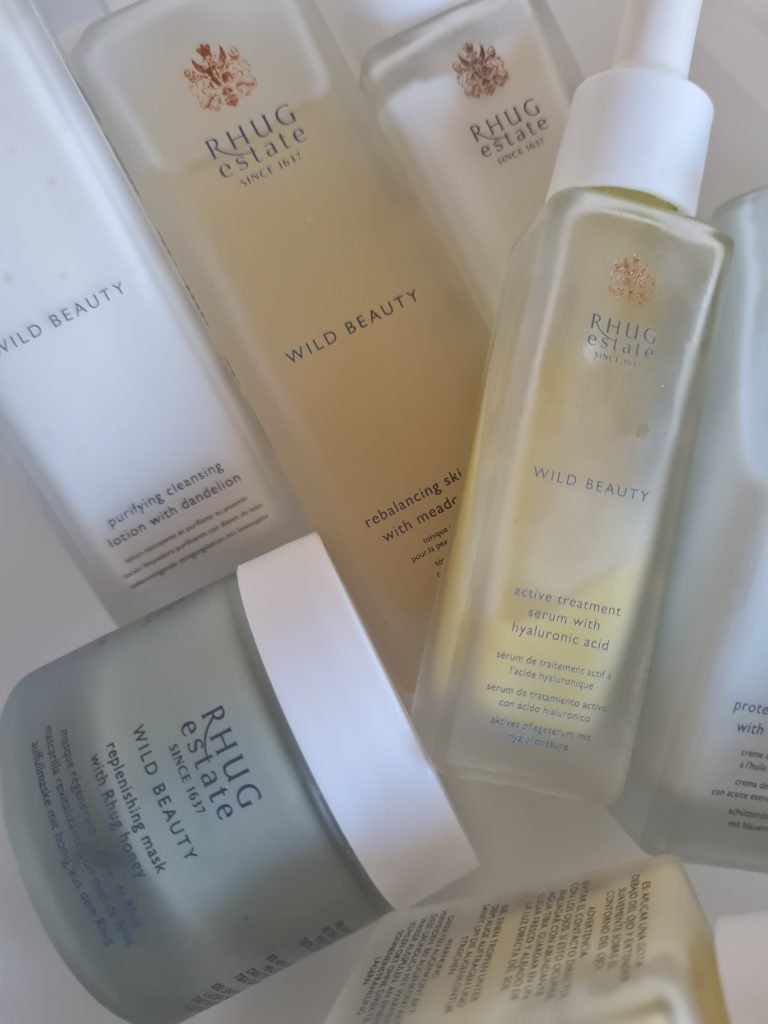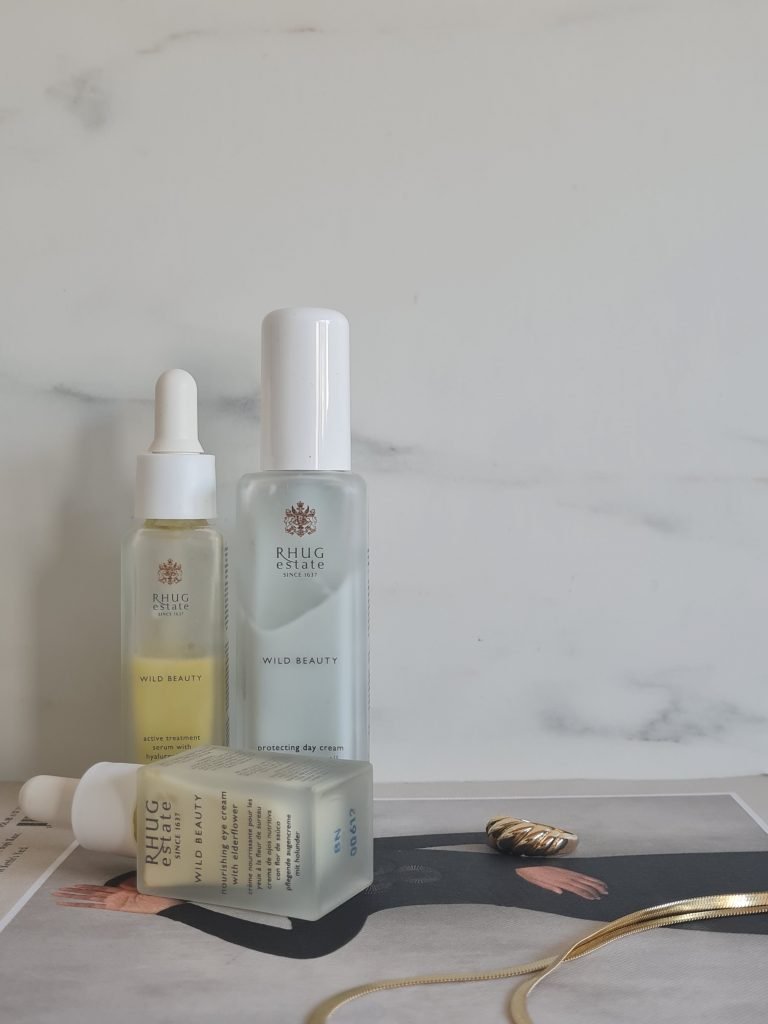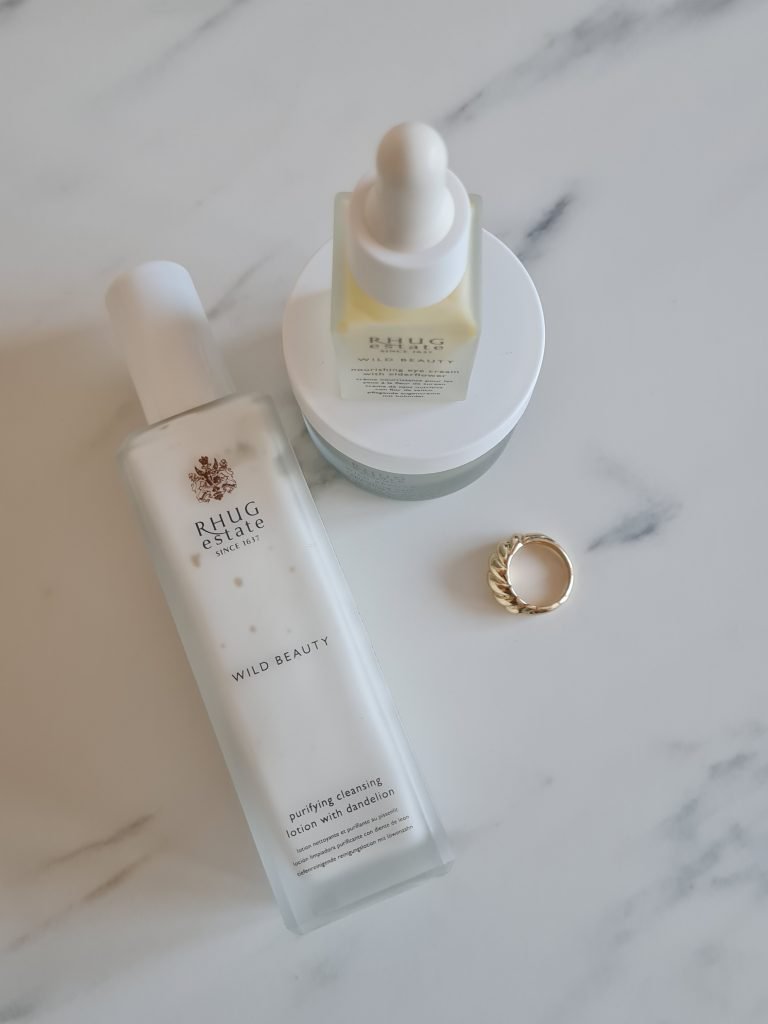 Sustainability
The products from this eco-friendly brand are sustainably sourced from the estate and other environmentally friendly producers ensuring 100% traceability of the ingredients. They're made in the UK without disrupting the balance of the environment.
Conscious Packaging
Rhug Estate chooses their packaging consciously for a cleaner planet. All their products are bottled and packaged in recyclable materials. Most of the products are in recyclable frosted glass jars or bottles while small select body products use Post-Consumer Recycled (PCR) plastic. The online delivery box is made from 100% recycled cardboard and printed with 100% vegetable inks. And the best part is that the products are being protected by packaging wool! This is the excess sheep wool from the Estate and the brand uses it for protecting their products for posting and avoids using any bubblewrap or any other material for padding.
Products I tried from Rhug Wild Beauty
Purifying Cleansing Lotion with Dandelion – This gentle but super effective cleansing lotion is your daily enzyme treatment. This is an antioxidant-rich (dandelion), skin-purifying creamy cleanser that looks like a cleansing milk and restores balance, whilst nourishing, hydrating, and gently exfoliating your skin. The cleanser contains organic papaya extract which is an incredible natural enzyme treatment that gently exfoliates without disturbing the pH balance of the skin. It also contains Dandelion which is great for a healthy-looking complexion. I love to use it both at am and pm.
Rebalancing Skin Tonic with Meadowsweet – This award-winning, multi-tasking skin tonic does everything from clarifying to toning and hydrating to balancing the skin for a brighter complexion. This tonic contains prebiotics from chicory root that works to strengthen your skin's defense barrier. It also evens skin texture with natural salicylic acid from meadowsweet whilst also hydrating and plumping the skin with antioxidants and vitamins. It has a beautiful aroma of cucumber and meadowsweet that together keep the skin refreshed and bright. As it is on the expensive side, I prefer to apply it directly on my face without putting it on the cotton pad to avoid any wastage. A spray mist bottle would be a good idea for using this toner.
Active treatment serum with Hyaluronic Acid – This is like a super serum for me. This is a multitasking vitamin-rich serum that tackles visible signs of aging. It minimizes the appearance of wrinkles, tightens, brightens, and plumps the skin for a youthful-looking complexion. If you have dehydrated and dull skin, this vitamin-packed serum is for you! It is a little bottle but definitely goes a long way. I use it in both my am and pm skincare routine and there is still some left. It feels super lightweight and sinks into the skin instantly. It keeps my skin bright and hydrated.
Protecting Day Cream with Blue Tansy Oil – This day cream locks in hydration with hyaluronic acid, antioxidant-filled blue tansy protects the skin and helps to minimize the look of early wrinkles for plump, youthful-looking skin. My skin looks softer and smoother. I have noticed that with regular use, this cream has made my skin firmer too. However, I am using it with other products from the same brand so it could be a combination of these products that are helping me achieve better skin.
Nourishing Eye Cream with Elderflower – First things first, the texture and consistency are super light for an eye cream. This is essentially a potent eye serum that sinks into the skin instantly. But don't be fooled by the consistency, it is a rich and very nourishing eye cream that targets wrinkles, dark circles, and puffiness for refreshed, brighter eyes. It has organic Camellia Oil that minimizes the look of wrinkles, organic Cucumber Extract that reduces puffiness, and organic Rosehip Oil and Elderflower that hydrate and nourish the skin. This multi-correctional eye cream rejuvenates the skin around the eyes. I have sensitive and watery eyes but had no problems with this eye cream.
Replenishing Mask with Rhug Honey – This is one of those masks that does-it-all. This is a mineral-rich detox treatment mask that targets dull, dehydrated, and congested skin for a smoother, brighter, and more refined complexion. This mask is packed with Plum Seed Oil, Honey from the Rhug Estate, and Yarrow Leaf to fight visible signs of aging, particularly from free radicals, and reveals clearer and brighter skin. The texture of the mask is amazing. It is like herbs and honey-infused clay that looks like putty. It is soft and easy to work with yet super powerful and thick. The herbal floral aroma gives a beautiful and luxurious spa feeling. The mask melts into the skin which is absolutely incredible to see as clay masks are usually the opposite of this one. The mask leaves the skin so smooth and noticeably brighter. I now look forward to this masking ritual and it has become a treat for my skin.
Restorative Overnight Cream with Evening Primrose – This is an intense restorative overnight treatment that targets dehydration and loss of elasticity for firmer, youthful-looking skin. This nourishing cream contains Organic Evening Primrose Oil that has anti-inflammatory properties; Hyaluronic Acid for plumping effect; and Omega-rich Sacha Inchi Oil to maintain elasticity and suppleness to the skin. It is slightly rich in consistency but still super comfortable to use in hot or cold weather and for all skin types.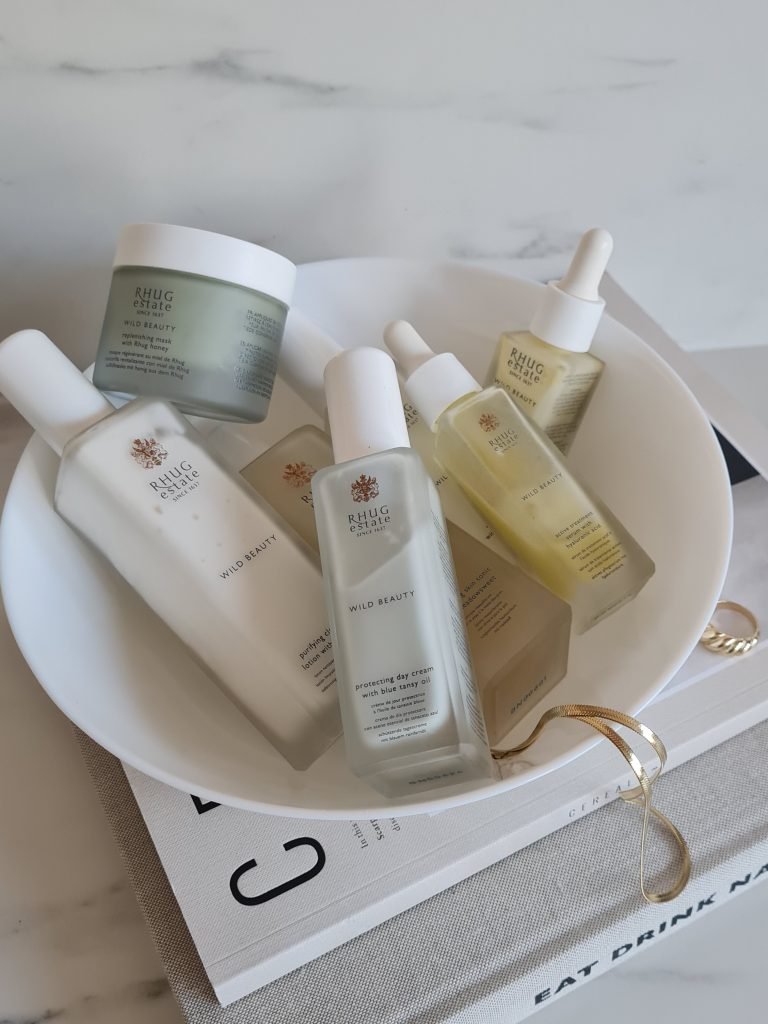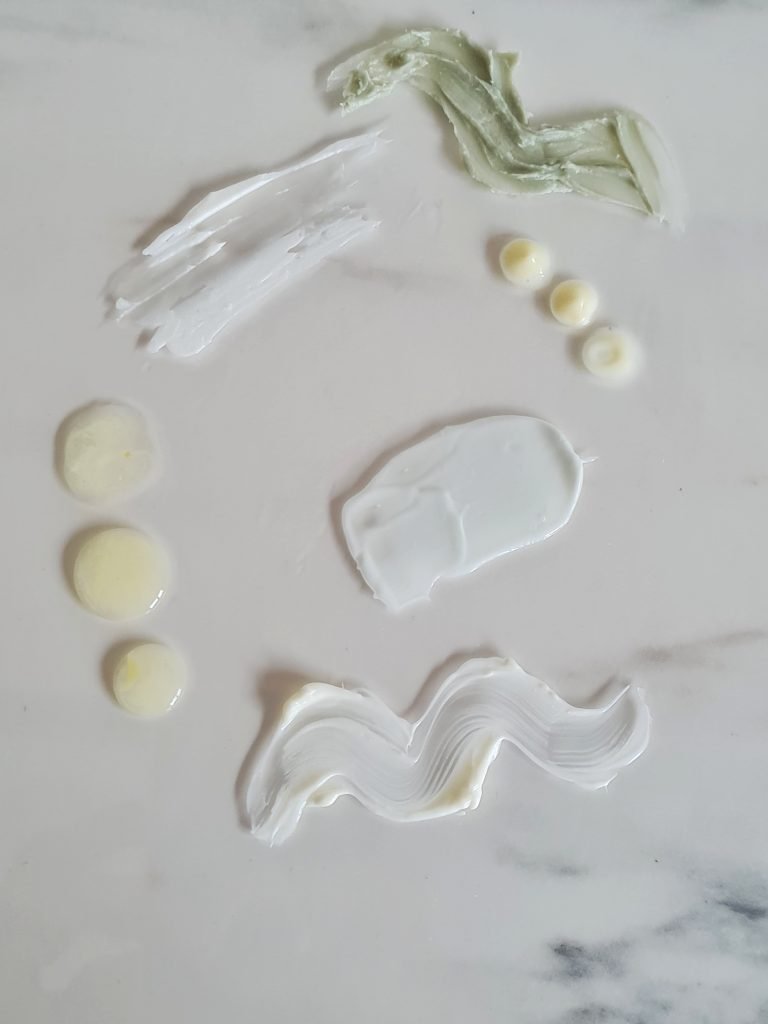 After trying a proper routine both am and pm exclusively from Rhug Wild Beauty consistently for a few months, I have to say they're worth every penny. If you want luxury skincare but want to stay away from any chemicals in your products, this is the one for you! This is a brand for that niche, conscious shoppers who want quality skincare that is all-natural and sustainable. All these products are safe for sensitive skin too which is a bonus. You may check out the smaller size kits which are perfect if you're looking to try this brand or to take them with you if you plan to travel. In case you're thinking of buying just one product from Rhug Wild Beauty, make sure it is the Replenishing Mask – it's a stunner!
Until next time, Ashh xo
*This article features press samples. Opinions are my own and unbiased.