Finding the right body products can be a daunting task especially if you have particular concerns like dry and sensitive skin. If not chosen carefully, some products can be harsh and irritating, leaving your skin feeling tight, itchy, and uncomfortable. However, there are body products specifically formulated for dry, sensitive skin that can help soothe, hydrate, and nourish your skin without causing any irritation. In this blog post, we will explore some of the best gentle body products that are perfect for those with dry, sensitive skin. From replenishing cleansing oils to ultra-moisturizing creams and lotions, these products will help you achieve the soft, smooth, and healthy-looking skin you've always wanted.
L'Occitane Almond Shower Oil – This shower oil protects the hydrolipidic layer of the skin and preserves its softness and comfort while leaving it feeling nourished and supple. The body cleanser is enriched with sweet almond oil and when comes in contact with water, turns into a lovely milky veil that cleanses the skin softly. This shower oil has a delicate aroma of toasty almonds and delectable vanilla that fills the air and envelops your skin for a pleasantly comforting but invigorating olfactory experience. My whole family loved this shower oil. This is our fourth or fifth bottle and I think I should get their massive size one next.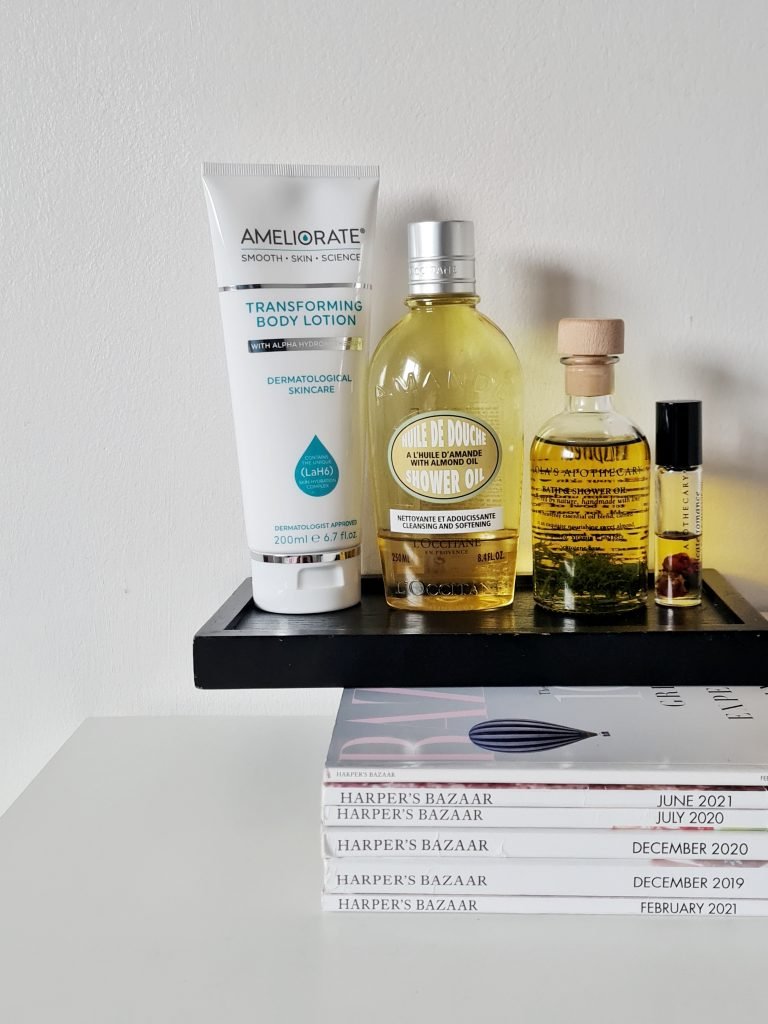 Lola's Apothecary Bath & Shower Oil – There is not even a single product from Lola's Apothecary that I do not like. My love for this beautiful apothecary brand is strong and unwavering. Breath of Clarity Bath & Shower Oil from Lola Apothecary's Yoga & Meditation fragrance will uplift your senses. This scent infuses your senses like a fresh breeze, with eucalyptus, rosemary, and sweet marjoram at its herbaceous core, uplifted by the joy of peppermint and lemon. Not only this is a great Zen oil, but also works wonders for blocked noses & hard-worked muscles! I sometimes bathe my kids with this gorgeous oil when they have really bad cold or congestion. Another gorgeous blend from Lola's Apothecary is the Delicate Romance Massage and Body Oil which was the first oil I tried from the brand. It's a sumptuously feminine scent that opens with citrus top notes of sweet orange and lemon, leading to a blooming heart of rose and geranium, to be warmly embraced by vanilla, patchouli, and sandalwood in the base notes. Delicate Romance is perfect for those who love a classic and elegant scent that is both fresh and warm. Its blend of floral and woody notes creates a sophisticated and timeless aroma that can be worn day or night. I also like to layer it with my perfume sprays for enhancing performance. I also like to keep a little travel size in my bag and use it on my pulse points whenever I want to refresh my fragrance.
Ameliorate Transforming Body Lotion – With Lactic Acid as Ameliorate's superstar, the Transforming Body Lotion is designed to provide exfoliation and nourishment to the skin. Its main ingredient, lactic acid, helps in the gentle removal of dead skin cells and refining pores. Featuring a unique blend of the brand's LaH6 skin hydration complex, alpha hydroxy therapy, and sweet almond oil, this powerful formula helps to enhance skin smoothness and suppleness. It is lightweight and absorbs quickly into the skin. This body lotion is truly skin-transforming and with regular use, smooths the body's skin texture for a much softer feel and look. I also enjoyed the body exfoliant from this brand and have repurchased it many times.
Avène XeraCalm A.D Lipid-replenishing cleansing oil – This replenishing cleansing oil gently cleanses and soothes very dry skin prone to itching. It is soap-free, fragrance-free, and has a physiological pH, offering lipid-replenishing properties. It reduces sensations of itching, fights against irritation caused by dryness, and restore the skin's barrier – thanks to skin-soothing ingredients and Avène's Thermal Spring Water, which is naturally softening, soothing, and anti-irritating. It is ideal for the whole family even for babies from birth and also suitable for people who may be prone to atopic eczema. I have been using it on my toddler and her dry skin stays calm and soft after every shower.
CeraVe Face & Body Moisturising Cream – I have featured this cream on both my social and blog many times in the past and that's because it has been my family favorite for so many years. This replenishing moisturizer has Hyaluronic acid that hydrates the skin and locks in moisture along with 3 essential Ceramides that restore the skin's barrier. I have received this cream in the PR before but have been repurchasing on repeat for years now! This is the ONLY moisturizer I use on my kids. On days when my skin acts up (sensitive/sensitized skin issues), I take a minimal skincare routine approach and use only this cream to repair my skin barrier. This powerhouse moisturizer is suitable for both the face and body and is ideal for dry to very dry skin types.
Oskia Universal Hyaluronic Acid Serum – This Hyaluronic Serum instantly hydrates, refreshes, and soothes not only your face but also your body. This vegan formula is formulated with a triple-weight Hyaluronic Acid complex to instantly hydrate, refreshing organic Rose Water and MSM to soothe, Vitamin B5 and Betaine to condition and Red Snow to protect the skin. The multi-use serum is ideal for decluttering your body routine and is great for anyone who loves minimal routines. The massive size bottle comes at a bargain too!
Elizabeth Arden Eight-Hour Cream All-Over Miracle Body Oil – This truly is a Miracle oil just like Elizabeth Arden's bestselling Eight-Hour Cream. This oil is a robust mix of moisturizing ingredients, including Tsubaki Oil, that work together to provide intense all-over hydration to the face, body, and hair. From hydrating dry, rough skin to soothing irritated skin and protecting against free radical damage, this oil does it all. Not just this, it softens the cuticles, adds shine to the hair, boosts skin's natural collagen, and heals the skin post-shave, it really is that multitasker you need on your shelf.
Until next time, Ashh xo
*This blog article features some press samples. All opinions are my own and unbiased.