The philosophical idea of what exists beyond human awareness or out of sight inspired the name of Noème. There aren't many fragrances from this Parisian Fragrance house yet but every single one is extraordinary and is a work of art. They send us on a sensuous journey with rare and expensive materials, all so subtly. This exclusive Fragrance house founded by Yassin Karim gives you access to the unreachable and enables us to travel, think, fantasize, and stretch the boundaries of our imagination since they are inspired by legendary locations that are remote and secret. Noème recently added three new fragrances – Aman, Khalil & Soma to its beautiful creations and these are all presented in beautiful red boxes.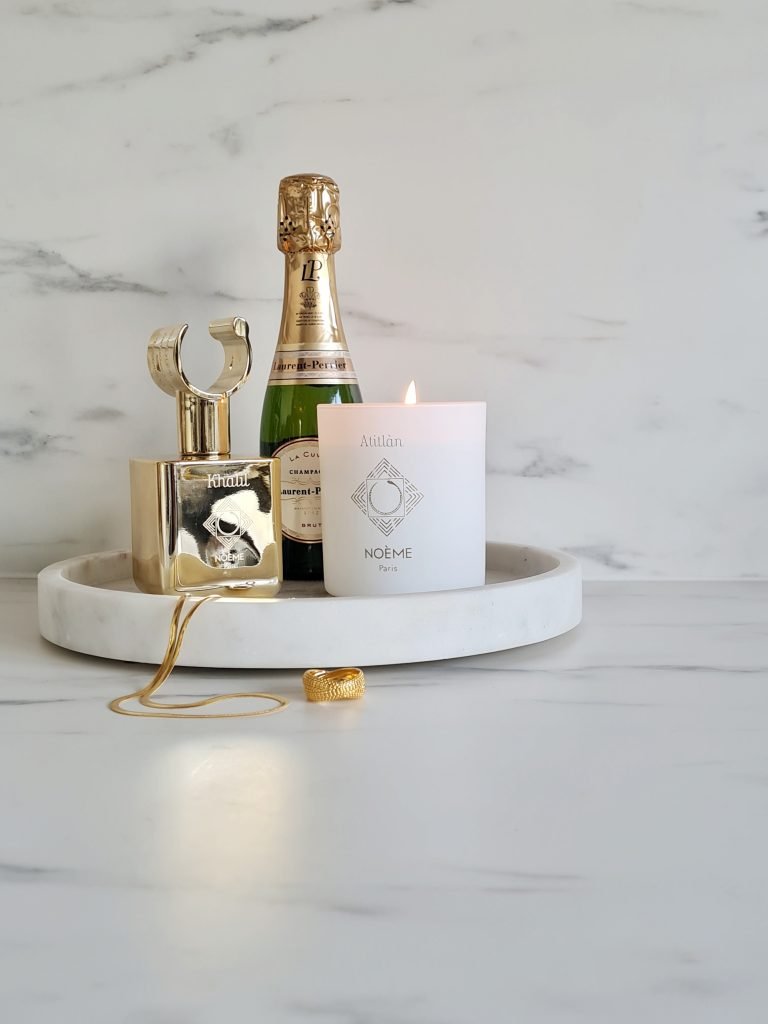 Khalil landed on my fragrance tray and Perfumer Majda Bekkali is the nose behind this fragrance.
Khalil is a force to be reckoned with. Its trail combines intensity and subtlety. Khalil doesn't follow the rules, it is unique. It imagines a future and makes it its present. Its sparkling cardamom invokes freedom. Its caramelized patchouli embodies abundance. Its powdery iris celebrates rarity. Its white musks express modernity. Dive into the magic of a wonderful universe where dreams come true.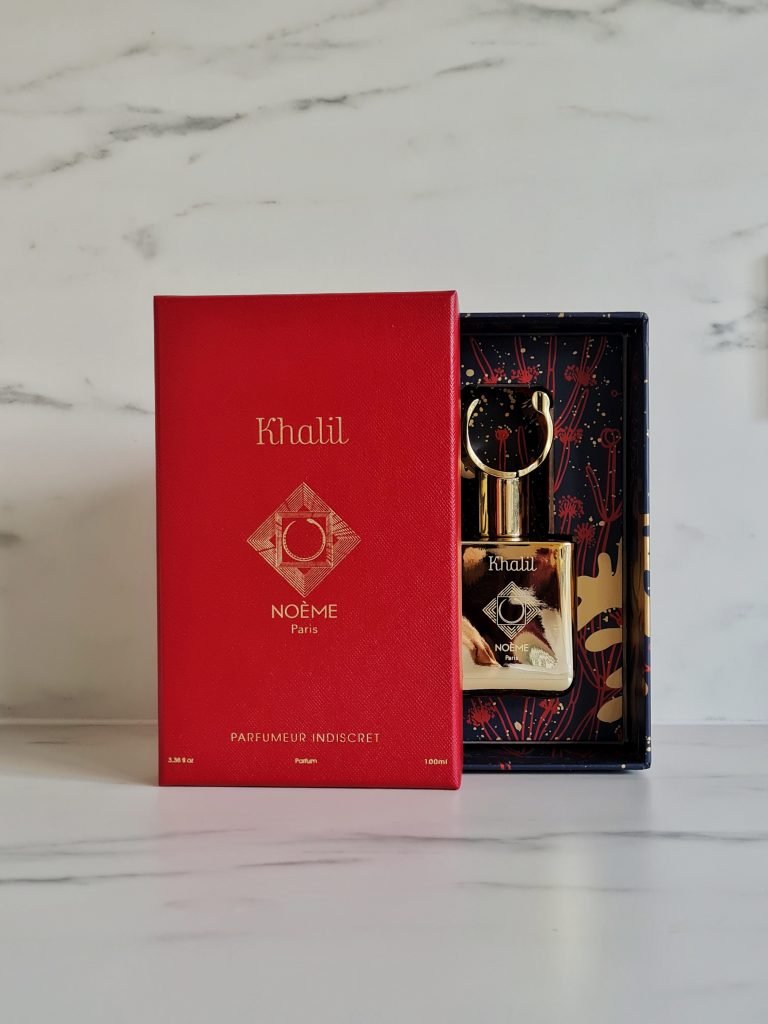 Packaging: The first thing to admire about Khalil is the gorgeous, lavish gold packaging. The gold bottle is all about extravagance, luxury, and sophistication. Just like other bottles from this house, this bottle also has an eye-catching weighty lid depicting an ouroboros, an ancient symbol of the snake biting its tail to signify endless regeneration. I also adore the gorgeous deep red outer box with a beautiful print inside. It complements the bottle so much and looks very special just like the fragrance itself.
Woody, Oriental Perfume
Top notes: White wood, Cardamom, Caramel
Heart notes: Ceder wood, Patchouli, Tonka bean absolute, Vetiver
Base notes: Ambroxan, Modern musks, Iris
So the funny thing that happened a couple of weeks back was that I was testing some other fragrance by spraying it on my wrist and I noticed Khalil on the next shelf. I immediately sprayed it on my scarf and oh my world, I literally couldn't stop smelling myself…like literally I forgot about the wrist completely and kept smelling the scarf I was wearing that day. It has notes of woods, patchouli, musks, and orris with a delicate sweetness of caramel as if the woods are covered in a very thin layer of caramel that makes this fragrance super-addictive! It does remind me of Cardamom and Iris of BDK Parfums Gris Charnel, but Khalil is a stronger big brother. Khalil has got a lot of Iris and musk balancing the top and heart notes. It has more intensity and a magnetic pull that will turn heads and get a lot of compliments.
Performance: This is the fragrance that makes its presence felt even from afar. It projects, leaves an intense trail, and turns heads. It lasts for over 12 hours on my skin and almost forever on my clothes.
When & Where to wear Khalil: Khalil smells very rich and luxurious. It is one of those fragrances that are more suited for dressed-to-perfection events like a red carpet event, a lavish party, a fancy dinner, etc.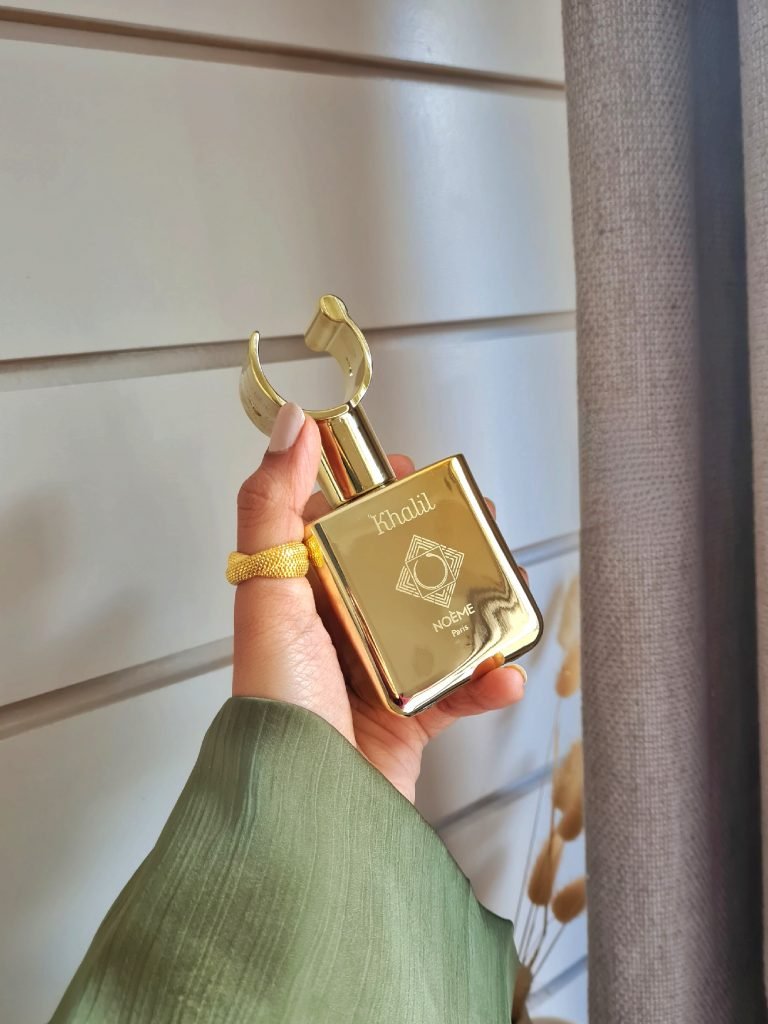 Final thoughts: If you love spicy woody fragrances, you'll love this beauty. When I think of Khalil, I imagine gold, I imagine the Middle East, and people who do not shy away from flaunting their money, their expensive cars, jewels, and everything extravagant! Though the fragrance has a Middle Eastern touch to it, it is very well-balanced and will be enjoyed by western noses too. This woody, warm spicy fragrance has that addictive, captivating element that is just so hard to resist. This is a compliment-getter and will be well-loved in my perfume collection. To my nose, Khalil is just majestic!
Until next time, Ashh xo
*This blog post features a press sample. All opinions are my own and unbiased.