Valentine's Day is round the corner and personally, I believe that you do not need to be in a relationship to celebrate Valentine's Day. However, if you're looking for a new scent to wear on a date or for gifting to yourself or one of your Gals for Galentine's Day, I have some lovely suggestions for you! These are some of the scents that will make you feel confident and magnetic.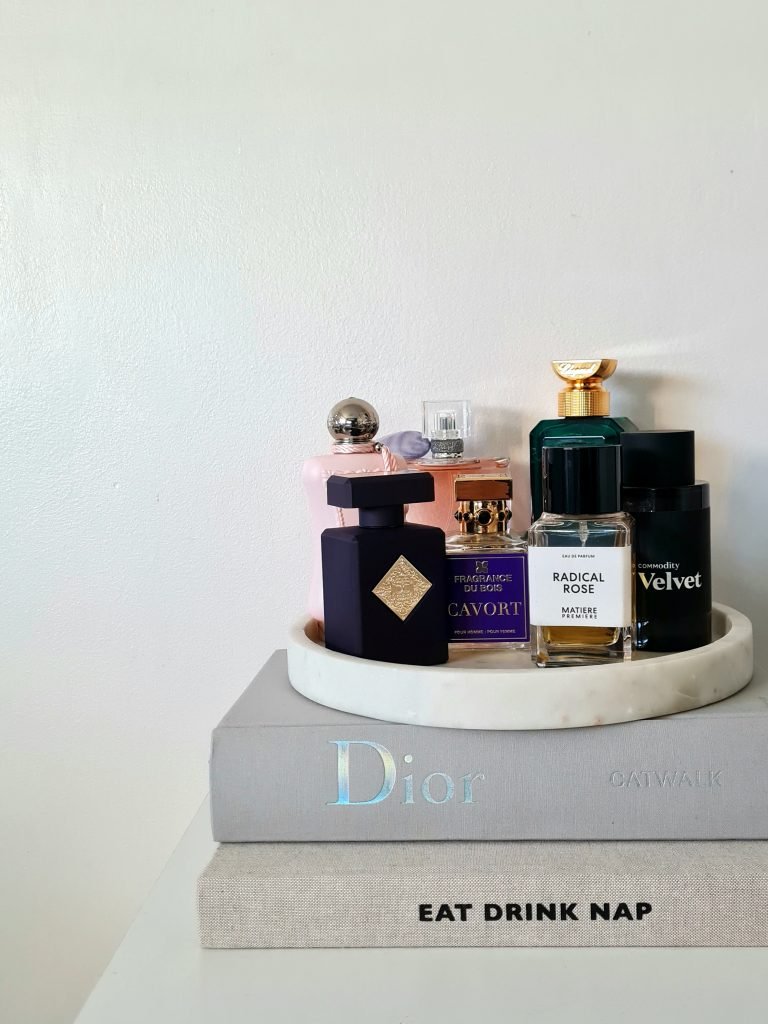 Matiere Premiere Radical Rose – Matiere Premiere fragrances are built around one natural ingredient in the highest dosage possible. The idea takes shape around an exceptional natural ingredient, which has many olfactive facets. Radical Rose celebrates Rose Centifolia Absolute from Aurélien's own Rose Centifolia Organic Farm (Ecocert®) with a bit of saffron and pepper. It has berries oil, a hint of Patchouli, and labdanum. The spicy notes of saffron and pepper berries are there to bring out the brightness of the rose and patchouli to emphasize the woodiness. It is a very classy, a bit deep (not dark), rich, mysterious, sophisticated, and grown-up (not an old lady) scent. The rose is slightly sweet and has a honey-like aroma. It is woody, floral, bright, slightly fruity, and spicy. It is a head-turner but not offensive. It smells very modern, impactful, and expensive. It captivates everyone around you and is a compliment-getter
Parfums de Marly Delina – Delina from Parfums de Marly has a young, modern, and fresh fruity-floral composition and makes a great choice for date nights or special occasions. This is a plush rosy, ultra-feminine fragrance. It has rhubarb, bergamot, and lychee notes in the opening giving it a fruity, sour kick. The heart is floral with a Turkish rose along with peony and vanilla that extends to the musky, cashmeran base. Delina is a very elegant, modern rose fragrance for a sophisticated woman.
Fragrance du Bois CAVORT – Fragrance du Bois perfumes come in luxurious handcrafted satin-lined velvet boxes to ignite excitement and joy in the discovery of their fragrances. From luxe packaging to Swarovski studded lids, Fragrance Du Bois evokes an uplifting and elevated experience from the moment you open the box. CAVORT – one of the newest releases from Fragrance du Bois is alluring, seductive, and addictive for me. It is like sex in a bottle. This fragrance evokes the feeling of excitement of the first encounter. Florals and incense shine in CAVORT. It stimulates the senses and attracts a lot of compliments. It has that magnetic pull of attraction. Cavort is a great sexy, sensual fragrance for him or her.
Initio Parfums Psychedelic Love – This is a creamy white floral fragrance with milky nuttiness-like almond notes. This fragrance contains a synthetic molecule – Hedione which triggers the pleasure centers of the brain. It has notes of myrrh, heliotrope, hedione, rose, and patchouli that together create a magical blend. It has a resinous touch from myrrh. There is a lot of hedione used in this fragrance. It is very hypnotic and addictive. The weighty purple bottles from the Carnal Collection look opulent. A gorgeous unisex blend from the House of Initio!
Chopard Santal Odeyar– From luminous fruits to pretty flowers and majestic woods, the smell changes as you walk through a mysterious garden and Santal Odeyar from Chopard recreates exactly that. The scent opens up with bright, juicy fruits leading to a floral bouquet, and changes with time settling to a deep comforting sandalwood base. This is a very elegant and luminous floral woody composition that can be worn at any time of the year. I recommend this delightful, royal fragrance as a Valentine's Day scent – great for both Day time/Evening Date scents or for gifting to your partner.
Commodity Velvet Expressive – Imagine the pure indulgence of a soft texture meeting bare skin, that is exactly how velvet feels and smells on the skin. Velvet Expressive is a woody, ambery blend infused with notes of roasted Almond, Rose petals and black Amber. The fragrance opens with notes of white birch, coconut water. Then, as the minutes pass, Vanilla and Amber give life to the fragrance followed by Roasted Almonds and Rose Petals bringing an addictive drydown. It is warm, spicy and soft – all at the same time. The sweetness of vanilla is combined with spices in a very elegant way. It is a subtle but deep fragrance that stays on the skin for a long time. It is a beautiful fragrance for date night specially if you're at a cold location like the UK.
Lancôme La Vie Est Belle – This is one of the most beautiful designer fragrances in my collection. It has notes of pear, blackcurrent, white Iris, Orange Blossom, Tonka Bean, Patchouli, Sweet Vanilla, and Praline. opens with a ripe burst of pear and blackberry before capturing the romance of orange flower and jasmine sambac at the heart. It settles on a rich base of patchouli essence that has been sustainably sourced to create an opulent olfactive experience. It is a floral sweet fragrance that is not very age-specific. It can be worn by any age-group from 20s to 80s. It is crowd pleasing and will get you compliments. La Vie Belle would be lovely as a date scent.
Until next time, Ashh xo
*This article features some press samples. All opinions are my own and unbiased.