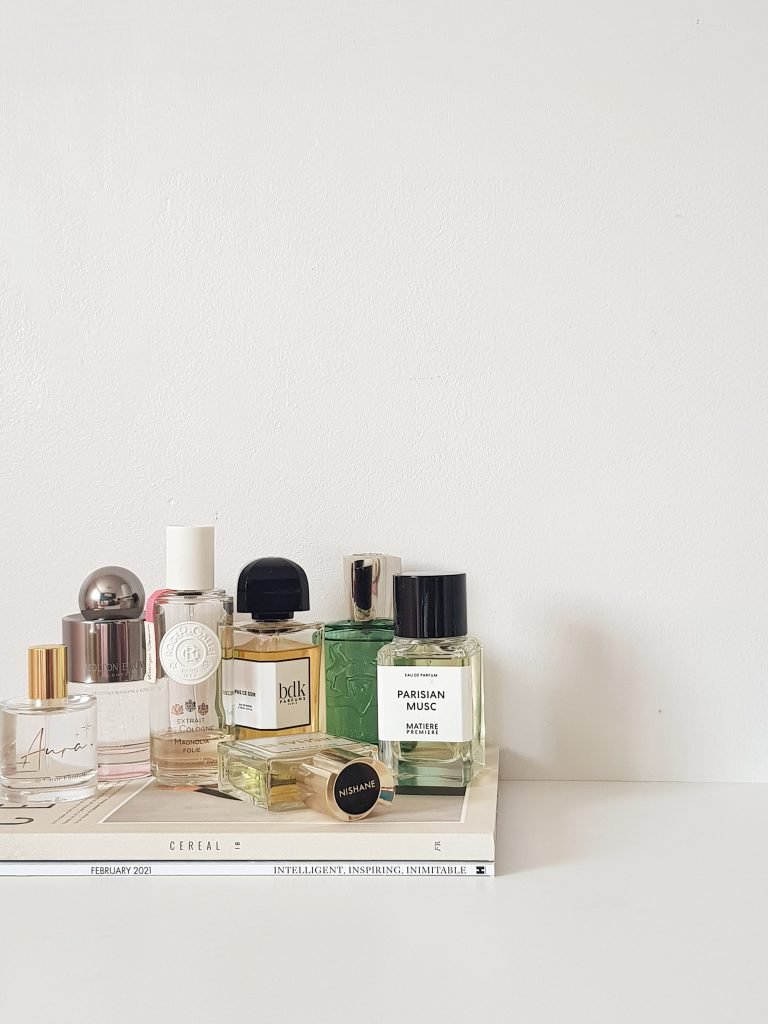 Despite some snow flurries some days back, it is finally spring, and here are some of the spring fragrances I have been loving. These are some of the easy-to-wear fragrances to wear during this weather and I feel everyone should smell these or have atleast one of these in their fragrance wardrobe!
*BDK Parfums Pas Ce Soir – Pas Ce Soir is a french word and it means 'Not Tonight'. This is a juicy, delicious white floral fragrance. This fragrance has the right balance between fruity, woody, and musky notes. Pas Ce Soir has fruitiness, punchiness, and a little bit of sweetness from caramel but not too much. The floral aspect brings a balance. The caramel note in this fragrance makes it a bit unique yet so addictive! There is a little story behind this fragrance. It is about that successful French woman who works in an office but likes to go out at night. She goes to the restroom and touches up her makeup, and opens the top button of her blouse to take out her pearls. She is wearing heels, red lipstick, and smokey eyes. She goes to the fancy pub and has her drink..locks her eyes with men. She is a bit mysterious and we don't know who she would like to go home with. Pas Ce Soir is elegant and sophisticated for spring and summer and can also be worn throughout the year.
Matiere Premiere Parisian Musc – I have spoken a lot about Matiere premiere on both my Instagram and Blog before so if you haven't tried the brand yet, I would highly recommend trying out their discovery kit. Parisian Musc is a very milky, green fig fragrance. Though it is a unisex fragrance, I feel Parisian Musc smells sophisticated, lady-like, and will compliment classy women. It is very clean, musky, and woody. It has ambrette seeds, cedar, musk, and fig. It is very comforting and has a soft fragrance but lasts all day on me. It is perfect all year round and is a great choice for brunch, coffee dates, or any daytime outdoor activity.
Nishane Wulóng Chá – This is a very clean, refreshing tea and citrus scent that is super easy to wear. Though it is a freshie, it performs beastly. It has a citrusy, sour opening followed by tea – very realistic and authentic followed by some mellowed-down musk and gentle touches of fig. There is some spicy nutmeg in the background but it is faint and won't bother your nose if you're not into spicy notes. Tea notes shine through and dominate the fragrance. It is so bright and smooth – just a very beautiful fresh ice tea fragrance. You need to like tea notes to like this beauty! This fragrance radiates well and will get you compliments. Wulóng Chá will be a gorgeous pick for spring and summer.
*Parfums de Marly Greenley – Greenley is a Fruity, Citrus, Aromatic fragrance that is a source of pure energy. It smells like a breath of spring – green, airy, and full of life! It opens up very bright and juicy with bergamot and a big dose of crisp apple. Mandarin rounds out the edges of the green apple so it is not very tart. It immediately took me to a forest setting where there is fresh morning dew and crisp air. The green leafy smell from the trees is adding to the aroma of this composition. Violet and Pomarose add a little fruity floral touch to the fragrance. Cedarwood and cashmere wood softens the citrus composition and enhances the performance of this fragrance. The fragrance dries to a very mossy, musky, woody, and a little ambery. Musk and Moss stand out in the base and love how it smells. Greenley is mass-appealing and is a very inviting scent for Spring.
*Molton Brown Delicious Rhubarb and Rose – Molton Brown recently added a fragrance to its popular Rhubarb and Rose body care line. This is a bright, fizzy rose fragrance with a dose of delicious rhubarb. This fruity-floral fragrance is a concoction of bright grapefruit and tart rhubarb leaf, with a sweet creamy base of vanilla, spun sugar, and fluffy musk. This is like your favorite spring dessert bottled – umm, scrumptious!
*Carrie Elizabeth Aura – Aura is the first fragrance from the Carrie Elizabeth Jewellery brand and I am surprised by the quality and versatility of this fragrance. Aura has delicately floral and feminine top and mid notes of jasmine, lily of the valley, and peony complimenting the base of vanilla, amber, and musk. This is a very chill, no-fuss but delicate and sexy at the same time kind of fragrance. It gives me that girl next door vibes. It is soft and cozy. It is like floral, green vanilla – so easy to wear!
*Roger & Gallet Magnolia Folie – This cheerfully yet sophisticated floral fragrance has an elegant and refined mix of Magnolia Flower Essence and Absolute of Orange Flower as well as precious distilled essences of Jasmine, Cedre & Patchouli. This delicate cologne has notes of sparkling bergamot and mandarin which bring a daring brightness to the fore. The signature heart is built around an intriguing Magnolia. Aquatic notes of the flower combine with vegetal green notes of the leaves and are blended with a beautiful quality of Rose absolute and apricot facets of Osmanthus. The result is a wonderfully restorative fragrance to stimulate self-confidence, This cologne contains 87% natural origin ingredients.
*This post includes press samples marked with an asterisk. Opinions are my own and unbiased.