Sustainability goes way beyond packaging and includes the complete production process from sourcing ingredients to the final product. From sourcing clean ingredients to conscious packaging and creating a positive impact on society, everything matters when it comes to sustainability. Today more and more brands are walking that extra mile to follow a sustainable approach while creating beautiful fragrances. Here are some of the ones I like and feel these are totally worth checking out!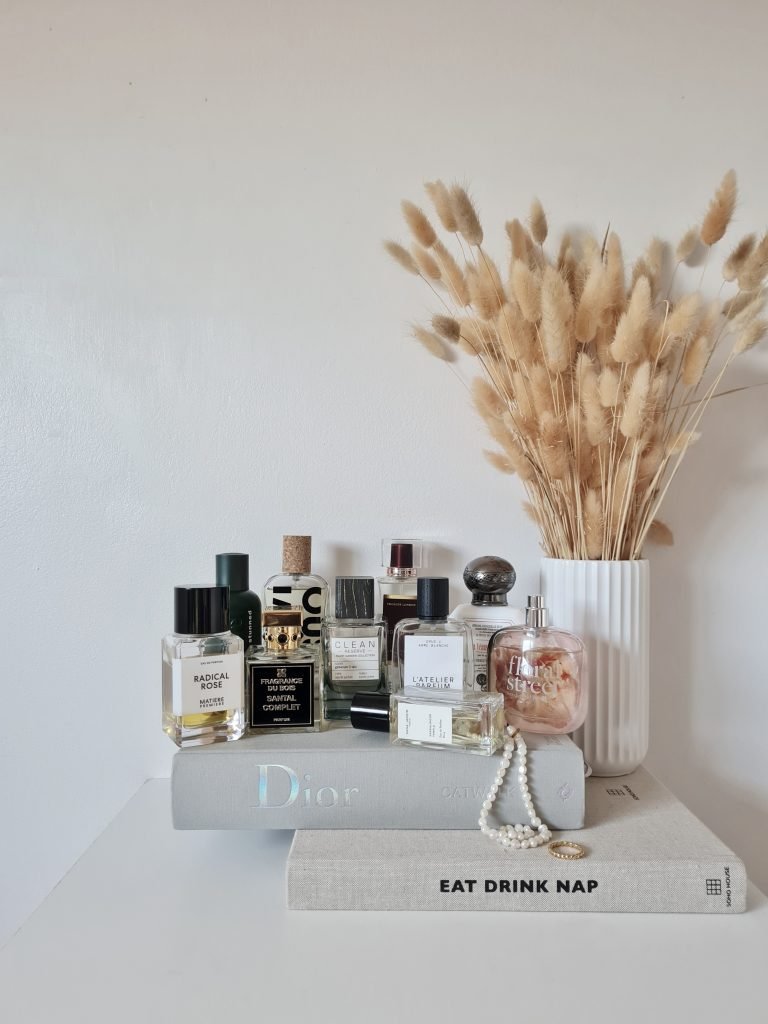 Sana Jardin Sandalwood Temple – I have two words for Sandalwood temple – Pleasing and Calming! This is a very creamy, soft sandalwood, vanilla, cedar, and vetiver fragrance. It is so comforting to my senses that if I am confused about which fragrance to wear, I reach out for Sandalwood Temple! It is calming and smells so elegant. I think it can be worn all around the year but it has that cashmere jumper vibe which makes it perfect for cozy, comforting situations. Extra points to Sana Jardin for women empowerment and for being the beauty world's first socially conscious luxurious fragrance brand.
Fragrance du Bois Santal Complet – This is a very elegant and refined fragrance with a milky coconut in the opening. The milky coconut is beautiful and elegant in the opening. It has lemon that adds crispiness yet adds brightness to the sweet accord. It is the softest way a lemon note is added to the composition. The heart consists of violet and a very subtle black pepper. The dry down has Musk, Vanilla, Amber, and Sandalwood. This is more of woody vanilla and not sickening sweet. Amber is beautiful here and Sandalwood is oh-so-creamy! Santal Complet doesn't project but stays close to you for a very long time. This is a gorgeous creamy coconut and sandalwood fragrance for intimate settings or a date with your partner. If you want an elegant, lady-like, smooth sandalwood coconut fragrance – Santal Complet is the one!
Clean Reserve Avant Garden Galbanum & Rain Eau de Parfum – This is a woody green fragrance that includes top notes of Sichuan pepper and star anise; middle notes of incense and galbanum; and base notes of white moss, clearwood, patchouli, vetiver Haiti and cedarwood. Each Clean Reserve fragrance is created with sustainable ingredients from France. The fragrances are formulated to be vegan, cruelty-free, and free of phthalates, preserva­tives, gluten, and artificial dyes. Each Avant Garden fragrance is comprised of two unlikely notes where together they make a magical, beautiful fragrance that has never before been experienced. With an incredible performance, this fragrance works beautifully in any season throughout the year but I particularly love it in spring & summer.
Floral Street Wonderland Peony – One of my favorite vegan, cruelty-free and sustainable fragrance houses from London is Floral Street and if you ask me my favorite scent from the house, it will be Wonderland Peony. It is a woody floral packed full of peonies and berries – perfect for summer days spent outside in the sunshine, yet notes of Cedarwood and Hazelnut make it a great pick for evenings too. It is a fragrance I choose when I wear flowy summer dresses, especially the ones with delicate floral prints. I also want to mention that the glass perfume bottle comes in planet-friendly biodegradable pulp boxes made with 20% upcycled coffee cups and can be used as seed trays for plants. Floral Street uses only sustainably-sourced clean ingredients in its fragrances.
Obvious Parfums Une Rose – Simple yet eminently complex, Obvious Parfums' Une Rose is one to check out this Spring! Obvious products are clean, refillable and 100% recyclable. This is an eco-friendly niche fragrance brand that fits into the affordable luxury category. The glass bottles are sustainable, recyclable, and have got cork lids made from wine cork production. The atomizer is recyclable and the alcohol in the perfume is organic and biodegradable alcohol. The outer box of these perfumes is made from recycled paper and natural dyes. No cellophane is used in the packaging. Une Rose is a delicate, transparent, pink rose with a spicy vibe. There is some sweetness, some zingy fruitiness but a lot of spicyness and aromatic feel to the fragrance. The fragrance opens up with citrus, a fruity blast from Mandarin followed by delicate florals, and finally drying to a spicy scent from pink pepper and cardamom. This is a very easily wearable and enjoyable rose fragrance.
Officine Universelle Buly Eau Triple La Venus de Milo – La Venus de Milo is a part of the exclusive collaboration of Officine Universelle Buly with the world's greatest museum – The Louvre to bring alive the masterpiece from the museum to a perfume. This fragrance is an intoxicating combination of mandarin, jasmine, and amber and smells so sophisticated and timeless just like the beauty of the marble goddess. It is a delicate fruity-floral combination with sweet undertones. It is gentle, soft, a bit petal-like, and a lot powdery. It smells very precious and is pure bliss. It can easily be a signature scent for anyone who loves white florals and powdery fragrances.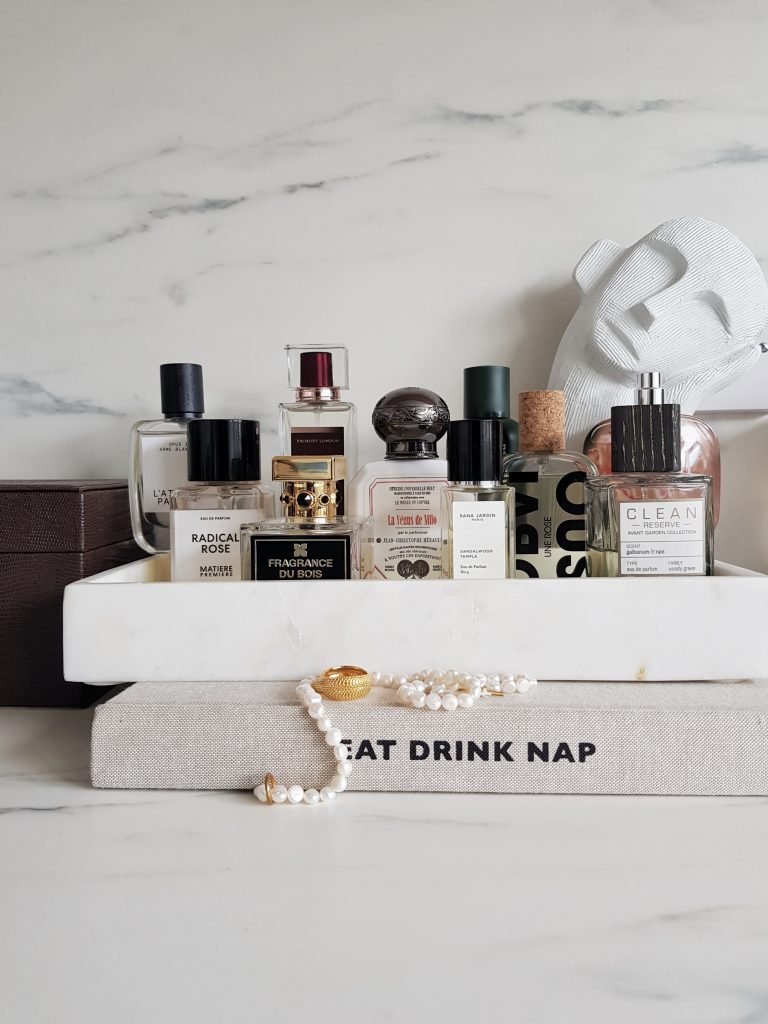 L'Atelier Parfums Opus 1 Arme Blanche – Confident and sassy, Arme Blanche gives you the freedom to be yourself, without any compromise. Think all shades of white, Arme Blanche is a white floral bouquet with a strong character, enhanced by the sensual notes of sandalwood. It is not heavy like Alien from Mugler but is a very light-hearted white floral fragrance. It feels airy and transparent, and stays close to the skin but has impressive lasting power. Arme Blanche is a beautiful intimate fragrance – so easy to wear and is perfect for that white shirt and blue jeans kind of day! Arme Blanche will suit everyone who likes subtle, elegant fragrances.
Bel Rebel Stunned by London's Sustainable & Unconventional Fragrance House – Bel Rebel is a very dense, deep, and mysterious fragrance – totally opposite of what I had expected. When I heard this is a Cannabis scent, I didn't expect to like it at all but when I first tried it, I was blown away! This is not a traditional Cannabis scent but is a hypnotic fragrance leaning towards floral and rich gourmand. Labdanum and Geranium give a boost to the rose. Nutmeg and Clove add a spicy woody aromatic character with a bit of warmth. Carnation gives a slightly spicy floral touch and Cannabis gives the composition a herbal and slightly smoky quality. Cannabis is covered with sticky honeyed syrup ( resins like labdanum & olibanum) so it won't offend some noses. Vanilla and cedarwood make it comforting like wrapping the composition in a musky blanket. Though it is a rich gourmand (with a smoky touch) for me, I don't want to associate it with certain weather. It smells beautiful on my skin during spring. I can totally see myself wearing it on summer evenings and anytime in autumn and winter. I love it on myself and on my husband. It is spicy, warm, floral, and a dense gourmand – A beautiful take on Cannabis!
Prosody London Rose Rondeaux – Beautifully crafted in London, this fruity rose fragrance is delightfully plush and decadent. Bright raspberry and juicy blackcurrant are uplifting to the senses gradually leading to a heart of soft, delicate roses with the warmth of patchouli. The base of blackcurrant and musky sandalwood gives a romantic yet uplifting touch to the perfume. This fragrance is made from 24 finest natural and organic ingredients including Raspberry Ketone, Rose, Bergamot, Patchouli, Labdanum, Frankincense, and Sandalwood.
Matiere Premiere Radical Rose – Okay so here's that 'plus 1' fragrance that I wanted to give special attention to. Matiere Premiere is the baby of Master Perfumer Aurelien Guichard and is one of the newest Niche Fragrance Houses. Matiere Premiere fragrances are built around one natural ingredient in the highest dosage possible. The idea takes shape around an exceptional natural ingredient, which has many olfactive facets. Radical Rose celebrates centifolia absolute – extracted from the brand's own organically-grown roses, this all-year-round scent is delightful and impactful.
Until next time, Ashh xo
*This article features some press samples. Opinions are my own and unbiased.