Scandinavian Interior Design is one of the most famous designs in the entire world. The design is all about minimalistic, bright, and aesthetically pleasing pieces. Scandinavians usually stick to cool tones – blues, greens, and greys are popular. Probably due to the fact that the colors around them are naturally cooler due to the cloudy grey weather, stone/mountains, green trees, blue waters etc. Scandinavians don't have a lot of bright colors or warm tones. If warm colors are used then it's pretty much always a deep rich tone like burgundy, navy tones etc. Colour schemes like black and white or grey and white are very popular. You can also see light oak tones in Scandi homes.
Here are some of the ways you can add some Scandinavian elements to your home:
Paint – Painting your walls bright white or light grey would be a good start to a Scandi home.
Flooring – Scandinavians prefer hardwood floors in pale shades and they add rugs in neutral shades. The use of wood particularly birch, and light oak is quite popular.
Declutter– Decluttering is an important part of transforming your home to Scandi style. Strip anything that doesn't bring joy.
Curtains – Choose plain white or light neutral shades curtains for your home.
Artwork – Scandinavians love to add some subdued artwork to their walls. They usually go for larger prints but neutral colors. Textural artwork is one of my absolute favorite way to add character to plain walls. Scandinavians choose their frames very carefully. The frames are usually very thin, minimal, or sometimes no frame at all, and just the artwork wrapping the board on the edges. If you really want to add color to your home, you may do so in the form of artwork but try to choose earthy tones.
Sculptures – Scandinavians keep sculptures to a minimum in their homes. They do not keep anything that doesn't serve a purpose. So don't just blind-buy several sculptures next time you're at a home decor shop!
Vases – Clear and Ceramic Vases are quite popular in Scandi homes. They're not just beautiful but are also functional.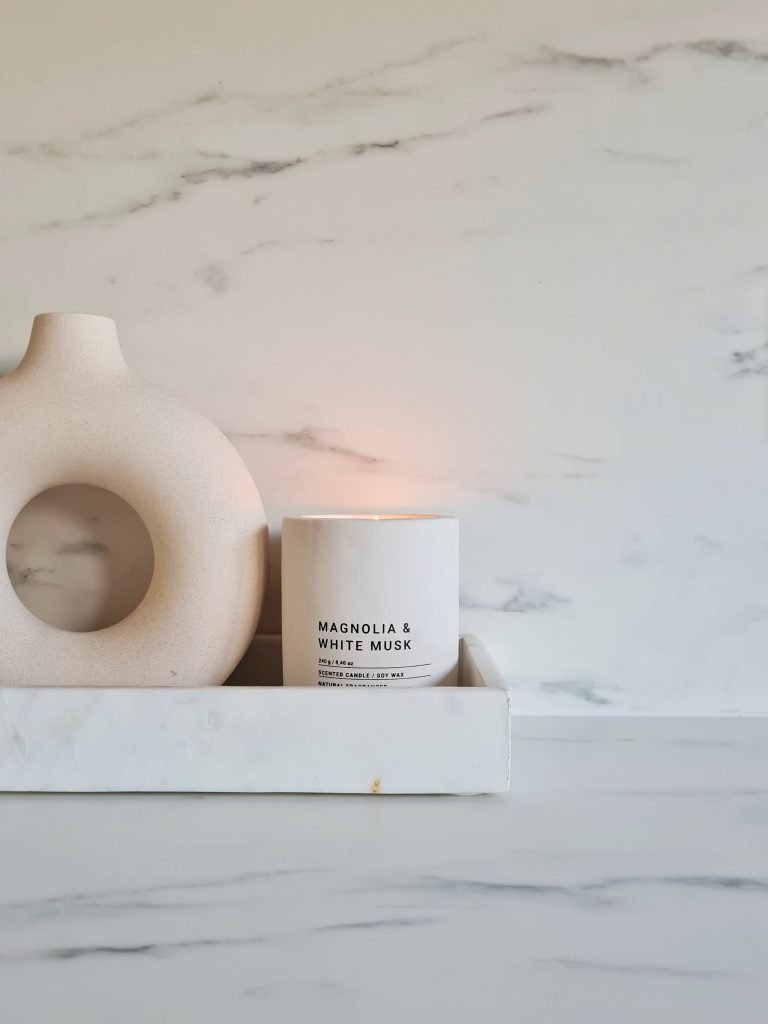 Candles – Scandinavians choose softer, minimal-looking candles generally plain wax candles or candles in concrete vessels like Vila Hermanos Concrete Magnolia & White Musk. They like to choose lighter scents for home fragrances.
Minimal Furniture – Scandi style is all about minimal but functional and cozy furniture. The furniture is often elevated off the ground to allow light to circulate. There is often some distance between furniture pieces to keep the rooms looking airy.
Plants – Adding a couple of plants to your rooms is also a nice way to add a Scandi touch to your home.
Soft Furnishings – Natural fabrics and materials are often the first choices when it comes to soft furnishings. You can add throws, blankets, and cushions to add some warmth and texture to your home. Scandinavians also use sheep fur in their homes but you may choose faux fur for that look.
Until next time, Ashh xo
*This post features a press sample. All opinions are my own and unbiased.