BDK Parfums launched its latest fragrance Ambre Safrano which is Harrods exclusive. It is one of the most unique out of all BDK fragrances and is a powerhouse in my opinion. Ambre Safrano is something that was missing in the BDK line and this gorgeous creation completes the collection so far. Although I am sure, David Benedek – the founder of BDK Parfums would have thought about his next project already!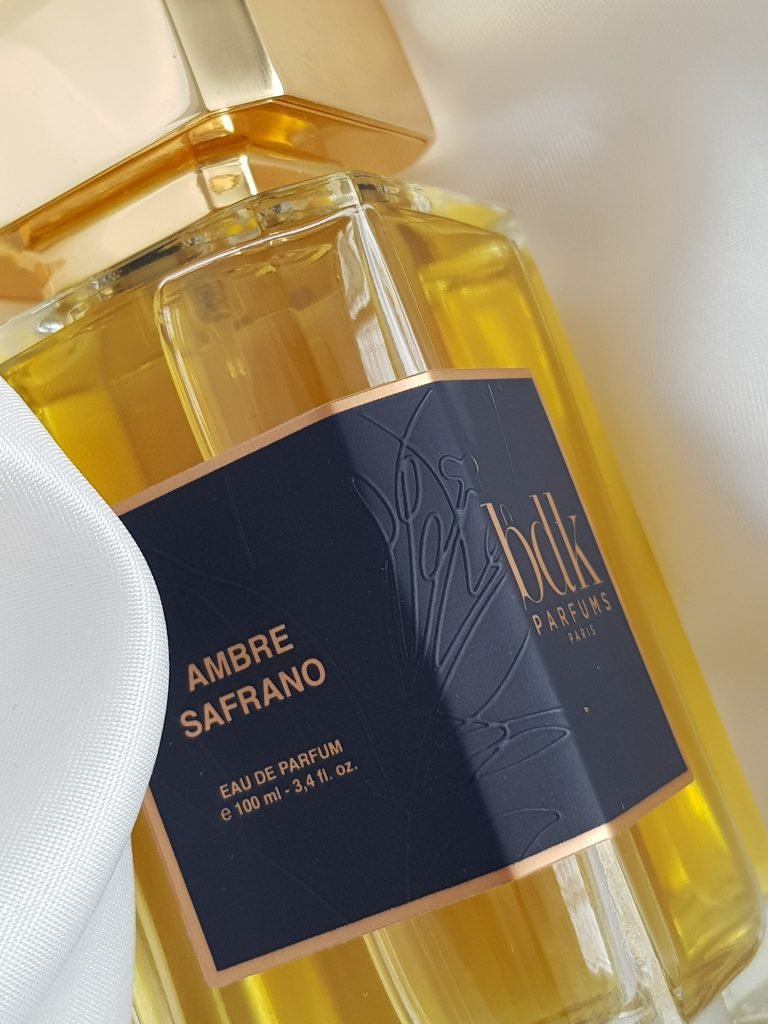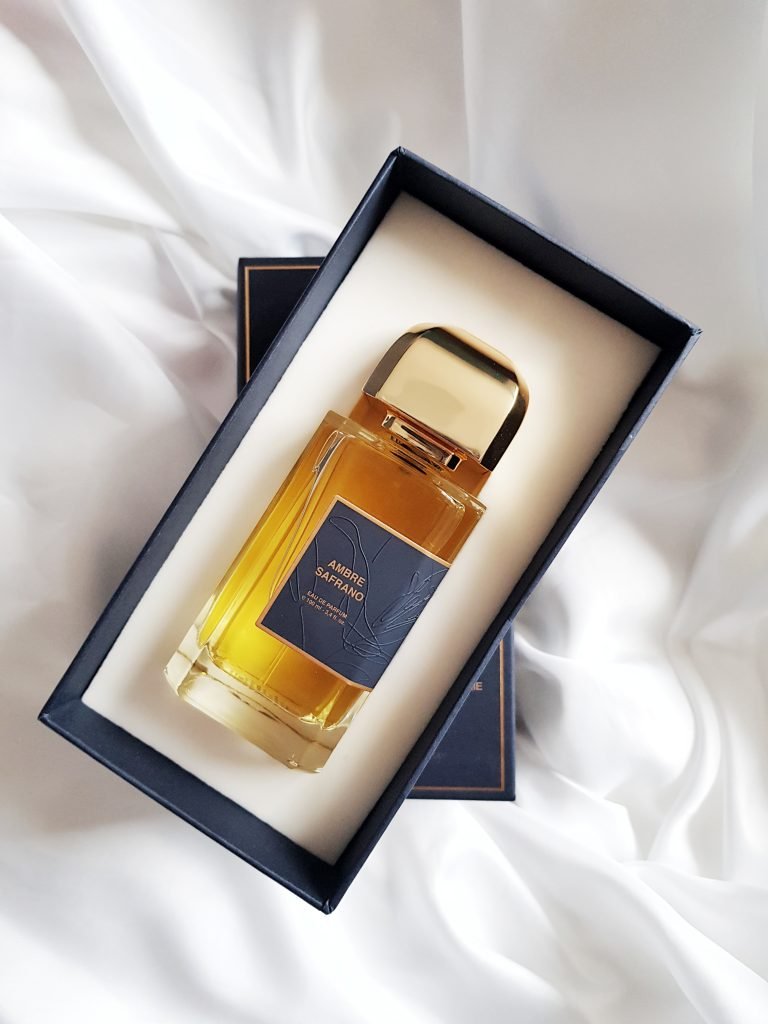 Inspiration – Sensual and intense, amber is at the center of the olfactory narrative of the new Harrods exclusive. Ambre Safrano explores the oriental facets of this emblematic raw material. Blended with saffron, suede, and woods, the fragrance transports the wearer to the burning heat of the Orient. The golden tones of the saffron reveal a leathery, velvety, gourmand softness. By combining vanilla with the sensuality of sandalwood and oakwood, Ambre Safrano takes us on a heady faraway olfactory journey.
Top notes
Saffron accord
Black pepper oil from Madagascar
Plum accord
Heart notes
Rose Absolute from Turkey
Olibanum absolute
Black leather accord
Base notes
Oakwood CO2 from France
Sandalwood oil from New Caledonian
Vanilla bean extract CO2 from Madagascar
Perfumer: Julien Rasquinet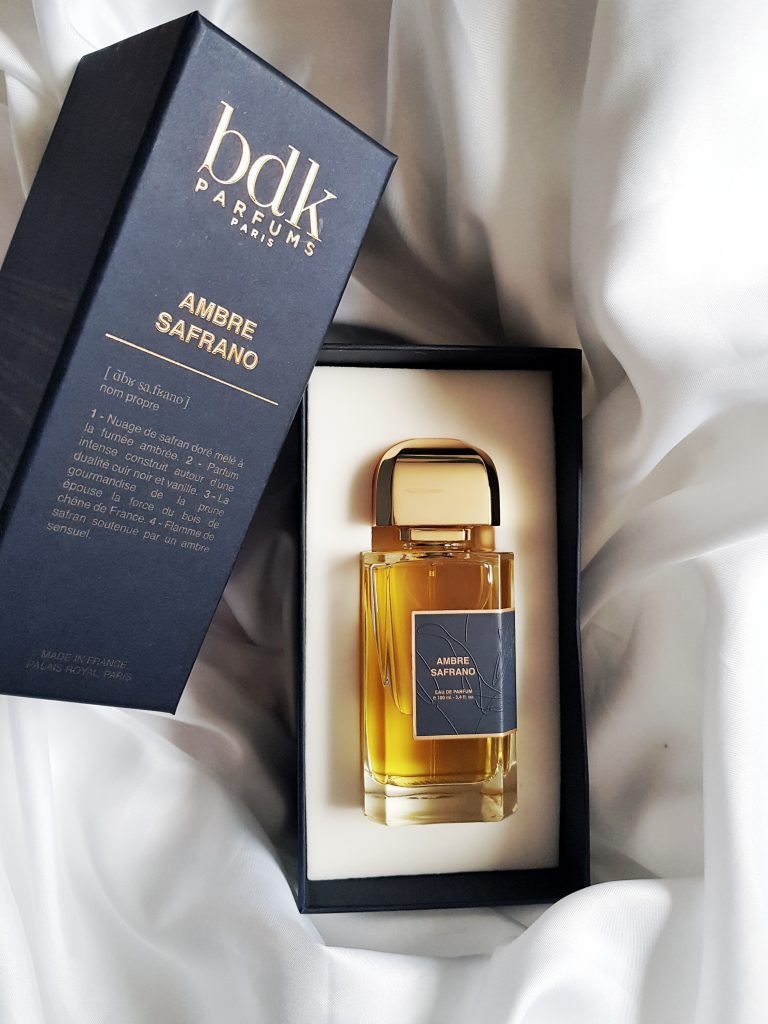 "𝓣𝓸 𝓬𝓸𝓶𝓹𝓵𝓮𝓽𝓮 𝓽𝓱𝓮 𝓗𝓪𝓻𝓻𝓸𝓭𝓼' 𝓮𝔁𝓬𝓵𝓾𝓼𝓲𝓿𝓮 𝓬𝓸𝓵𝓵𝓮𝓬𝓽𝓲𝓸𝓷, 𝓘 𝓲𝓶𝓪𝓰𝓲𝓷𝓮𝓭 𝓪 𝓬𝓻𝓮𝓪𝓽𝓲𝓸𝓷 𝓪𝓻𝓸𝓾𝓷𝓭 𝓪𝓶𝓫𝓮𝓻. 𝓘 𝔀𝓪𝓷𝓽𝓮𝓭 𝓽𝓸 𝓮𝔁𝓹𝓵𝓸𝓻𝓮 𝓽𝓱𝓮 𝓭𝓲𝓯𝓯𝓮𝓻𝓮𝓷𝓽 𝓯𝓪𝓬𝓮𝓽𝓼 𝓸𝓯 𝓽𝓱𝓲𝓼 𝓮𝓶𝓫𝓵𝓮𝓶𝓪𝓽𝓲𝓬 𝓻𝓪𝔀 𝓶𝓪𝓽𝓮𝓻𝓲𝓪𝓵 𝓸𝓯 𝓹𝓮𝓻𝓯𝓾𝓶𝓮𝓻𝔂, 𝓲𝓷𝓽𝓮𝓷𝓼𝓮 𝓪𝓷𝓭 𝓿𝓸𝓵𝓾𝓹𝓽𝓾𝓸𝓾𝓼. 𝓘 𝓱𝓪𝓭 𝓵𝓸𝓷𝓰 𝓭𝓲𝓼𝓬𝓾𝓼𝓼𝓲𝓸𝓷𝓼 𝔀𝓲𝓽𝓱 𝓙𝓾𝓵𝓲𝓮𝓷 𝓪𝓷𝓭 𝔀𝓮 𝓫𝓸𝓽𝓱 𝓱𝓪𝓭 𝓽𝓱𝓮 𝓼𝓪𝓶𝓮 𝓿𝓲𝓼𝓲𝓸𝓷: 𝓽𝓸 𝓼𝓾𝓹𝓹𝓸𝓻𝓽 𝓽𝓱𝓲𝓼 𝓪𝓶𝓫𝓮𝓻 𝓪𝓬𝓬𝓸𝓻𝓭 𝔀𝓲𝓽𝓱 𝓪 𝓯𝓵𝓪𝓶𝓮 𝓸𝓯 𝓼𝓪𝓯𝓯𝓻𝓸𝓷. 𝓣𝓱𝓲𝓼 𝓸𝓻𝓲𝓮𝓷𝓽𝓪𝓵 𝓼𝓹𝓲𝓬𝓮, 𝔀𝓱𝓲𝓬𝓱 𝓶𝓮𝓻𝓰𝓮𝓼 𝔀𝓲𝓽𝓱 𝓽𝓱𝓮 𝓪𝓶𝓫𝓮𝓻 𝓵𝓮𝓪𝓽𝓱𝓮𝓻𝔂 𝓪𝓬𝓬𝓸𝓻𝓭, 𝓫𝓻𝓲𝓷𝓰𝓼 𝓼𝓽𝓻𝓮𝓷𝓰𝓽𝓱 𝓪𝓷𝓭 𝔀𝓪𝓻𝓶𝓽𝓱 𝓽𝓸 𝓽𝓱𝓲𝓼 𝓼𝓮𝓷𝓼𝓾𝓪𝓵 𝓪𝓷𝓭 𝓫𝓾𝓻𝓷𝓲𝓷𝓰 𝓯𝓻𝓪𝓰𝓻𝓪𝓷𝓬𝓮."
– ᴅᴀᴠɪᴅ ʙᴇɴᴇᴅᴇᴋ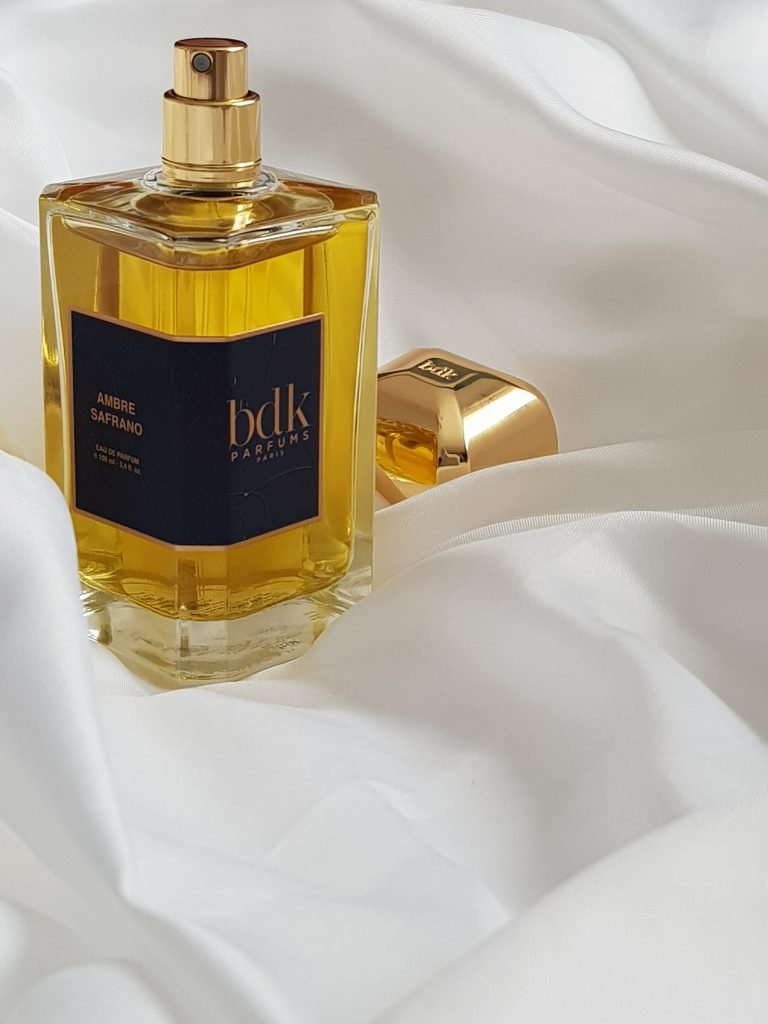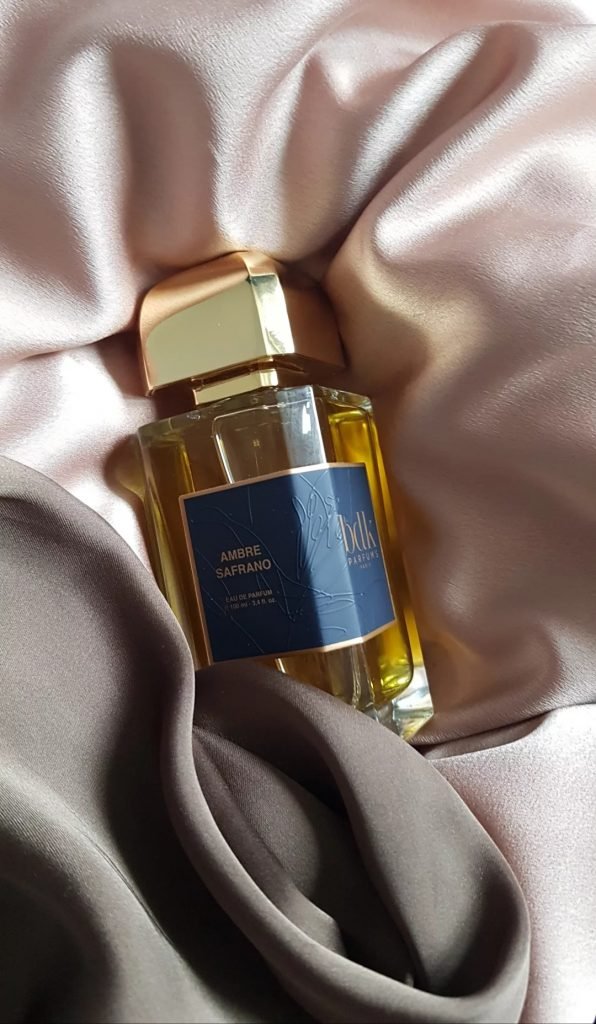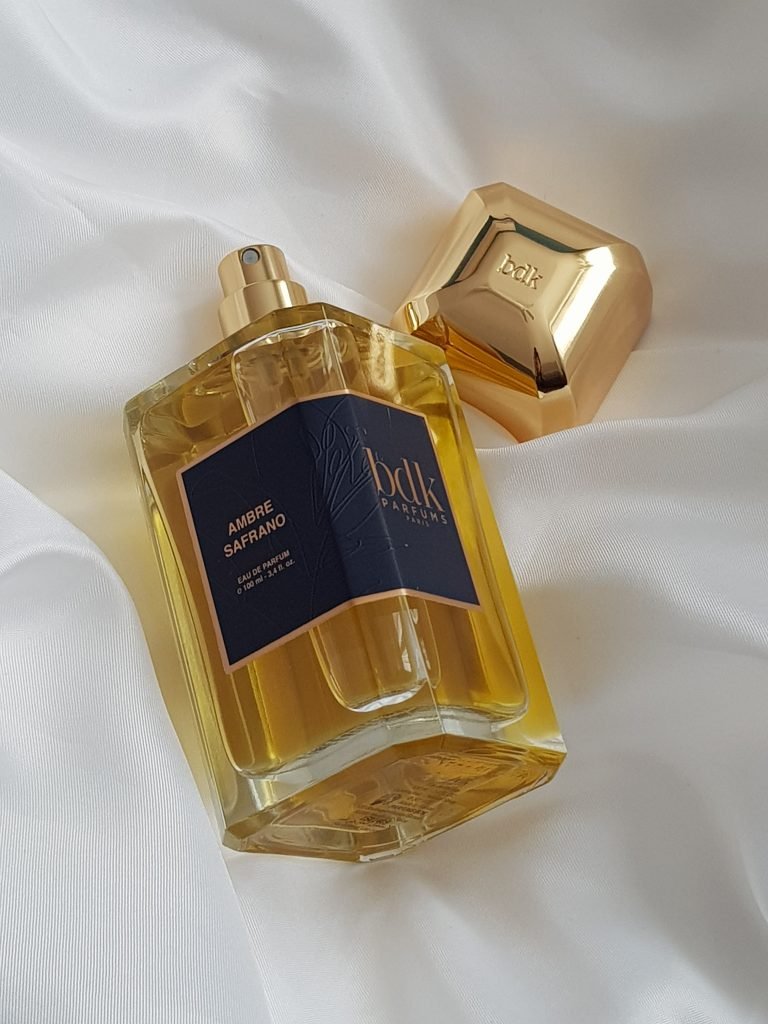 Julien Rasquinet has also created Tabac Rose for BDK Parfums along with some other popular fragrances. As soon as I saw the notes of Ambre Safrano on the website, I was craving this fragrance. Exquisite, Intense & Sensual are the words that come to my mind when I smell Ambre Safrano. This fragrance has an oriental feel to it without the addition of Oud to the composition. It is a spicy, woody fragrance with a slight gourmand touch. It is a unisex fragrance but leans slightly masculine (LOVE it on my husband). It projects like crazy and lasts on skin and clothes forever! I sprayed it on my scarf a few days ago and could still smell the fragrance – that kind of beast it is! Ambre Safrano is an autumn-winter fragrance that cuts through the cold weather. Being Harrods exclusive, it will attract many Middle-Eastern Niche clients of Harrods along with everyone else who loves Spicy Woody fragrances. If you're in the UK, I would recommend visiting Harrods to give Ambre Safrano a try or if you're an Oriental fan, you may order it online too.
Until next time, Ashh xo
*This post features a PR sample. Opinions are my own and unbiased.