Bohoboco is an incredibly talented fragrance house from Poland with every fragrance being so unique and making a statement in a good way! In this post, I'm talking all about the NEW STORIES – Fragrances that represent the brand's Creative Director – Michal Gilbert Lach's Inner Journey, and this episode is called 𝑾𝒊𝒏𝒕𝒆𝒓 𝑭𝒍𝒐𝒘𝒆𝒓𝒔.
It is about beautiful and fleeting moments in our lives, such as flowers, snow, or winter that bring us joy with their momentary sight but it all passes…With this release, in a sentimental and olfactory way, Lach says goodbye to the place on earth he had up until now and consciously wishes to welcome the new place to live. And on this journey, he is taking these two new compositions- 𝐉𝐀𝐒𝐌𝐈𝐍𝐄 ● 𝐖𝐇𝐈𝐓𝐄 𝐋𝐄𝐀𝐓𝐇𝐄𝐑 and 𝐄𝐓𝐄𝐑𝐍𝐀𝐋 𝐋𝐈𝐋𝐘 ● 𝐀𝐌𝐁𝐄𝐑 in which he enclosed his past experiences. Lach wishes to open these magical creations at his new place to welcome new energy, new space, and potentially new himself.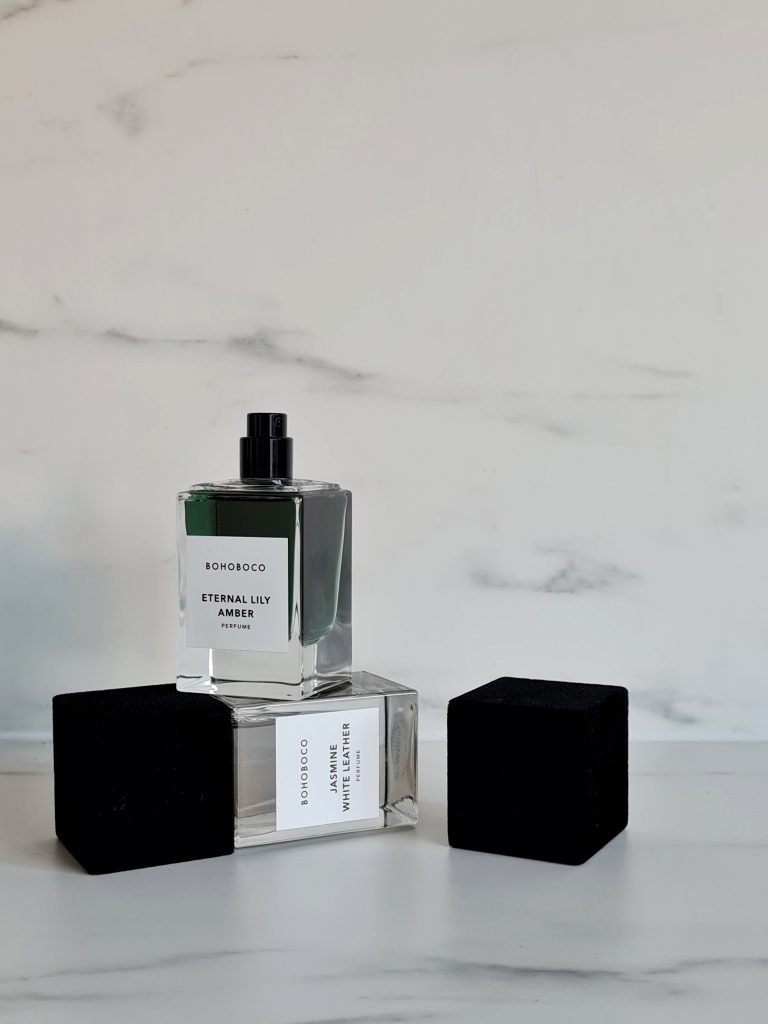 Jasmine & White Leather – This fragrance opens up with notes of Bergamot, Clove, and Lemon leading to a floral bouquet of Lavender, Jasmine, Violet, White Flowers, and Rose, and a strengthening base of White Leather, grounding strong Cedar, enveloping Musk, Patchouli, warm Ambergris, Vanilla, and powdery intoxicating Tonka Bean. This is not your regular white floral fragrance. It is a powerhouse and has a bold touch to it.
Eternal Lily & Amber – It opens up with a nice blend of mandarin and a crisp green apple with a floral bouquet in the heart with lily, jasmine, and rose. In the dry down, there is patchouli, amber, and vanilla. It is not a very sweet fragrance and has an earthy, green touch to it.
These are very concentrated fragrances and if you spritz some on your hand, you could see the fragrance oil being deposited on the area you spritz the fragrance. Both Jasmine ● White Leather and Eternal Lily ● Amber have a middle-eastern touch to them and they're so captivating and intoxicating to the senses. The projection and lasting power are INSANE!! These fragrances turn heads and pull generous compliments. You can wear these for special events, Black Tie events, Date nights, parties, and anywhere and everywhere except settings like hospitals and schools etc. These are great for autumn and winter. These are very special fragrances and have quickly become two of my faves from this house.
Until next time, Ashh xo
*This article features press samples. All opinions are my own and unbiased.