Choosing cosmetics and beauty products which do not contain animal ingredients and are not tested on animals is an important part of an ethical, cruelty-free lifestyle. Many Celebrities including J.Lo, Ariana Grande and Miley Cyrus have chosen Vegan lifestyle and Veganism doesn't end with food. Beauty industry is getting on the action too.
Glossybox has a well thought and curated limited edition box of 10 Vegan and cruelty-free Beauty products from remarkable brands to make a difference! Everything inside this box is vegan that means all items do not contain any animal products, animal by-products, or animal derivatives.
The combined worth of this box is more than £80 and its filled with 7 full size and 3 deluxe mini products from skin care to makeup and an eco-friendly tool which makes the box super interesting.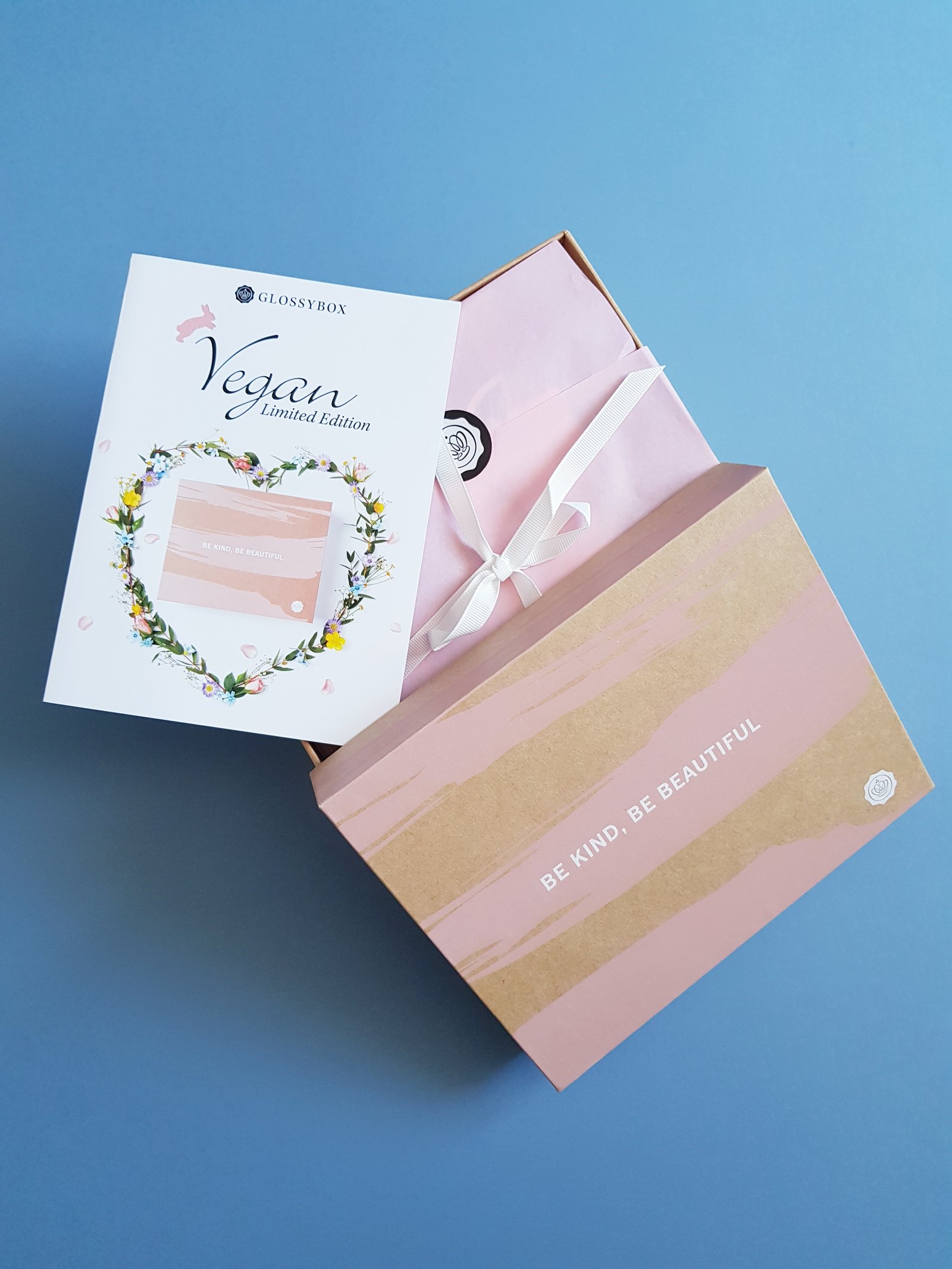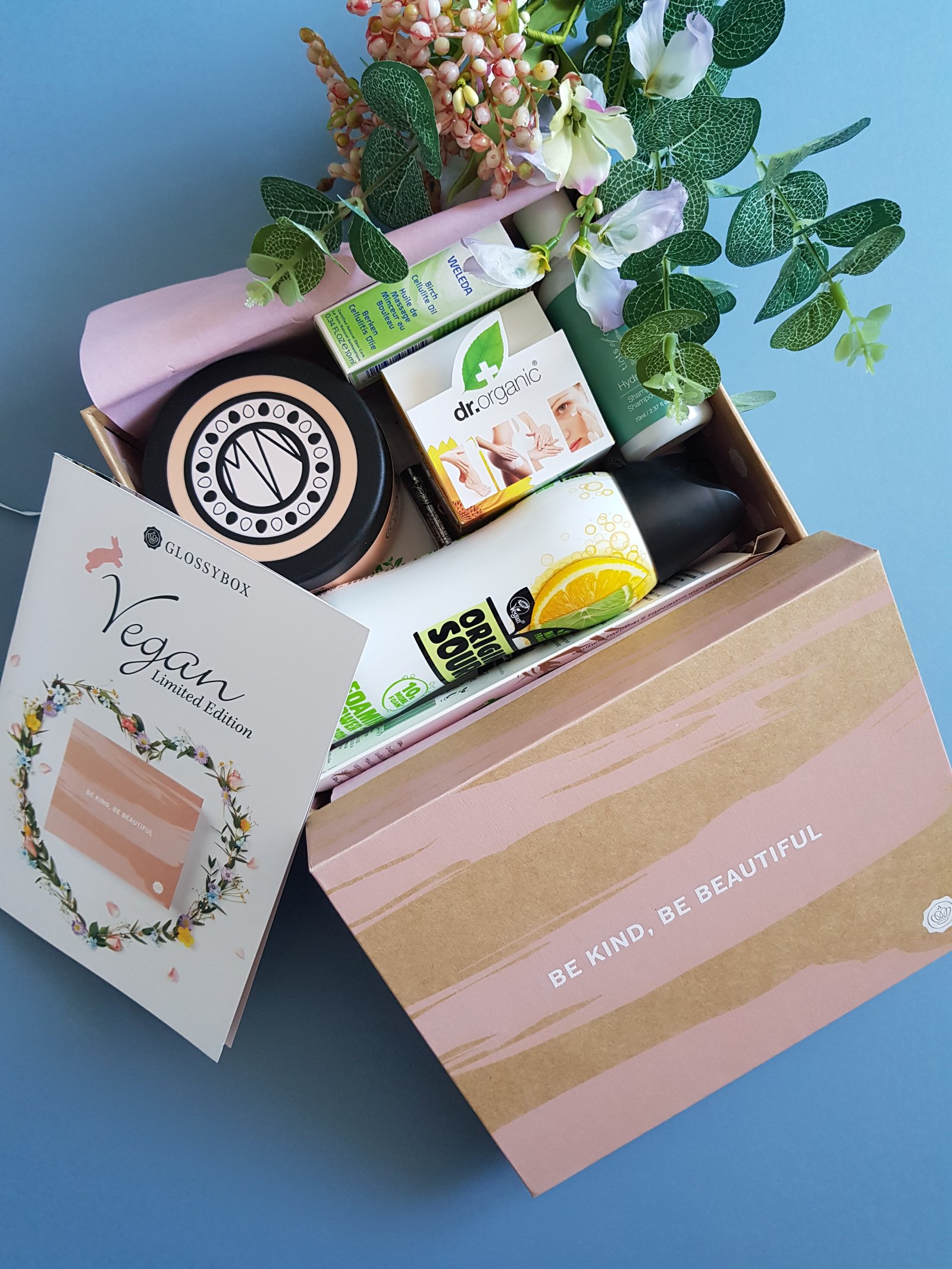 For those who do not know, Glossybox is a monthly subscription service with which you get 5 or 6 different beauty products nicely wrapped in a beautiful box at your doorstep each month. The Limited Special Edition boxes are however sold at a special price (this one at £30 as a one-off box and only £25 for Glossy subscribers) but again at a much value price considering the products the box includes!
Vegan Limited Edition box includes:
Kat Von D Liner | £6.18 (Deluxe mini) , Full Size £17
This award winning liquid eye liner is used by Kat Von D herself to create her go-to signature look. The formula is very pigmented, dries instantly, stays on for up to 24 hours and is waterproof and transfer-resistant so you can expect peace of mind with this beauty! The brush tip unlike felt tip liners make application smooth and easy.
Pure Chimp Matcha Tea | £4.95 (20 gms for 20 servings) – Full size
Who doesn't love a cup of tea specially if it is 100% natural and healthy! These specially grown matcha tea leaves are carefully grounded to make sure you can consume all the natural goodness. The tea is filled with antioxidants that will boost your metabolism and improve your concentration.
Noughty Haircare Noughty to the rescue Anti-Frizz serum | £8.99 for 75ml
This natural, sulphate & paraben-free anti-frizz serum will come charging to the rescue to smooth and hydrate. The serum is packed with argan oil, sweet almond oil and is free from all the nasties. The serum is great for taming unruly hair and the deeply nourishing formula also help to repair dry locks and protect them when heat styling (upto 220 degrees).
So Eco Eye shading brush | £5
Who doesn't like a silky soft makeup brush that's eco-friendly and ethically sourced! This brush is developed to apply both liquid eye liner and powder eyeshadows. It is made from sustainable bamboo, recycled aluminium and cruelty-free bristles. The coloured tip highlights the amount of product on the brush.
Tropic skincare Lip Fudge Plumping Lip Conditioner | £12 (10 ml) – Full size
You'll get serious tropical vibes with this all natural lip conditioner. This velvety, mint and vanilla scented balm is bursting with nutritious and exotic ingredients including 26 lip-loving plant extracts. The mango wax and vitamins help to plump, smooth fine lines, repair and protect plus a glossy rose tint makes it a handbag essential.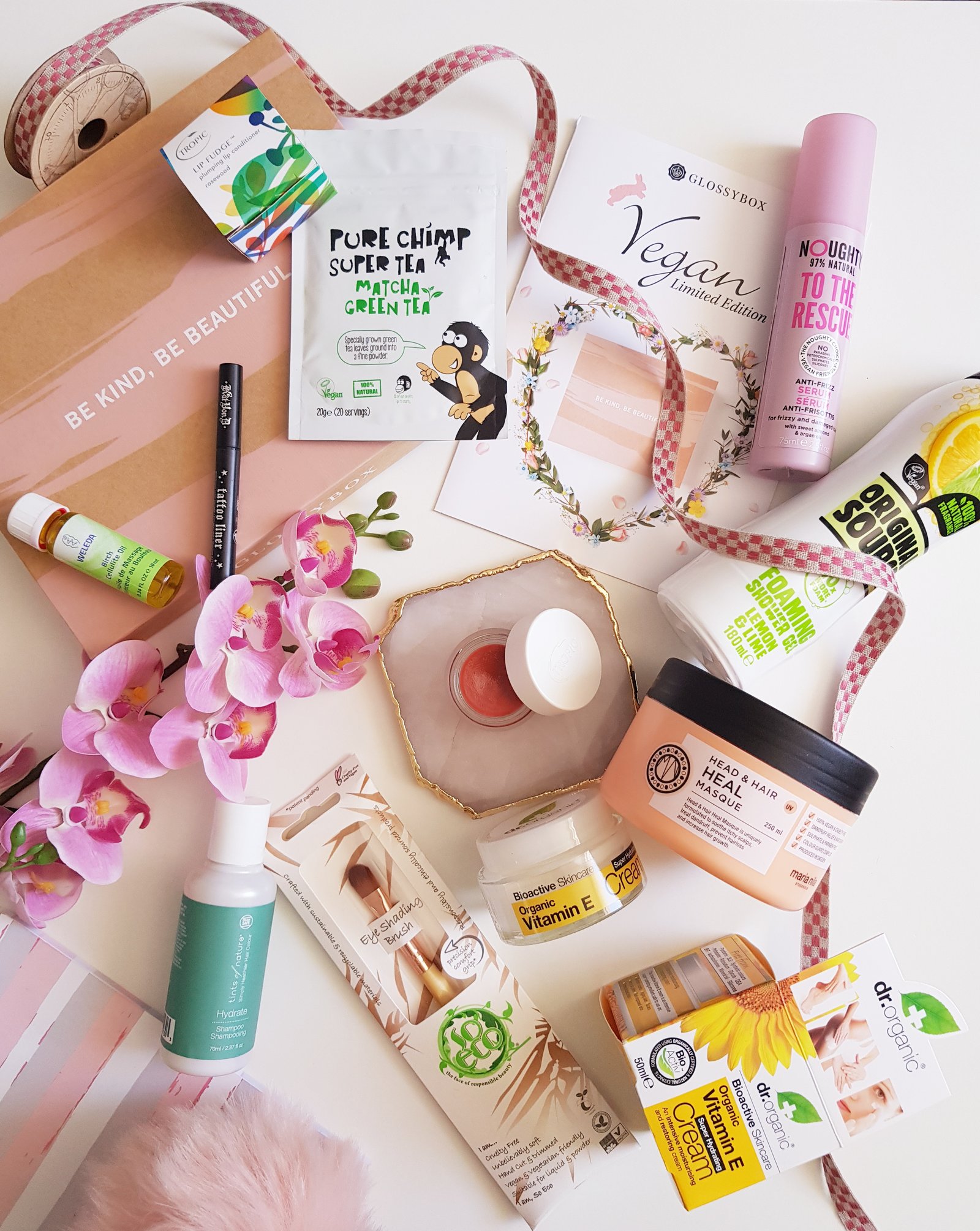 Maria Nila Head & Hair Heal Masque | £26.99 (250 ml) – Full size
I was introduced to this Swedish brand for the first time by Glossy Box and trust me I got addicted and got a good selection of their products for day to day use. These are so gentle and effective plus being Sulphate & paraben-free gives a big tick in my books. I just want Glossybox to keep on bringing Maria Nila in their boxes as they are exceptionally great products. This multi-functional hair mask promotes a healthy scalp and stronger, healthier and shinier hair. It will also put an end to unhappy hair by preventing both dandruff and itchy scalp while stimulating growth. The masque also has colour guard complex meaning your hair colour will stay fresh for longer time.
Dr. Organic Vitamin E Super Hydrating Cream | £8.49 (50 ml) – Full size
This organic moisturiser is packed with vitamin E, Aloe Vera, shea butter, cocoa butter, sweet almond oil and antioxidants. This multitasking moisturiser is great for stretch marks, scars and mature skin and is perfect for using on Face & body. This rich and quickly absorbing moisturiser will leave your skin instantly hydrated, silky smooth and radiant plus it is free from any nasties!
Tints of Nature Hydrate Shampoo | £3.99 (70 ml) – Deluxe Mini , £6.99 for 250 ml
This ultra gentle shampoo utilises aloe vera and natural extracts to cleanse and moisturise hair and is made using only the best natural and organic ingredients. It is free from any damaging salts, sulphates, is pH balanced and will leave your hair feeling silky soft. Plus, the 100% natural, sweet berry fragrance will leave your hair smelling delicious.
Weleda Birch Cellulite Oil | £2.95 (10 ml) – Deluxe mini, £25.95 for 100 ml
If cellulite is troubling you, keep your body and mind at peace with this zesty, natural treatment that's formulated to firm, smooth and tone your skin. It's made from organic birch leaf extract, plus the nourishing pant oils of apricot, wheat germ and jojoba. It is recommended to use this oil twice a day for 4 weeks to tackle cellulite and then daily thereafter to maintain the effects.
Organic Source Lemon & Lime Foaming Shower Gel | £3 for 180 ml
I just ran out of my last foaming gel – the IL Unicorn one that came in one of the recent glossy boxes so I'm glad to receive another one this month to replace that. This zingy lemon and lime gel turns into an incredible foam as soon as it leaves the bottle. The consistency is so good that it can double as shaving gel too (#Bonus)! Plus 1 bottle lasts upto 35 washes so get ready for an intense shower packed with 100% natural fragrances and essential oils.
You can join over 1 million Glossies and subscribe for Glossybox here and plus there's £5 off Vegan Limited Edition Box with code BOTH5. Plus, everyone who buys a Limited Edition Box is entered into a prize draw to win a 1 of 100 Spectrum Glam Clam Brush Sets worth £59.99!
Until next time
Ash xo
Instagram | Bloglovin' | Twitter
*This post features PR samples. Opinions are my own & unbiased.