Just like we change our wardrobe and choose warmer clothes for autumn and winter, it is appropriate and important to change your skincare routine as per weather. My skin changes from combination to Dry in colder weather and all I think is just using hydrating and nourishing products throughout this season. Though I keep testing new products every now and then, but I come back to the ones that are more hydrating at this time of the year.
Cleanser
For cleansers, I'm not using any foaming or gel ones at the moment. I want something more nourishing like oils, balms or creamy cleansers. Two of my current favourites are – Jane Scrivner Nourishing Cleanser and Samaya Ayurvedic Vata cleanser.
Samaya Ayurvedic Vata Cleanser (also featured here) is an award winning, all-natural luxury skincare brand that have products according to Doshas (energies that govern every individual) based on Ayurvedic Principles. This cleanser is all about achieving perfect balance and has a unique formulation providing hydration while cleansing and purifying skin. The cleanser is developed with powerful Ayurvedic Botanicals such as Rose, Turmeric, Tulsi, Gotu Kola and Ashwagandha. The cleanser has a milky lotion kind of consistency and it melts into the skin, helping to remove makeup and lift impurities leaving skin feeling balanced, purified, softer and more radiant. Skin feels and looks plump and healthy after each use. I bet you will be addicted to this cleanser once you try it. Its so lush!
JS Nourishing Cleanser is an award winning balm cleanser that melts makeup, dissolves dirt and purges pores. It deep cleanses the skin without stripping it. The cleanser is suitable for all skin types and is a combination of balancing, elastin and collagen promoting Organic Jojoba Oil, with beeswax and 9 'skin loving' essential oils. The cleanser also comes with a towel mitt that really helps in removing makeup and dirt and exfoliating gently.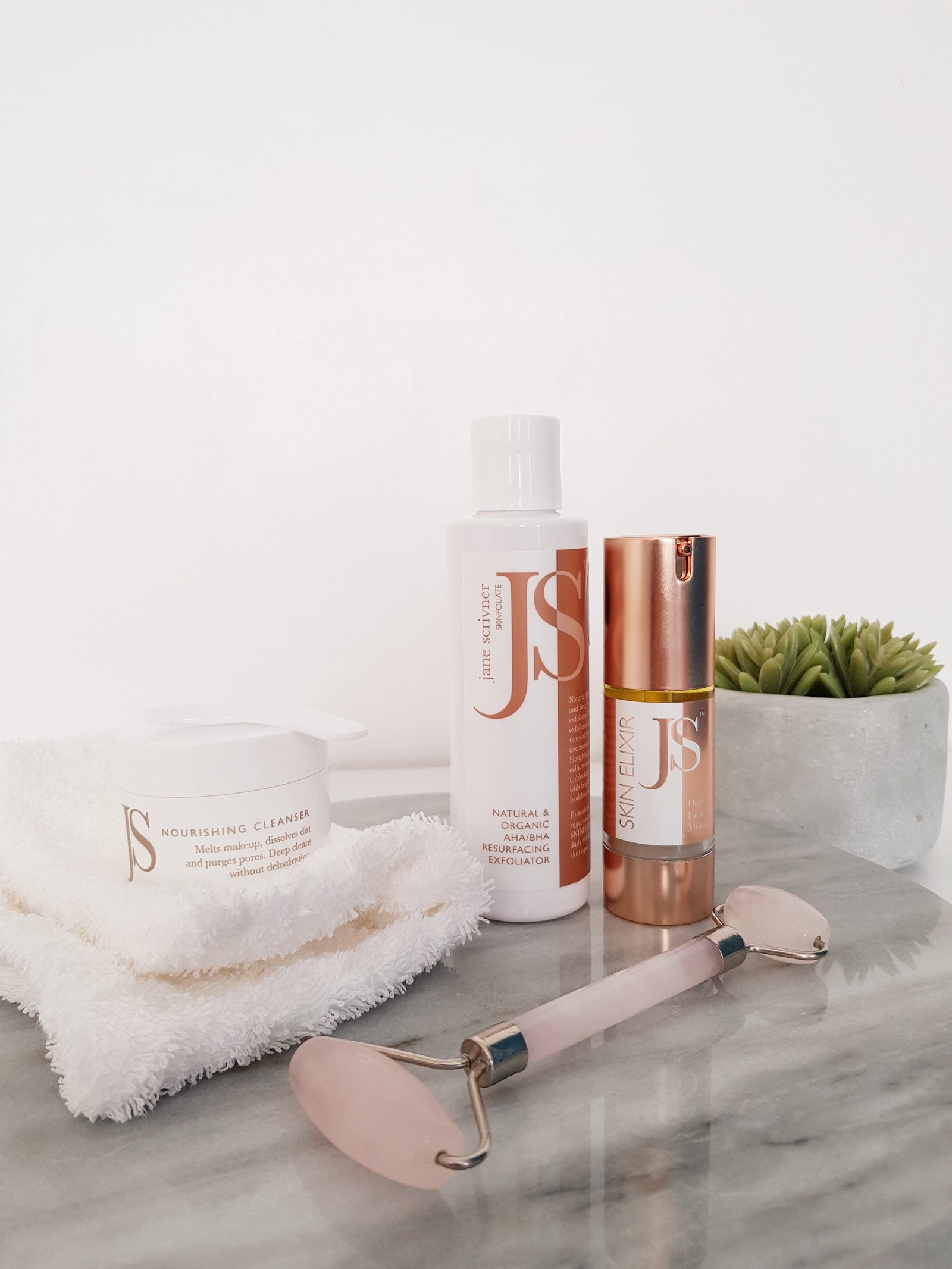 Exfoliator
Though my skin is more on the dry side right now, my t-zone can still get congested specially my nose. It is so important for me to exfoliate my nose and forehead atleast twice a week. I prefer chemical toners over grainy scrubs. I'm currently using JS Skinfoliate which is a Natural & Organic AHA/BHA resurfacing exfoliator – A multi-level, natural blend of AHA's & BHA's from pineapple, burdock, bilberry, orange, lemon, sugar maple, witchazel, white willow and raw organic apple cider vinegar. Alpha Hydroxy Acids (AHA's) dissolve the 'glue' holding dead skin cells to the surface of our skin and stimulate collagen and cell turnover whilst the Beta Hydroxy Acids (BHA's) dig deeper and exfoliate the pores, especially oily pores and acne prone skins. Skin looks clear, brighter and healthier with every use. The toner does not smell nice to be honest but it is made of natural ingredients and provides impressive results.
For rest of my face I prefer diluted AHA/BHA exfoliator so it is more gentle than on my t-zone.
Mask – I usually go for masks once or twice a week depending upon my skin. Hydrating/replenishing masks are the ones I reach for most of the time. I am currently enjoying Skinceuticals Phyto Corrective Masque on days my skin is a bit stressed. This is an intensive calming botanical mask that rehydrates and soothes temporarily reactive skin. The mask is formulated to soothe and replenish skin's discomfort & sensitivity. It can be used daily post workout or sun exposure or seasonally (post travel, winter adventure activities like skiing, post Laser treatment). This is a skin's saviour on bad skin days..its great after any allergic reaction as it cools down the skin. The only problem is that it doesn't smell very good as you expect from green botanical products but anything for good skin in my opinion!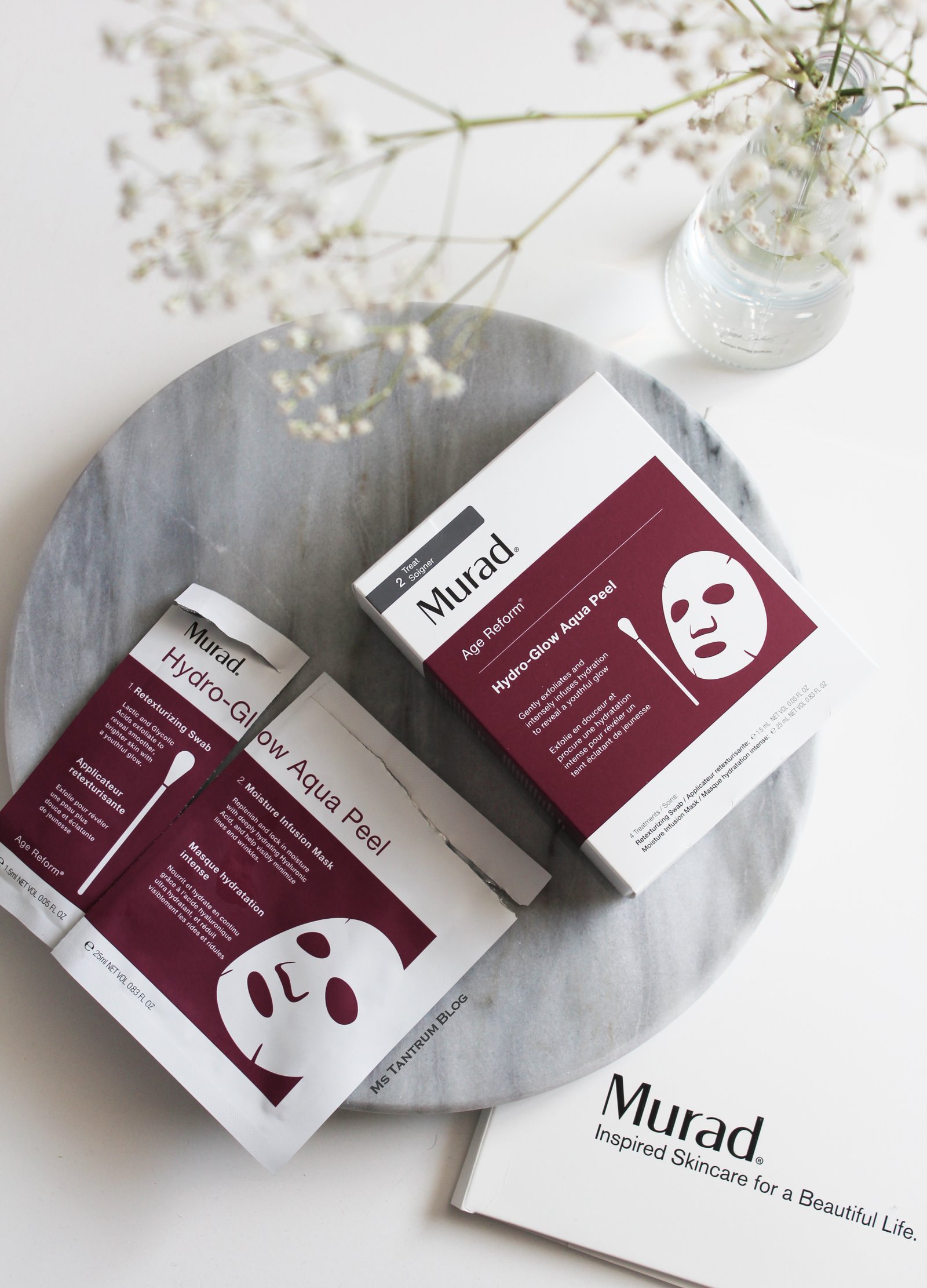 Murad Hydro Glow Aqua Peel is my another favourite for quick exfoliation & hydration in one. The mask comes in 2 parts – a retexturizing swab covered in Lactic & Glycolic Acid which helps in removing all dead skin revealing radiant skin while Moisture Infusion Mask soaked in Hyaluronic Acid provides all the hydration to the skin. Skin looks brighter, smoother and wrinkles are visibly minimized. All you have is well exfoliated and hydrated skin just in few minutes. Its great for home facial or for travelling.
Mist/Essence
Whether I use exfoliating toner and masks or not, I make sure to use a hydrating mist or sometimes essence  before I put any treatment or actives on my skin. I am loving Jurlique Rosewater Balancing Mist which is a refreshing mist to hydrate and soften the skin. This mist rebalances and rejuvenates the skin in one fresh friendly sensation that soothes and smooths. This mist contains aloe vera and rose, renowned for their healthy healing properties, combined with Glycerin and Marshmallow that provide a refreshing boost to the skins natural hydration system.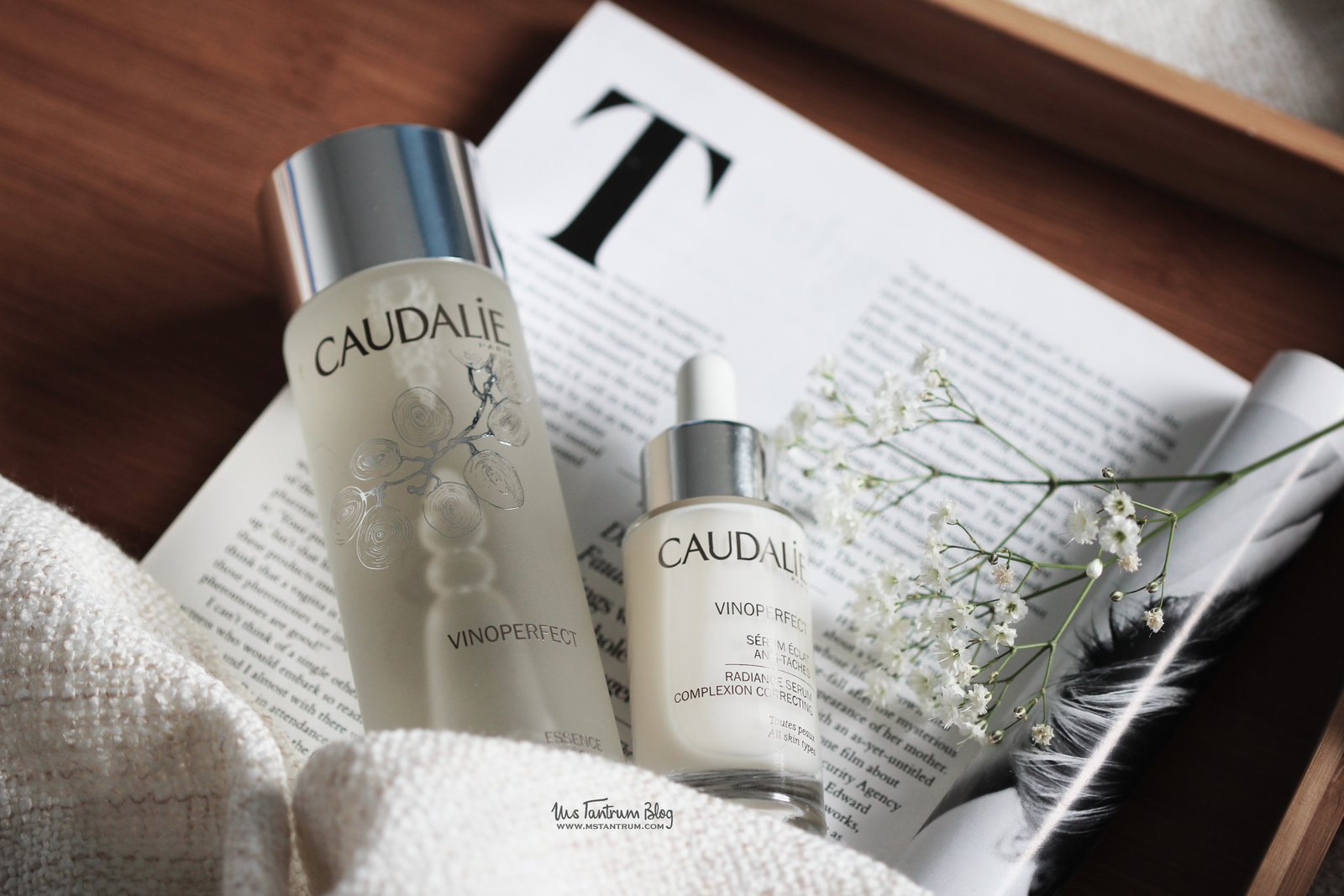 I also enjoy Caudalie Concentrated Brightening essence which is a lightweight, refined formula and is both gentle and effective, leaving skin feeling smoothed, plumped and illuminated. Glycolic Acid works to eliminate dead skin cells, whilst extracts from White Peony revitalises the skin to reveal a more even, healthy-glow. The essence is enriched with Caudalie's signature grape water that contains hydrating, soothing and moisturising properties for a beautifully flawless complexion. The fluid formula penetrates the skin almost instantaniously so I do not have to wait longer to apply my treatment products like serums.
Serums
I currently have 2 serums on rotation – Drunk Elephant B Hydra Serum & Murad Revitalixir Recovery Serum which are both new in my routine but my skin is loving these.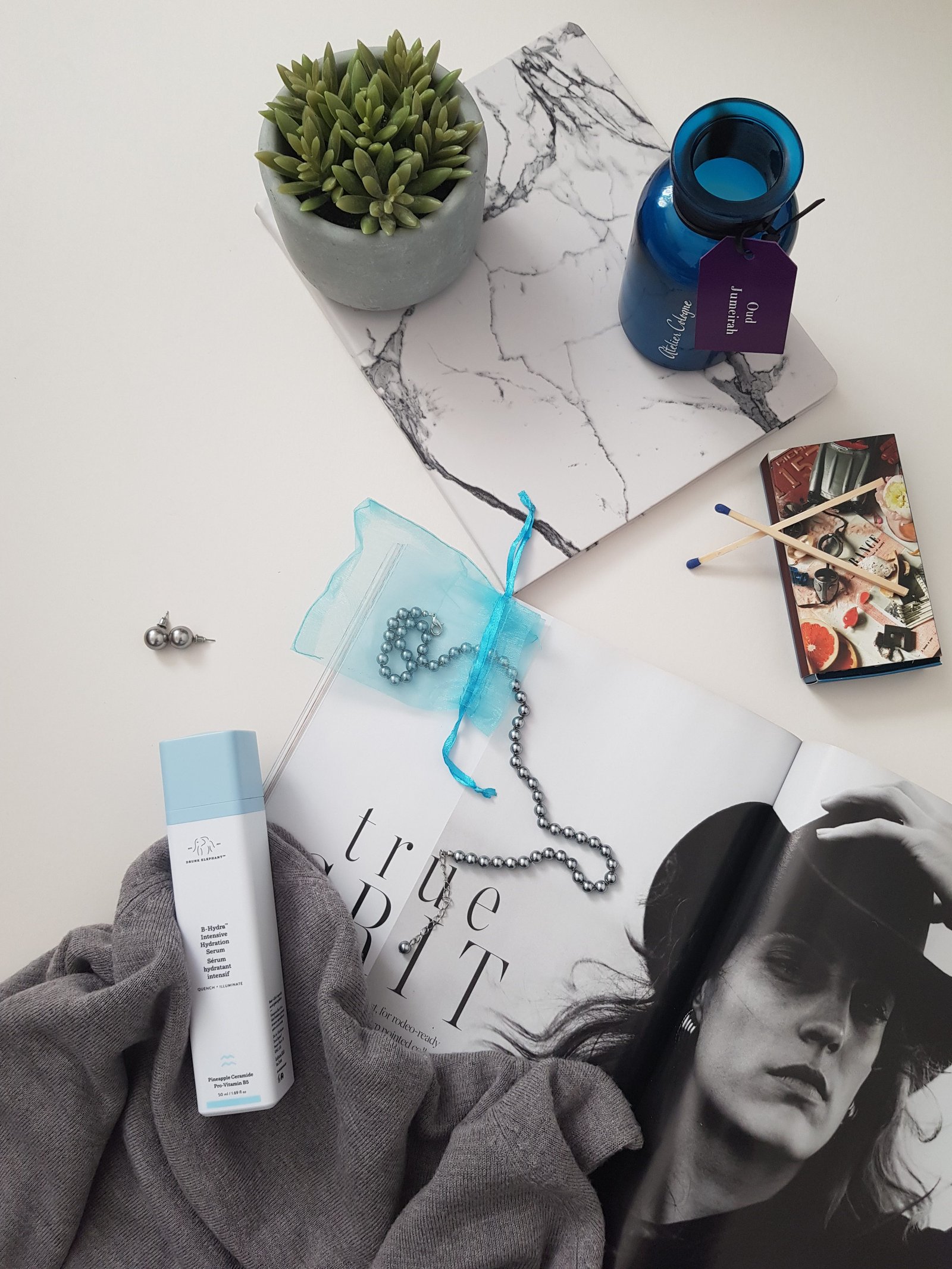 Drunk Elephant B Hydra Serum is a punch of hydration for my generally dehydrated skin. This brings dull and dry skin back to life – an ideal skincare remedy for thirsty complexions. This velvety textured gel serum gets absorbed into the skin instantaneously without altering skin's delicate pH balance. The serum has Vitamin B5 that makes the skin look brighter, smoother and moisturises it deeply. I absolutely LOVE the dispenser and DE boxy packaging too. I will share more about this serum in a separate post soon.
Murad Revitalixir™ Recovery Serum is a face and eye serum that visibly reduces stress-induced dullness, dehydration, wrinkles, under-eye dark circles and puffiness. This sphere-infused serum smooths stress lines, reduces under-eye puffiness and dark circles, and renews vibrancy immediately and over time. A skin-relaxing blend of neuropeptide, paracress and cannabis sativa seed oil helps smooth while boosting softness and moisture. Niacinamide refines texture as wild indigo helps calm stress signals and visibly reduces under-eye dark circles. Caffeine re-invigorates tone while minimizing under-eye puffiness. This serum is suitable for all skin types and boosts radiance in the skin. Skin looks more youthful with each use.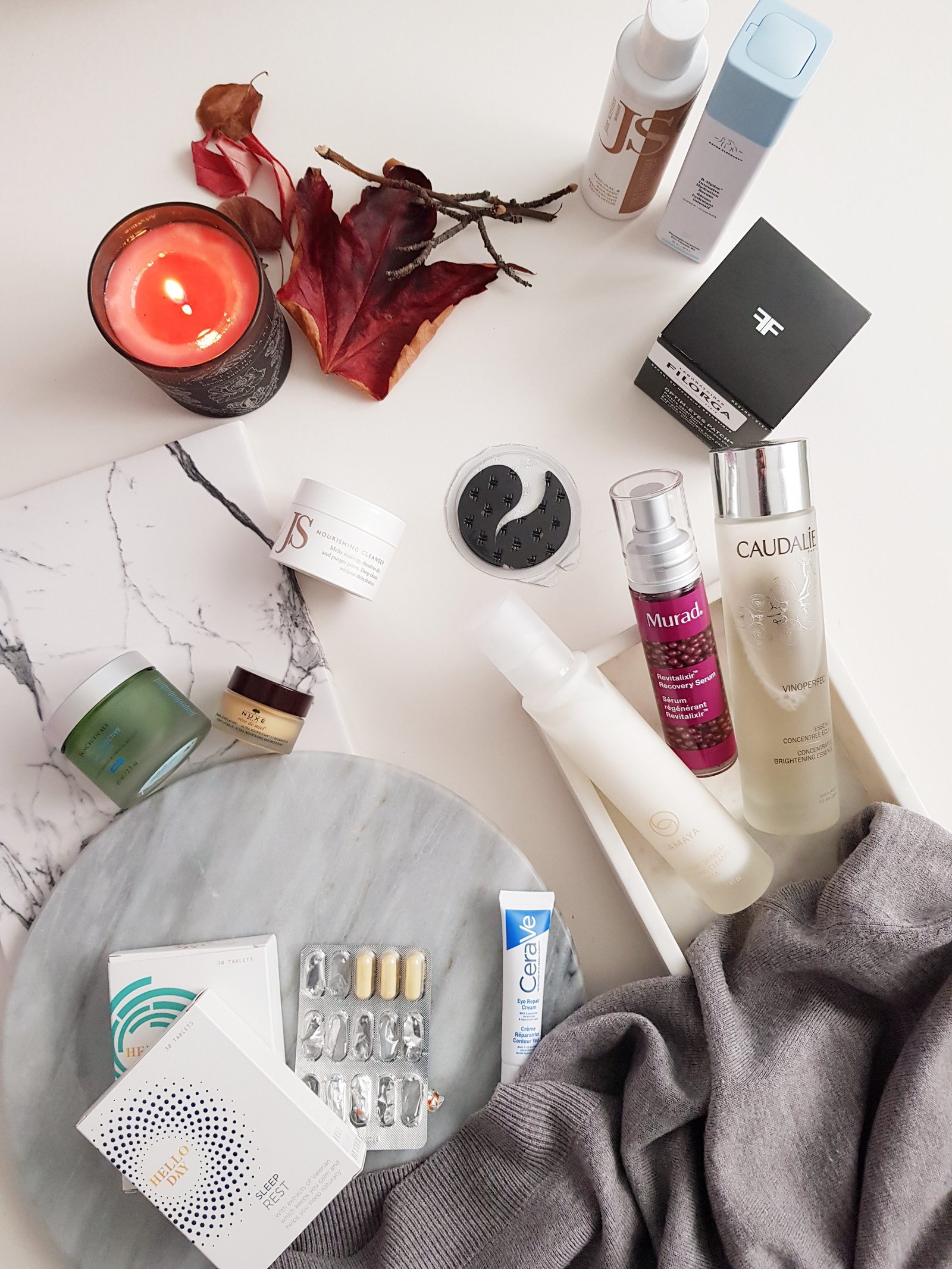 Moisturisers/Face Oils
Depending upon how my skin is feeling, I switch between Moisturisers and face oils or sometimes I choose both. When I want my moisturiser to be as rich as an oil, I choose Jane Scrivner Skin Elixir which is delicate daily face oil/serum consistency moisturiser that is hydrating, soothing, anti-inflammatory and incredibly absorbent.
This moisturiser has Organic Jojoba Oil, blended with 9 skin loving essential oils that together balance dry skin, oily skin, dehydrated skin, in fact any kind of skin.
Some days I also like to use a facial roller like Omorovicza Rose Quartz Facial Roller that can be used from forehead to décolleté to build younger, firmer, stronger skin. It stimulates collagen production, reduces fine lines, increases lymphatic drainage, reduces pore size, soothes irritated sensitive skin, exercises facial muscles, improves blood flow, increases products to be received deeply into the skin and more.
Eye cream
I am currently using Cerave Eye Repair Cream and Murad Revitalixir Recovery Serum (shared above) on rotation. Cerave eye cream targets dark circles, puffiness around the delicate eye area and banishes signs of fatigue. The fast-absorbing and non-greasy formula melts quickly into skin, controlling the release of ingredients to help repair and restore skin's protective barrier. The eye cream visibly reduces the look of dark circles and puffiness to leave the eye contour looking brighter and smoother. This eye cream is suitable for all skin types, including sensitive.
I also like to use eye patches once a week to soothe my tired eyes (thanks to #mumlife & loads of screen time). I am currently using Filorga Optim-Eyes Patch which come in box of 8 pairs. It is a revitalising, triple-action treatment that works to combat dark circles, puffiness and wrinkles around the delicate eye area. The textured patches are powered by Witch Hazel and Cornflower that help to decongest and eliminate eye bags, whilst a polysaccharide-rich active ingredient stimulates the blood capillary network to restore youthful luminosity. A black carrageenan gel minimises the appearance of fine lines and wrinkles to reveal smoother, more refined eye contour. The patches can be used once or twice a week and are suitable for any skin type. These are also great for quick treatment before any special event.
Lip Balm
Nuxe reve de miel Honey Lip Balm (also featured here) has taken over my lip balms lately. As the weather has become colder, my lips tend to dry a lot and they need rich lip treatments that not only just protect but also repair them overnight. Nuxe's reformulated lip balm has a new and enriched formula to provide a pampering treat to dry and damaged lips. It has 25% more concentration of shea butter along with honey that delivers impressive results even in extreme cold conditions.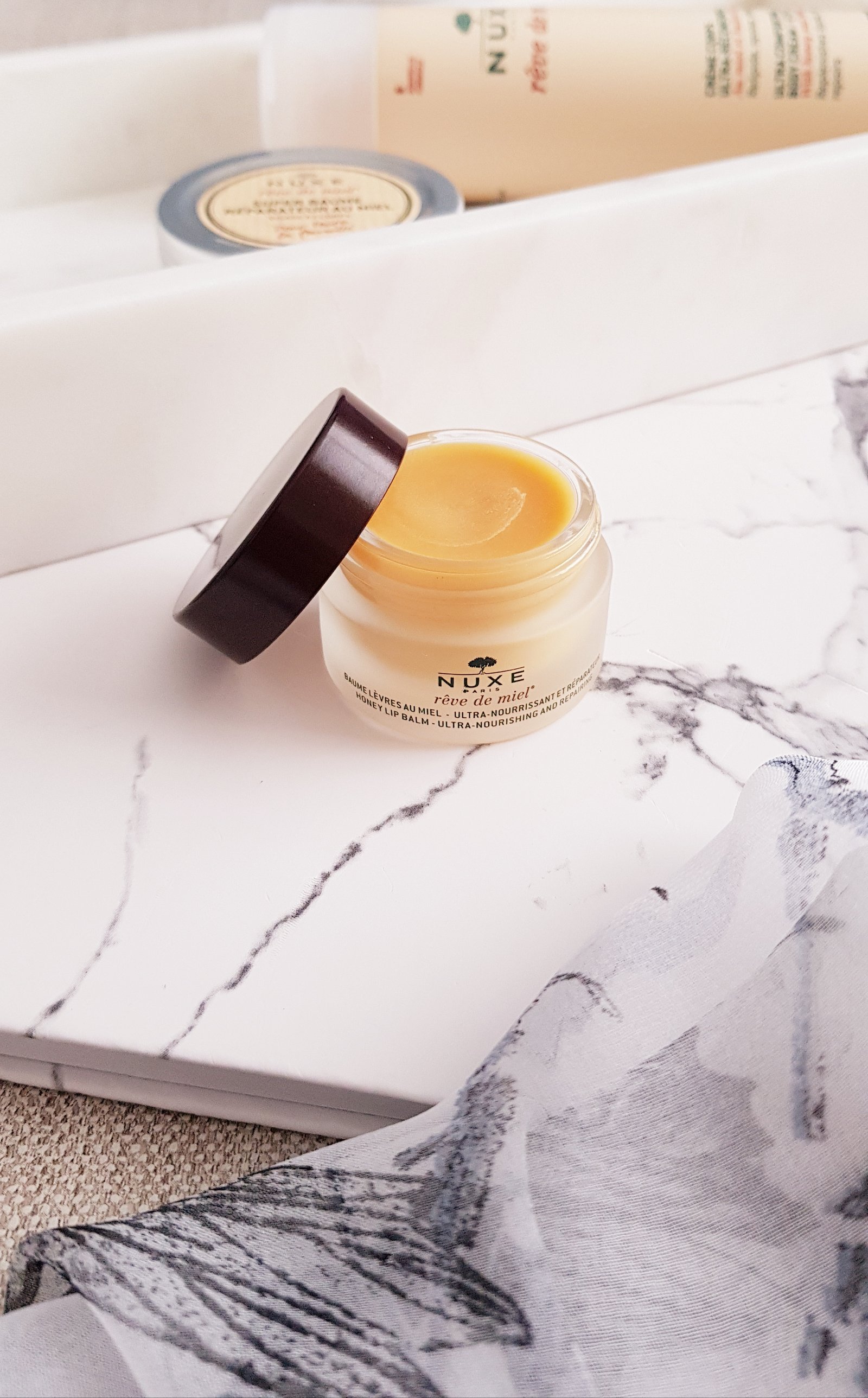 Supplements
I am a huge fan of supplements as we can't tell whether our diet is complete on day to day basis. There are some cheat days and there some days when other things take priority but supplements can really help in good body, skin and hair. If your skin is good from inside, it will look good outside. I have been taking Hello Day supplements which are made from natural ingredients. Currently I am taking Sleep Rest, Stress Relax and Vitality Balance on rotation. They have seasonal supplements too like Autumn Box has 4 different kinds. These supplements are not only great for immunity but also for good skin. They have great variety so you can choose as per your liking.
If you made it till the end, you're a star! Do you change your skincare routine with change in season? Let me know in the comments below.
Until next time
Ashh xo
Instagram | Facebook | Twitter
*Some products in this post were sent to me as PR samples. Opinions are my own and unbiased.