Fragrances have that ability to transport us to a lovely destination or to our favourite memories from the past and give us that momentary joy and positivity. The can easily calm our mind and is a great tool for self-care. In the past few years, I have tried many fragrances but there is nothing like Molecule 01. In 2006, perfumer Geza Schoen brought a huge change to the perfume world with his introduction of Escentric 01 and Molecule 01. The most minimal fragrance is a single aroma-molecule: Molecule 01 – A love song to minimalism. The next most minimal adds 1 to 01: 01 + 1. This is Molecule+.
Escentric Molecules is releasing three more fragrances on 23rd March which is quite odd for the brand as they usually release fragrances in pairs. This time Geza Schoen has added a twist to his bestselling creation Molecule 01 (synthetic molecule) with the addition of another natural ingredient (Mandarin, which is more like a top note, Iris – a heart note; and Patchouli – a base note). I got a chance to attend the launch event with perfumer Geza Schoen from Berlin to learn all about his new babies.
"Molecule+ is Molecule 01 + 1 singular olfactoric element. If that element had been another aroma-chemical, this would not have worked. Each of the pairings has to be a natural. Only naturals have the complexity and radiance to work in a dance of two like this, while maintaining the simplicity of the concept." – Geza Schoen, perfumer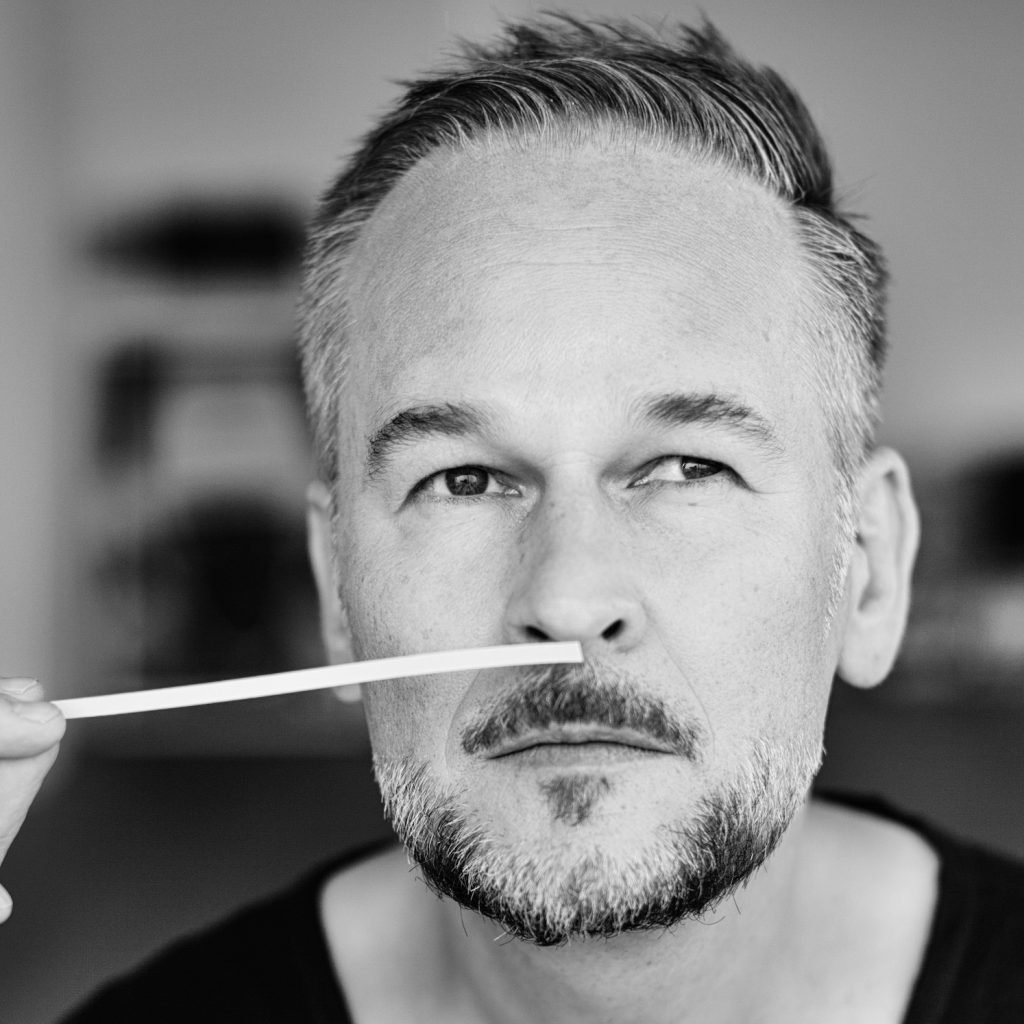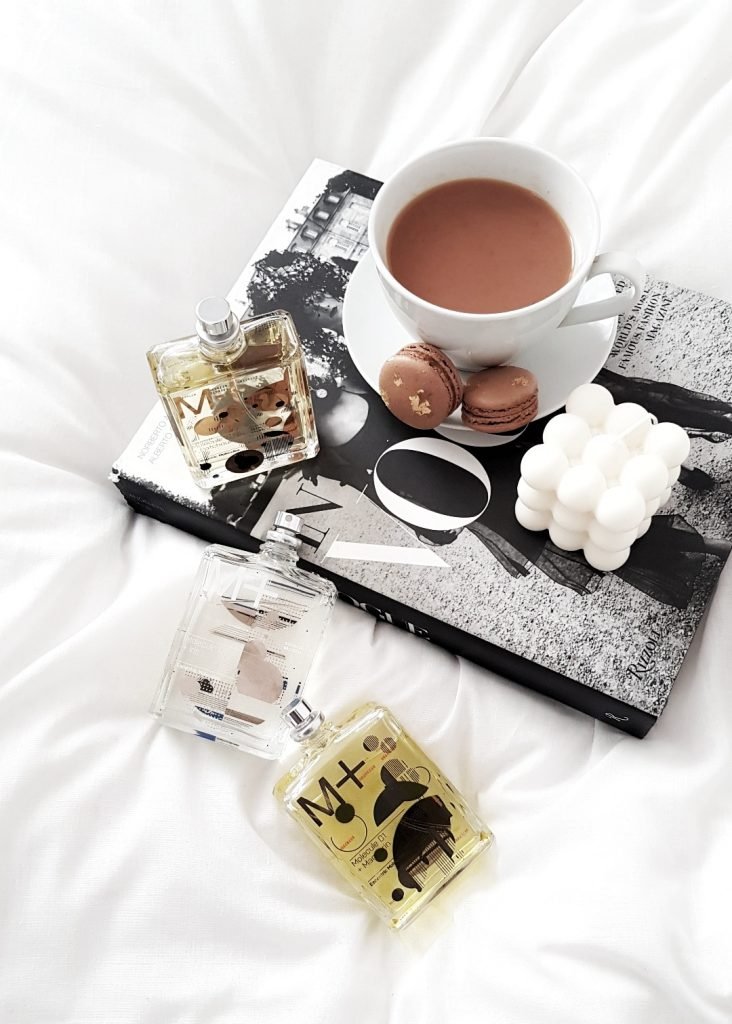 Escentric M+ is the idea to use its strengths (iso e super ) with just one other ingredient complex. It is an homage to iso e super and its multifaceted capacities.- Geza Schoen
Molecule 01 + Iris EDP £95 for 100ml
Let's first talk about Molecule 01 + Iris as it all started with Iris and love was the reason behind this. Sophie (Geza's partner) always had a sweet spot for fragrances with iris in them. so she asked Geza to come up with a sheer iris fragrance for her. Geza didn't want to cover the subtle beauty of iris so he kept it simple based the iris note he created next to a huge quantity of iso e super. She started wearing it and was soon inundated with compliments. While looking at the formula which hasn't even 10 ingredients all together it became clear that this is how Escentric M+ 1 concept was born. Geza created this gorgeous composition for her and given it to everyone now :).
Iso E Super is an abstract synthetic molecule characterised as a cedarwood note with warm, velvety cocooning sensation. Iris is a natural ingredient extracted from the root of several varieties of iris. Iris smells so luxurious. This fragrance is a naked dance of Iso E Super & Iris Pallida Absolue from Italy (the most expensive ingredients in perfumery). Iris adds a creamy powderiness and brings a physical dimension to the fragrance. This is a very elegant, chic and easy to wear fragrance.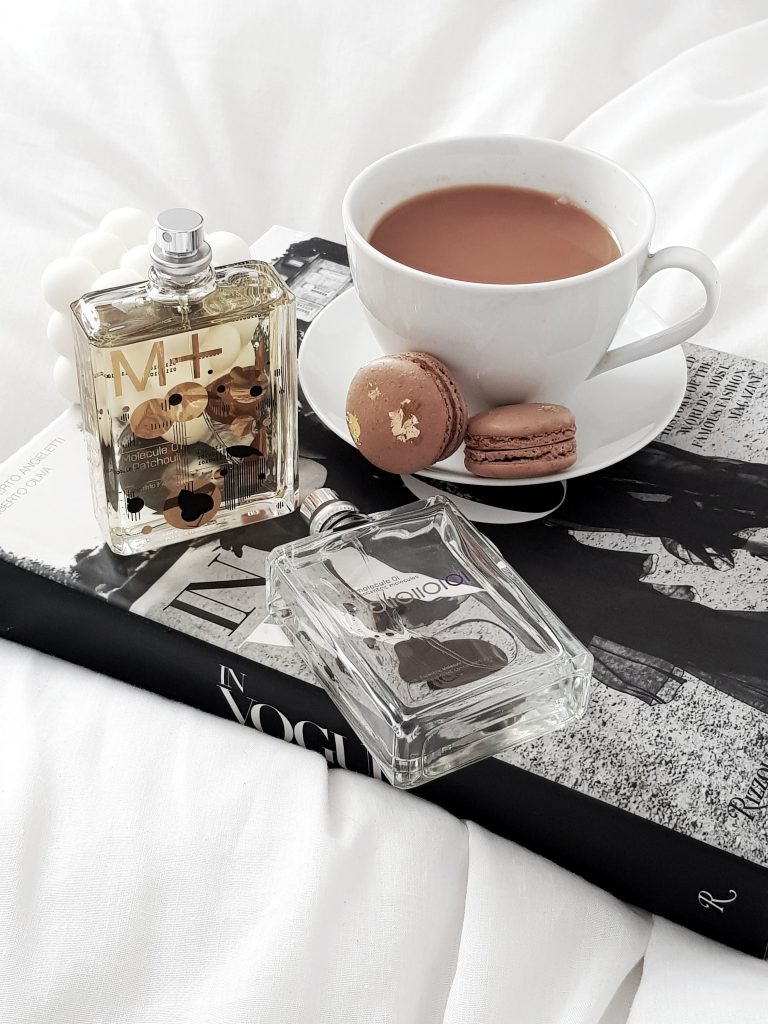 Molecule 01 + Patchouli EDP £95 for 100ml
Patchouli is often associated with a period of sixties and seventies but Geza has presented it in a very modern way.
Again, Iso E Super is an abstract synthetic molecule characterised as a cedarwood note with warm, velvety cocooning sensation. Patchouli is a natural extracted from the leaves of patchouli plant. Geza used two qualities of Patchouli – 5% of Patchouli Coeur which is a very clean, soft patchouli oil fraction with the comphor-like top note removed. He has also included 2% patchouli oil from Indonesia to round it out with a little bit of top note.
This is a very soft, clean patchouli scent with a faint sweetness to it. The dirty notes have been smoothed/mellowed down but it still retains its earthy-woody character. Iso E super carries patchouli on a fluffy cloud making it modern. This one projects like crazy but it is still subtle and not overpowering. The fragrance doesn't compromise on its minimalist character. It feels cool and airy. This is the most sensual of all!
Escentric Molecules M+ Mandarin EDP £95 for 100ml
Iso E Super is an abstract synthetic molecule characterised as a cedarwood note with warm, velvety cocooning sensation. Mandarin is a natural ingredient extracted from mandarin orange.
"Mandarin is all about the instant hit. It's so alive, the way it radiates off the skin with that citrus zestiness. But there's more to mandarin, it's very fruity and aromatic as well. It's a beautiful ingredient. Its transparency means that it vanishes quickly. I've touched it up with a little extra shading to extend it, adding a mandarin ingredient used in flavourings to give it super-juiciness. Then as it begins to fade, Molecule 01 syncs in, bringing a warm, erogenous feeling to play with that zinging freshness. That's unusual – for a top note ingredient like Mandarin and a base note like Iso E Super to dance together naked like this, without other notes coming between them. And then the mandarin is almost gone and you are left with the elevated simplicity of Molecule 01. That's what I love about Molecule 01 + Mandarin – it may be a dance of two but the story changes completely from beginning to middle to end." Geza Schoen
Mandarin is usually a top note in the fragrances and that's because it is so transparent that it vanishes quickly. Geza used Mandarin Complex – the longest formula with about 20 ingredients to increase the longevity and zestiness of this fragrance. This fragrance gives the aroma of 'stick your finger into mandarin and start peeling it'. This fragrance transports me to tropical holidays.
The Molecule M+ Collection is available from 23rd March and can be pre-ordered from Escentric Molecules website.
The three M+ fragrances, M+ Iris, M+ Mandarin and M+ Patchouli, launch on 23rd March 2021 and RRP at £95 (100ml EDT). Stockists include www.harveynichols.com, www.libertylondon.com and www.escentric.com.
Until next time, Ashh xo
*This post features press samples without any obligation to post. Opinions are my own and unbiased.