SUQQU – The premium Japanese Beauty brand is introducing its 'Sunflower Wonder' color range for pre-summer 2023. The collection is inspired by the appearance and emotions evoked by sunflowers. Against the summer sky, strong sunflowers blossom with pride. They stare straight up at the sun, unwavering and full of enthusiasm. Nevertheless, when the seeds mature, the sunflowers bend, providing a distinct, darker image. The pre-summer color collection has earthy, natural tones that complement the warmth of the skin.
SUQQU SIGNATURE COLOR EYES – A sophisticated look for early summer is created by combining vibrant rich hues with darker tints to define your eyes.
SIGNATURE COLOR EYES 123 SHOUJITSUKI– A warm color palette inspired by sunflower petals. A beautiful combination of yellow gold with a darker tone to get a full, balanced makeup look.
SIGNATURE COLOR EYES 124 NICHIRINHA – A unique palette of smoky, sage green tones, inspired by sunflower leaves to create a trendy and stylish look for the early summer breeze.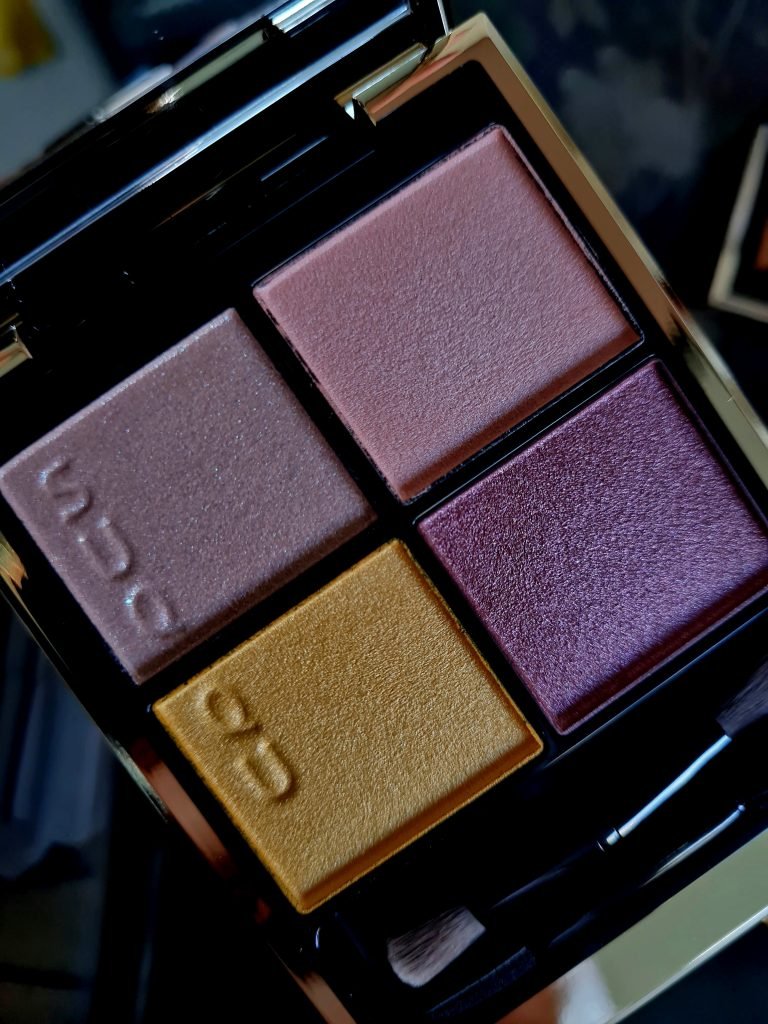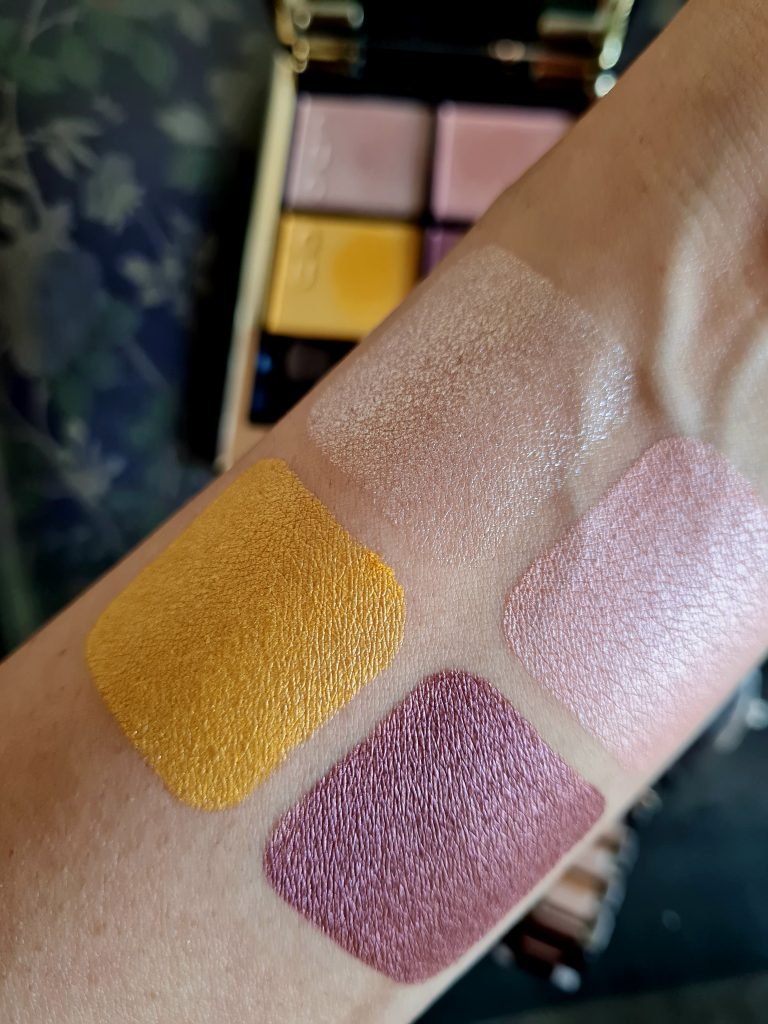 I received the Signature color eyes palette 123 which has vibrant yellow (the star of the collection) with warm pink and purple tones to complement the color story. The vibrant rich yellow color represents the sunflower's petals. The texture of the eyeshadows is more on the satin side with intense pigmentation. All the eyeshadows are silky to the touch and there wasn't any fallout while using them, thanks to the beautiful formulation! The other palette from this collection has sage green and light olive tones that represent sunflower leaves and stems. Both subtle and deeper tones from this palette allow you to create a limitless variety of sophisticated looks.
SUQQU TONE TOUCH EYES – Tone Touch Eyes eyeshadows now come in a brand new cream variation from the single-color eye shadow collection. A smooth creamy texture that sits comfortably on the eyelid. Using trendy hues on your eyes, build and blend as desired. The rich colors adorn the eyes and blend wonderfully with the skin to provide a subtle glow.
TONE TOUCH EYES 112 YOUKASSHOKU – When used as a single color, the yellowish ocher brown produces a natural look, but when used as a base, it creates a more nuanced effect.
TONE TOUCH EYES 113 KAGESAKI – The trendy dark brown may be worn as a primary or base tone shade, giving the eyes an exquisite appearance and a translucent glow.
I received the shade 112 which is a gorgeous warm brown shade and is perfect for my skin tone not only as an eyeshadow but also doubles up as a cream bronzer/contour. Imagine carrying that little eyeshadow for your travels and using it on both eyes and face – It's a keeper!
SUQQU PURE COLOR BLUSH – The diverse textures of pearl-rich blush and matte highlighter add depth and definition to enhance the cheeks. The pearl-rich blush and matte highlighter have diverse textures that provide depth and definition to enhance the cheeks.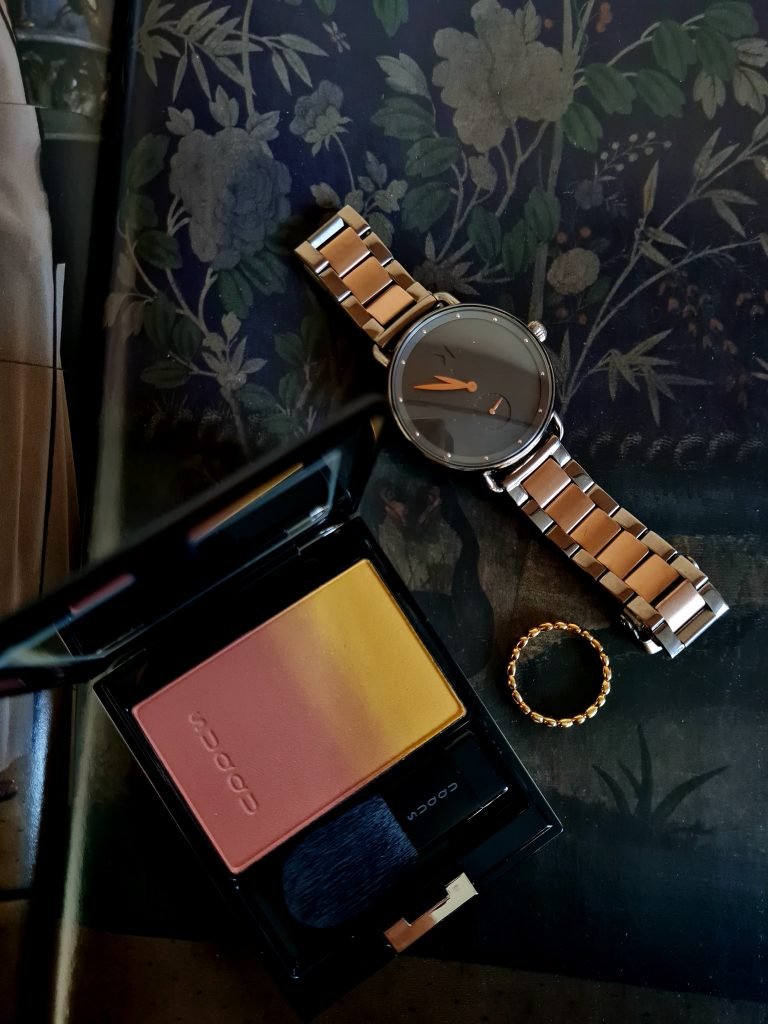 PURE COLOR BLUSH 138 HYUUGAAOI – Shimmering red brightens any skin tone whilst yellow matte highlighter adds an edgy finish to the cheeks.
PURE COLOR BLUSH 139 KAFUU – Chic brown with a mauve highlighter creates a cool and striking look. The natural colours match well with the vibrant rich tones.
I received the shade 138 in the Pure Color Blush that complements the signature color eyes 123 so well. The bright yellow from the sunflower petals binds the pair. I love the vibrant rich color story of this blush. The blush is super soft and velvety as you may see in the pictures. It has that silky texture and intense pigment so you need to keep a light hand if you prefer a softer look. The color story is beautiful and these shades complement all skin tones including darker complexions. I received so many comments asking about this blush on my Instagram post. It got so much attention. The bright matte yellow highlight tone is fun to use for an edgy look but can also be blended with the red color for a more brick tone/warmer blush.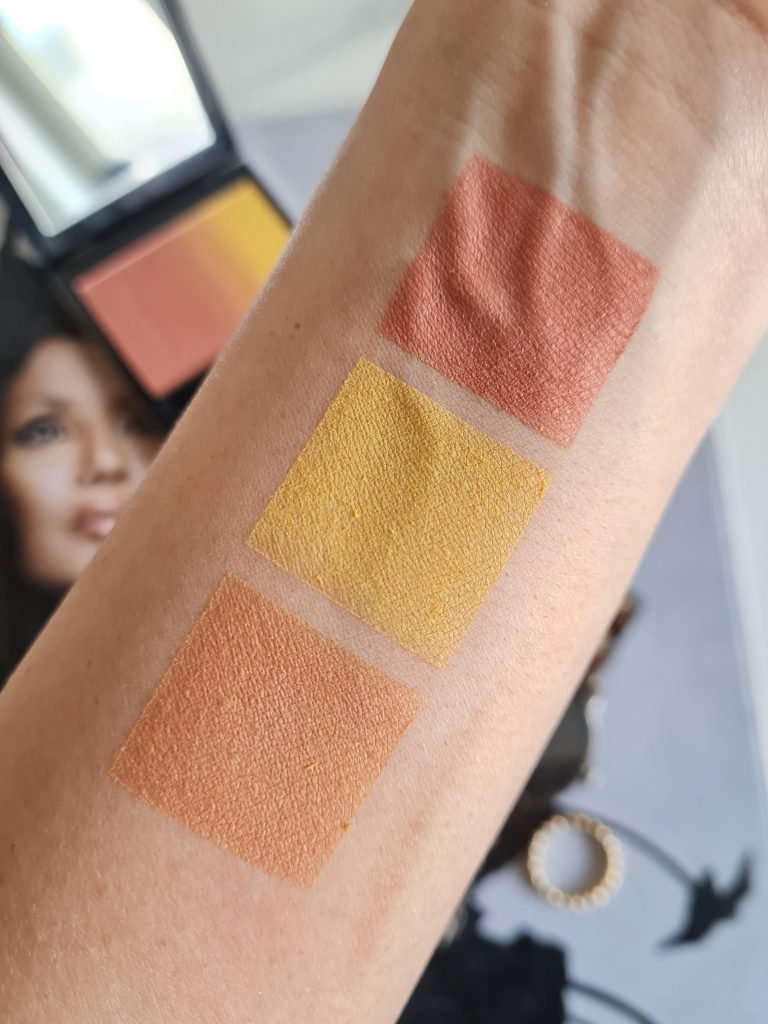 SUQQU VIBRANT RICH LIPSTICK – A limited-edition hue comes in the fresh early summer scene from the VIBRANT RICH LIPSTICK range, which naturally blends matte finish with a subtle creaminess.
VIBRANT RICH LIPSTICK 116 HANADAIDAI – A soft, orange-brown that evokes the serenity and joy of summer. The slightly reduced saturation allows for effortless blending, complementing the skin.
VIBRANT RICH LIPSTICK 117 NATSUGASUMI – A natural beige that blends well with a variety of skin tones, adding a soft, understated elegance evocative of inner strength.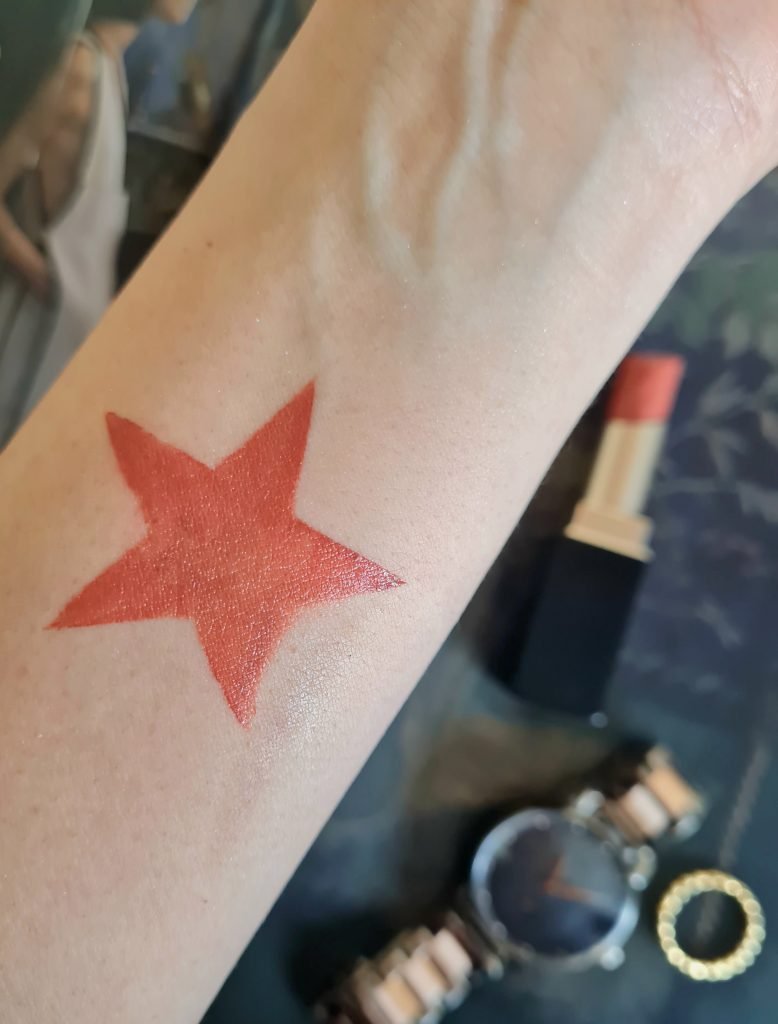 These lipsticks are very creamy and rich. I received the shade 116 which is a very flattering orange-brown and looks beautiful on all skin tones. The pigment is intense so you need a single swipe to cover the lips. It stays on the lips for a long time but can transfer a little while drinking due to the creamy formula. I like to dab a tissue to seal the first layer of lipstick and then go on with another layer to lock the color while keeping the creamy, rich formula for a juicy finish. You may also try a soft matte look by dusting a little face powder if you prefer matte formulations.
Since we are in spring already and there's Easter break coming soon, you might be going outside a lot more. Please do not forget to wear a reliable sunscreen preferably SPF 50 when outdoors. I am currently using SUQQU's Protecting Day Cream which has SPF 50+ and hyaluronic acid to hydrate and plump the skin and replace the natural carbohydrate in our bodies that diminishes with age. This day cream also contains hydrolyzed collagen to minimize the appearance of wrinkles and increase skin elasticity. It is super lightweight and blends beautifully into the skin giving a subtle glow.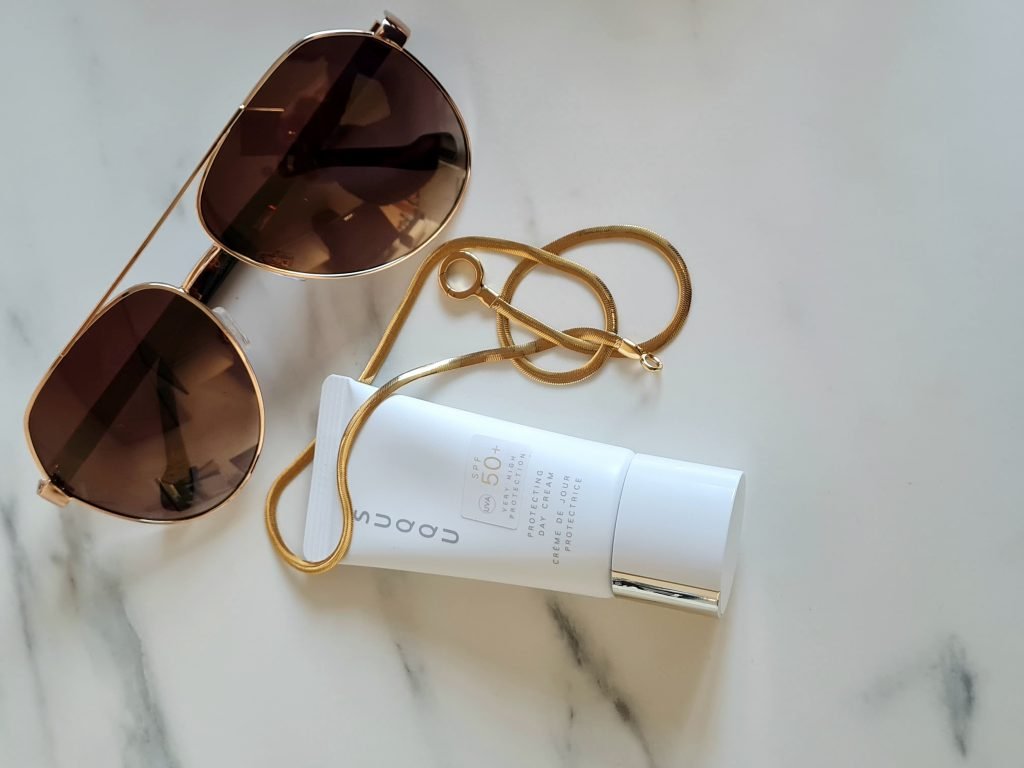 SUQQU's PRE-SUMMER 2023 Sunflower Wonder Color collection is launching on the 23rd of March at Selfridges & the 6th of April at Harrods and Liberty in the UK.
Until next time, Ashh xo
*AD – This post features press samples without any obligation.