Do you know that 80% of skin aging is caused by UVA and UVB rays? When the skin is exposed to UV rays, over time it damages the skin's barrier causing it to become dry and in turn more susceptible to further UV harm. This is why our skin needs protection every single day no matter the weather! SUQQU is releasing an exquisitely formulated light day cream that provides long-lasting moisturization whilst protecting the skin from UV rays and other external aggressors.
SUQQU PROTECTING DAY CREAM SPF50+ (PA++++) is formulated with carefully curated ingredients including powerful plant extracts. It has a subtle aroma of fresh citrus, bergamot, and pomelo that awaken the senses for a bright start to the day. These bright notes are complimented by delicate notes of rose, and jasmine with sensual musk, and a woody base of cedarwood for depth.
The water-resistant Protecting Day Cream combines high UV protection with luxury skincare, and applies smoothly and comfortably, leaving a luminous glow. The result is a naturally glowing and radiant base that creates the perfect canvas for makeup.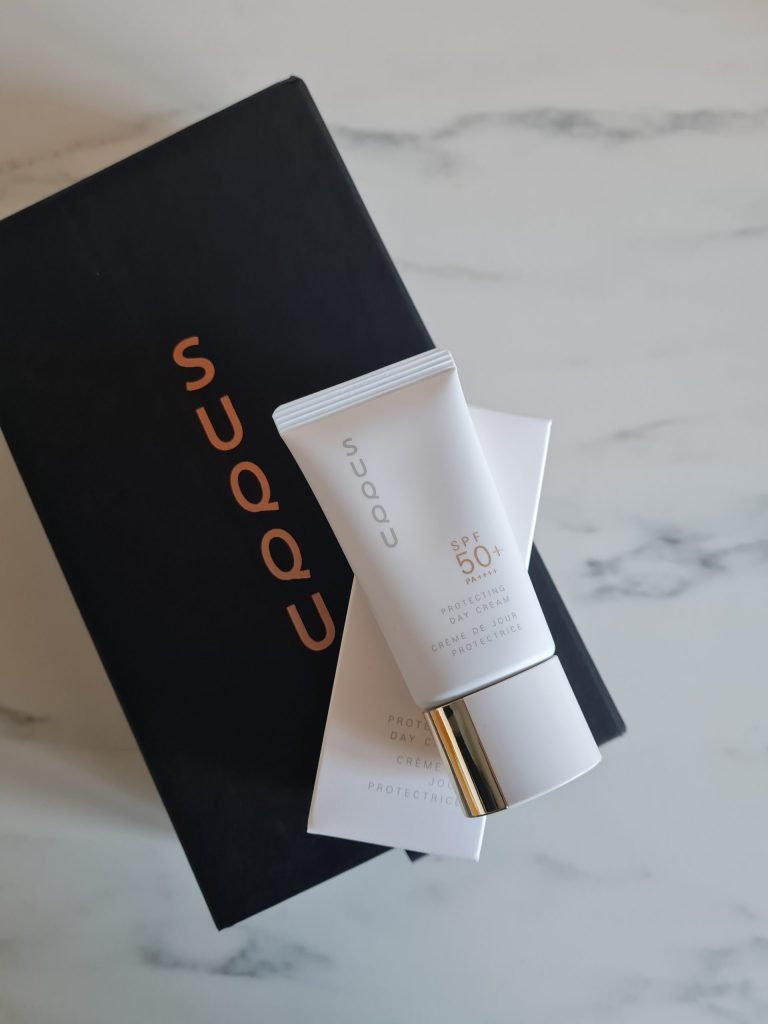 The Protecting Day Cream has a combination of three UV diffusers that protects the skin from UVA & UVB rays preventing photoaging.
The new Day Cream provides lasting moisturization that's to hyaluronic acid and hydrolyzed collagen, keeping the skin supple and protected.
The advanced formula protects the skin from air pollution, which can lead to irritation and dullness.
The unique cocktail of 8 skin-loving ingredients nourishes the complexion whilst protecting the skin from pollutants.
• Hyaluronic Acid
• Hydrolyzed Collagen
• Pear Juice Ferment Filtrate Extract
• Equisetum Arvense Extract
• Green Tea Extract
• Olive Leaf Extract
• Stearyl Glycyrrhizate
• Vitamin C Derivative
What I love about this new advanced formula of SUQQU's Protecting day cream is that it protects the skin while feeding it at the same time. It is super lightweight and melts into the skin giving a beautiful glow. There is no sticky residue and zero white cast. This cream preps the skin with a radiance – just like a primer – creates the perfect base for makeup. An all-in-one multipurpose cream that does everything (moisturizing, protecting from UVA/UVB and Environmental aggressors plus acting like a primer by adding a beautiful glow to the skin) in just one step without you having to put all the layers on the skin. This saves so much time and makes the getting ready process quicker and simpler every morning. The Protecting Day Cream enhances your makeup's finish, making it beautifully radiant and smooth.
SUQQU Protecting Day Cream SPF50+ (PA++++) is available from 3rd Feb 2023 at Selfridges, Harrods & Liberty in the UK.
Until next time, Ashh xo
*AD/Press Sample