Holiday Season is here and we all look forward to spending more time with friends and family. Some people are kind enough to host a party and do all the hard work of cleaning their house, preparing food and making sure their guests are welcomed and have lovely time.
Why not repay their efforts by taking a thoughtful gift for them which they would appreciate? I have handpicked some of the gifting ideas and suggestions to help you choose a unique gift for your party host.
But here are some of the points that you should remember to make sure your gift is well received:
If its food item or Alcohol, do not expect it to be consumed on the same day in the party. It is not a wise idea to ruin host/hostess's plan so its better to give it for the future. Let your host decide if they want to serve it to the guests.
Do not insist to open your gift immediately.
Choose a gift keeping host/hostess in the mind.
Try to give the gift discretely and avoid giving it in front of other guests as it may not feel good to those who didn't bring any gift.
Here are some of my suggestions for awesome gifts besides flowers or alcohol that will bring smile to your host/hostess's face.
Electricals
We all know the weather is really chilly during Christmas and considering a handy heater as a gift would make a thoughtful choice. JML 500 Watts Handy Heater – Remote Controlled is the ideal solution to the cold spaces, at work, home or on holiday. Whether you're doing a spot of DIY in a shed, car maintenance in the garage or just sitting at a draughty desk in a cold office space, all you need is a standard plug socket for direct, comfy heat straight from the wall!
The heater also comes with a fully-working remote-control. There's also a timer function so you can pre-set the amount of time you want it to heat for, and then it will turn off automatically.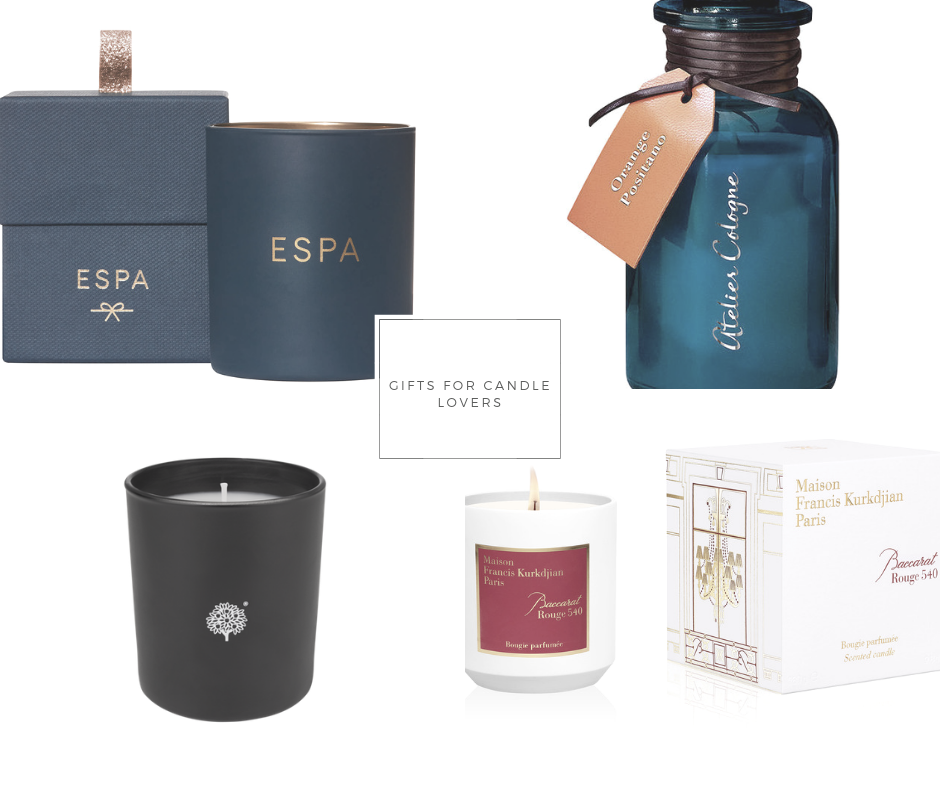 Candles + Home Fragrances
Everyone loves candles and this is a season to burn a lots of candles to brighten up home and bring some warmth. I have quite a few suggestions in this category and trust me I am not going to mention the popular ones that have now become common and can be found in most homes. These are unique options if you want to choose candles as a gift.
Another option is a nice Reed Diffuser kit like MOR Snow Gardenia Home Diffuser Kit from Emporium Classics collection – an elegant set providing all of the components for a luxurious reed diffuser. Featuring a concentrated oil-based formula, the fragrance opens with an aromatic bouquet with top notes of Gardenia, Juniper Berry and Angelica, folding into hints of classic Vanilla Musk, delicate Ylang Ylang and heady Sandalwood. Black rattan reed sticks allow the scent to travel across the room, and it's made from a premium blend of natural vegetable-based ethanol's that prolong the fragrance for up to six months. Housed in an elegant black glass bottle and presented in a sophisticated box set, it makes an ideal gift.
Cookies & Sweets
You can't go wrong with Cookies and sweets during Christmas. If your host have kids, then these would be the most enjoyed.
Crabtree & Evelyn London Jive Talkin' Mini Shortbread Rounds are delicious mini shortbread rounds packed in a festive tin with a musical twist. The tin can be reused for keeping stationery or small toys (lego in our case) as kids would love the revolving musical tin.
Crabtree & Evelyn London Cranberry & Clementine Fudge is a festive bauble full of delicious fudge mixed with the fruits of the season.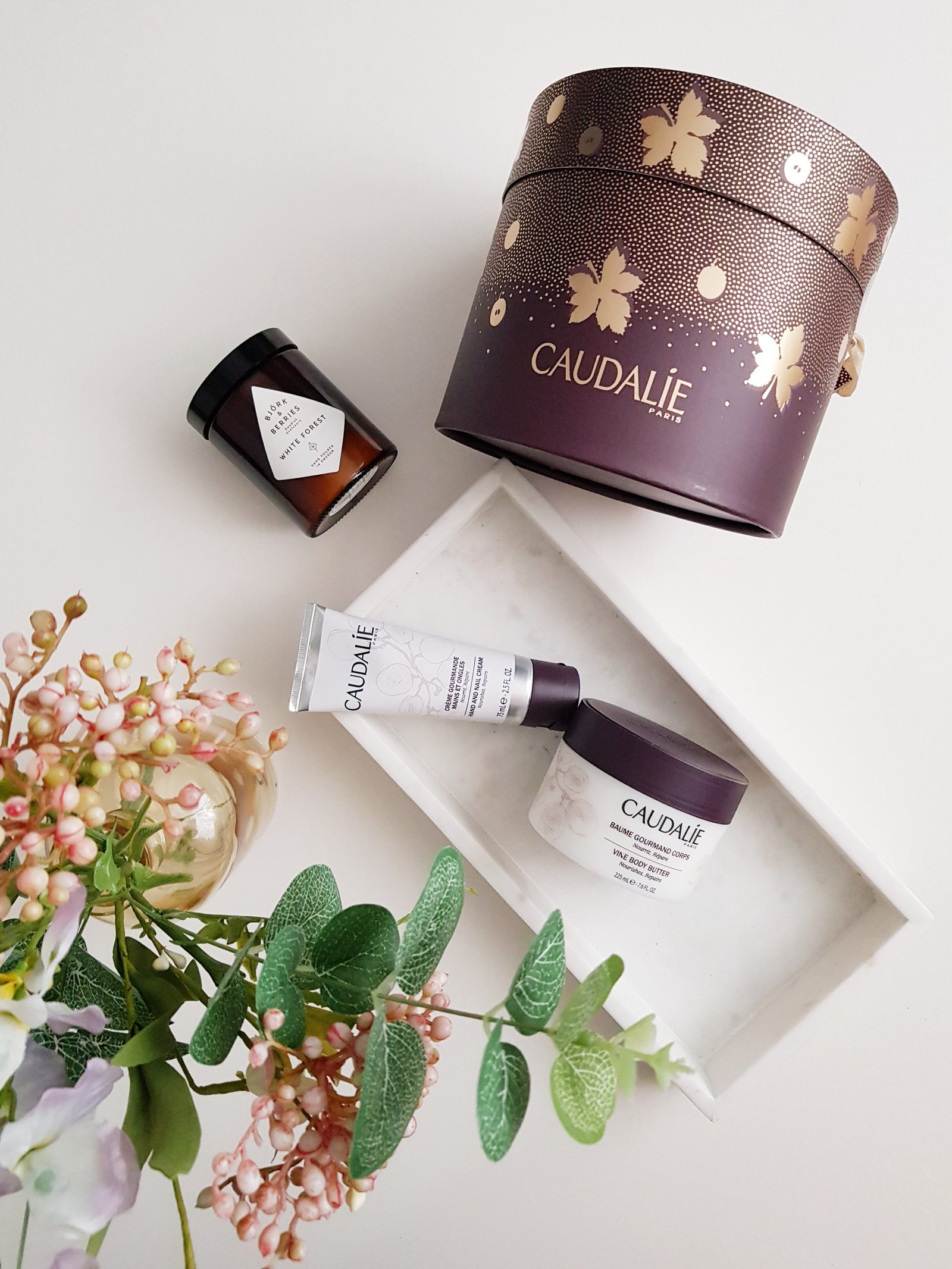 Toiletries
Gifts like hand cream sets and body care sets are very useful for everyone and let's be honest, we all need to keep our hands and body soft during this harsh weather.
Caudalie Luxury Vine Body Butter Set – This set contains an indulgent and nourishing body duo – Pleasure and indulgence wrapped up together in a beautiful, nourishing set. The Set Contains: Vine Body Butter (225ml) – Rich in moisturising Vinolevure and natural ultra-nourishing Shea Butter, this balm deeply repairs dry skin. With a delicate fragrance, its creamy texture is rapidly absorbed and wraps your skin in a veil of satiny softness. The set also contains Hand and Nail Cream (75ml) – Moisturisation, softness and youth are all reunited in this antioxidant-rich hand cream for soft, soothed, protected skin. Lightweight and fast-absorbing without greasy residue.
This is an excellent value for money and can be a great treat for yourself or the perfect gift for a friend or family member in need of a gorgeous treat.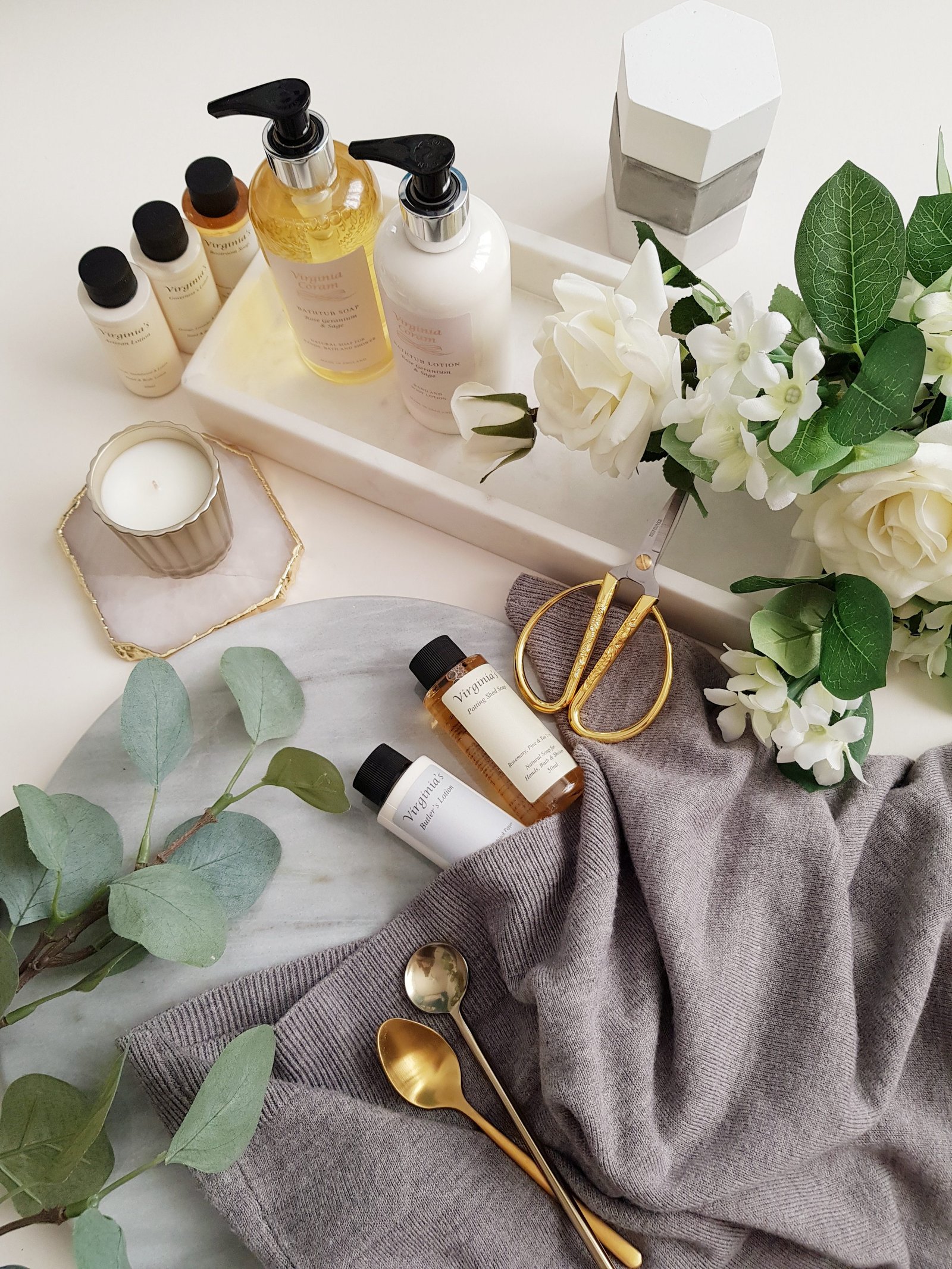 Virginia Coram Bathtub Soap & Lotion – Rose Geranium & Sage – The delightfully floral, naturally sweet-like scent of Bathtub liquid soap complements the scent of this traditionally made hand and body wash perfectly. Rich in Coconut, Olive and Sunflower oils, the soap makes a soft lather to cleanse and pamper your skin, leaving it delicately scented and soft to the touch. Ultimately the most luxurious of organic hand and body lotions with the delicious floral and herbal scent combination of Rose Geranium and Sage. It is anchored by the uplifting scent of Rosewood and accentuated by the refreshing, invigorating scent of Litsea Cubeba. Comforting and velvety to the skin; the perfect addition to your bathtime ritual.
Another fab option is the Travel Hand & Body Wash Set from Virginia Coram. The set features the bestsellers from the brand. Six dinky 50ml bottles of completely natural liquid soap for hands, bath and shower, made with the highest quality oils. This set can also be gifted as stocking fillers.
Another gorgeous gift is the Luxury option from ESPA Skincare – The Signature Collection inspired by a day at an ESPA spa, and the treatments and traditions of spas across the globe. The signature collection set features full size hand-picked ultimate spa products from the brand. It lets you recreate your own spa experience at home for a renewed sense of wellbeing and inner calm. I highly recommend this as this has got you covered from skin, hair to body! This gift will be perfect for your hosts to indulge in a relaxing spa treatment at the comfort of their home. They will seriously thank you for this thoughtful gift!
Wine Accessories
Le Creuset Wine Accessories GS190 Waiter's Friend Bottle Opener and Stopper Set – A perfect present for those who take wine seriously, the Waiter's Friend Bottle Opener and Stopper Set from Le Creuset is an essential tool for any kitchen or when entertaining. Made from durable stainless steel with beautiful rose wood touches, this set provides a stylish way to open corked wine bottles, and to stopper bottles of unfinished wine. It's the perfect travel companion for picnics, holidays or a barbecue and a product relied on by waiters and sommeliers.
Luxurious Cutlery
When it comes to cutlery, nothing can beat contemporary ones in gold finish. Broste Copenhagen Tvis Long Spoon Set, Gold makes a perfect choice. The Tvis cutlery range from Broste Copenhagen features strong lines giving each piece a strict, rigid look. The gold colour of the set gives it a stunning finish, perfect to bring out for a dinner party.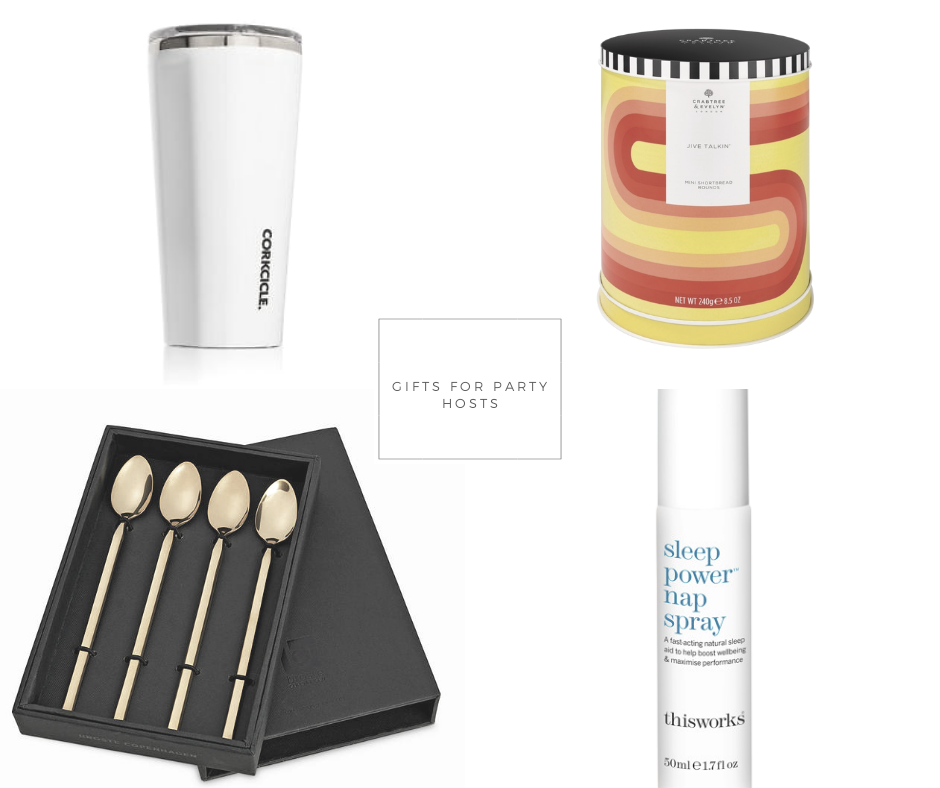 Bath Soaks
Your host will appreciate a thoughtful gift like Bath soaks – perfect for cold evenings specially to relax muscles after party as hosting a party is not easy! This Works Deep Sleep Bath Soak is a luxuriously relaxing bath soak. Perfect for pampering at the end of a long or stressful day, it harmonises the body and mind helping to promote a good night's sleep. You are left completely relaxed and stress free, whilst skin is soft and gently scented.
Sleep Spray
Sleep Power Nap Spray is a productivity-boosting sleep spray. Fight off lethargy with Sleep Power Nap Spray, a natural sleep aid featuring a calming blend of lavender, vetivert and camomile. Helping you nod off quickly for an invigorating nap whenever and wherever you need it, this spray has been clinically proven to maximise sleep to ensure you perform your best mentally and physically throughout the day.
Travel Accessories
Corkcicle Tumbler – This game changing tumbler will encourage your host to drink in style! Finished in triple-insulated stainless steel, it keeps cold drinks cool for 9 hours and hot drinks warm for 3 – allowing you to enjoy your favourite beverage wherever, whenever.
Now there is no excuse for buying a boring gift for the ones who take all the extra efforts to host a party for you. Hope you were able to find something interesting.
Until next time
Ashh xo
Instagram | Facebook | Twitter
You might also want to check: