Every home has a unique smell. Some smell very cozy and inviting while others oh not-so-good! No matter how much we clean it, there is some kind of smell often accumulated in our home which we get easily accustomed to but outsiders detect it straight away. However, there are some guaranteed ways to make it smell amazing without spending a fortune. There are two steps to make your home smell fabulous:
For deodorizing, you need to remove all the foul smells from your home. This can be smell of old socks, shoes, dirty carpet, garbage disposal, cigarette or even food. Here are some of the tricks that help in removing all bad smells from any home:
Refresh your carpets – Baking Soda works like a treat on the carpets. Sprinkle baking soda liberally over the carpet and let it sit overnight for the baking soda to soak the odors. Vacuum it and voila! Your carpets would smell as good as new.
Get rid of Cigarette smells – White or cider vinegar neutralizes the smell and is fab for getting rid of strong smell of smoke. All you need to do is to fill three quarters of a shallow bowl and keep it open for a few hours.
Tackle the stinky smell of garbage disposal – Make sure you clean the garbage bins regularly. Best way is to wash them outside and let them dry in the sun. You can then sprinkle some baking soda at the bottom of the bin and then use bin liners. Baking soda will make sure to tackle the smell of any leaks from the liners.
Smell of food – That odor of onions, garlic, fish & bacon can settle into not just your kitchen but also your home. Baking cookies is both effective and delicious. Realtors often use this trick before an open house to make the home smell more inviting to the prospective buyers.
Smelly shoes – Spraying some dry shampoo on the shoes really help in keeping them dry and clean. Plus they'd smell so much better.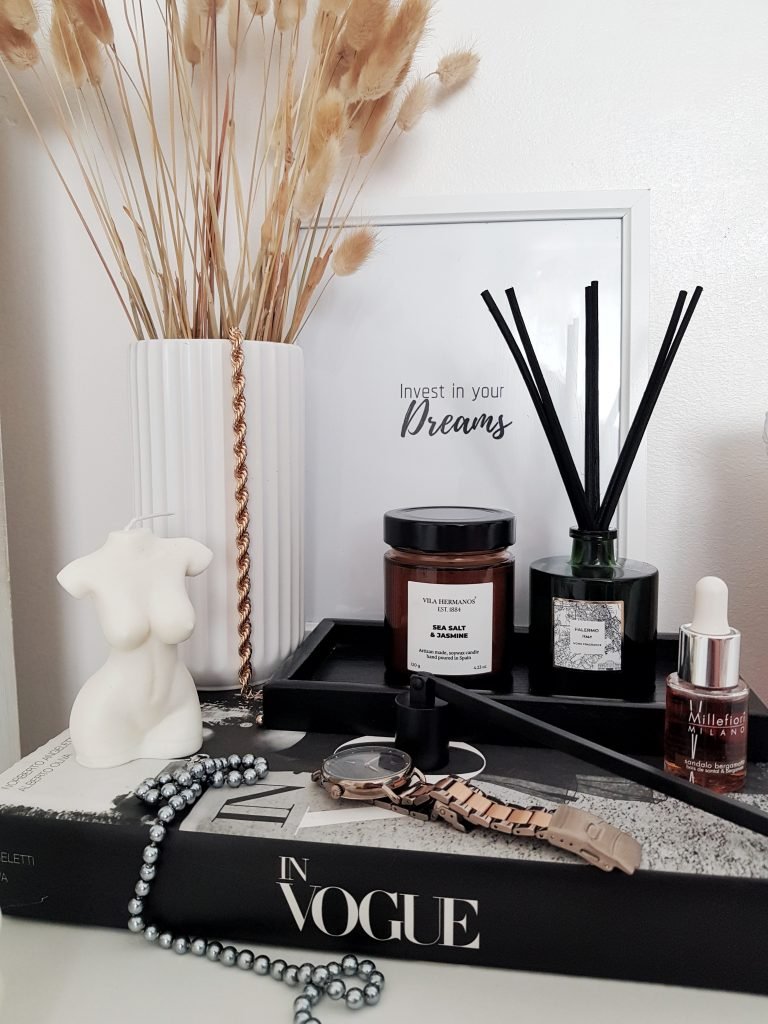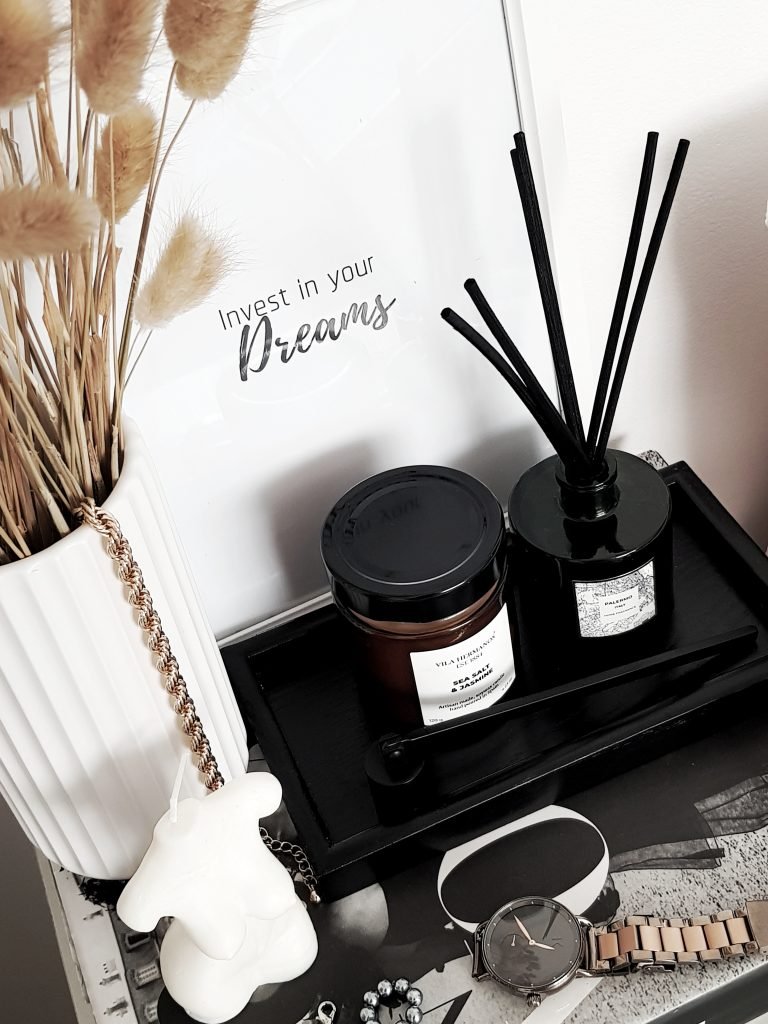 Re-odorizing – Now this is my favorite part! After removing unpleasant smells from your home, you need to make it smell inviting. This is easier and can be done in some really simple ways like using a home fragrance.
Candles – Burn Candles but not all. I like to burn candles in the busy area of my home like living room but also make sure to have one unlit in each room. Even when the candles are not lit, they fill the room with nice aroma.
Diffusers – Whether it is electric, ultrasonic or traditional stick ones, aroma diffusers fills the room with gorgeous scent and make your home smell amazing instantly.
Vanilla on the bulb – Another trick used by the Real Estate Agents is to put a few drops of vanilla extract on bulbs. When you light the bulbs, they'll get warm and the vanilla scent will fill the room with gorgeous sweet aroma.
Essential Oils – Not only you can add essential oils to the aroma diffuser but you can also make your own room sprays with them. Another thing I like to do is to place a few drops of essential oil to the inside of toilet paper roll and voila! The bathroom is filled with soft aroma of that essential oil.
Stick Votive Candles in Coffee Beans – Coffee Beans smell delicious but when you burn candle stuck in them, they get warm and fill the whole house with delicious and inviting smell of coffee…ummm Yumm!
Potpourri – Boiling potpourri in your kitchen also adds a lovely aroma in the house.
Fragrance Lamps – Another powerful way to fragrance your home in a short period of time is to use a catalytic lamp, also called as Fragrance Lamp. These lamps fill the room with fragrance in just 20 mins of usage.
Hope these tips and tricks will transform your home and make it smell amazing. Until next time…
Ashh xo
*This post features PR samples. Opinions are my own and unbiased.