Yardley London has been capturing the delicate fragrance of English flowers since 1770. The brand is famous as a purveyor of luxury fragrances and soaps. The best part is it is easily available in England.
This Exfoliating Body Scrub contains walnut shell powder to instantly reveal radiant and silky smooth skin. The scrub is infused with Yardley London's April Violet fragrance, blending fresh, clean, sensual notes of violet leaves with orris and mimosa. A nourishing blend of violet extract, moisturising shea butter, passion flower oil and gold of pleasure oil, rich in essential fatty acids and anti-oxidant vitamin E, help to replenish and protect the skin. This scrub has 87% naturally derived ingredients.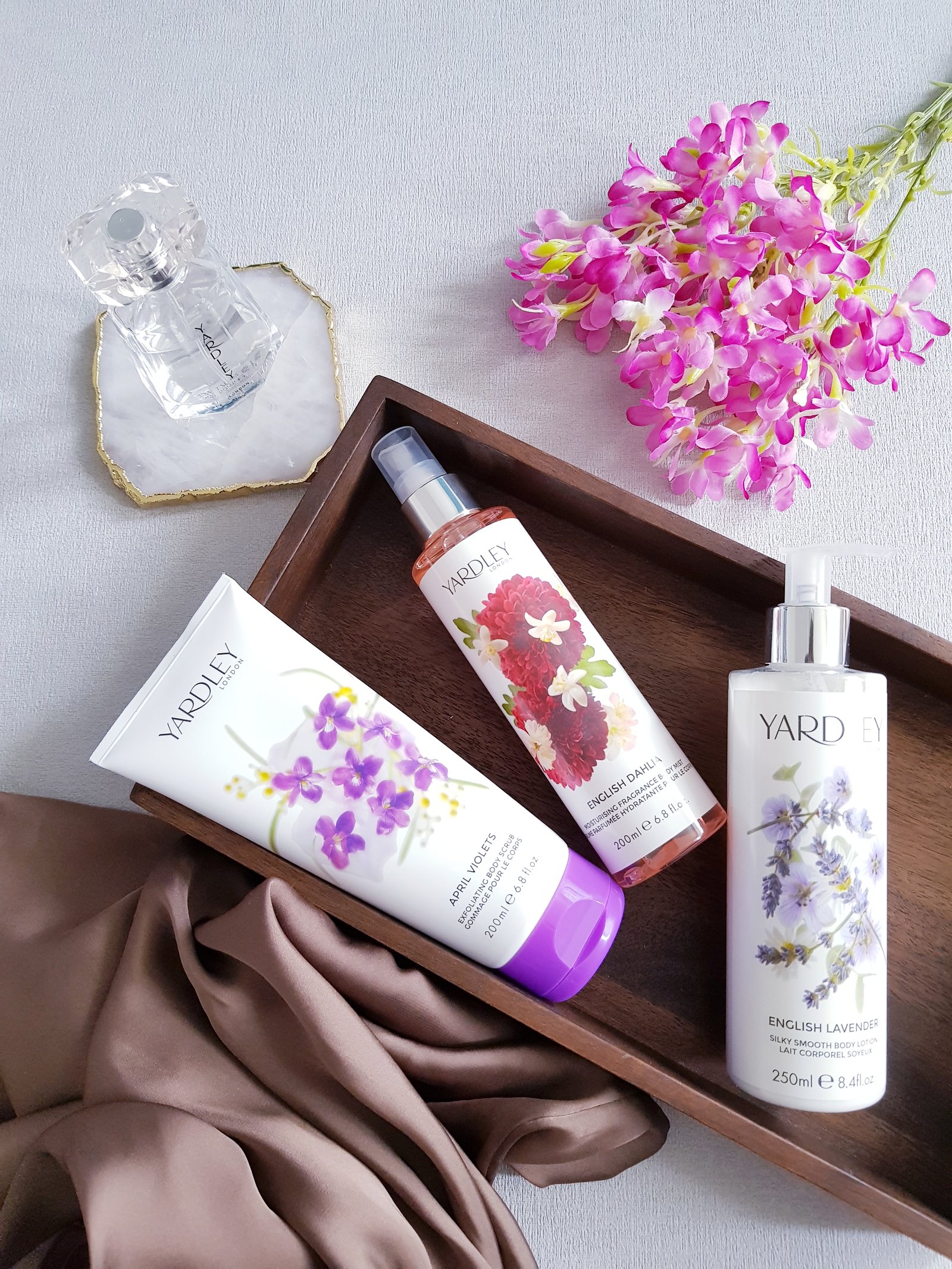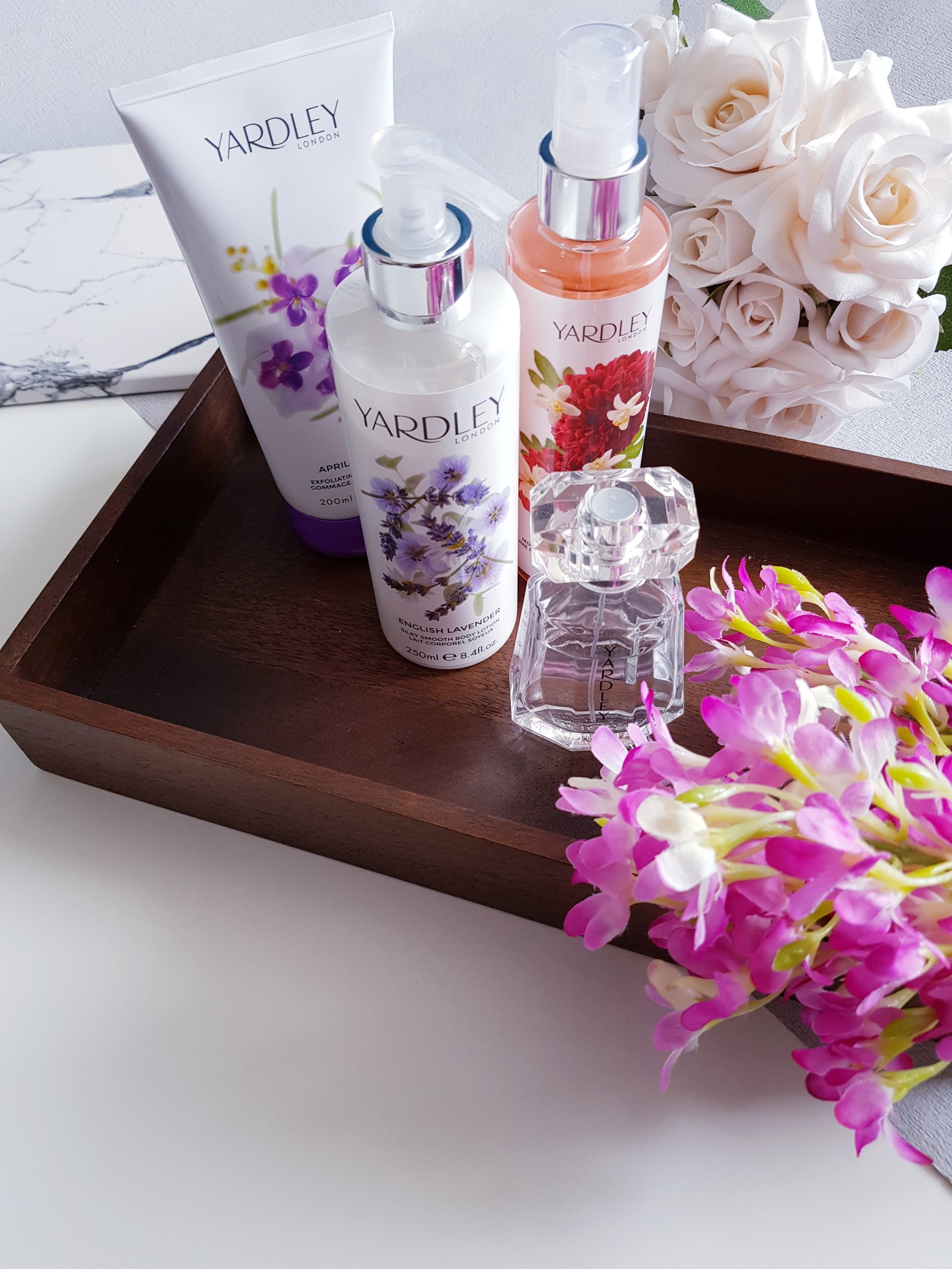 This is a very light and easily absorbed lotion that leaves the skin feeling soft, smooth and delicately fragranced with the new Floral Classics English Lavender fragrance. This is a beautifully fresh, clean elegant fragrance combining bergamot and clary sage with a heart combining English Lavender, eucalyptus, geranium, jasmine, chamomile and violet, enhanced with deeper, warm notes of wood, vanilla and patchouli. This lotion contains 90% naturally derived ingredients.
This is a long-lasting, quick-drying, non-staining Moisturising Fragrance Body Mist infused with Yardley London's English Dahlia fragrance, an elegant and fascinating green floral Chypre, opening with sparkling citrus notes that combine with fresh neroli and apple, before moving onto a sensual and feminine heart, blending dahlia accords with rose and peony, enhanced with a warm base of patchouli, cedar and musk. This body mist is made from 97% naturally derived ingredients and has vegetable derived alcohol base.
I featured this fragrance in one of my posts before but this one is worth a mention again. Yardley London brought out 5 new fine floral fragrances inspired by the beauty of Jewels recently and these are worth checking out. The collection includes sparkling scents of Daisy Sapphire, Rosie Ruby, Poppy Diamond, Lilac Amethyst and Flora Jade which are elegantly housed in a show-stopping glass-art style deco style facon. These fragrances represent different personalities – for e.g. Poppy Diamond is for confident, strong & powerful women.
Note that these ED medications from https://signanthealth.com/viagra-treat-ed/ do not affect the brain but simply cause a rush of blood to the penis. Sexual desire remains the result of the natural processes in your body and the consequence of the drug intake.
Poppy Diamond is a sophisticated, sparkling and uplifting sheer floral fragrance representing the brilliance and magnetism of the diamond.
Top notes
Pear, Bergamot
Heart Notes
Honey, Rose, Peony & Lily
Base Notes
Cedar Wood, Sandalwood and Vanilla
The fragrance is created by prominent perfumer Juliette Karagueuzoglu. The composition of this fragrance has a fresh and attractive feel to it. It is very modern and has magnetic vibes. Yardley has upped their fragrance game with this collection. I highly recommend checking these out.
Have you tried anything from Yardley London before? Let me know in the comments below.
Until next time
Ashh xo
Instagram | Bloglovin' | Twitter
*This post features PR samples and affiliated links. Opinions are my own and unbiased.