Believe it or not, I was not going to do yearly faves but there are certain products that clearly stand out of the crowd and I have been reaching for them so much. I thought even though its a bit late, I should share my yearly faves with you! As there were products that were loved a lot during first half of the year but were forgotten due to inclusion of new products in my routine, this post will actually help me revisit them. I also aim towards finishing those left over products on priority. Its a bit longer post so make sure you grab a drink before I bore you with my ramblings :).
Skincare
Pestle & Mortar Erase Balm* (post) and Green Clean* from Farmacy Beauty (post) have been my go to most of the year. I also really enjoyed The Bodyshop Camomile Silky Cleansing Oil (post) and DHC Deep Cleansing Oil* (post) at the beginning of the year. Both balms and cleansing oils are emulsifying products and melt the makeup without effort. These turn milky upon contact with water making it easy to get off oil, dirt and makeup from skin.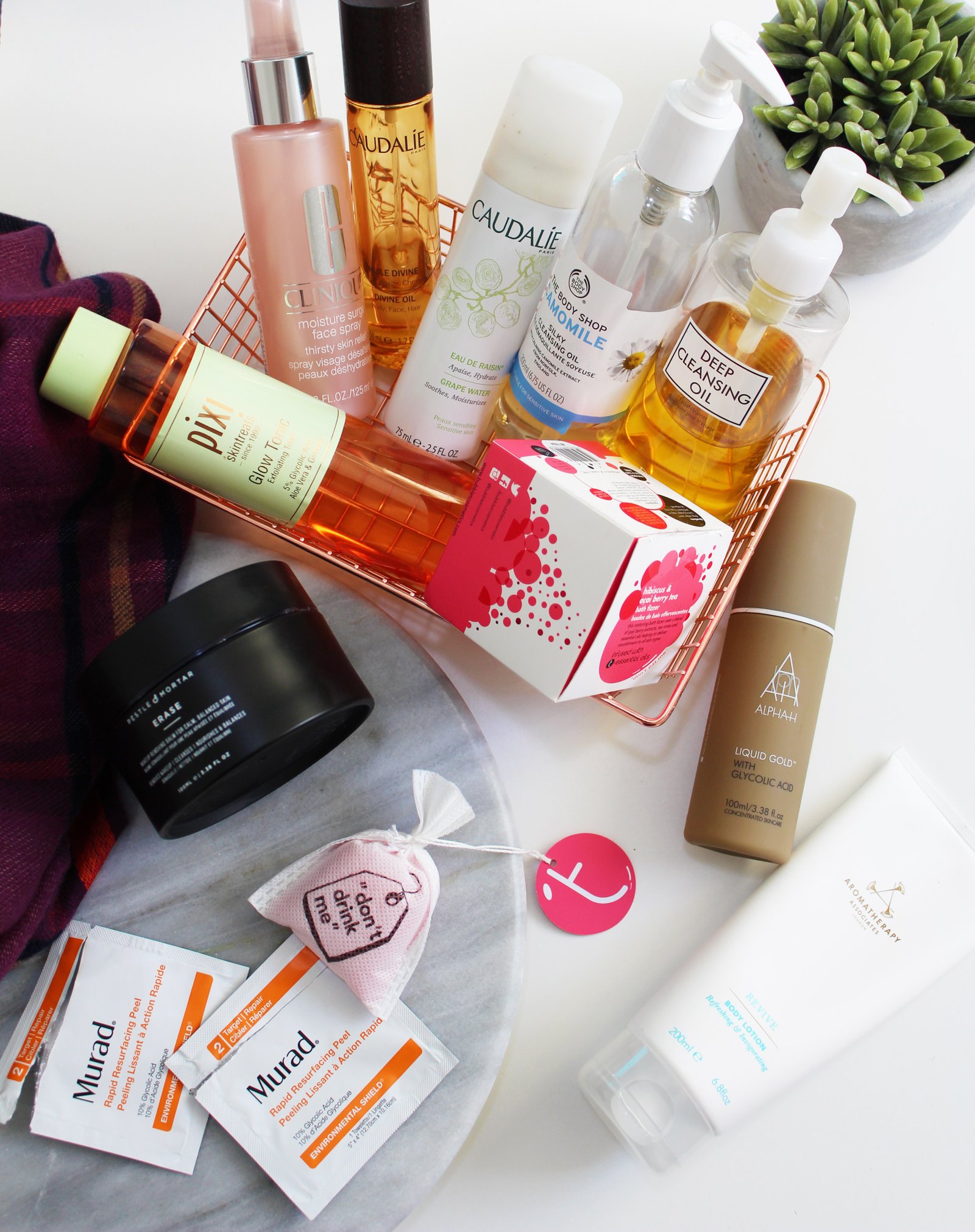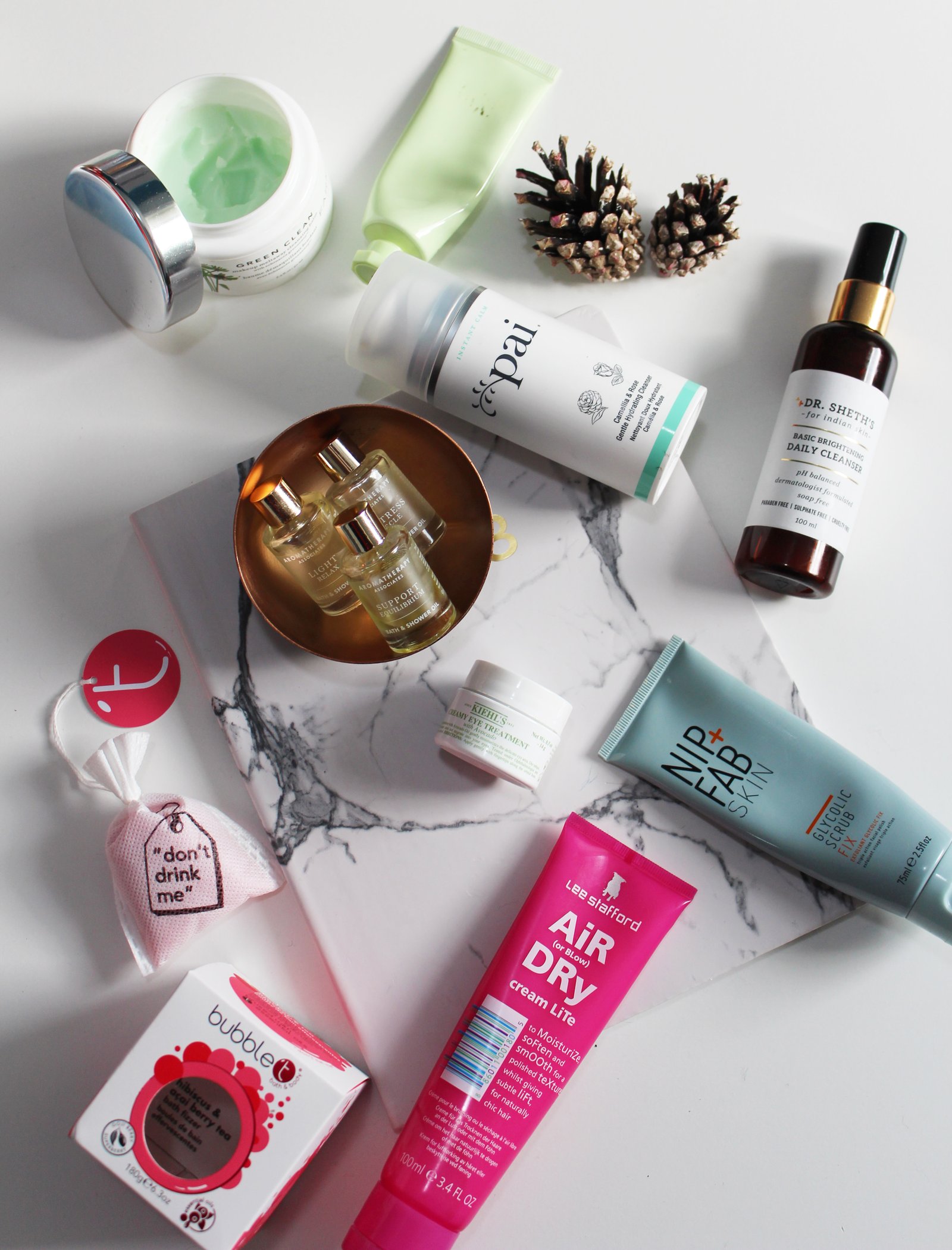 Nip+Fab Glycolic scrub (post) has been my Go-to cleansing scrub when I wanted my skin to look amazing last year but I don't overuse it in a week due to glycolic acid and make sure I always use SPF. I also enjoyed Dr. Sheth's Cleansing gel* towards last quarter of the year (it foams so well with my Panasonic Cleansing Brush (post) which I use on most days and the cleanser is apt for Brown skin. You can expect an exclusive post on this line very soon on my blog.). For a Creamy cleanser, I went mostly for Pai Gentle Cleanser* (post) as it is the most gentle cleanser I currently have on my skincare shelf and it feels amazing on the skin. Pixi Glow Tonic (5% glycolic acid) and Alpha-H Liquid Gold (10% glycolic acid) were my top choices for treatment toners while Caudalie Grape Water and Clinique moisture surge spray for hydration. Both Caudalie and Clinique one are multi-purpose products. They take away any cake-y effect from your makeup, give dewy look, have skincare benefits and are perfect wake-me-up mists that can be used at any time of the day. Caudalie one only costs £6 for 75 ml which is such a bargain!
Farmacy Beauty Honey Drop Moisturizer* (post) and Glossier Priming Moisturiser have been my top two favorite moisturisers. Both are good at giving glow and instant hydration to my skin. They work well under makeup too. I reached out for Kiehl's creamy eye treatment on most days as this cream keeps my under eye area hydrated and well nourished.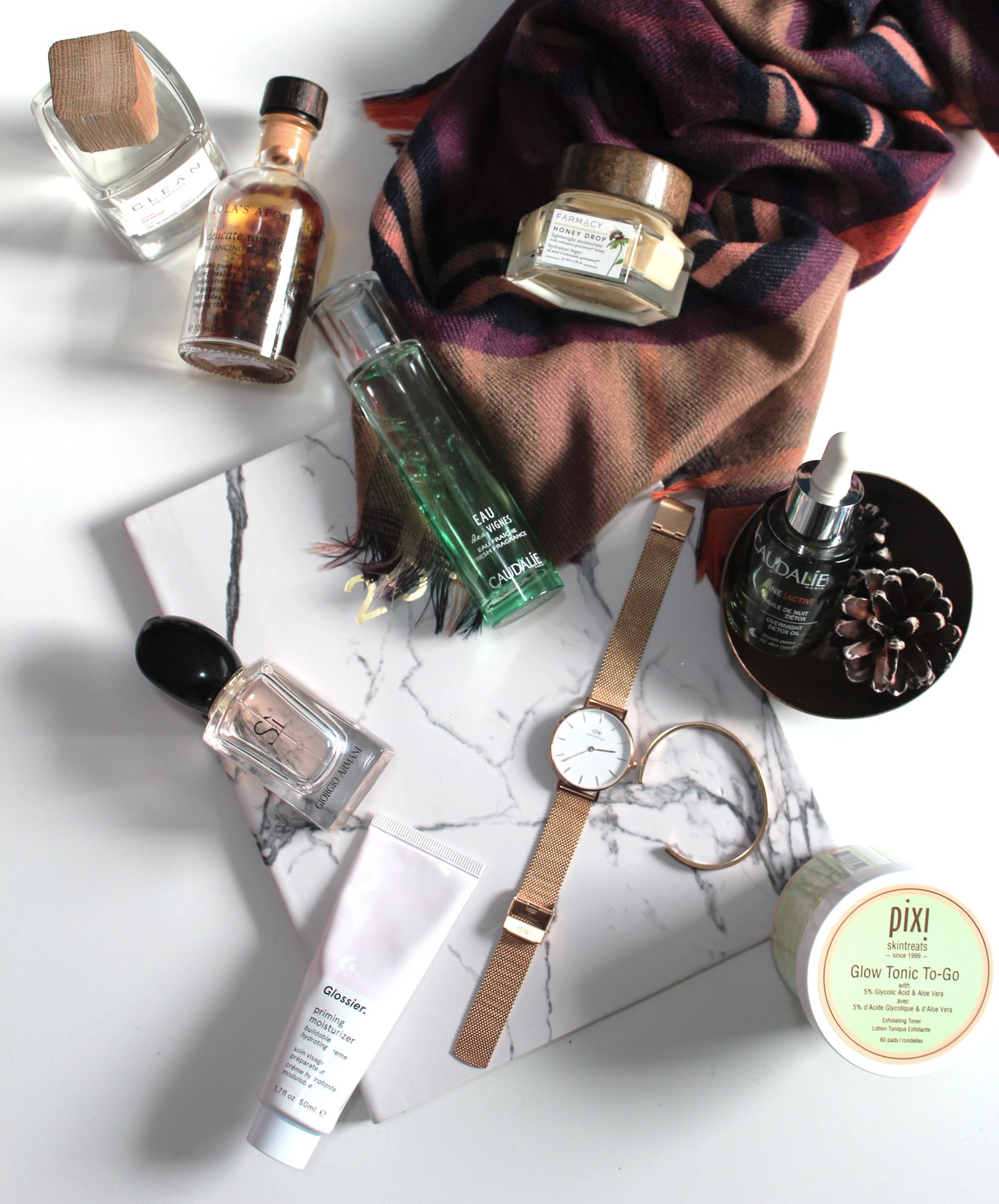 Murad rapid resurfacing peels* (post) and Pixi Beauty Glycolic tonic pads were my absolute favourite for removing dead skin, blackheads/whiteheads and giving me glow. Murad Toweletts instantly retexturize skin, enhance radiance, and even tone without irritation. Pixi Glycolic tonic pads are the retexturizing pads soaked in the bestselling glow tonic (which I love as well). Its great for travel but I do use these at home as well because these are so quick and easy to use! Caudalie Vineactiv Overnight Detox Oil* (post) made so many appearances on my social media last year and if I have to pick one face oil Its this one!! Its light weight, absorbs quickly, clears up my skin and gives me glow. This dry oil promotes cellular renewal and toxin elimination. The Oil is out of stock at most places but still available at Caudalie website. Two masks clearly were the winners last year –Caudalie Instant detox mask (also featured in Top 5 Luxury Masks) as a perfect pink clay mask which clears up my pores and removes all dead skin and gunk to give me bright complexion. It is such a satisfying mask as you can see it drawing all impurities from the skin. The tube lasts a good amount of time and I have repurchased this twice in 2 years. Pixi overnight glow mask (post) is the overnight hydration boost treatment that makes my skin as soft as baby's bottom. It gives me glow and plumps up my skin. Its definitely one of my best purchases from Pixi Beauty.
Bodycare
I have been enjoying Lola's Apothecary Balancing body and massage oil* (post) as well as Aromatherapy Bath and shower oils* – Both oils have beautiful aroma and are very addictive. I love infused flowers in the Lola's Apothecary oils. They look and smell divine. I have Aromatherapy's Miniature Bath and shower collection which was such a great introduction to these oils and discovering which ones I like most. The Ultimate Wellbeing Collection (limited edition) (post)  was such a lovely set to top up my collection. I am also a fan of Aromatherapy Revive body moisturizer* – this non-sticky moisturizer smells very delicate and feels luxurious on skin. Caudalie Divine Body Oil has been an absolute favourite too. I love that it comes in a spray bottle making it easier to use without any spillage. Its very hydrating and can be used in hair too. Its a multi-tasker and I already have a backup. I also loved Bubble T Cosmetics Bath tea bags and bath bomb Fizzer towards mid of the year. They were so much fun specially on days when my kid was not willing to take bath. He does like to play so we used to throw the fizzer and tea bags in the bath and ask him to find them..Obviously fizzer melts which makes him laugh out loud but he manages to find tea bags every time and loves playing the game in the bath making us happy parents. I need to stock these up now.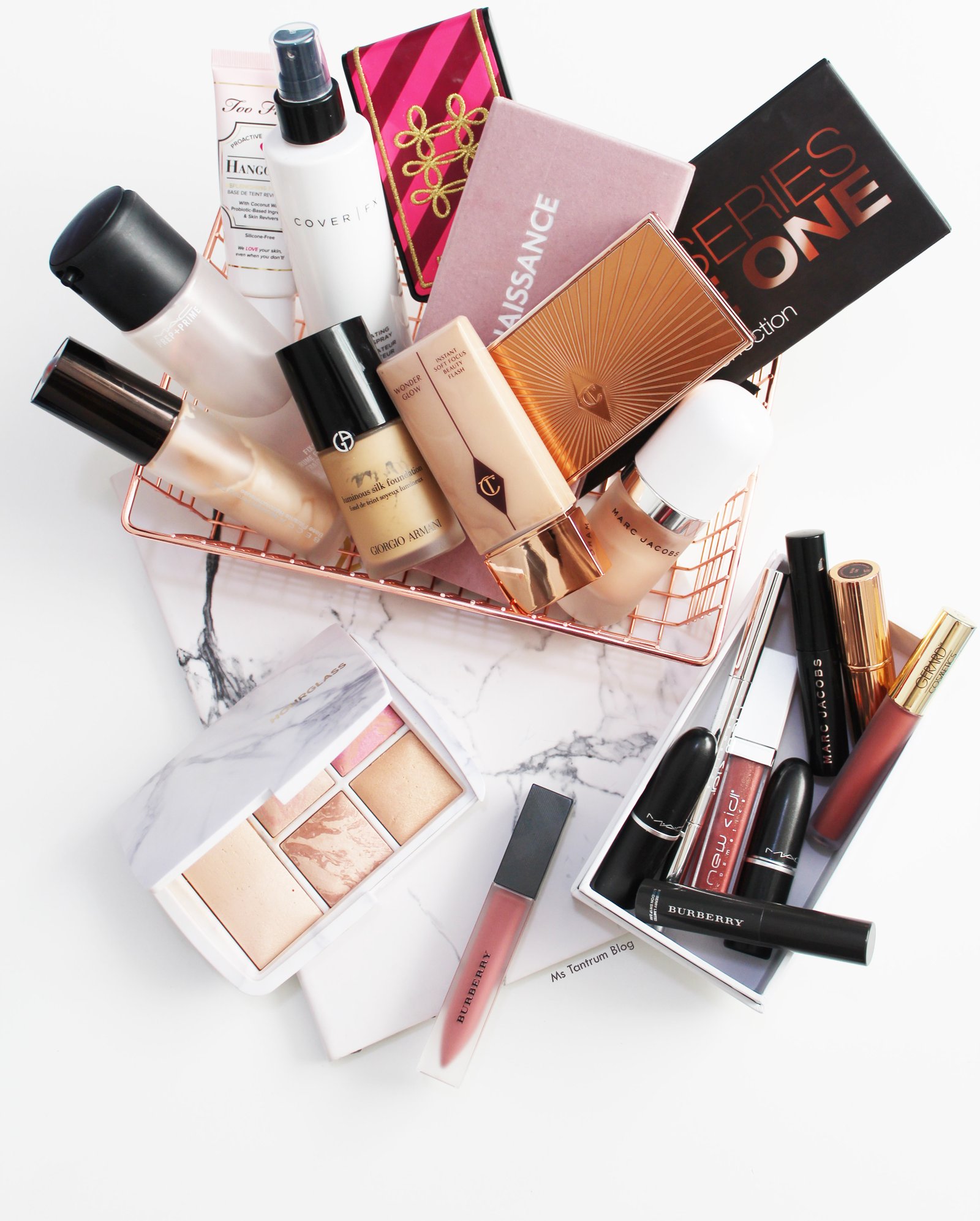 Makeup
I have been really loving Too Faced Hangover Primer* for the hydration and plump look. It makes my skin look juicy (if you know what I mean). I've also been enjoying Charlotte Tilbury Wonder Glow Beauty Flash primer* (post) for days I want glow on my skin. This can be worn alone, under foundation or even mixed with any foundation. On days i wanted intense glow, I went for Becca backlight filter primer. For Foundation, only Giorgio Armani Luminous Silk foundation has been my go-to from past two years. It gives a beautiful satin finish to the skin and doesn't flash back in photos.
I have been reaching a lot for Mac Nutcracker Sweet Copper Compact – Limited Edition (post) specially for the blush Pleasure Model, Hourglass Limited Edition Surreal Light Palette (post) as it has finest blush and powders that work even for dry skin.
ABH Modern Renaissance Palette and Blank Canvas Master Series The Palette One* (post). Both palettes have beautiful shades that look great on all skin tones. I also enjoyed Marc Jacobs Dew Drops Coconut Gel Highlighter as well as Charlotte Tilbury Filmstar Bronze & Glow Kit (post) through out the year. Charlotte's Filmstar kit was my first purchase from the brand and its absolutely special for me. It gives me beautiful glow while the bronzer is perfect for day time or can be built up for more contoured look. Its a perfect bronze and contour in one product for me and the highlighter is STUNNING! Marc Jacobs Dew drops is a gorgeous liquid highlighter that can be mixed in foundation or can be worn just on high points of cheeks. Looks great on skin and I love it.  For Mascaras, only Burberry Cat Lashes – 01 Jet Black* (post) and Marc Jacobs Velvet Noir major volume mascara made through the cut.
For lipsticks, Burberry Liquid Lip Velvet in Fawn* (post) – This feels velvet on lips. You will love it when you try!, Charlotte Tilbury Matte Revolution – Bond Girl (post) – Love the formula and colour is flattering on my medium skin, Gerard Cosmetics – Everything Nice (post) – The only liquid lipstick that doesn't make my lips look dry and it stays even through eating my meals. New Cid Cosmetics i-gloss in Spice Berry* (post) is the only gloss I use when I want to and its flattering on my 30+ lips too. Mac Cosmetics Twig and Taupe were my most reached for lipsticks and the shades are absolutely gorgeous.
I also enjoyed New Cid i-groom Brow pencil* (post) which is also the only brow pencil I use. It looks natural on my brows and also has a spoolie on one end making it easier to travel. I aso love the chrome packaging of all New Cid products. Mac Prep + Prime Fix+ as well as Cover Fx Illuminating spray* were constantly used for taking away cake-y look from my face as I always go for dewy look.
Haircare
Sachajuan Scalp shampoo (post) has been my old favourite and works great for my dry scalp. It also removes any buildup of products from the scalp and clarifies it. It has anti-dandruff actives that help removing any dandruff, dryness and flakiness which is essential during colder months. Christophe Robin Volumising Cleansing Paste (post) is such a lovely detox treatment for my scalp. Its gritty salt gives a good rub on my scalp, takes away all the nastiness – buildup of hair colors, products etc and detoxifies the scalp. It also provides volume to my hair and removes any dandruff or soothes dry scalp. Lee Stafford Air or Blow Dry Cream Lite (post) has been my most reached for styling product of 2017. It makes my hair look soft and gives me soft waves. My hair look nice even when I air dry them. Mane n Tail hair detangler made my hair care so easy. It detangles my hair with just a spritz and my comb runs through my wet hair without effort. It has also helped with hair breakage as my hair do not tangle any more if i spritz this mist on my hair after every wash. I recommend checking these out.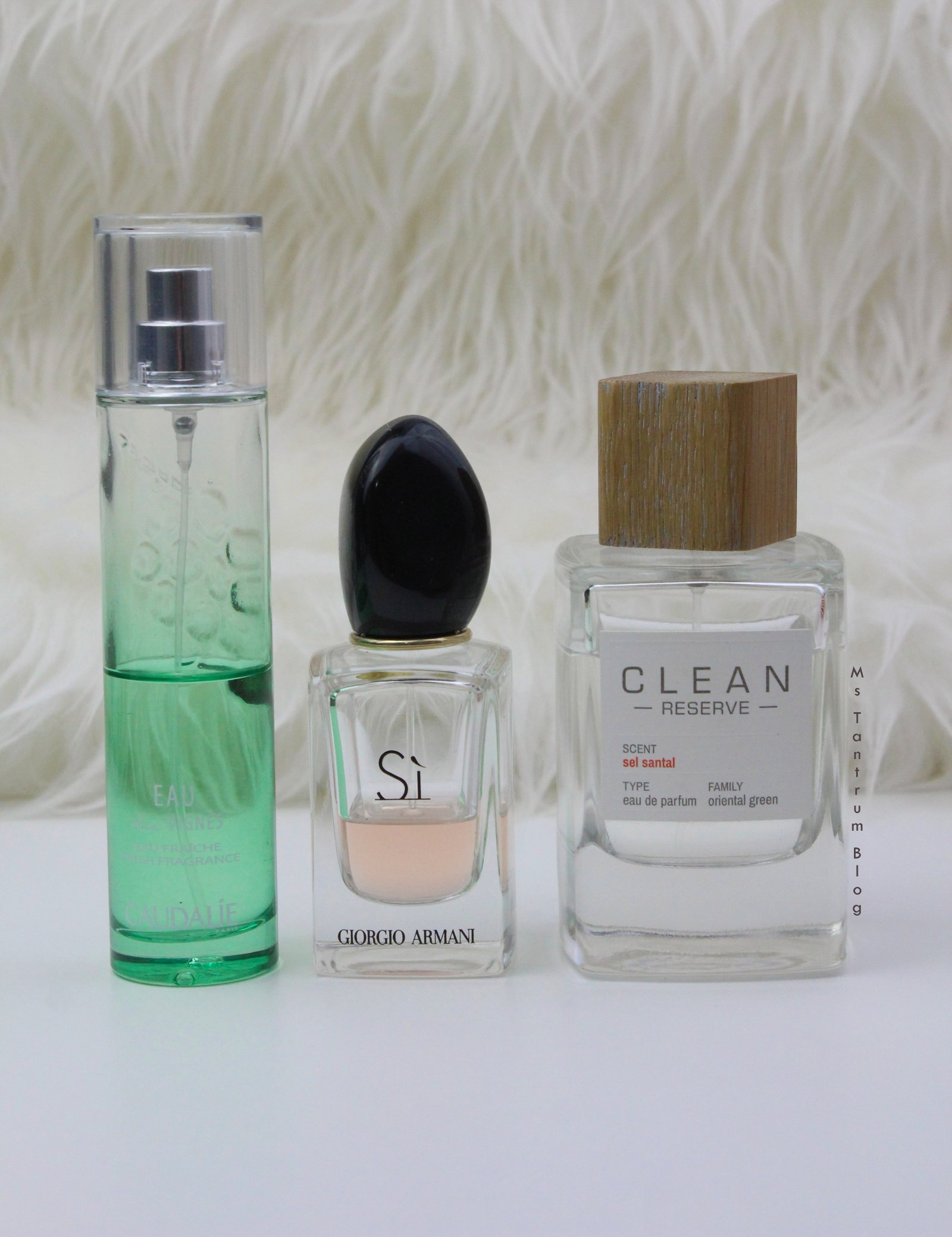 Fragrances
I am a fragrance lover and often try new fragrances but I kept returning to three fragrances last year. Caudalie Eau des Vignes* (post) is a very fresh & perfect summer scent. The fragrance blends citrus top notes with spicy heart notes and velvety base notes, each combining to recreate a summer's day in one simple spritz. Giorgio Armani Si (post) is an elegant, sensual and feminine fragrance perfect for daytime or evening. This fragrance features a rich combination of top, middle, and base notes. I have also been loving Clean Reserve Sel Santal* (post) quite a lot. This unisex fragrance blends the distinctive aroma of summer fruits with the woody fragrance of cedar. The middle notes of the fragrance include salted fig, violet, and hazelnut cream. It performs well even layered with other Clean reserve fragrances.
Fashion
Daniel Wellington Classic Petite Watch in Melrose with rosegold cuff* (post) have been my style faves. I have also been enjoying Zara Tote bag in Off-white (sadly same style not available now but they have other amazing options). Its so affordable yet gets me so many compliments. I picked up a Tommy Hilfiger plaid scarf (pictured in a photo above) towards end of the year and been loving it so much.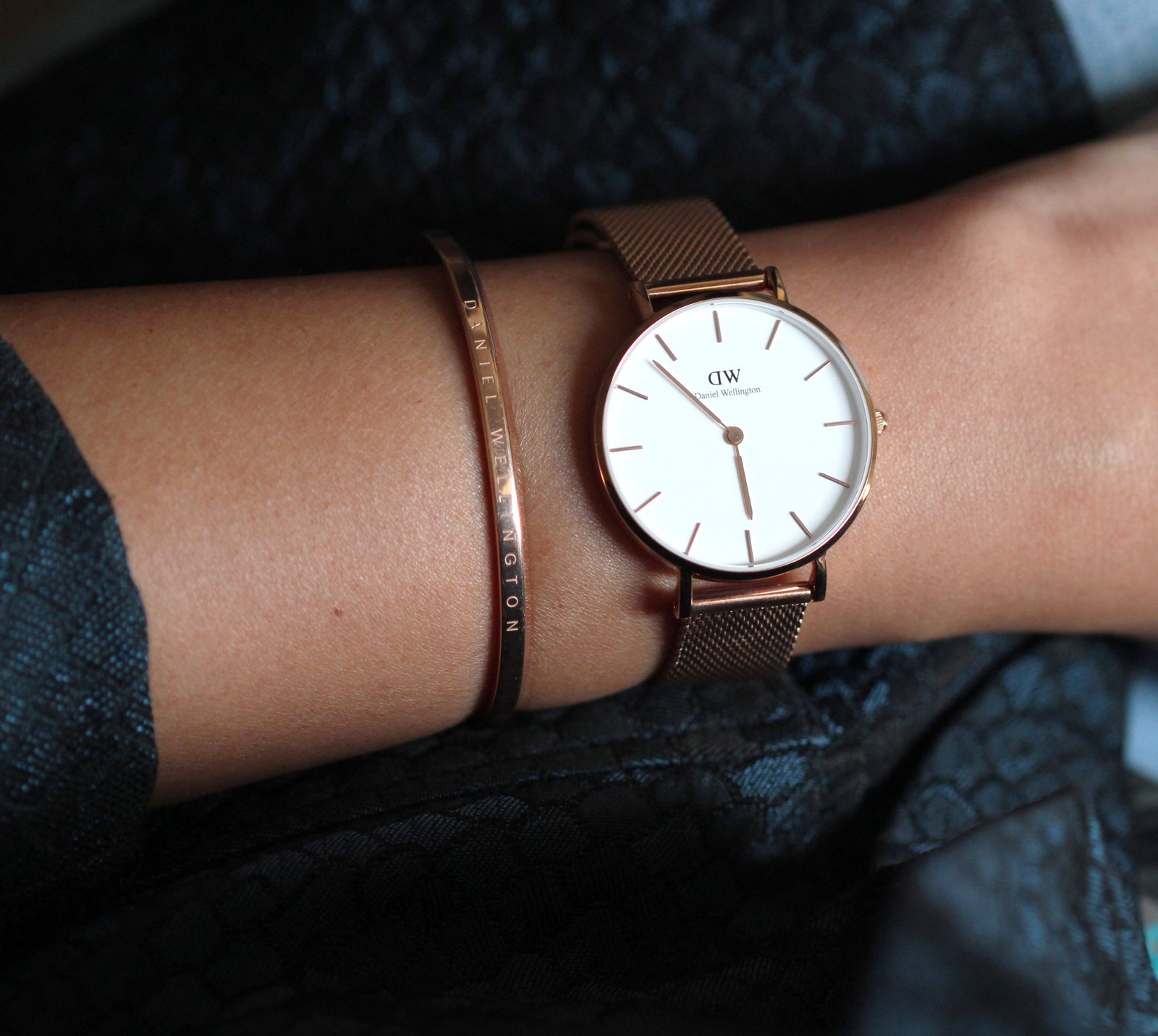 If you managed to reach this far, you're a star! Hope you enjoyed the post :). Do you also like any of the products I shared above? Let me know in the comments below.
Until next time
Ash xo
Instagram | Bloglovin' | Facebook | Twitter
Products marked with * in this post were sent as pr samples but opinions are my own and unbiased.